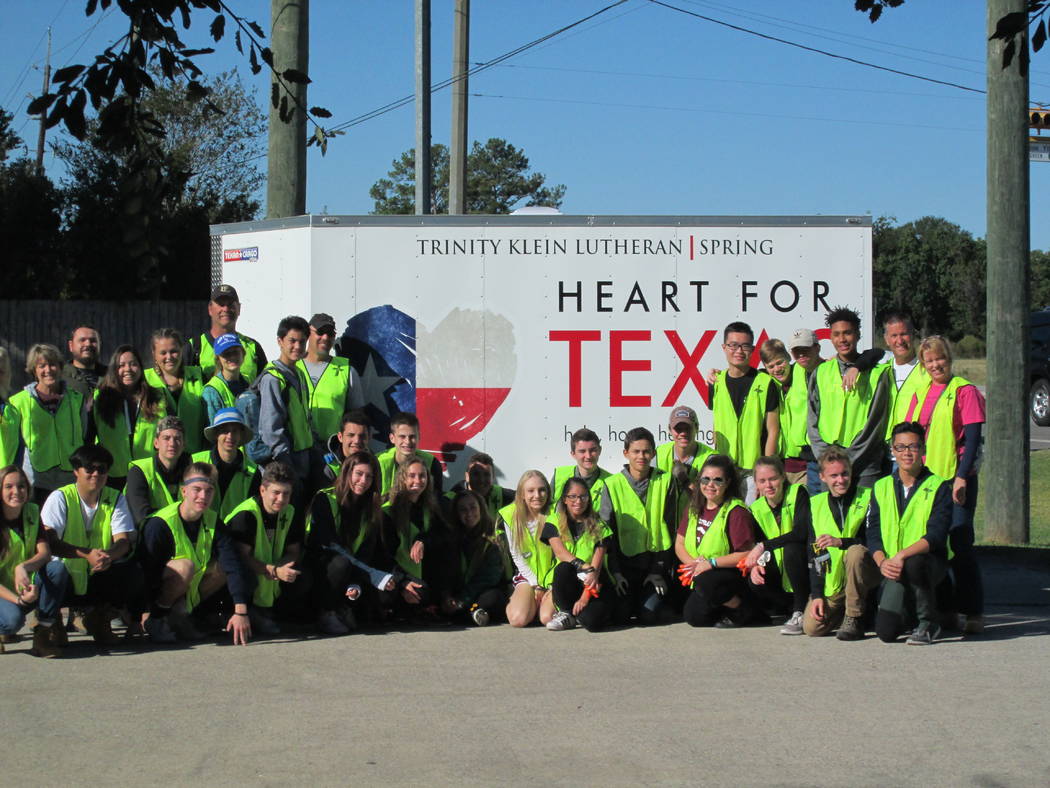 After Hurricane Harvey hit the Houston area in late August, Faith Lutheran Middle & High School did more than just raise $28,000 for recovery funds in two weeks.
The school sent 29 students and six chaperones to Houston, where they donned gloves and work vests to help flood victims. They were there Oct. 24-28 and were assisted by Lutheran South Academy and Trinity Klein Lutheran School in the Houston area, which provided lodging, food and tools.
"All we told our kids was to wear some boots," said Steve Buuck, CEO of Faith Lutheran.
Faith students paid $700 each to go on the trip. The local schools provided lodging, showers, transportation and meals.
"We were sleeping on cots from the Red Cross," he said. "I'm a 9 p.m. kind of guy, but there was so much giggling going on, kids were tossing things back and forth; it was just kids being kids. We didn't get that much sleep."
The hurricane damaged about 150,000 homes, and the Faith Lutheran youths helped with about eight. Buuck said one could tell where the water level had reached because pine needles clung to the walls, some as high as his shoulder.
They heard stories. A 75-year-old homeowner and her husband had to climb to the second floor during flooding. They relayed how they couldn't sleep because they needed to keep checking how high the water was rising. They were later rescued off the roof.
"One of the things we heard the most was, 'Why did you come all this way to help us? We don't even know you,'" Buuck said.
The group was given grunt work: drywall had to be torn out, flooring had to be ripped out, debris needed to be cleared.
"It was crazy," Buuck said. "In one subdivision, they had thrown everything out in their front yards, everything that was destroyed. And two blocks away, the homes were not even touched."
One of the students who went to Houston was Tim Zhao, an exchange student from China. The 17-year-old senior said he wanted to help after seeing coverage on TV. He said it was an opportunity to learn how to use tools. The hardest part, Zhao said, was pulling up tile on the floor.
"Afterwards, you feel really proud of yourself," Zhao said, "seeing what you and your team got done. I wish we could've stayed longer; our team only did three houses and there was clearly so much more to do. … You feel sorry for (the victims) even though they have a positive outlook on life."
Fellow Faith Lutheran student Isabella Hyzak, 15 and a sophomore, said she moved to the Las Vegas area from Texas about a year ago and wanted to go back to help.
She regularly volunteers at Miracle League of Las Vegasand helps out in food drives but said this was much more impactful. In Houston, she was pulling out nails and doing cleanup work.
"People would tell us about the people who lived in the homes," she said. "We were clearing out the garage and I found some rosaries and a prayer book, and that was really sweet to find that."
One woman's mother had died just before Harvey hit, and some of the items she inherited were damaged and had to be tossed out.
"It was hard for her to get rid of those things. … I felt like we helped her move on from that," Hyzak said.
High school students at Faith Lutheran are required to spend 20 hours a school year doing service work for others. Other trips have taken them as far away as Poland, and they make an annual trip to Southern California to help the homeless. This year, some students will help build two homes in Mexico. Buuck called it putting "service work into the DNA of our kids."
"To actually be able to go there and help, I felt it was more special than just donating money," Hyzak said. "You can see that you're making a difference."
Contact Jan Hogan at jhogan@reviewjournal.com or 702-387-2949.