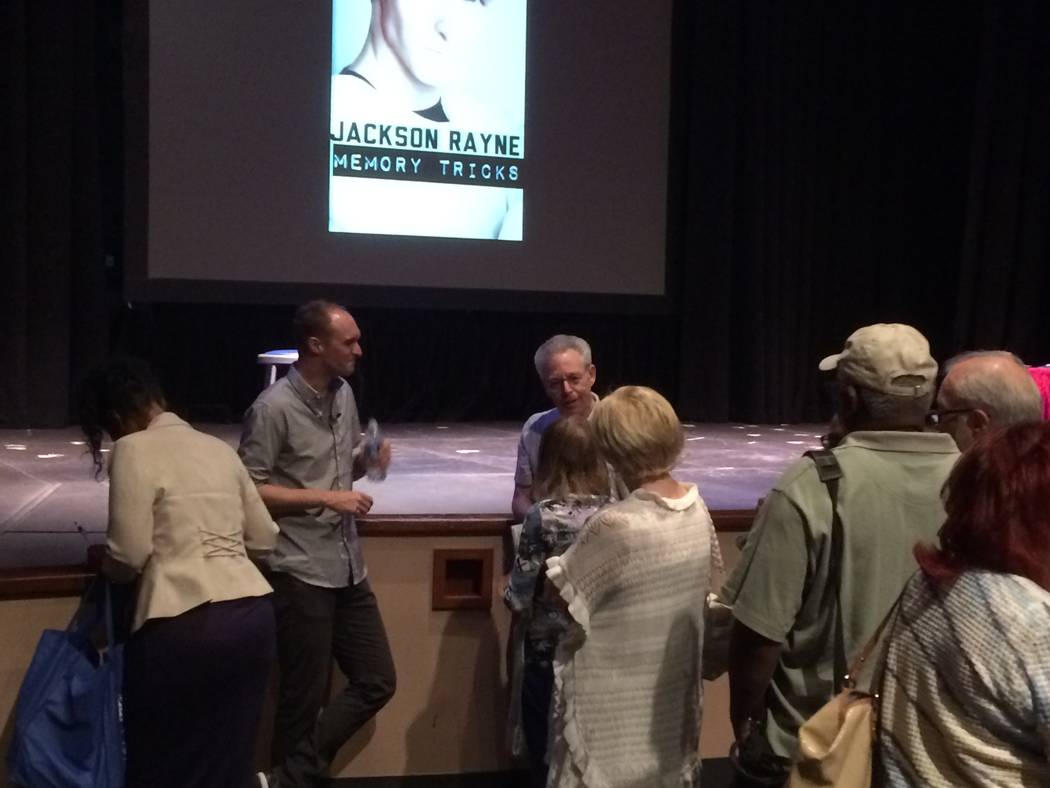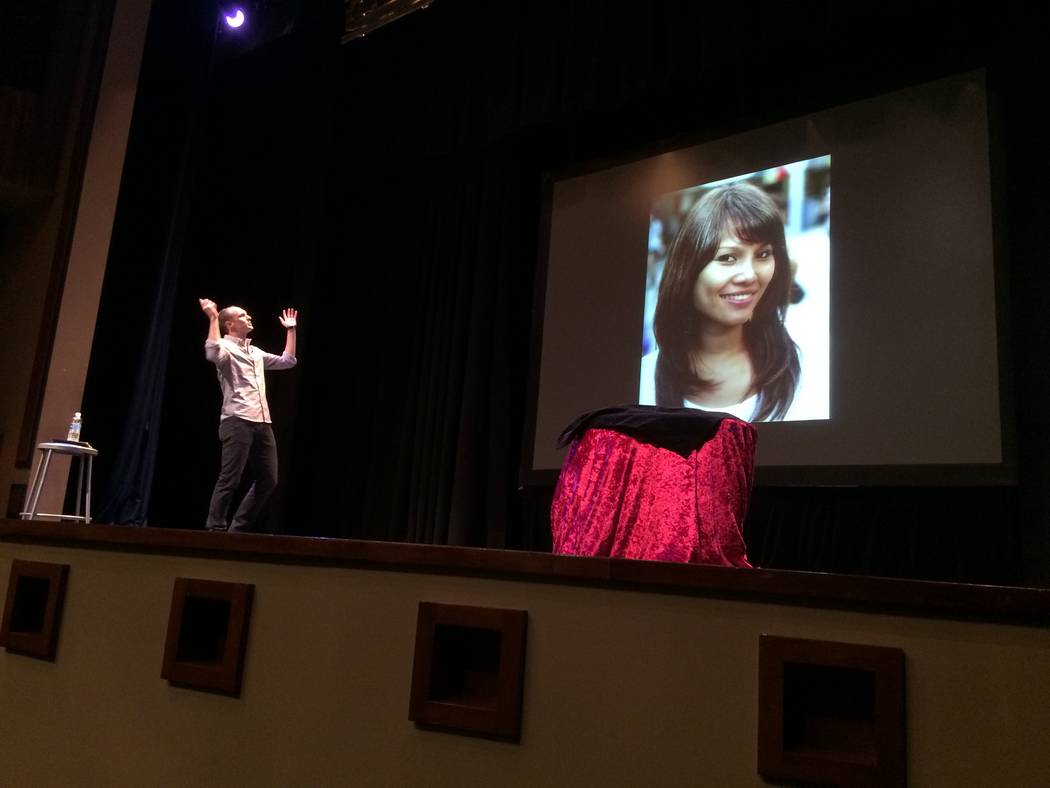 Been forgetting where you set your keys? Can't recall the name of the person you just met?
Jackson Rayne says he has a solution for that. The magician, who lives in Las Vegas but whose cruise ship contract means he's often sailing the high seas, showed residents how to organize their brain to bring someone's name immediately to mind.
About 50 people took part in the free program, Memory Tricks, held April 30 at Summerlin Library. Rayne is slated to appear there again in August for a free, hourlong talk on mental magic and card tricks.
Emma Trenchard, 55, said she was there to avoid future brain cognition issues. Her late mother, Antonia, began experiencing mental decline about age 85, and Trenchard wanted to be proactive.
"My memory's pretty good right now, but I'm thinking I may need this in the future," said Trenchard, who makes costumes for films. "I'm here to get tips."
Don Bocci, 82, said he'd noticed a change in his brain function recently.
"I'm forgetting a lot of things, like where I put things and how to get to places," he said. "We were coming here and I said, 'How do we get there?' … Or I'll have two things to tell my wife. I'll tell her the first one and then not remember what the second one was."
Rayne began by telling how he'd begun recalling names when he'd greet the line of people waiting to get into his dinner shows. He would later call out each person.
"One lady stopped the whole show," he said. "She just blurted out, 'How is he remembering everybody's name?' … After the show, people would come up to me, and here I was putting all my energy into the magic tricks, and all they'd say was, 'Yeah, the magic was great, but how did you remember all those names?'"
Rayne shared that trick, as he called it, with the audience. He uses a memory system involving memories already imprinted on the brain. Example: His own name would come instantly to mind if somebody associated his face with an image of Michael Jackson dancing in the rain. If someone's name is Brian, a person can swap the letters to get "Brain." Then they need only imagine Brian's face with his brain sticking out of his ears or his mouth or with brain stickers over his eyes. Easy enough.
"The whole idea is to use your imagination to create this picture that is so outlandish that you'll never forget it," he said.
Equate your new co-worker, Bill, he said, to dollar bills. See Bill with dollar bills spewing out of his mouth. If someone has a distinctive feature such as big ears, imagine him with dollar bills ears dangling off them.
To prove his system, showed pictures of eight people and helped the audience pick out facial features with which they could make associations. First up was John. John could be associated with a toilet bowl, Rayne said, so one might see him with toilet bowl glasses.
"And he has kind of a scowl, so looks like maybe he needs to go to the bathroom, right?" he asked.
Jason could be the face behind the "Friday the 13th" horror film villain's hockey mask. Bob could be Bob's Big Boy, so imagine him holding a tray of burgers. Pete's crow's feet could be covered with Pete's Dragon stickers, with fire coming out of his nose to create action. Kate was recalled with a kite and the numeral 8. Sandy was covered in sand.
He replayed the photos and the audience called out every name.
As for misplaced keys? He had a solution for that, too. Always put them in the same place.
Lorraine Stalians of Summerlin said she introduces herself with the tag, "quiche Lorraine." She's a tour guide and needs to remember dozens of names.
"I meet 40 or 50 people on the bus and I have them for a week. It's a challenge to remember them all," she said. "… Plus, nowadays, the kids have the most bizarre names and I can't rhyme with them or (associate them) with anything, so I'm going to have to work on that."
Rayne is scheduled to return to Summerlin Library at 2 p.m. Aug. 2 and Aug. 5 to present another program in which he will teach magic tricks suitable for both youngsters and adults. Call 702-507-3863.
Contact Jan Hogan at jhogan@reviewjournal.com or 702-387-2949.
Record holder
Jackson Rayne holds these Guinness World Records:
2009: Fastest escape From a straightjacket, performed in Las Vegas
2014: Fastest dry-land straightjacket escape in Japan, done in Oita City
2014: Most escapes from a straightjacket in one hour, in Branson, Missouri
Source: jacksonrayne.com