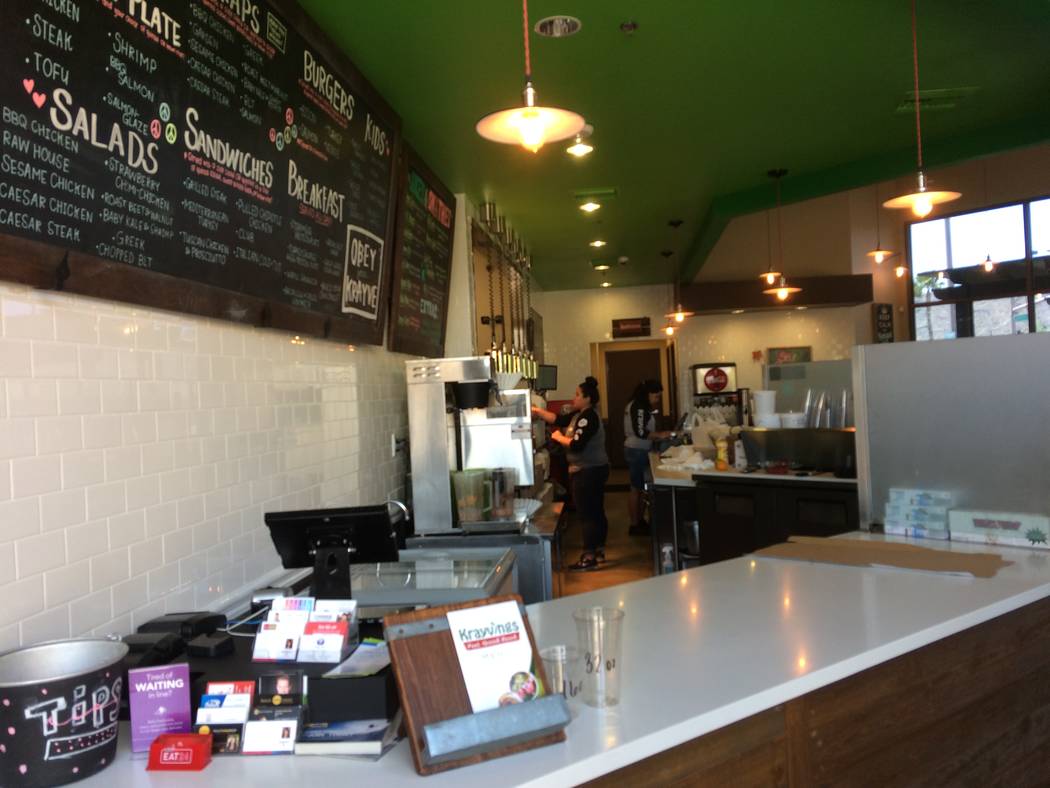 If you're on your way to Red Rock Canyon and want to grab a bite, Krayvings can fill you up without destroying your diet.
"A healthy lifestyle is what we're all about, but it's also about flavor," said Marty Jones, general manager. "It doesn't have to be bland. It can have a lot of flavor to it, so we use Serrano chiles, gluten-free soy sauce. We make our own sauces."
Set in the southwest corner of a shopping center anchored by Albertson's, the eatery offers freshly squeezed juices including the daily detox (orange, apple, lemon, ginger and beet) and get skinny (vanilla almond milk, strawberry, orange, pineapple and lime) and smoothies such as guilt-free chocolate. Breakfast is served all day with a steak-and-egg protein plate, the three-egg build-your-own omelet, breakfast wraps and a waffle sandwich.
Krayvings offers plenty of salads: barbecue chicken ($10.99), steak or chicken Caesar ($11.99) and baby kale with shrimp and sweet potato ($11.99). The eatery is not stingy on the meat, which, in the case of the chicken, is not derived from the thigh or drumstick. Wraps include little taste enhancers such as almonds, crispy onion, pistachio and roasted beets, depending on your choice of wrap. They start at $8.99. Sandwich choices include grilled steak, Mediterranean turkey, Tuscan chicken with prosciutto and pulled chipotle chicken. For those who really want to stick to their diet, the protein plates can be had with steak, salmon, chicken, shrimp or tofu.
Jones is looking to open another Krayvings location, possibly in Salt Lake City or St. George, Utah.
"This here, by Red Rock, is known for active lifestyle," Jones said. "We have bikers, we have joggers. We have hikers and climbers. We have it all right here, so that's why we chose (this location)."
Contact Jan Hogan at jhogan@reviewjournal.com or 702-387-2949.
Krayvings
Where: 11770 W. Charleston Blvd., Suite 150
Hours: 8 a.m.-9 p.m. weekdays, 7 a.m.-9 p.m. weekends
Information: krayvings.com or 702-945-0520
Social media: facebook.com/krayvings
11770 W. Charleston Blvd., Suite 150