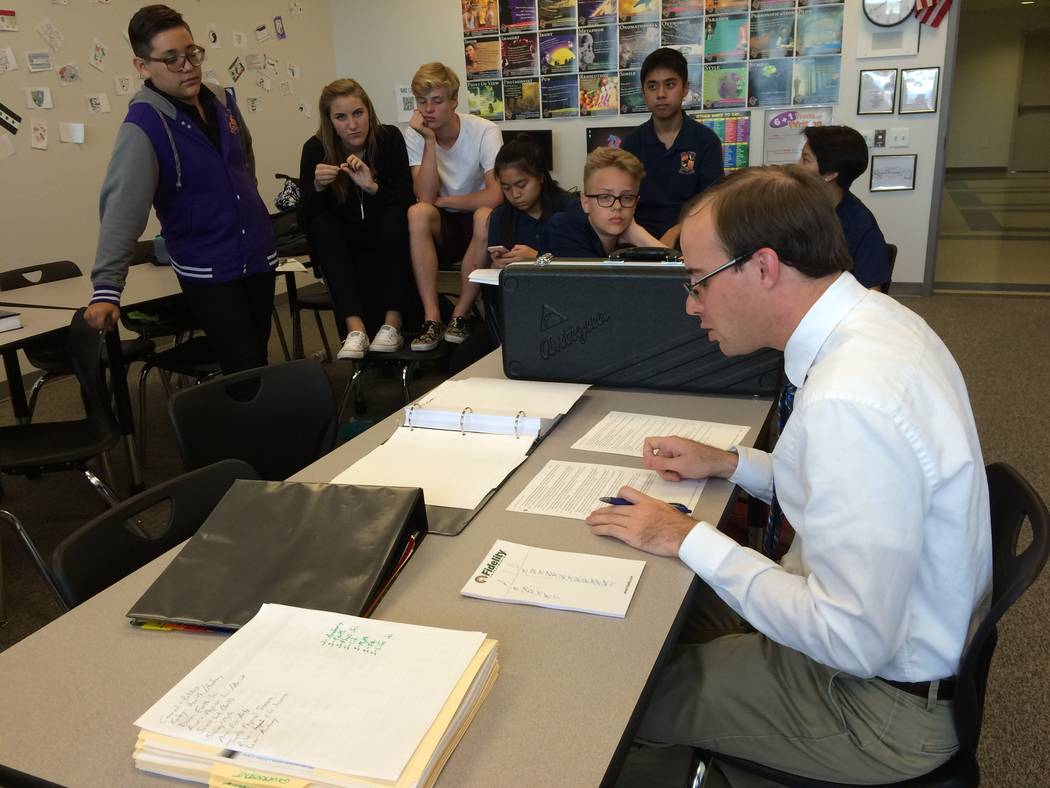 Think "Jeopardy!," just without the big money.
The National Academic Quiz Tournaments Nevada State Championship is slated for 8 a.m.-5 p.m. Jan. 27 at Doral Red Rock High School, 610 Crossbridge Drive. It's free and open to the public; visit lvqba.org.
Two teams will face off and use a buzzer system to answer questions about history, literature, science, fine arts and current events. This tournament will focus on math, literature, science, history andphilosophy.
"Varsity Quiz" airs on PBS and features area high school students, and its rapid-fire format has been around for 50 years. The Las Vegas Quiz Bowl Alliance is one of two quiz bowl leagues in Las Vegas. The alliance uses the more academically rigorous National Academic Quiz Tournament format to prepare Las Vegas-area students to compete in that group's national competitions.
"They went to the national competition (in 2008), and it took about eight games in before they figured out how to play it," said Paul Villaluz, a quiz moderator.
Las Vegas-area schools are on track to compete nationally this year. Ninety-five students have played this season in the Las Vegas Quiz Bowl Alliance's 12-team league, according to the alliance.
David Fisher has been the quiz coach at Liberty High for 10 years. He has 18 students on his team this year, some experienced and some new to quiz bowl.
"The experienced ones bring in the knowledge of what it's all about and how addictive this whole process is," Fisher said. "And then you have the new ones who kind of start with the trivia aspect and see who is really dedicated and who wants to better themselves. … Once they do (a competition), they can be kind of bitten by the bug."
Eshaan Vakil is 16 and a sophomore at Clark High. No stranger to competition, he went to Hawaii for the International History Bee last year and came back with multiple medals. For quiz bowl, he said, he has to study up on science.
"I scope out my competition because … there's that nagging fear the questions you get will throw you for a loop," he said, adding that being nervous tends to make him faster.
Vakil is Clark's leading player and his team is ranked No. 32 in the nation by HSQBRank.com.
"This kid is just amazing; he's got discipline, talent, it's all good stuff," Villaluz said.
Red Rock High sent two teams to the 2017 Small School National Championship Tournament held April 28-30 in Rosemont, Illinois. Team A finished with a 1-8 record, good for 29th place out of 30. Team B was 0-9, finishing 30th.
The High School National Championship Tournament was in Atlanta for 2011-13 and 2017, Dallas in 2016, and Rosemont from 2005-10 and again for 2014-15.
"One of the things we envisioned for this league was to see our schools become nationally recognized," Villaluz said, adding that quiz bowls also expose students to different cultures and ideas. "(Vakil) has also been recognized as player of the week for NAQT. We expect to see good things from him, not just in quiz bowl but life in general. … It's important to participate because through quiz bowl, we learn how to learn."
Another state tournament is slated for 8 a.m. Feb. 17 at Escapology, 2797 S. Maryland Parkway. The Escapology Las Vegas Open is open to nonstudents, allowing students to compete against pub trivia veterans on pop culture trends, sports, television, movies, music and gaming.
Visit lvqba.org/escapology-las-vegas-open.
Contact Jan Hogan at jhogan@viewnews.com or 702-387-2949.
Representing Southern Nevada
The following schools have represented Las Vegas Valley in the High School National Championship Tournament in recent years.
2017: Clark finished 6-5, good for 97th out of 304.
2017: Liberty finished 1-9, good for 301st out of 304.
2016: Western finished 3-7, good for 252nd out of 272.
2011: Bishop Gorman finished 4-6, good for 174th out of 224.
2008: Coronado finished 4-6, good for 140th place out of 176.