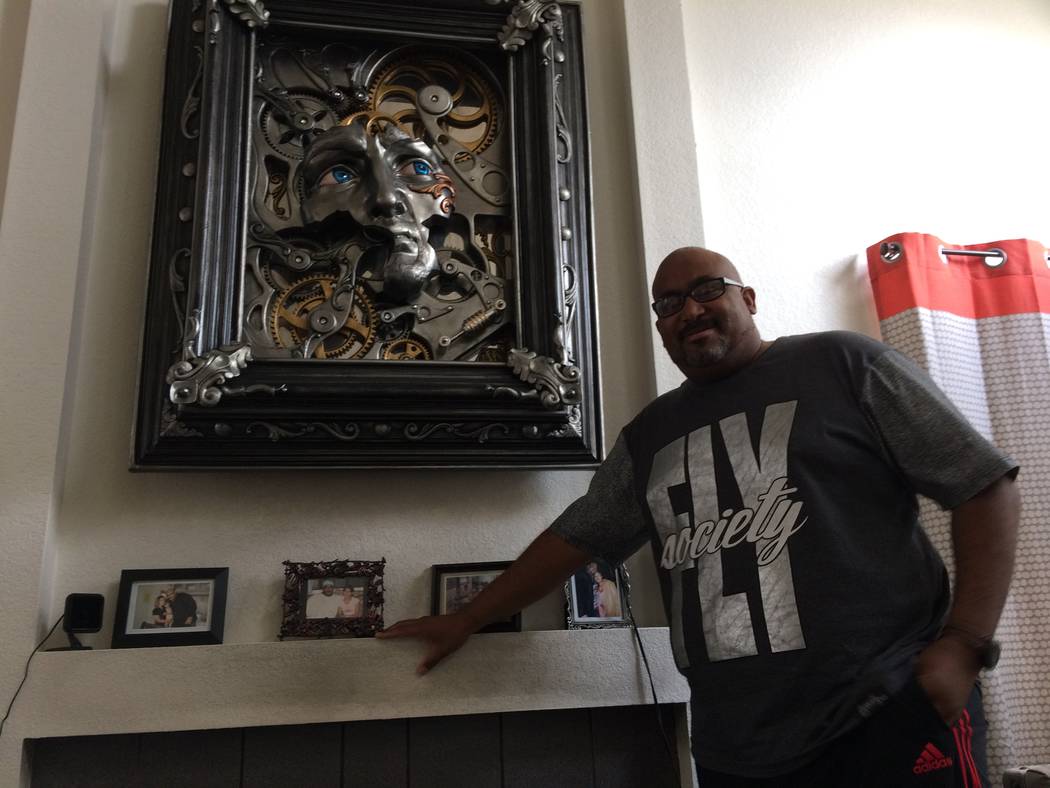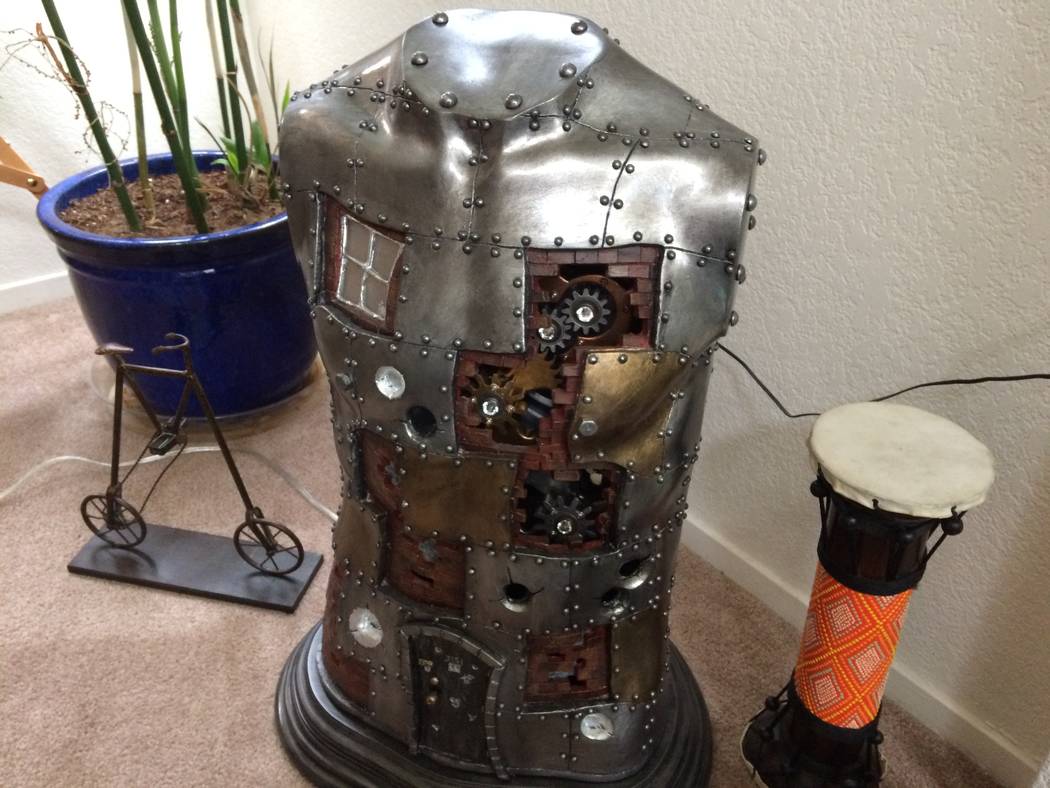 As a child, Dale Mathis, would sit in his room in Southern California and take things apart just to learn how they worked. He would tinker with and reassemble them, and he often made them better.
"I was the MacGyver of my neighborhood," Mathis said. "… I back-engineered everything. That was my thing as a child."
Mathis is 46 and still tinkering, but now it's art that holds his interest. Mathis' pieces are large and feature parts found in machine shops. He transforms all things mechanical into art that speaks beyond the gears and bolts that dominate his pieces, carving out a niche for himself. Mathis' art resides in galleries and private collections in Japan, Britain, Italy, France, Russia, Indonesia, Turkey, Brazil, Philippines, Australia, New Zealand, China, India and Mexico, he said.
His piece "David" hangs above the fireplace in his living room. It was inspired by Michelangelo's famous statue in Florence, Italy's Galleria dell'Accademia. The gears represent the subject's thinking patterns. Across the room is "Astronomical Clock," which challenges one to envision how the solar system and stars fit into astrology. Oversized gears and colored, cut-out Plexiglas add a glossiness.
Oh, did we mention the gears work?
The inspiration for it came, in part, from finding a spare bolt on the ground. It was huge and a part for one of the giant cranes used to hoist materials skyward as casinos went up.
"I took it home and kept it for 15 years. … I made a mold of it and ended up using it in my art," he said. "It's part of my past."
Mathis didn't set out to be an artist. He came to Las Vegas in 1992 after high school and became a delivery truck driver. A couple of years later, he followed family members' advice and worked as a union carpenter. He began by helping to build Vegas World, now The Stratosphere. Plenty of casinos were being built, so the work was constant. Tiring of that after more than 10 years, he switched to being a bouncer. At 6 feet, 3 inches and pushing 300 pounds, Mathis was a natural.
But that exposed him to the seedier side of life, he said, and he soon tired of it. Mathis lived in a warehouse storage unit for three years while he returned to his love of tinkering, which led to creating art. A friend got him into a gallery and Mathis sold his first piece in 1997, earning $1,000.
That exposure led to his meeting wealthy investors. Mathis was commissioned to build a stand-up liquor bar for the office of one of them. Pleased, the commissioner and others invested $70,000 to get a start-up going for Mathis. Having pieces made in the Philippines was the next step. There was already a shop there that could fabricate his pieces at a low cost. Mathis sold everything he owned, got a passport and moved to the Philippines. Dale Mathis Studio Inc., or DMSI, was born.
"It was a bit of a cultural shock … It's an island, so everybody has a kick-back, laid-back kind of attitude," Mathis said.
The country was great for allowing him the leeway to work at his own pace, he said. Inspired, he came up with 12 new pieces.
Back in the States, he did his first art show: Art Expo Las Vegas, in 2007. There, he sold $100,000 worth of art in two days.
Emmett Gates, a local cartoonist known as Iceberg Slick, has known Mathis for 17 years and said carpentry is not the usual discipline via which most artists emerge.
Mathis' works are "beautiful, incredible work a genre all by himself; you have to see it for yourself," Slick said, adding, "As a black man myself, art is generally not something fostered in African-American homes."
Severine Schmitz, a former graphic artist, said Mathis' art is "big and impactful. It's like, 'Wow.'"
These days, his art is made from templates into molds, with copies made and assembled overseas in limited editions. He still travels to the Philippines as needed. He can create a new piece in a month or two, with another month needed to refine it. An oversized piece like "David" sells for $13,000. There are only 100 editions. Other, smaller, pieces might sell for $5,000 but be made into 500 editions. Mathis also does entry-level art pieces, such as mechanical playing cards, that sell for $50 to $100.
"That's what gets you into the Dale Mathis world, only on a budget," he said and grinned. "Playing cards, because it's Vegas."
A smaller, 3D piece is based on a mannequin torso found in a dumpster behind Caesars Palace. It includes his boyhood street address, bullet holes and a tiny, lighted window.
"That's me in there," Mathis said, pointing to the window in the upper corner of the torso. "I'm in there with the light on as I (work) on another project."
Contact Jan Hogan at jhogan@reviewjournal.com or 702-387-2949.
On display
Following are galleries where Dale Mathis' work has been shown, he said.
Oh My Godard Gallery (Atlantic City, New Jersey), 2011-present
Signature Art Galleries, The Venetian (Las Vegas), 2011-present
Derubies Fine Art, (Key West, Florida), 2010-present
The Mind Museum (Taguig, Philippines), 2010-present
Rustans, Rustans Makati (Manila, Philippines), 2010-present
DECO Central, Clark Freeport Zone (Clark Pampanga, Philippines), 2010-present
NaPau Gallery at Grand Wailea (Wailea, Hawaii), 2009-present
Oh My Godard Gallery (South Lake Tahoe, California), 2009-present
Oh My Godard Gallery, Planet Hollywood (Las Vegas), 2008-present
Chalk Farm Gallery (Santa Fe, New Mexico), 2008-present
R&R Bond Gallery (Sarasota, Florida), 2008-present
Redstone Art Gallery (Park City, Utah), 2008-present
Michael J. Wolf Fine Arts (San Diego), 2008-present
Jeanie Madsen Art Gallery / James Coleman Fine Art (Santa Monica, California), 2008-present
Royal Street Gallery (Aspen, Colorado), 2007-present
Art Encounter (Las Vegas), 1999-2001
DeRubeis Fine Art of Metal Gallery (Lahaina, Hawaii; no dates available)