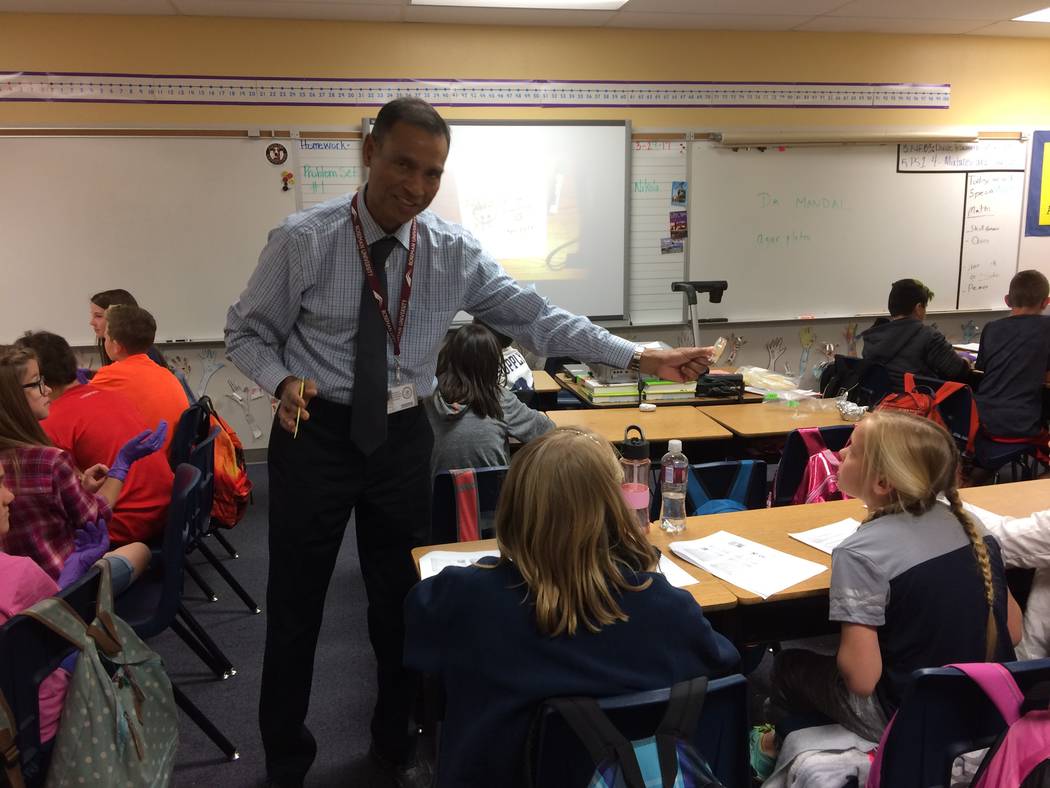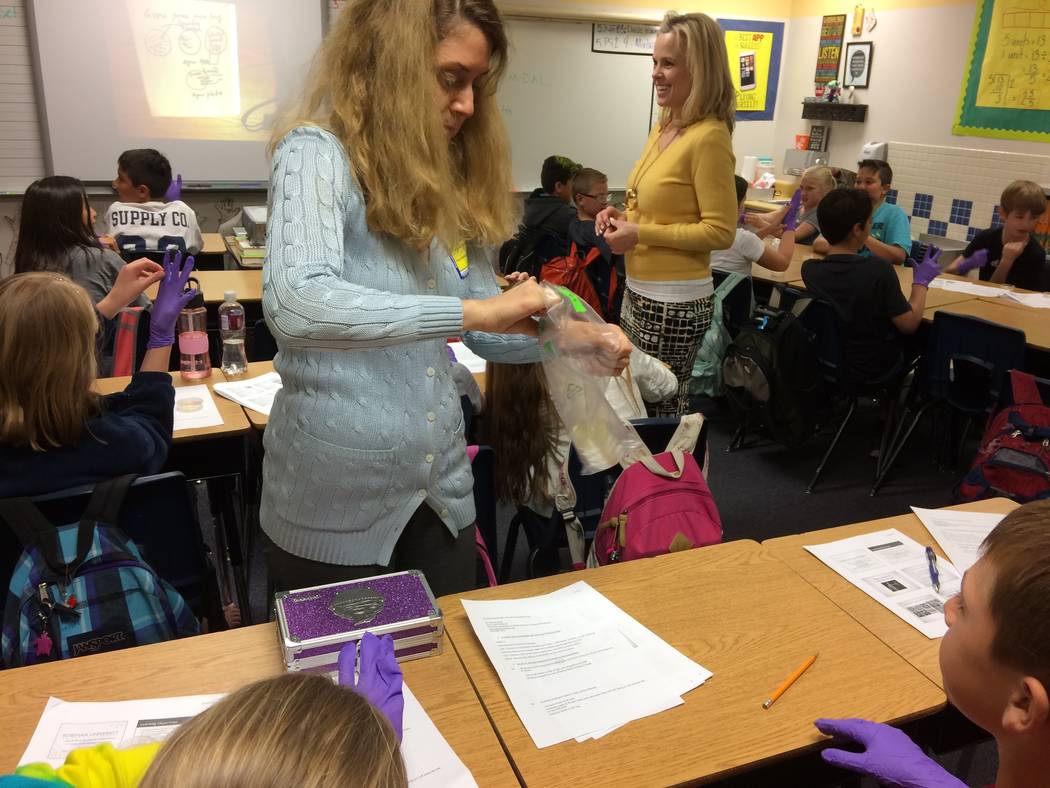 Goolsby Elementary School fifth-graders got a hands-on lesson in biology March 29 as part of a partnership with Henderson's Roseman University of Health Sciences. Under the partnership, which began in January, staff members have visited the school monthly.
Principal Kim Cunningham said Roseman contacted Goolsby and offered the partnership.
"When I heard that, I loved it because we have a STEM program here — Science, Technology, Engineering, Mathematics — and so it's right up our alley," she said.
This day, Manas Mandal, an associate professor at Roseman, was speaking to Milee Powell's class about microbiology, viruses and bacteria.
He went over the types of viruses and bacteria and told how they attack one's immune system, which puts out an "army" to contain the invader, and explained why getting vaccinated is a good idea.
"Cells have a type of memory and they recognize an infection that the body has seen before," he told the fifth-graders. "That's why vaccinations work."
Mandal's presentation included an electrograph of a white blood cell binding with a suspect cell to contain it.
He fielded questions: Has anyone been cured of AIDS?; What causes strep throat?; How do you get chicken pox?; How are vaccines made? Do bacteria have brains?
The fun part came when the students got to infect one half of a Petri dish with E. coli after being told how a swipe of their gloved finger, once it had been sprayed with Lysol, would leave no germs on the other side. They also got to make the white blood cell models using foam packing peanuts, Gummy Worms and toothpicks.
Paige, 10, said that when she'd learned of the Roseman visit, she'd expected "something really cool to happen, and so far, it has. I learned that the (Petri dish) actually had E. coli in it. That was pretty impressive, (and) also a little scary."
Kayl, 11, said the presentation was "100, 90 percent fun" and that learning about different infections was prompting him to consider becoming a chemist.
Mandal, a vaccine researcher, said he based his presentation on helping his two daughters understand their science lessons.
"It's different from teaching an adult. Here, I use some of the cartoons, some of the models (with which children are familiar), giving them the idea of how these things work," Mandal said. "It gives them visualization at their level — not a lower level, just 'their' level."
Their level included a hands-on craft in which Styrofoam packing peanuts served as white blood cells. Tentacles were toothpicks. A Gummy Worm represented a virus.
Some of the adults said they wished they'd had similar speakers when they were younger. It was seen as a way to spark curiosity among young people and give them a thirst for learning.
"Women in particular are very much underrepresented in the sciences. You look at UNLV's engineering program, there are about four times as many boys as girls," said Vanessa Maniago, spokeswoman for the teaching university.
Half the class members likely will go on to be STEM students, Powell said.
"What I think it does is, it opens the possibilities," she said. "It helps them understand that STEM encompasses more things than just the few things they know. … It broadens their scope."
After the program finishes this summer, the partnership will be assessed, Cunningham said.
"I hope it shows that the kids are more interested in science so they are interested in looking at occupations that have a science relationship, to open their eyes, to see how science is utilized in the real world," she said.
Contact Jan Hogan at jhogan@reviewjournal.com or 702-387-2949.
How it began
The partnership between Roseman University of Health Sciences and Goolsby Elementary School launched in January with a unit on mixtures and solutions for fifth-graders and anatomy for fourth-graders.