Red Rock electric bike tours take the strain out of scenic loop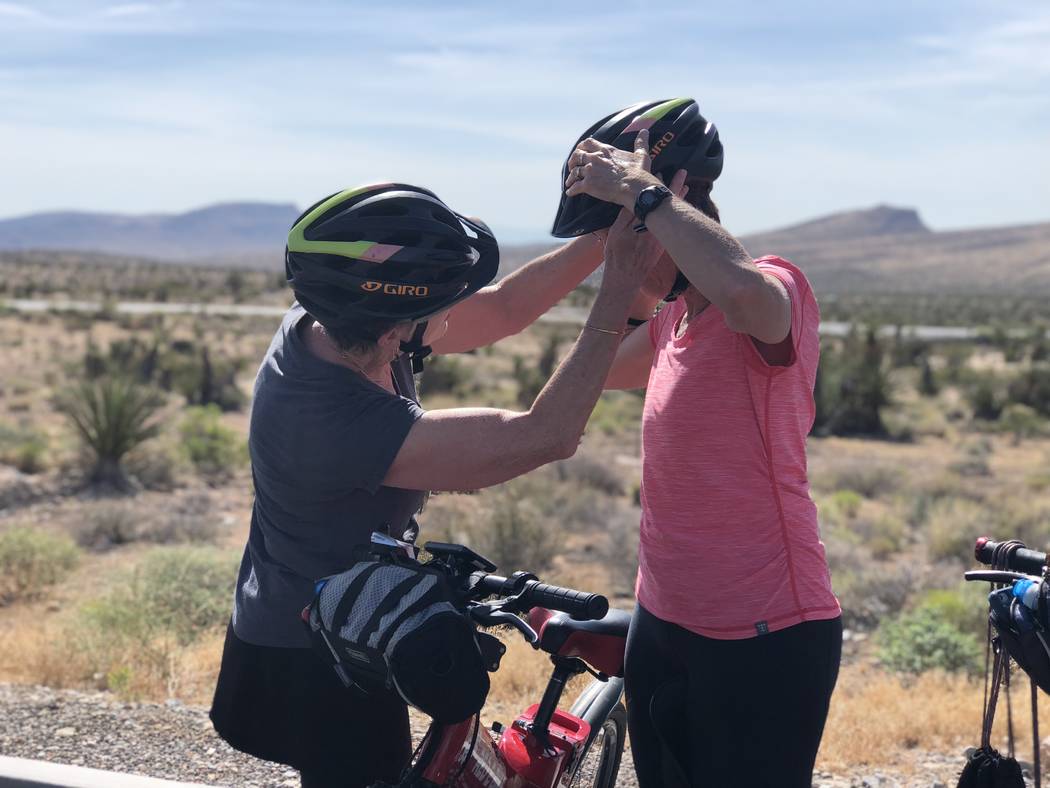 Riding a bike along the often-uphill 13-mile scenic loop of Red Rock National Conservation Area is equivalent to pedaling to the top of the Stratosphere, Allison Messmore likes to say.
For many, that might sound like a nightmare. Unless the bike you're riding happens to be an electric one.
That's where Messmore's Red E Bike Tours comes in. It's the only guided electric bike tour permitted to operate in the roughly 195,820-acre national recreation area, said Messmore, 47, who owns and operates the company with her 19-year-old daughter, Ciera.
The three-hour tour, which begins and ends at the park's visitor center, totals roughly 17 miles and climbs 1,200 feet, just 51 feet more than the height of the Stratosphere, Allison Messmore said.
"In order to do this loop under your own power, you'd have to train extensively for it," the Summerlin resident said. "But the bikes really take all the hard work out of it for you, and that lets the park really steal the show."
Allison Messmore and her daughter have been leading locals and tourists along the scenic drive for five years.
"Kristen, you're on Jackpot," she shouted on a recent warm Friday morning as she looked down at her clipboard. In front of her were four red bikes lined neatly in a row. "And Monica, I'm going to have you on Blackjack."
That morning, Allison Messmore hopped on Ace of Spades — her favorite bike.
"She named the bikes," Ciera Messmore said of her mom. "That was all her."
Together, the mother-daughter duo took a group of four women, clad in athletic gear and cycling helmets, through the park famous for its red sandstone formations.
"I wanted a guided tour. I like to have someone tell me about what I'm seeing," said Jenna Spain, 26. She hadn't been on a bike in years before that morning, but she joked she wasn't nervous, pointing at the battery on one of the bikes.
Monica Leo and Janice Mangrum nodded in agreement. The two sisters were visiting from Austin, Texas.
"I can already tell that Allison is going to be able to tell us more about what we're seeing than if I had a brochure," said Mangrum, 60. "Bikes are really the best way to see something new. You're going at a faster pace than walking, but you're not driving through with your windows rolled up."
After a few adjustments to their bike seats, the women took off with Ciera Messmore leading the way as her mother trailed behind at the end of the group, ready to share her favorite fun facts about the park.
More information about Red E Bike Tours can be found at www.redebike.com.
Contact Rio Lacanlale at rlacanlale@reviewjournal.com or 702-383-0381. Follow @riolacanlale on Twitter.