Sun City Summerlin talk focuses on lung cancer risks
November 2, 2017 - 10:34 am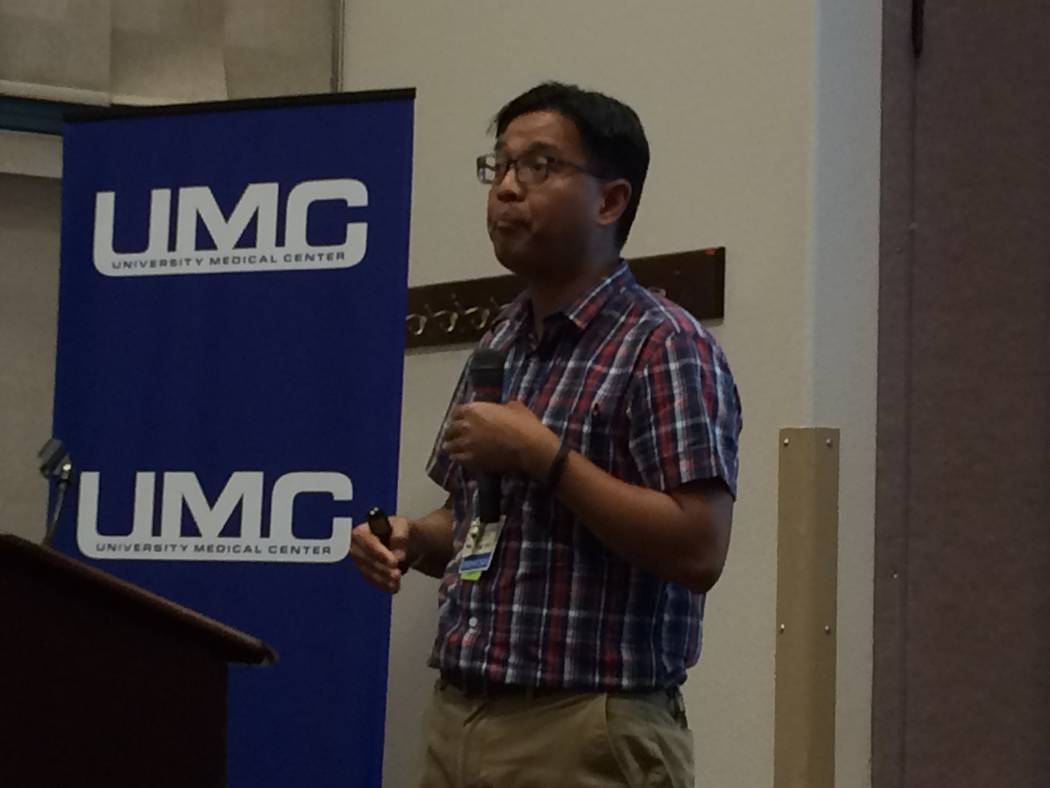 Residents, including some ex-smokers, learned about the long-term dangers of tobacco use during a talk by UMC pulmonologist Arthur Romero at Sun City Summerlin.
Sally Schwartz attended the Sept. 19 talk and said her husband quit after he'd smoked cigarettes for more than 35 years. He died at 75, 12 years after he'd quit.
"The ashes would drop on the carpet and leave holes," she said, adding that she'd tried smoking once and didn't like it. "Used to drive me crazy."
Chris Henrickson said she smoked three packs a day for 20-plus years.
"But I keep hoping that a lot of them were just burning in the ashtray," she said, adding that she'd quit years ago. "You know you're going to die from something. Anyway, I'm 73 and in decent health."
Romero told attendees that lung cancer was not the most common type of cancer — skin cancer is — but that "lung cancer kills more people than any other cancer."
Catching it early helps ensure a better outcome, he said. The surest way to address lung cancer is to surgically remove it. Which stage the cancer is at determines whether one undergoes a wedge resection, in which only the affected part of the lung is removed; a segmentectomy, in which a full segment is cut out; or a lobectomy, in which the entire lobe is removed.
"To cut is to cure," Romero said. "Everything else, you're just keeping it at bay."
Today's medicine means doctors have more tools to assess the damage, including CAT scans, biopsies and ultrasound. Romero shared a video with animation showing a guided tube snaking through the tunnels of the lungs to the spot where the cancer sat. Endo bronchial ultrasound allowed for real-time imagery.
"It's kind of like playing a video game," he said of operating the apparatus via a TV-type screen. " … Patients can come in at 8 a.m. for the procedure and be (done) in time for lunch."
Various tools can be threaded through the tube to take tissue samples for further analysis so doctors can address treatment options. A pathologist is generally at the procedure to look at the cell pattern immediately upon taking the sample. The pathologist can determine if they're dealing with cancer or something else.
American Cancer Society statistics show that 19 percent of Americans smoked cigarettes in 2011. The numbers are higher in many other countries. Those at highest risk for lung cancer were 65 or older and had smoked for 30 "pack-years." The ACS considers a pack year as smoking 20 cigarettes a day for a year.
In 2016, American Cancer Society numbers show, 224,000 lung cancer cases were diagnosed with 75 percent in advanced or metastatic stage, not amenable to cure. The U.S. sees 158,000 lung cancer-associated deaths annually, the ACS noted.
Women are at higher risk of developing cancer than men.
"So many women now are getting lung cancer who never smoked. That's the frightening thing. … Years ago everybody around you smoked. It was the thing to do. It made you look cool," said Phyllis Lipschutz, who attended the talk.
Romero said 85 percent to 90 percent of lung cancer cases were attributed to smoking, and that some lifelong nonsmokers who got the disease did so from breathing secondhand smoke.
"My dream study would be to go into the casinos," he said, "and (test) the people who work there."
Visit the American Cancer Society at cancer.org.
Contact Jan Hogan at jhogan@reviewjournal.com or 702-387-2949.
Early signs
Indicators of lung cancer include a cough that does not go away, tiredness that lasts, shortness of breath, a hoarse voice, pain in the chest area, wheezing, pain when swallowing, a high-pitched sound when talking, and blood in the lung mucus.