Veteran volunteer at Sahara West: 'I don't know how 100 feels'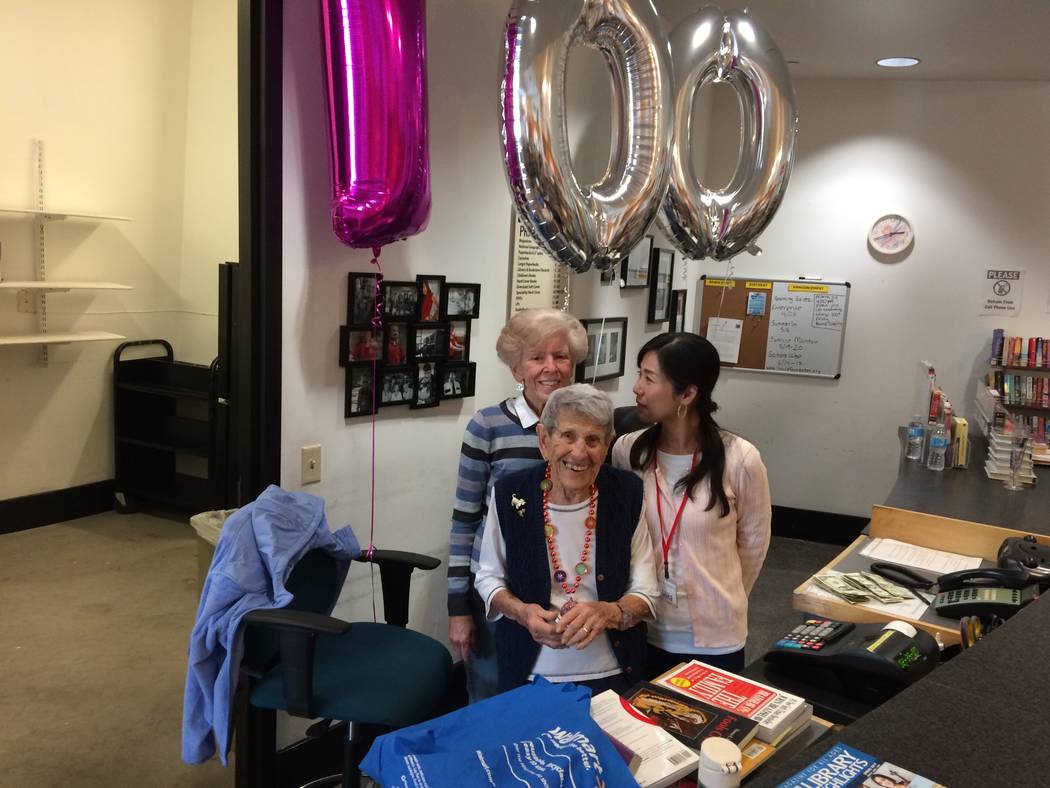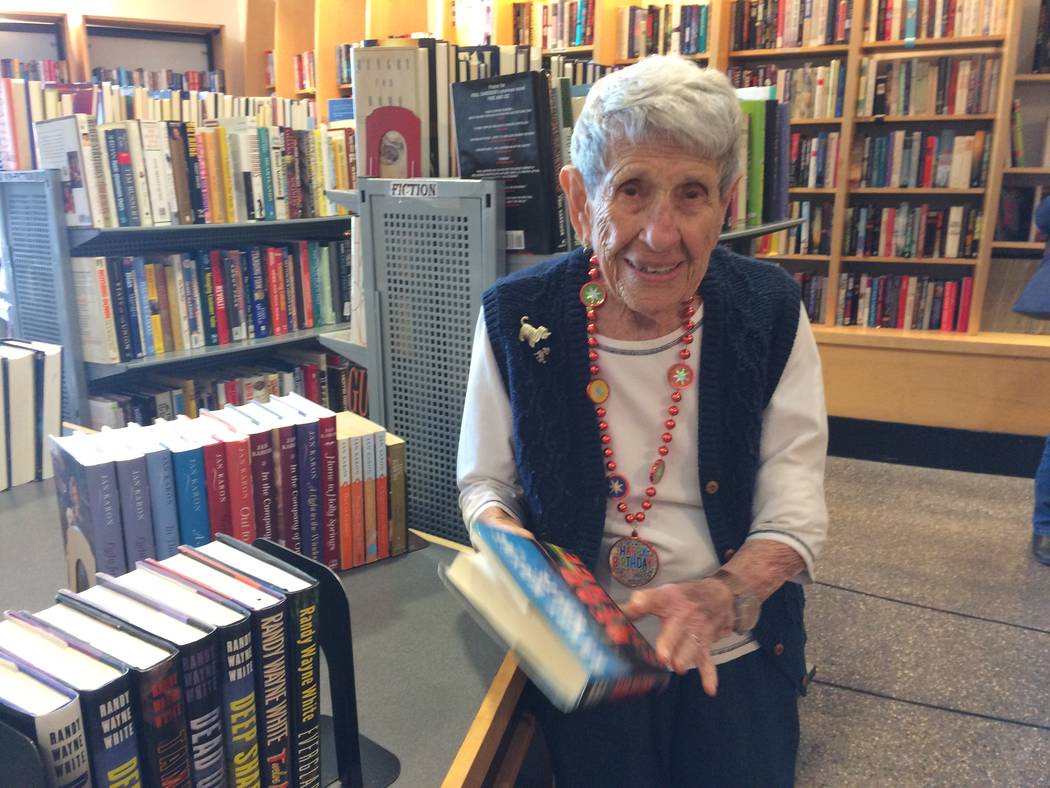 The used bookstore at Sahara West Library was in party mode March 24 as it marked the upcoming birthday of one of its volunteers, Gladys Stroud. She turned 100 a week later.
She said she doesn't feel her age.
"I don't know how 100 feels," Stroud said. "I don't think any of us feel our ages. We just 'are'; we 'do.' I've slowed down physically, but I don't feel old."
She has been volunteering at the library's bookstore one day a week for 13 years. She originally worked four hours a week; she has cut back to two. When she came in to work her shift this day, fellow volunteers greeted her with hugs. Three helium-filled balloons floated above, featuring the digit one and two zeros.
"I was at the party store and I told the guy I was getting balloons for someone turning 100. And he was like, 'Whatever.' And I thought, 'Really, dude? When's the last time you heard of someone turning 100?'" said Leslie Valdes, volunteer program coordinator for the library district.
Stroud grew up in Los Angeles and, as a child, idolized her teachers.
"When you're young, a teacher is like God. I don't know that the children today have the same feeling," she said.
After a brief stint at UCLA studying liberal arts, she moved to New York City. There, she met her first husband, Arnold. He made a distinct impression.
"He was a Marine and he wore that blue uniform with the red piping. He was very good-looking," Stroud said.
They moved to Southern California and raised a son and a daughter. Arnold had a machine shop and provided a good living. As the children grew older, Stroud had more time on her hands. A friend worked at a hospital, and Stroud thought that might be a good fit for her, too. She took a city test to qualify.
She'd meant to take the county test. But it was a moment of, "when one door closes, another one opens." Stroud qualified for a opening with the county's water and power department, doing clerical work.
"I'm a fatalist. … I was very fortunate to take that test, because I was hired," she said. "I think when things happen, there's a reason. Sometimes we have to look for it. Sometimes, it hits you in the face."
Six months into her job, life hit her in the face when Arnold took ill and died. He was 44. It was up to her to support herself.
"I think life takes care of us. We block out the bad," she said.
Stroud made herself invaluable at her job and spent her free time participating in clubs. She met her second husband, William, a Merchant Marine.
He taught her to play golf and to bowl. They moved to Las Vegas in 2002 and settled in Peccole Ranch. She began volunteering in the used bookstore section.
"I like books and … I had no supervision, no pressure, so I felt as if I was on vacation," Stroud said.
At the time, the used bookstore was in a storage closet, a 10- by 10-foot space. Books were on trays to save space.
"Not too many people knew about it, so the same people would come in and you'd form a relationship," Stroud said. "Here, you say 'Hello,' but you don't have the same feeling. There, if I wanted to stand on my head, I could do it. Here (in the current space), I have to watch myself."
Traveling has long been part of her life. Stroud said she sailed through the Panama Canal (three times), went to Turkey and Italy and did a river cruise down the Danube. She did another river cruise in Alaska. Stateside, much of her travel included golf, and she and her husband took their clubs all over Hawaii, elsewhere in the U.S. and Canada.
Stroud still drives her Oldsmobile and has a year before she needs to renew her license.
"I try not to drive so much because I'm concerned for (others on the road)," she said. "I don't want to hurt anybody when I'm driving, so I just drive around the areas that I know."
That includes going out for lunch once in a while. Norm Chan, owner-operator of Norm's Diner at 3945 S. Durango Drive, knows Stroud as a patron. Gladys carries a flashlight to read small print. One day, she left it behind at Norm's Diner. Chan held on to it until she returned.
"She gave me a big hug and kissed me," he said. "I love the way she is, so vibrant. She's going to live at least another 20 years."
Stroud, a widow again after William died in 2013, keeps busy — going to exercise class, Fit For Life; at the Desert Breeze Community Center; at Bible study class once a week; and at bingo at Red Rock Resort. She plays mahjong twice a week at her house.
"But we don't play for money," she said. "Put that in or otherwise I'll have the vice squad knocking on my door."
Contact Jan Hogan at jhogan@reviewjournal.com or 702-387-2949.
Also in 1917
Gladys Stroud was born in 1917. That year …
• The U.S. gets its first rubber-soled sneaker when U.S. Rubber introduces Keds.
• Dallas' Love Field opens.
• Astor Theatre opens in New York City.
• RCA Victor releases the first jazz record, "Dixie Jazz Band One Step," by the Nick LaRocca Original Dixieland Jazz Band.
• Ten million men in the U.S. register for the draft in anticipation of war.
• The Raggedy Ann doll is invented.
• More than 40 suffragists are arrested for picketing in front of the White House.
• London sees the first of many nighttime bombs by German fighter planes.
• The first doughnut is made for American troops in France, fried up by a Salvation Army volunteer.
• Boys Town, outside Omaha, Nebraska, is founded by Father Edward J. Flanagan.
• The Pulitzer Prize is established.
• John F. Kennedy is born.
• A worldwide influenza pandemic hits. By the time it's over, in 1919, it has killed as many as 100 million people across the globe, including 550,000 in the United States.
• Two girls in England's Yorkshire countryside claim they met and took a photos of a group of fairies, called the Cottingley fairies, creating a worldwide sensation.
Sources: worldtimeline.info, timelines.ws