Way off Broadway: Ex-'Les Mis' performer massages in Summerlin
January 16, 2018 - 9:31 am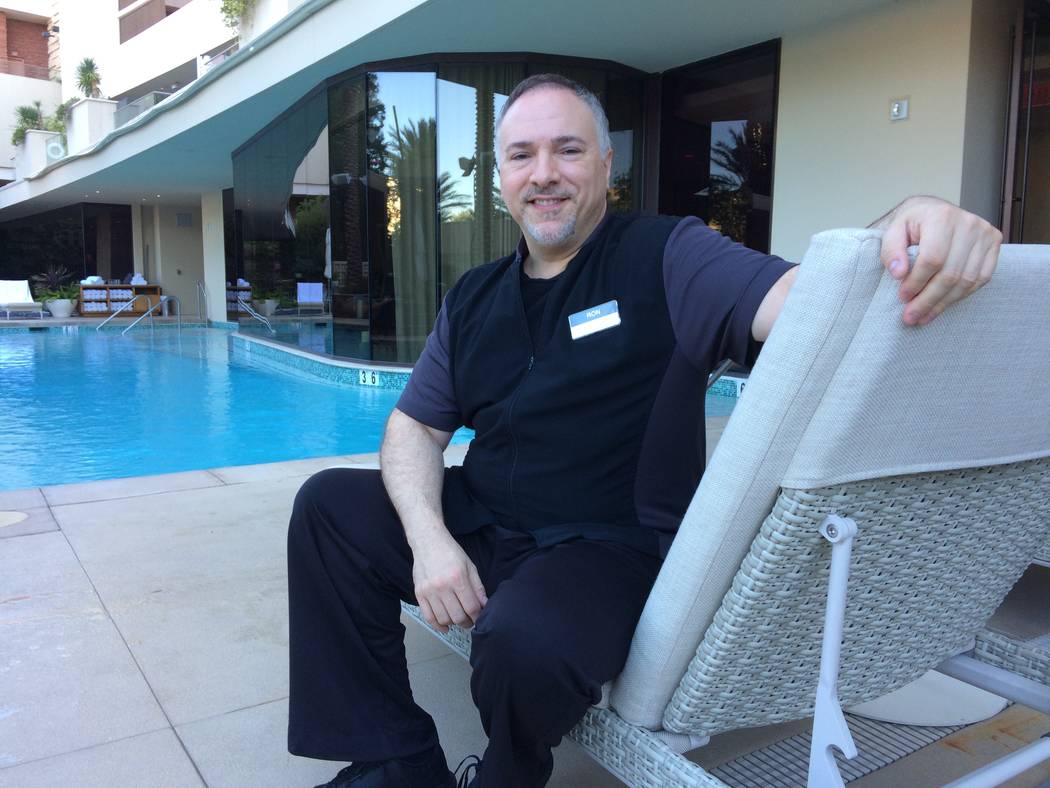 Book a massage with Ron Seykell at Red Rock Resort and if you're nice, he'll launch into a song from "Les Miserables."
The Broadway veteran now works as a massage therapist. He moved to Las Vegas in 2011.
"Between Red Rock and Mount Charleston and the arts and culture here, it's very much a melting pot of L.A., Boston, San Francisco, New York," he said. "They all seem to collect in this community, in Summerlin."
Red Rock spa director Megan Linney hired Seykell without knowing his Broadway background. She said she was impressed by his massage certifications and how comfortable he was around people.
"Everyone's background has some influence on their choice and success in this industry," Linney said. "With Ron … his mindset made him stand out because he was able to (bring) those skills from (the stage) into the environment here."
Seykell said he was a "starving" student in New York City, working as a singing waiter, when a producer noticed him singing at The Duplex in Greenwich Village. Seykell ended up working with him on various music projects. The club owner also saw his potential and learned Seykell had prepared an act. The owner offered to let him perform it at the Cabaret Theatre, upstairs.
"It ended up running for a year, longer than any other debut act before at that time, so that's how the Broadway career launched," Seykell said.
His first Broadway show was with the touring company of "Les Miserables." That lasted more than a year, and he performed using the name Rohn Seykell. When his role's counterpart left, he went from understudy to the spotlight, performing from 1987-2003.
The first night "was mind-blowing, just surreal, because my whole life I had been training for it. Broadway was my goal and I was in 'the' show," he recalled. "… People wonder, 'Is the traveling show the same as the (New York) production? Should I go see it at The Smith Center? Will it be the same?' And the answer is, 'Yes.' It might be a little scaled down, but they (maintain) the quality."
After Broadway, Seykell was in "Metro" in Warsaw, Poland, then was part of the national tour of "Cats" (he was Rum Tum Tugger) and "Jesus Christ Superstar" in St. Louis. He even had a small part on the ABC drama "All My Children." In between, he was doing his own act in cabaret theaters and piano bars — The Duplex, Don't Tell Mama, the Waldorf Astoria, Avery Fisher Hall — and in different cities. He was set to host a charity event for firefighters when the Sept. 11 attacks hit. He lost acquaintances, and a celebration turned into a memorial.
"I always thought of myself as a resilient person, but there are still moments when I'm not even able to talk about that day," he said. "It's incredible how those images stay with you."
A year after the attacks, he moved home to Michigan to be the development director at a youth theater, but funding kept drying up. He looked for a new profession.
"I started realizing that all the years I was performing, I was receiving (massage) work," Seykell said.
He studied various modalities, becoming certified in many: advanced deep-tissue techniques, maofascial release, sports massage and advanced Eastern paradigm including Thai and energy work. The Red Rock spa offered free body work to first responders in the Oct. 1 mass shooting, and Seykell signed on.
The shooting "kind of brought me back to the towers falling," he said. "I felt disenchanted and disempowered when 9-11 happened, but this time, it was the contrary. I felt like I had grown in the years since, and I had so much I could offer this time around."
Contact Jan Hogan at jhogan@viewnews.com or 702-387-2949.