Wrestling new sport for girls at Palo Verde
January 13, 2017 - 11:41 am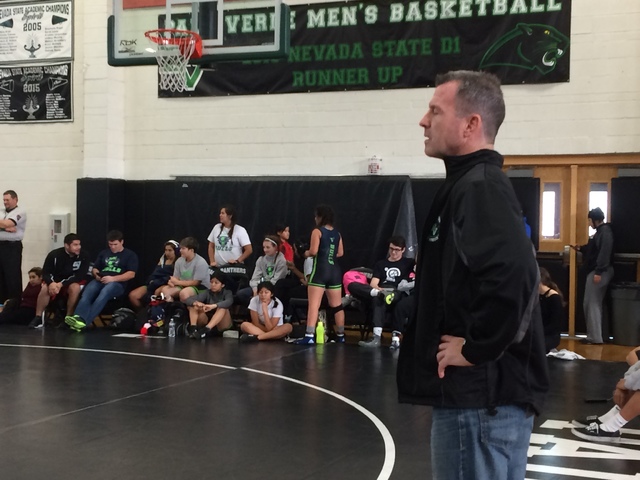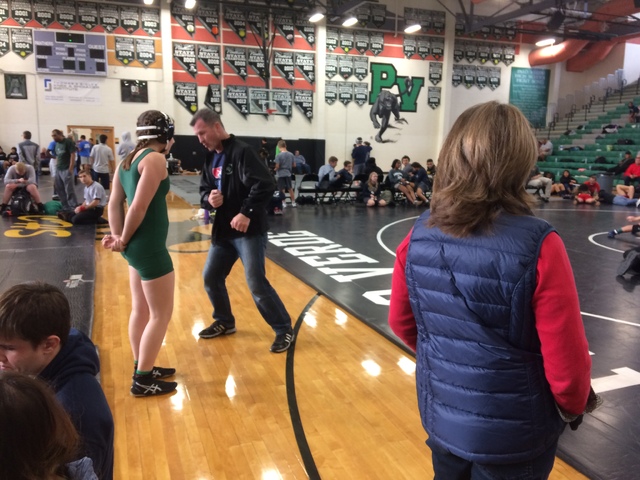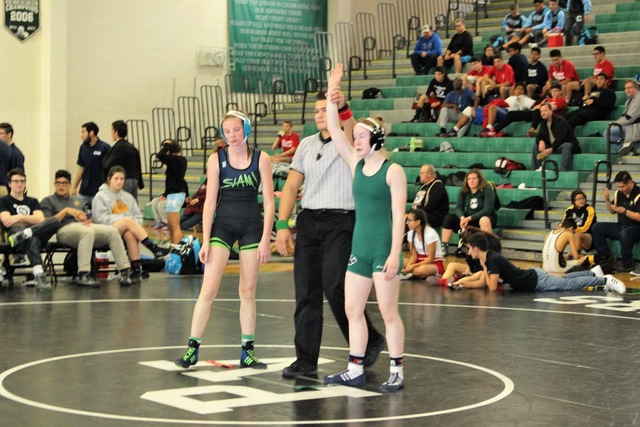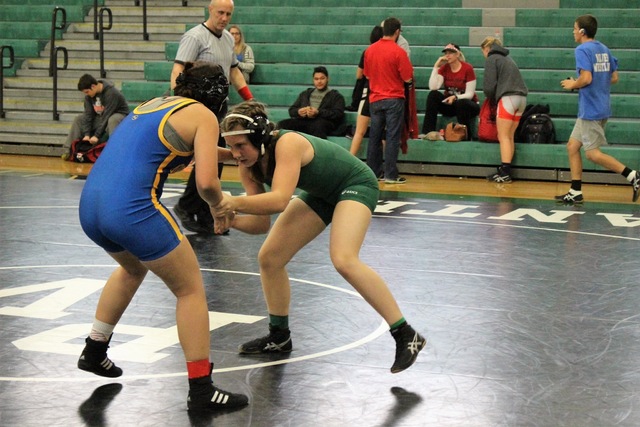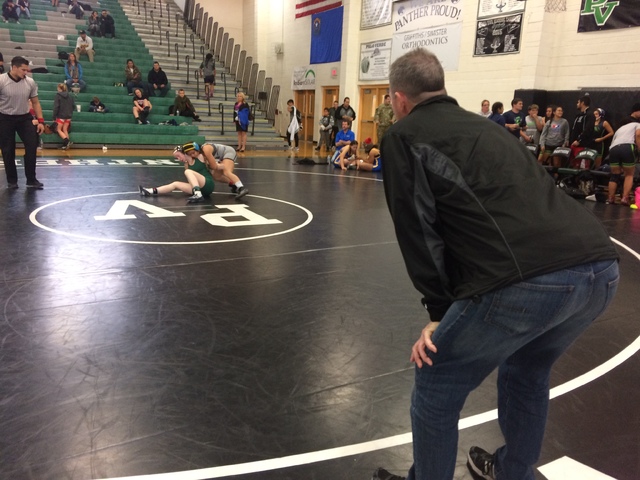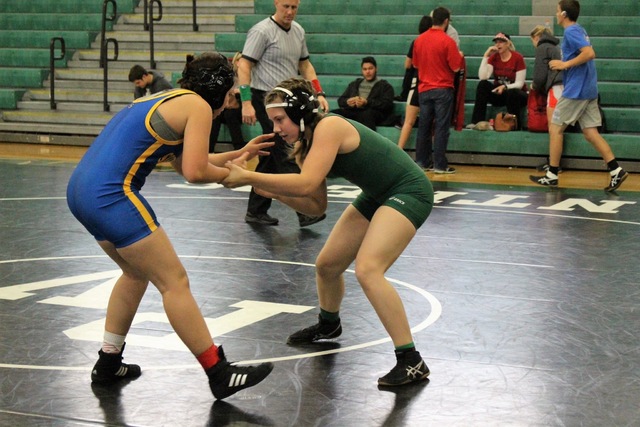 There was no lack of energy at the Palo Verde girls tournament Dec. 21 at Palo Verde High School, the only Summerlin public high school with girls on its wrestling team.
This year's team includes four girls: Sydney Werwinski, 14 and a ninth-grader; and Dallas Gomez, Faith Call and Tatum Pine, all 15-year-old 10th-graders. (Bishop Gorman High School, a private school within Summerlin, also has four girls in its wrestling program: Allison Petix, Brooke Germain, Peyton Wehrle and Courtney Higgins.)
This is the third year that the Palo Verde team, the Panthers, has had girls on its roster. This year's team also has about 40 males. But coach Kevin Pine said he's optimistic that the girls' component will grow, noting that Shadow Ridge High School had three female contenders at the Dec. 21 dual, run in conjunction with the boys junior varsity duals. Western High School had four there; it has nine girls total on its team. Sierra Vista High School sent five. Slam Academy had eight girls competing.
"A couple years ago, you'd go to a tournament and maybe eight girls would show up," Kevin Pine said. "This is the fifth year we've hosted a girls' tournament at Palo Verde, and last year we had 16 or 18. We've got 45 here today … so we're growing."
Tatum Pine has the benefit of being the coach's daughter. Hearing how he competed and seeing her brothers take the mat got her interested in wrestling. This is her second year on the team.
"It was weird (at first); I'm not an aggressive person, but doing a sport where you have to be aggressive is different. But I like it," Tatum Pine said.
On the sidelines, some contenders in Spandex wrestling gear mixed moves with teammates to prepare for matches. Coaches demonstrated moves for breaking a hold before sending in their students to square off.
A couple of athletes who had already been in the ring walked by holding bags of ice to parts of their bodies; Gomez held one to an eye socket.
"I needed something hard, a challenge, so I tried this," the second-year wrestler said. "It was a good decision. It's made me a lot stronger than I've ever been physically, but I've gotten better with everything."
Being short, she said, is an advantage because her center of gravity is lower and she cannot be toppled as easily. Gomez said she watches the boys wrestle and tries to pick up on their aggressiveness. More females are flocking to the sport, she said.
"Last year I had to wrestle, like, the same girls every tournament," Gomez said. "This year, there are so many new girls, I haven't even wrestled the ones I was wrestling before."
In the bleachers, Isaiah Bolton, 17 and a senior, said he liked watching the girls compete just as much as the boys.
"There's no difference; it's a contact sport," he said.
Hannah Schneidman was the first female Palo Verde wrestler. She graduated last year and was on the team for two seasons. Hannah placed fourth at the girls' championship in Arizona in 2015.
In 2016, Nevada hosted the first girls' state club championship (USA wrestling). In the 113-pound category, Tatum Pine was fourth and Schneidman placed fifth. In the 120-pound category, Gomez took sixth.
Kevin Pine said the sport teaches life skills: hard work and dedication, commitment and integrity. He'd like to see Nevada have its own championships for girls, just like Hawaii, Oregon and California. It's up to the Nevada Interscholastic Activities Association when that happens, he said, adding, "Once they make it an official sport, the numbers will go through the roof."
To reach Summerlin Area View reporter Jan Hogan, email jhogan@viewnews.com or call 702-387-2949.
REPORTER'S NOTEBOOK
It's not often I get to cover high school sports, so I was looking forward to what I might find. I entered the gym to a cacophony of hoots and hollers as spectators, mostly students, urged the contenders to dominate their opponent on the four arenas marked by rubber mats.
Coaches stalked the sidelines, barking out holds, gesturing wildly, eyes intent on the action.
About half the extended bleachers on the north wall were full. People were, like, really into this stuff. It was easy to get caught up in it.
The female wrestlers were in drab Spandex gear — not the most feminine for anyone concerned with body image. But these girls had no such notions and were all about the sport.
Aggressive? Yup. Determined? Definitely. The word "fierce" came to mind as I watched.
So, if you want to view a high school sport that doesn't have you sweltering outside in summer or sitting on ice-cold bleachers in winter, maybe go take in a wrestling match.
Jan Hogan/View