Barbershop singers share love for harmony at Las Vegas event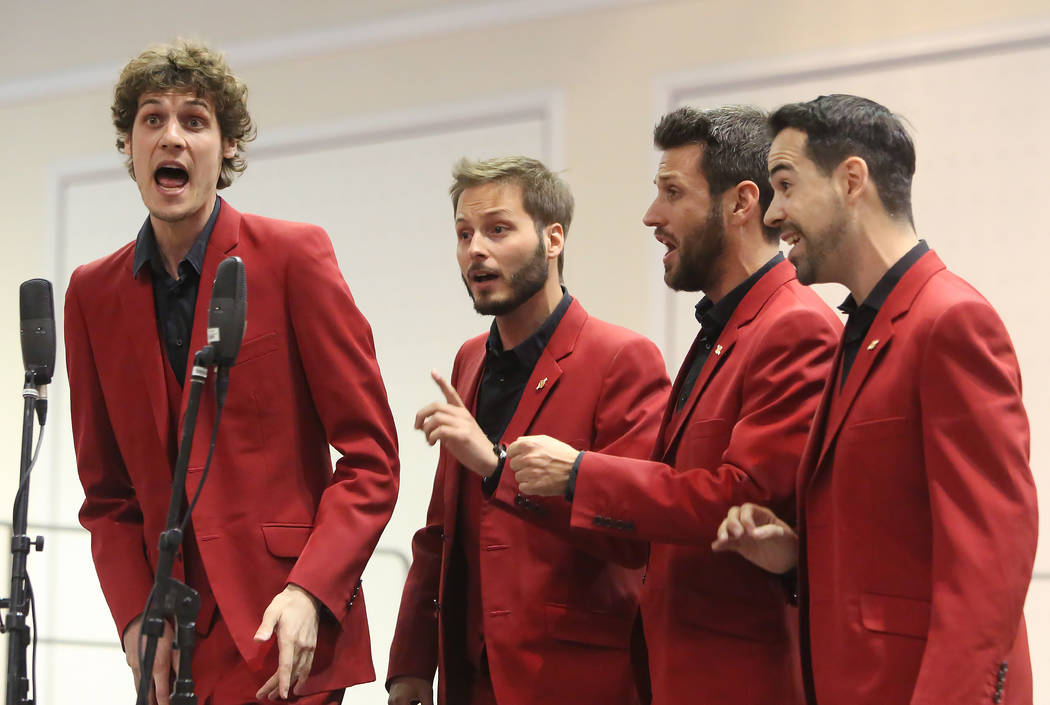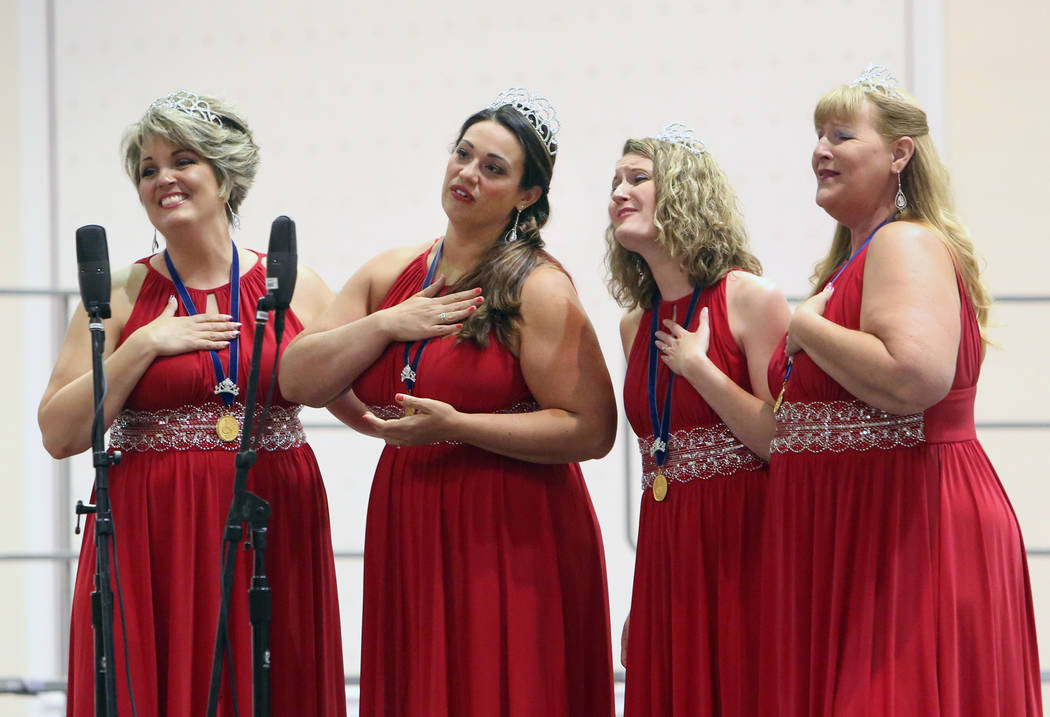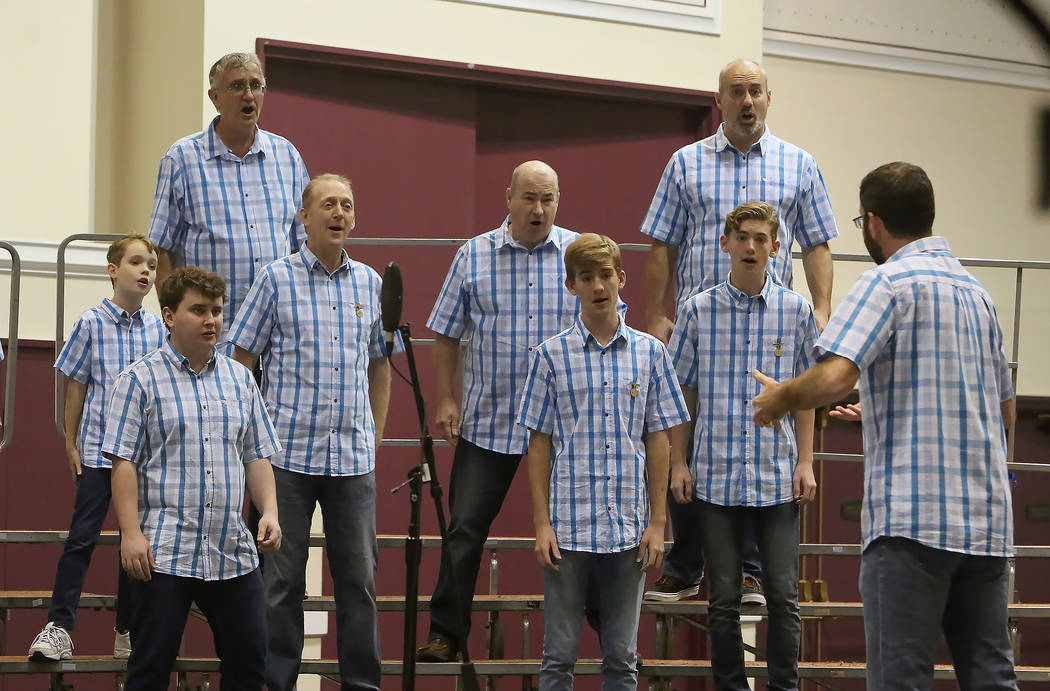 If you visited Bally's on Saturday morning, you probably walked into a barbershop.
Quartet, that is.
About 6,000 singers doo-wopped and teedle-dummed at the Barbershop Harmony Society's weeklong convention, where quartets and choruses competed for the international championship and hobbyists made friends and formed impromptu quartets. Events ran at Bally's and Planet Hollywood Resort.
"For the most part, we're all average. It's the average person that does this … but we do aspire to different goals," said Ken Kuntz, who sings bass for Hershey, Pennsylvania's Parkside Harmony, a 49-member chorus established in 2015. The group took fifth in the international choral finals Friday.
Kuntz was one of about 100 people at Saturday morning's Harmony University workshops, which covered breathing exercises, better singing and the marketing of choral groups.
Harmony University can't grant degrees in barbershop singing. But by standardizing how barbershop is taught and songs are composed, said Donny Rose, Harmony University's director, barbershoppers worldwide can harmonize anywhere and music teachers can share the tradition.
"Barbershop Harmony Society in 1970 started education for our members where we would gather on a college campus for like a week and just kind of teach fellow barbershoppers how to sing better, how to perform better, how to have a better experience," Rose said.
Although singers love barbershop because of its camaraderie or because the harmonies give them goosebumps, the society's membership has been dropping, Kuntz said.
The remedies? Contemporary tunes arranged for a quartet and a push to include more women in the traditionally male society, Kuntz said.
Sixteen-year-old Shoppach quadruplets Julia, Ian, Kelsey and Anika have become the foundation's example for how barbershop can adapt to young, mixed-gender groups that didn't grow up with "The Music Man" on their television sets or high school stages.
The Shoppachs have visited 14 states, sharing their story at schools and hospitals. Though they enjoy performing traditional tunes — the four grew up listening to music from the '40s, Julia said — they've adapted. They sing Disney songs at elementary schools and are learning Top 40 hits to sing to teens.
"It was straw hats and pinstripe suits back in the day, and sometimes even at Disney with the Dapper Dans, so people associate that with barbershop, and that's awesome," Ian said.
"But they don't necessarily know the other side of barbershop. So we're just trying to bring that into the schools … (and) explain that it's a great way to learn to sing tight harmonies."
Jen Wheaton is a 19-year barbershopper who, along with brother and 2016 international quartet champion Drew, followed in her father's barbershopping footsteps.
"Coming into it as a coach and a judge sometimes has been challenging," Wheaton said. "Obviously, there's the older guard, so there's some of the older attitudes, but … as the organization evolves, there's so much more inclusion and so much more understanding that everybody has something."
The 9 a.m. Saturday workshop focused on polecats, 24 standard tunes any serious barbershopper can sing. Rose conducted the chorus, asking, "Do you remember 'Sweet Roses of Morn?'"
The group mumbled an affirmation.
He reminded the crowd not to push its low range, which could damage vocal cords. Perfection wasn't required, Rose said; singers' slips would be forgiven.
"Take it, tenors!"
Contact Jessie Bekker at jbekker@reviewjournal.com or 702-380-4563. Follow @jessiebekks on Twitter.