Donations for Las Vegas shooting victims are plentiful but disjointed
October 11, 2017 - 6:02 pm
Updated October 11, 2017 - 11:43 pm
Donors from all over the world have contributed more than $15 million so far for victims of the Route 91 Harvest festival shooting.
But the sum is spread over several accounts yet to be consolidated. And it's still unclear how much of the money raised will go directly to the intended recipients.
According to multiple sources familiar with the process, two groups are each working to create nonprofit entities.
Several casino properties are working together to create a place to collect money, but not all of those donations would go to victims and families. Donations would also be used to bolster community needs, such as mental health services and blood banks, though details are still being worked out, sources say.
The sources asked not to be identified because all the details have not yet been worked out.
Another group is working to create a nonprofit that would donate 100 percent of the money collected directly to victims and families, sources say.
Big money
Right now a lot of money is in a lot of different places.
Clark County Commissioner Steve Sisolak and Clark County Sheriff Joe Lombardo set up a GoFundMe crowdfunding account for victims and their families early on Oct. 2, which currently holds the majority of donations.
That account reached about $10.6 million Wednesday.
All of that money is intended for victims and their families. But the GoFundMe platform and credit card processors charge a fee for using their services.
"It (GoFundMe) was accessible, and it was something we decided at 2:00 or 3:00 in the morning a week ago," Sisolak said. "We never would have imagined it would have been this successful, and we are very appreciative of that."
Sisolak said he didn't consider the 7.9 percent in fees (plus an additional 30 cents per donation) that the platform generally takes from donations raised, nor that GoFundMe donations are not tax deductible. The 7.9 percent includes a 2.9 percent payment processing fee.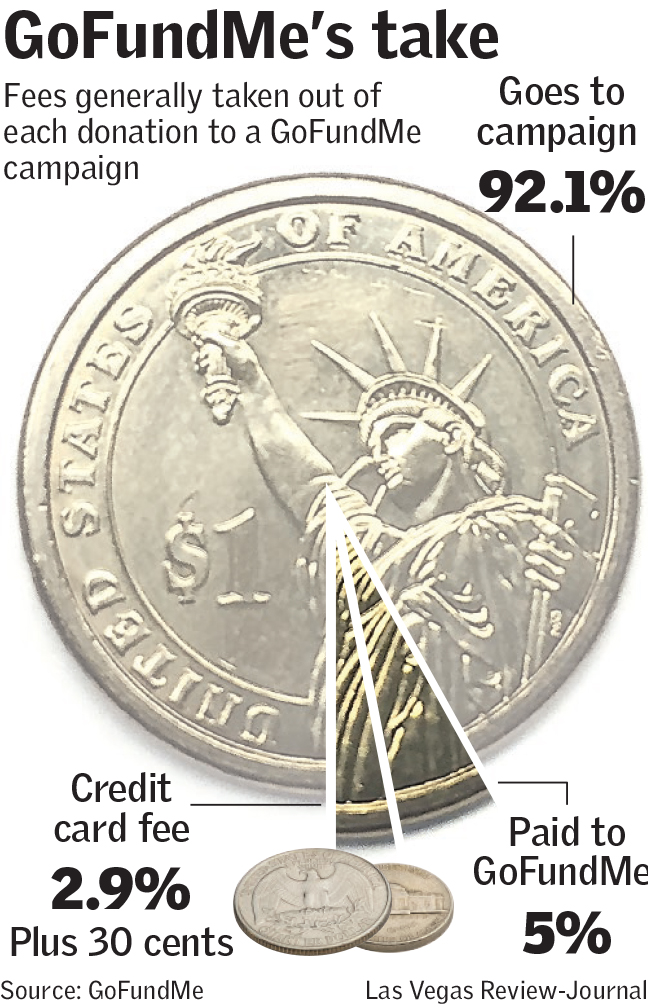 "It was an immediate thing we did" to try to help, Sisolak said.
GoFundMe spokeswoman Katherine Cichy said "standard fees remain in place for online donations," but "standard fees" do not apply to offline donations, in the form of cash or checks. Cichy did not return repeated requests for comment asking for the share of online and offline donations, along with the ways to make offline donations to the fund.
GoFundMe is associated with the Direct Impact Fund, an independent, registered 501(c)(3) nonprofit organization, but details of how much is in that fund and the relationship with GoFundMe are unclear. Neither Cichy nor Chris Young, head of GoFundMe's legal department, returned a request for comment.
A review of the 1,000 largest GoFundMe donations that have come in so far show that seven totaling about $4 million have been made offline. There are 84,967 donations total and counting. Assuming that 7.9 percent plus an additional 30 cents per donation is deducted from the rest of the money, that means slightly more than $10 million is left for victims and their families, while GoFundMe and credit card processors eat up more than $500,000.
GoFundMe has donated $150,000 to the fund as well, Cichy said.
Sisolak also approached Nevada State Bank to host an account for donations, according to Sandi Milton, senior vice president of marketing communications at the bank. That account currently holds more than $77,000.
To be determined
Launched in 2010, GoFundMe is headquartered in San Diego. The company was valued at $600 million in 2015 when it struck a venture capital deal, according to the Wall Street Journal.
It is common for crowdfunding platforms to charge fees, said Henderson-based crowdfunding expert Ruth Hedges.
Hedges, founder and executive producer of the Global Crowdfunding Convention, said crowdfunding platforms tend to charge between 5 percent and 9 percent.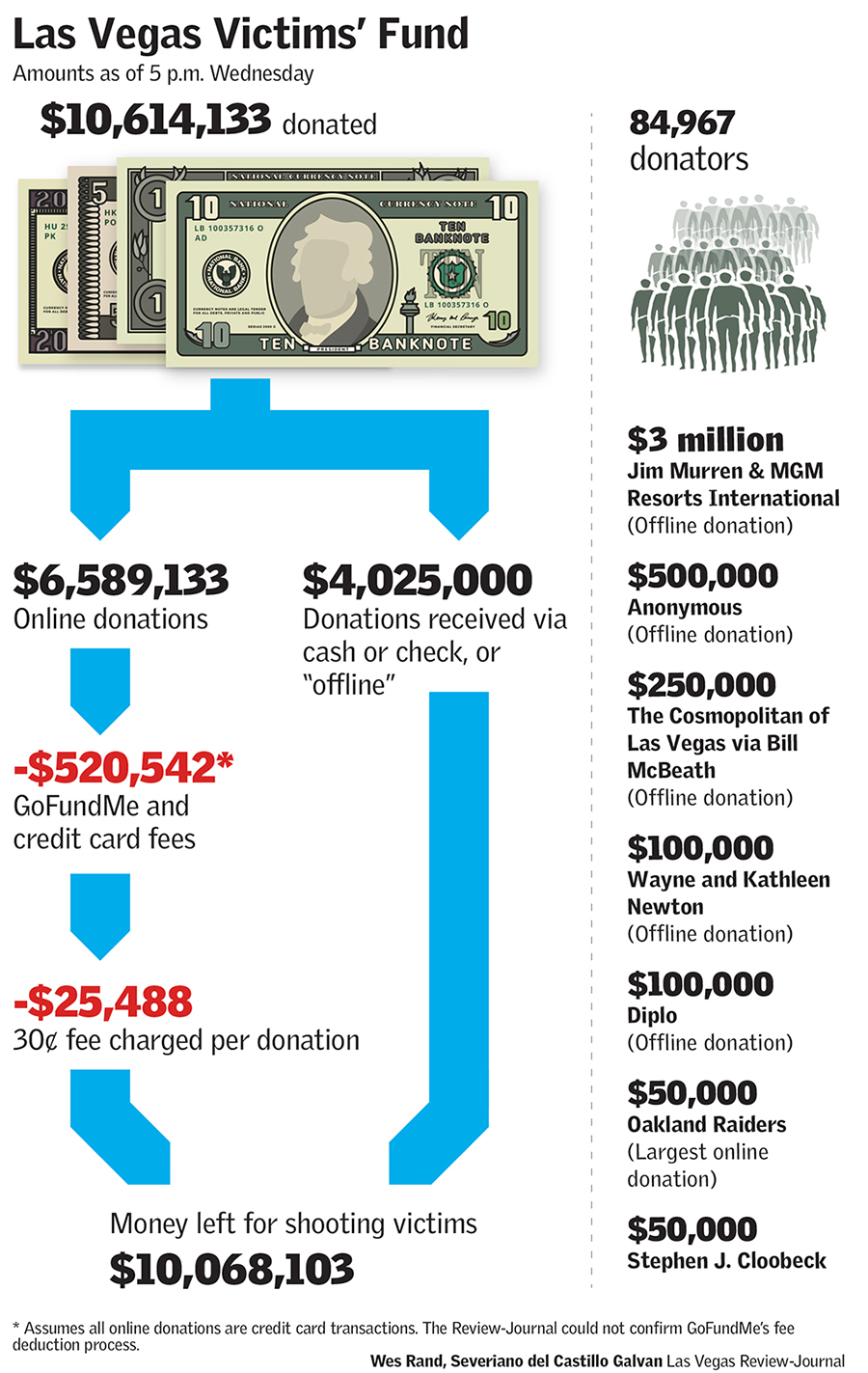 GoFundMe's fees have caused some to be hesitant to donate to the fund.
Kenneth Feinberg, a victim-compensation expert who is working with Clark County to administer and distribute money to victims and their families, said "anybody associated with this (fundraising) program in any way should be doing it pro bono in the pubic interest," including credit-card payment processors.
Other entities are also raising money but haven't decided where to put the money.
Zappos has raised more than $300,000 so far, with a plan to match up to $1 million. Steven Bautista, who oversees the Zappos for Good program, said the company is raising as much as it can and will do its due diligence to figure out where to put the money.
Steve Schwartz, public affairs manager at Tableau Software, said the company has raised more than $100,000 so far, but he would prefer to donate to something with nonprofit 501(c)(3) tax status.
Tableau is holding its annual data analytics conference at Mandalay Bay this week and is raising money for victims and their families at a physical retail space at the conference from attendees and other private sources.
"For a lot of individuals, where they're giving ends up coming down to a couple of things," Schwartz said. "One is the tax- deductibility. The other half is that a lot of folks at the conference have employee matching programs, and a 501(c)(3) opens the opportunity for their companies to match."
Consolidation and distribution
On Oct. 5, Lombardo and Sisolak partnered with the nonprofit National Center for Victims of Crime to take over the responsibilities of managing and distributing the GoFundMe account.
"I think it's important to remove both me and him (Sisolak) from that (the GoFundMe campaign), because I don't want anybody saying the money is being misused," Lombardo said.
Jeff Dion, deputy executive director of the National Center for Victims of Crime, said, "All the money that's in that GoFundMe account … is ultimately going to be pooled into our account with money from other sources, and all of that will create one, big lump sum that will be divided up 100 percent among the victims."
Separately, several casino operators have raised and/or allocated money but haven't yet decided where to contribute. Sources familiar with the process say not all casino properties want 100 percent of the donations going directly to victims and their families. That requires a separate fund not solely committed to distributing donations directly to victims.
Station Casinos spokeswoman Lori Nelson said the company has committed $1 million "to assist those impacted" by the shooting, but the company has "yet to finalize how the funds will be administered."
Caesars Entertainment Corp. said it has collected $2 million in donations "to assist those impacted by this terrible event and to help our community heal." Jennifer Forkish, vice president of corporate communications at Caesars, said the company is "working to quickly identify where we will be directing the funds," adding that "a number of excellent charitable opportunities have presented themselves."
Boyd Gaming Corp. pledged $1 million on Oct. 3, but spokesman David Strow said "we have not distributed those funds as of yet."
Strow said "our preference is to coordinate our efforts with our partners in the Nevada Resort Association."
Las Vegas Sands Corp. and the Adelson Family Foundation established a $4 million relief fund. A spokesman could not be reached for comment.
Lombardo said casino properties are "creating other funds because of the 501(c)(3) aspect."
But the National Center for Victims of Crime is a 501(c)(3), and it created the National Compassion Fund Las Vegas on Oct. 3 to collect donations. The Compassion Fund does not have any of its own fees associated with donations, though there is still a credit card processing fee.
Dion was unable to say how much money the fund has collected so far, but Clark County spokesman Dan Kulin said the fund has collected more than $850,000.
Nevada Resort Association President Virginia Valentine did not return a request for comment about whether and how casinos are pooling their resources, whether all donations will go to victims and their families and whether casinos are creating other funds to address the tax-deductibility aspect.
The Review-Journal is owned by the family of Las Vegas Sands Corp. Chairman and CEO Sheldon Adelson.
Contact Nicole Raz at nraz@reviewjournal.com or 702-380-4512. Follow @JournalistNikki on Twitter.
There are several ways to donate:
— GoFundMe Direct Impact Fund: www.gofundme.com/HelpLasVegas
— Online at www.NationalCompassionFund.org
— By mail. Make checks payable to the National Compassion Fund Las Vegas and send to:
National Center for Victims of Crime
ATTN: National Compassion Fund Las Vegas
2000 M Street, NW, Suite 480
Washington, DC 20036
RELATED
Process forming to get funds to Las Vegas shooting victims