Las Vegas construction company files defamation suit against union
January 25, 2018 - 5:58 pm
Updated January 25, 2018 - 7:19 pm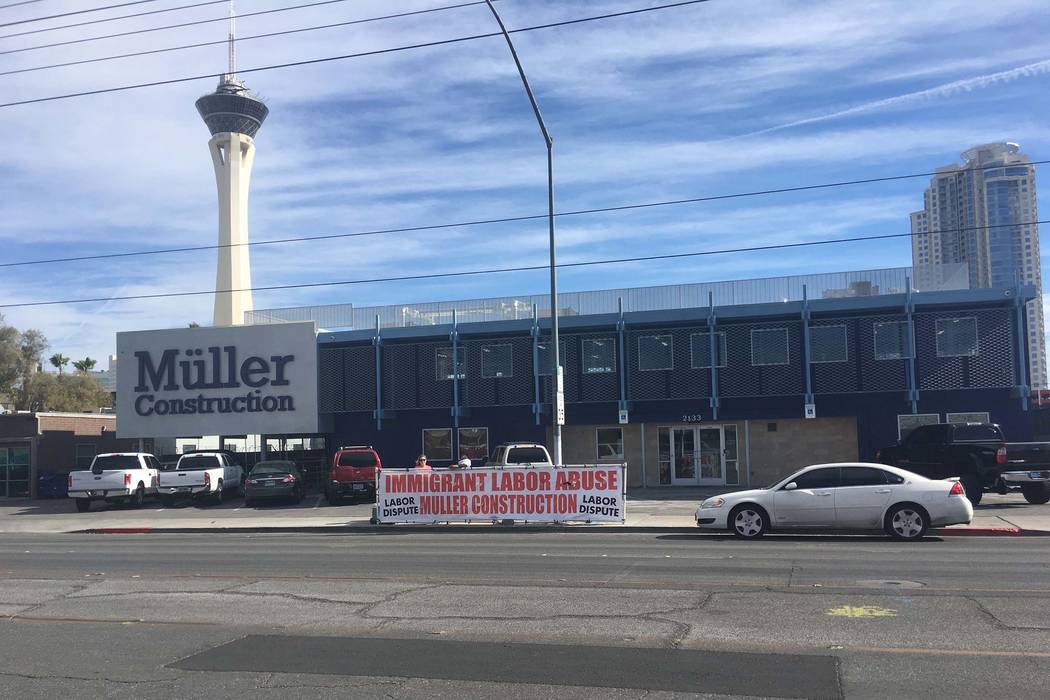 Muller Construction has filed a defamation lawsuit against Laborers Local 872 union and one of its elected officials.
Robert Kern, an attorney representing the company, last week filed suit in Clark County District Court against the union and recording secretary Lou DeSalvio. The Nevada Foundation for Fair Contracting, a nonprofit whose president is Laborers business manager and secretary-treasurer Tommy White, is also named as a defendant.
The suit follows claims by DeSalvio that Muller Construction underpaid construction employees on a public works contract late last year. DeSalvio submitted a complaint to the county and the Nevada Labor Commissioner's office, sparking separate ongoing investigations.
"These allegations are immensely harmful to this company, and they're absolutely false. There has to be consequences," Kern said. "You're talking about the livelihood and survival of this company and its employees."
The lawsuit claims that Laborers Local 872 orchestrated a "campaign of defamation" to harm Muller Construction's reputation because the company received a $4 million contract to install some 800 steel posts, known as bollards, along the Las Vegas Strip sidewalks to prevent vehicles from driving onto them.
The lawsuit also claims union representatives picketed in front of Muller Construction's office and Strip worksites with 30-foot-long banners reading "Immigrant Labor Abuse — Labor Dispute — Muller Construction." The banner was in front of company's office as recently as Thursday afternoon.
Crowds formed at the company's job sites and people in the crowd yelled at workers and called them "scabs," the lawsuit states. On at least one occasion, objects were thrown at Muller Construction employees.
On Jan. 11 an SUV with a "government-looking seal" the words "Payroll Fraud Investigator" printed on its sides was parked in front of Muller's office, according to the lawsuit. The complaint claims the men inside told a Muller Construction employee they represented the laborers union.
"The effect of these statements has been to create the perception and belief among the public that Muller is an unscrupulous company that violates the law, abuses its workers, and hires 'scabs' to replace its (allegedly) striking workers," the lawsuit states. "As Muller is a construction contractor whose business is largely dependent upon receiving public works and government contracts, such perceptions among the public are vastly damaging, as they could convince County officials to cease contracting with Muller entirely."
Muller Construction's lawsuit repeated the company's claims DeSalvio impersonated a county official to gain access to the job site and falsified an interview with two workers who told them they and a third worker were being paid less than what is required by Nevada's prevailing wage law. County commissioners this month were poised to extend their contract with Muller Construction by $2.5 million but postponed their decision until an investigation into DeSalvio's claims are completed.
DeSalvio could not be reached for comment Thursday, but he has denied Muller Construction's allegations against him. He has said he identified himself as a compliance officer for the Nevada Foundation for Fair Contracting, which monitors public works construction projects for labor law violations.
White was unavailable for comment.
Muller Construction is seeking damages exceeding $10,000, plus attorney fees, and wants DeSalvio, the union and the nonprofit to retract any false public statements made against the company.
Contact Michael Scott Davidson at sdavidson@reviewjournal.com or 702-477-3861. Follow @davidsonlvrj on Twitter.
Muller Lawsuit by Las Vegas Review-Journal on Scribd