Las Vegas workers march The Strip for higher wages
September 4, 2017 - 7:25 pm
Updated September 4, 2017 - 7:28 pm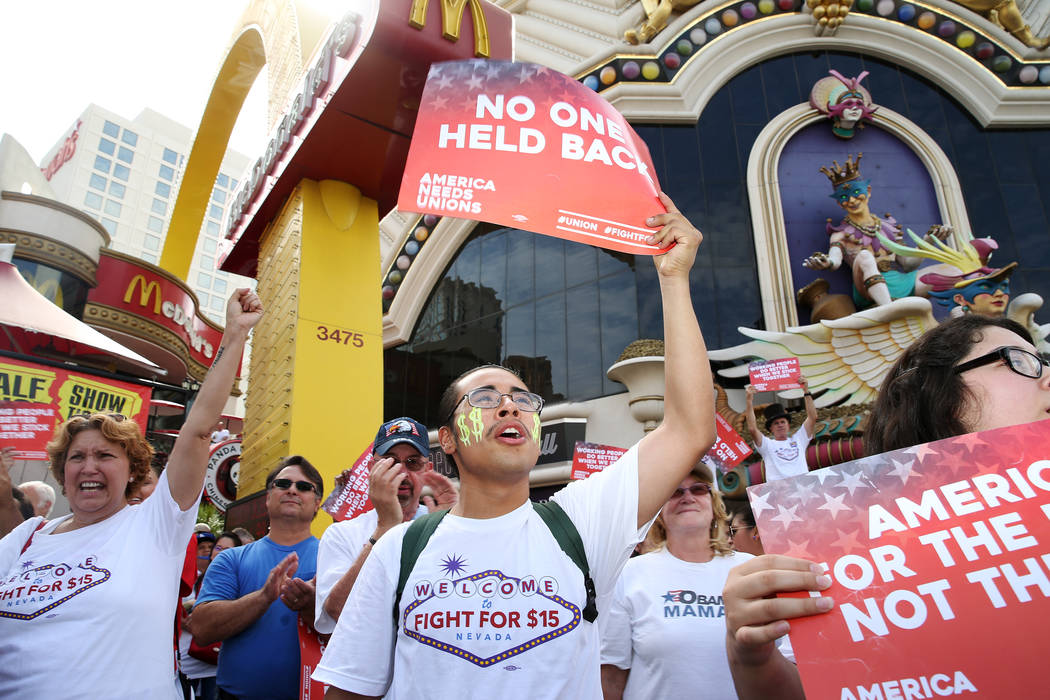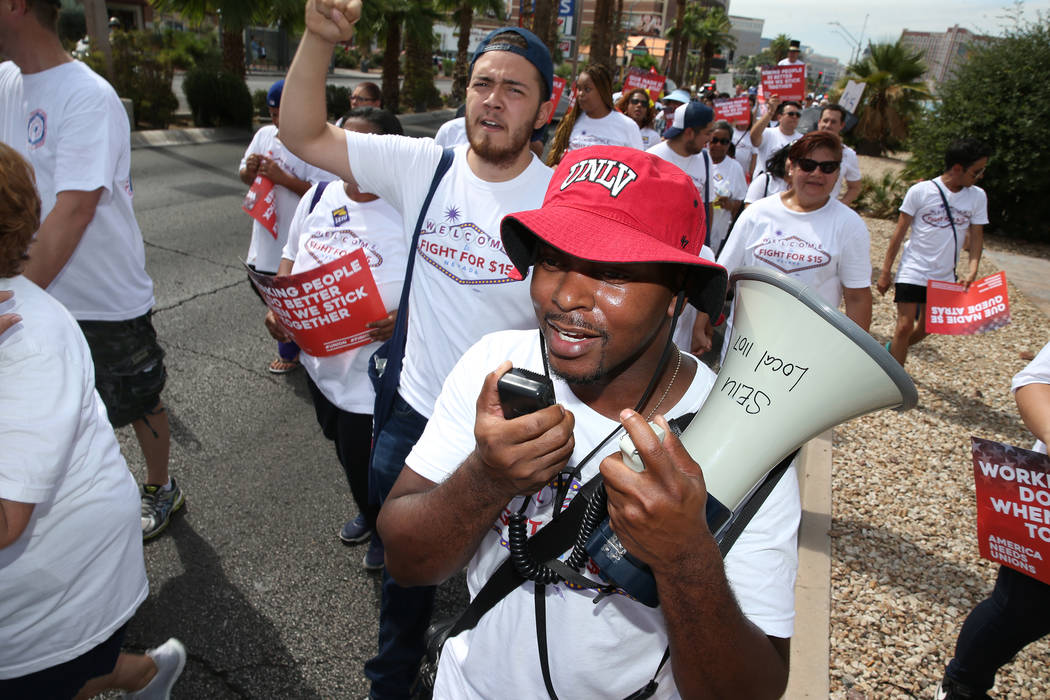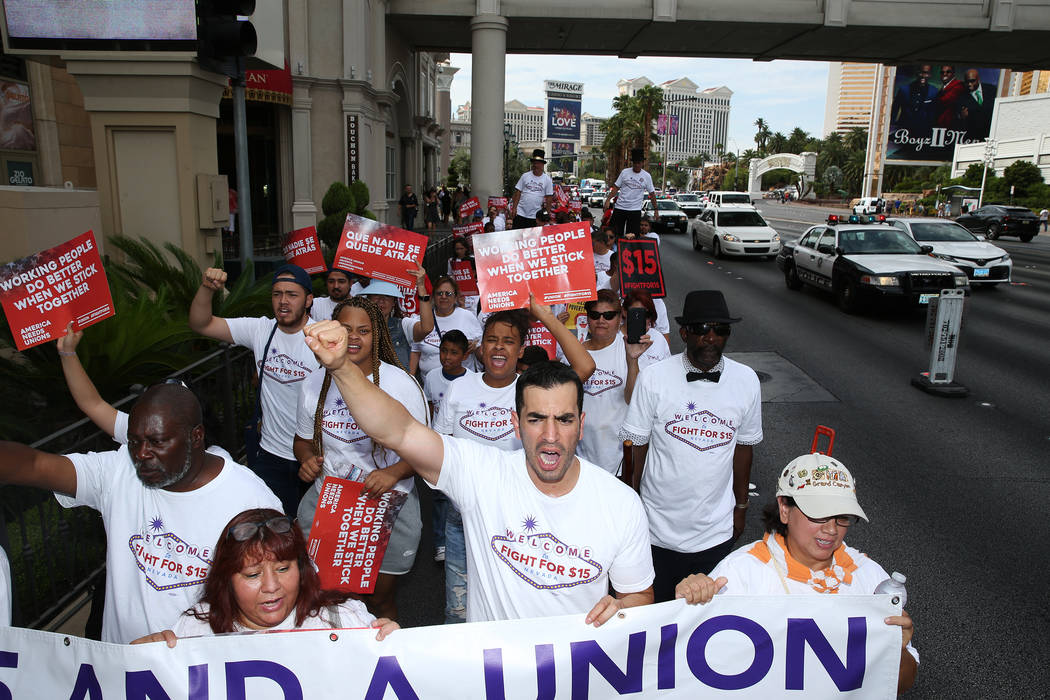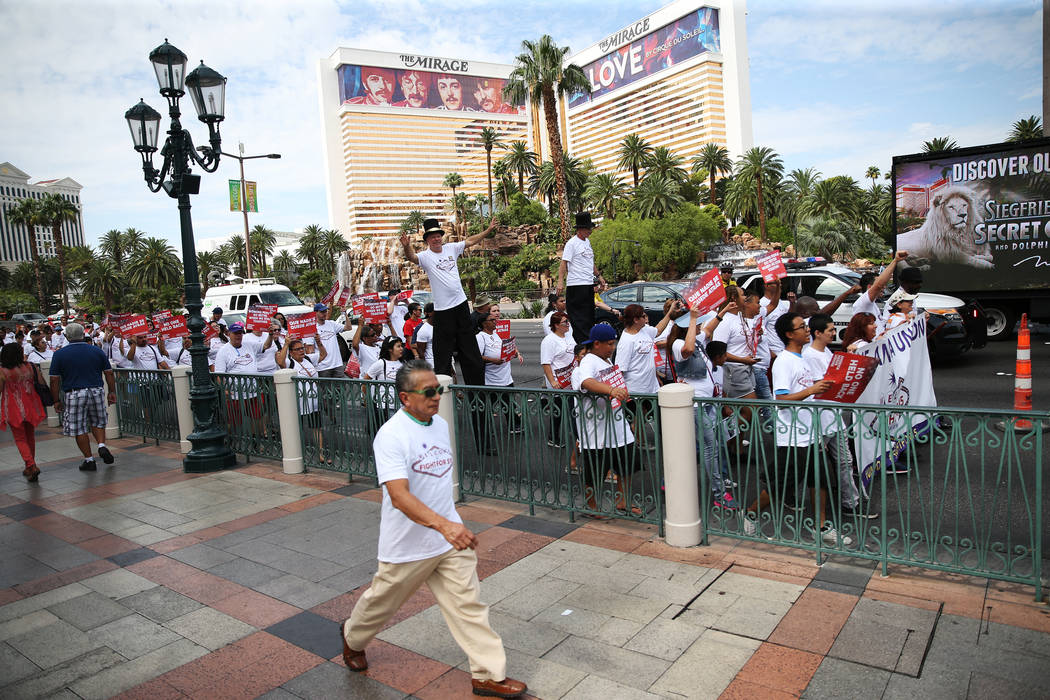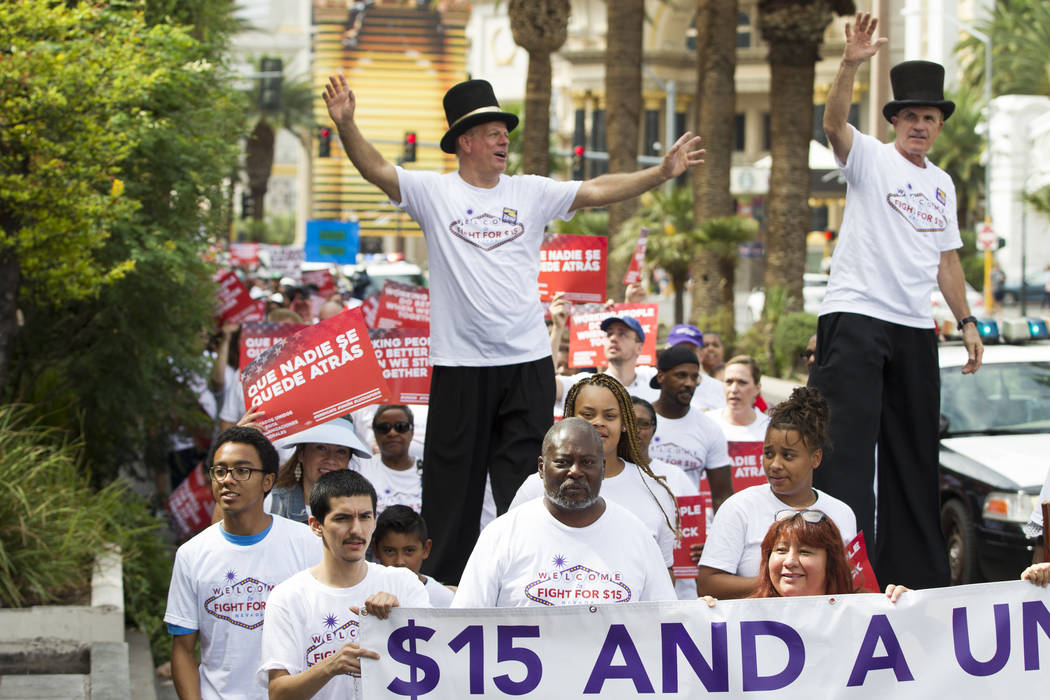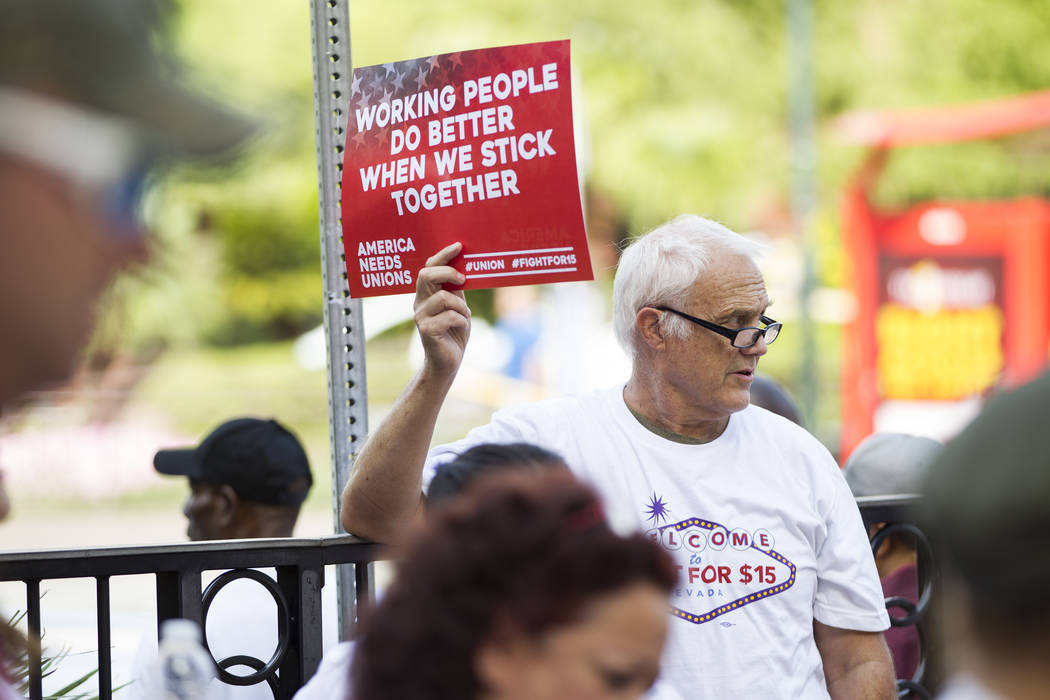 Instead of working on Labor Day, James Carter walked.
He walked with his colleagues from Burger King down Las Vegas Boulevard South, starting at the McDonald's next to The Linq Hotel and proceeding 1 1/2 miles to the next McDonald's.
While he walked, he held his 5-year-old son's hand and chanted in unison with about 300 other marchers, demanding a minimum wage of $15 an hour and union rights for the working class.
"What do we want?" They shouted.
"Fifteen!"
"When do we want it?"
"Now!"
The Fight for $15 march in Las Vegas was one of about 300 around the country on Monday. Service Employees International Union Nevada, along with community members and Nevada's elected leaders, marched in solidarity with fast-food workers to advocate for higher pay.
"It's simple, we need more money," Carter, 49, said of the push to raise the minimum wage to $15 an hour. "The cost of living, everything else goes up. You know how many people we feed a day?"
'Making an honest living'
Carter, who makes $8.25 an hour at Burger King, said he would need to make twice that to rent a place. Instead, he said, he and his son have to live with family or friends.
"This is America," he said. "Where I can't support my son."
Carter said he works 40 hours a week, but because he has to take 30-minute unpaid breaks, it comes out as a little less. Before Burger King, he worked at McDonald's for seven years.
He said it's especially hard for people who come out of prison and are looking to make changes in their lives.
"As an ex-felon I'm making an honest living," he said. "I deserve an honest pay."
The marchers wore shirts bearing the Las Vegas sign and the words "Welcome to Fight For $15 Nevada." Children's cheeks were painted with a green $15. Passing motorists added to the din by honking their horns.
Rose Ann Miele, of Boulder City, said young people need to get more involved in fighting for fair pay.
"I've been walking these streets for 40 years," she said as she strutted down the Strip. "I'm 68, and I'm still walking. There needs to be a change."
Politicians show support
Local union leaders and elected representatives grabbed the megaphone periodically to rev up the crowd.
Nevada Democratic Reps. Dina Titus and Ruben Kihuen were both on hand to support the marchers.
"We talk about Labor Day," Titus said of the Las Vegas restaurant workers who serve and clean up after tourists and locals alike. "It's not enough just to say thank you."
Kihuen said he is a proud son of a housekeeper and a former farm worker who first came to the United States undocumented when he was 8. He told the crowd he worked many minimum wage jobs and knew what it was like to dress up and have no where to go. To only work four hours and not have enough to pay the bills.
"I feel the pride of a lot of these workers," he said. "My job is to give them a voice."
Pointing to the diverse group walking the street, he smiled and said, "This is what America looks like."
Clark County Commissioner Chris Giunchigliani, also a Democrat, took her turn at the megaphone. She's worked as a waitress, a bartender, a cook, she said. Her hardest job was a maid.
"But it was a union job," she said. "I like the word 'living wage' because nobody can afford anything less."
Contact Briana Erickson at berickson@reviewjournal.com or 702-387-5244. Follow @brianarerick on Twitter.
Morphing minimum
Nevada's minimum wage last increased in 2011 to $8.25 per hour ($7.25 if the business provides medical benefits), which is higher than the federal minimum wage of $7.25.
Two attempts this year to raise the minimum wage failed in the Legislature. Gov. Brian Sandoval vetoed a bill which would have increased the minimum wage 75 cents per year until it hit $12. Another bill to raise the minimum wage to $15 also failed.
Since launching on Nov. 29, 2012, the Fight for $15 has brought 22 million underpaid workers up to a living wage, according to organizers. Minimum wages of $15 an hour are now the labor standard in New York, California, Seattle, Washington, D.C., and Minneapolis.
Home-care workers in Massachusetts and Oregon also have won $15 an hour statewide minimum wages and companies including Facebook, Aetna, Amalgamated Bank, JP Morgan Chase and Nationwide Insurance have raised their minimum pay levels to that level or higher.
— Briana Erickson