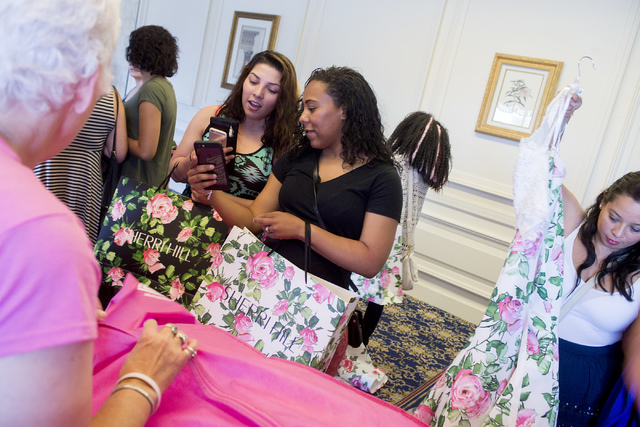 Upon Crystal Millan's arrival at Nellis Air Force Base as a new military police officer six years ago, her future fiance was deployed to Iraq. The two met shortly after his return to their shared base, but she was on her way to Afghanistan.
It would be nearly 14 months until the airman would reconnect with the man she had fallen in love with, since as soon as her deployment ended, he was called back to the desert war zone.
"When we both got back, and we made it through both deployments back-to-back," she said over the "coos" and "cas" of her 10-month-old son who sat on her lap, "I was like, 'OK,' if we can make it through something like that, we can make it through anything."
That attitude positioned the pair to push through the trying times at the beginning of their relationship, and now, they are engaged to be married.
On Friday, inside a 26th-floor ballroom at Bally's, Millan browsed racks of dresses donated by fashion designer Sherri Hill to the United Service Organization's "Operation That's My Dress." She was looking for something white.
It was one day before the USO's event, which provides free gowns to military teens and servicewomen, would take place. Millan had been allowed to look at some dresses before the other participants.
For the second consecutive year, the USO has partnered with the Miss USA pageant to help local military families. About 800 women were expected to attend and receive a free dress this year.
"It is more than just a free designer dress and beauty products," USO Las Vegas Center Director Tim Mullin said. "But about empowering and helping these women and teenagers build confidence in themselves."
The following day, after watching 52 contestants of the Miss USA pageant model many of the available dresses and browsing a second time, Millan stood in the checkout line.
Within an hour of making her decision, she had planned out accessories and the way she would wear her hair on the big day.
The active duty U.S. Air Force member and her fiance had many discussions about spending their lives together, but none ended with a proposal, she said. That all changed in December. "We went to lunch, and he popped the question," she said.
At Bonefish Grill in Town Square, he grabbed their son and got down on one knee.
"I just blank out," she recalled. "He made this whole speech, and I got bits and pieces because I was so in shock."
Plans to say "I do" have not been settled as of yet, Millan explained, but for what comes afterward, they have.
She plans to enroll in school to become an ultrasound technician and potentially leave the Las Vegas area. Starting a new career as a new mother will have its challenges, she explained. "It will be hard, but, I mean, nothing is easy in life, so you just work for what you want."
With the help of Saturday's program, though, she said, her future got a little bit easier.
Contact Kimberly De La Cruz at kdelacruz@reviewjournal.com or 702-387-5244. Follow @KimberlyinLV on Twitter.