Runners show their 'Vegas Strong' side at Las Vegas marathon
November 12, 2017 - 11:56 pm
Updated November 13, 2017 - 12:29 am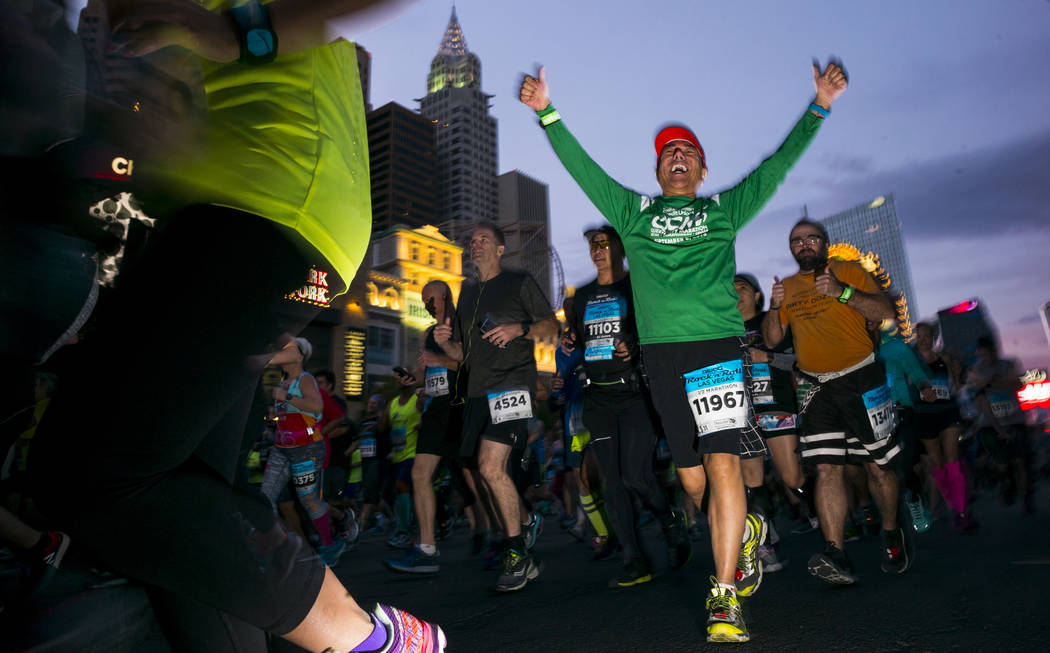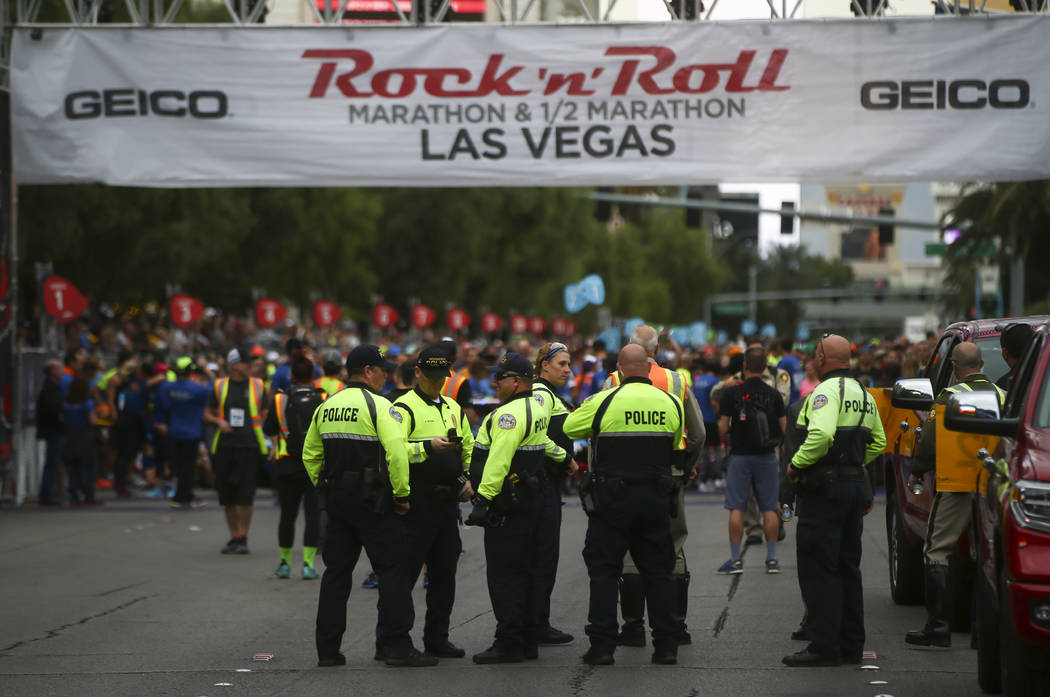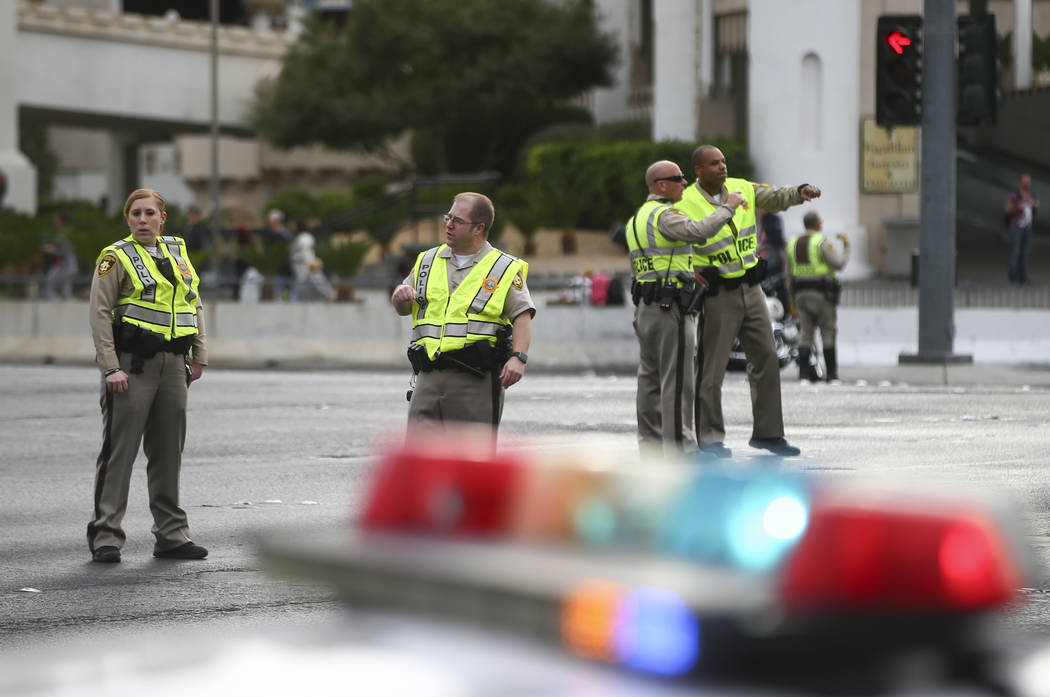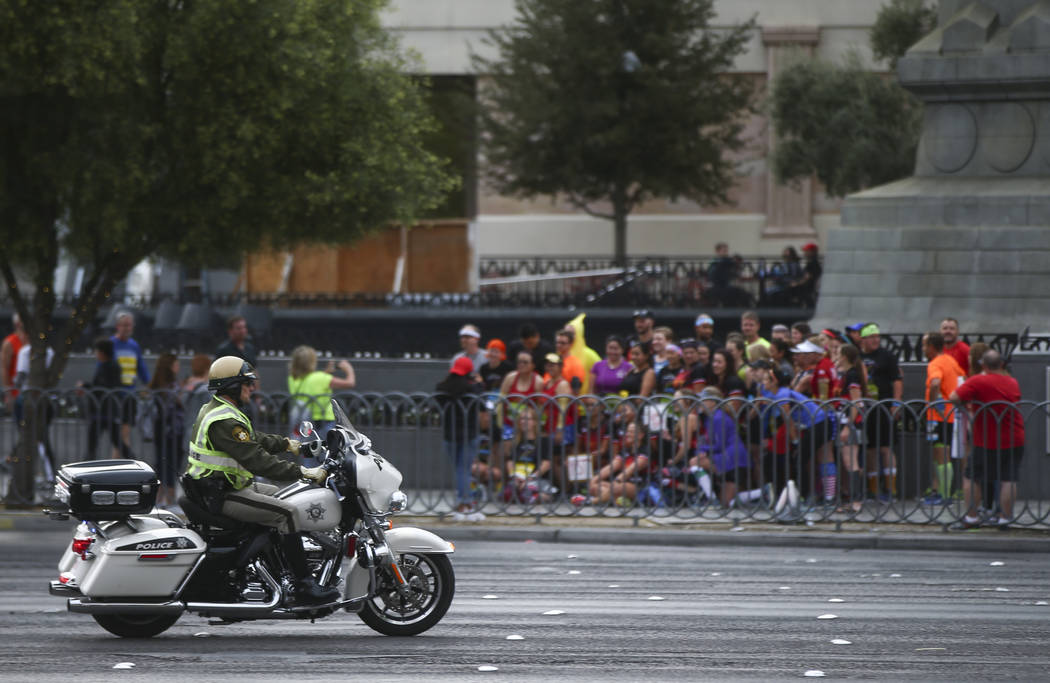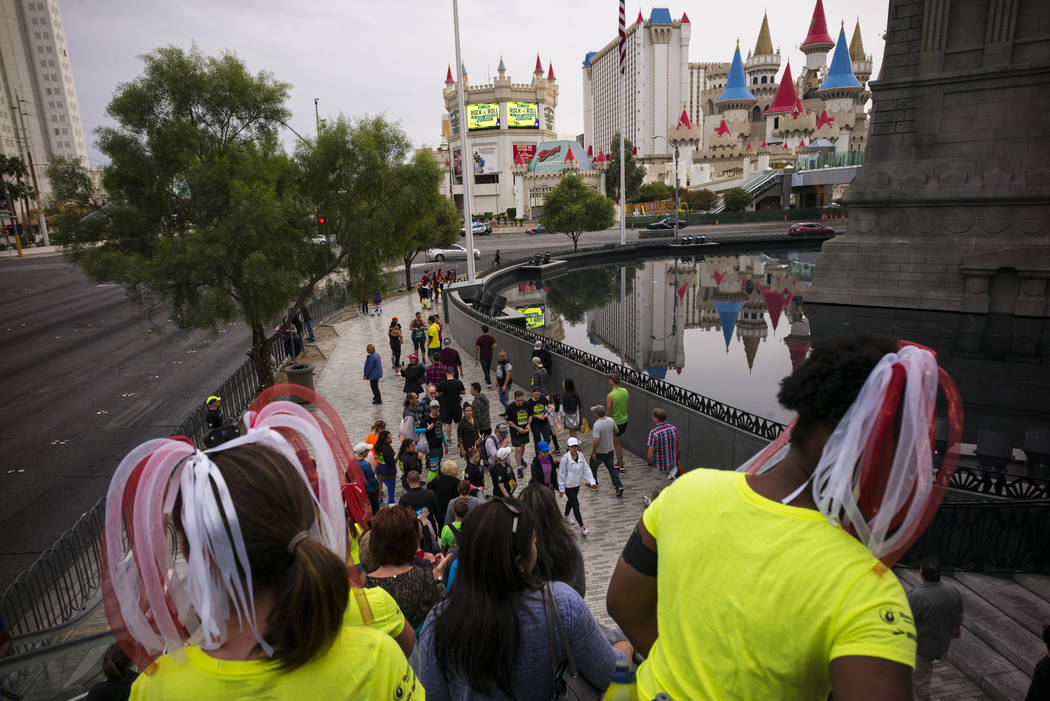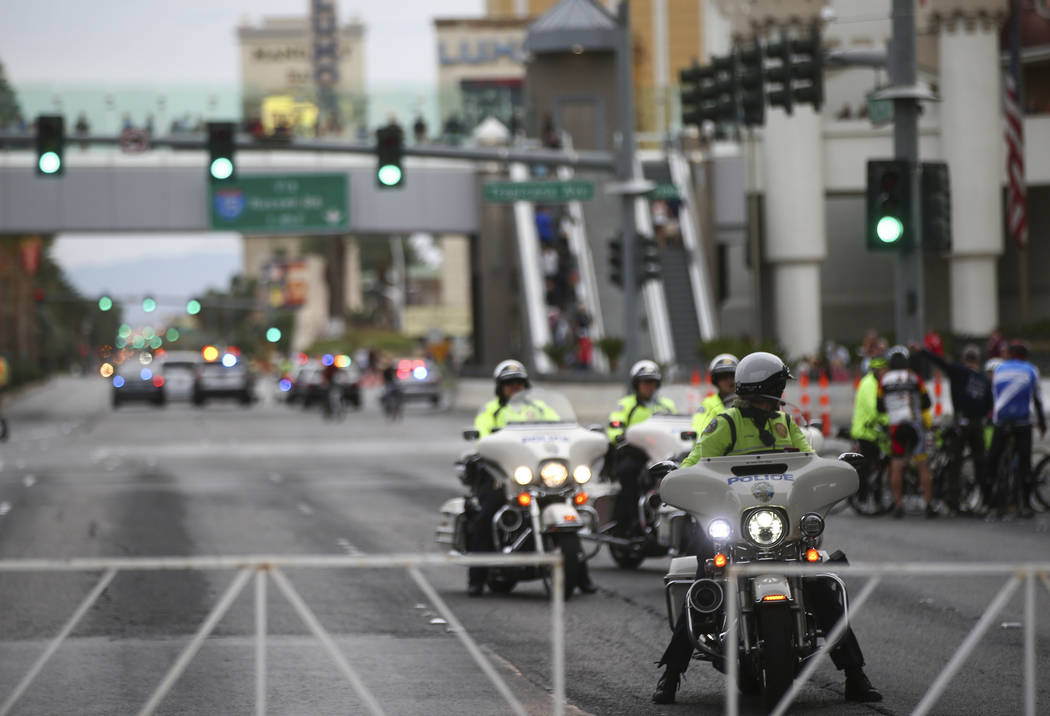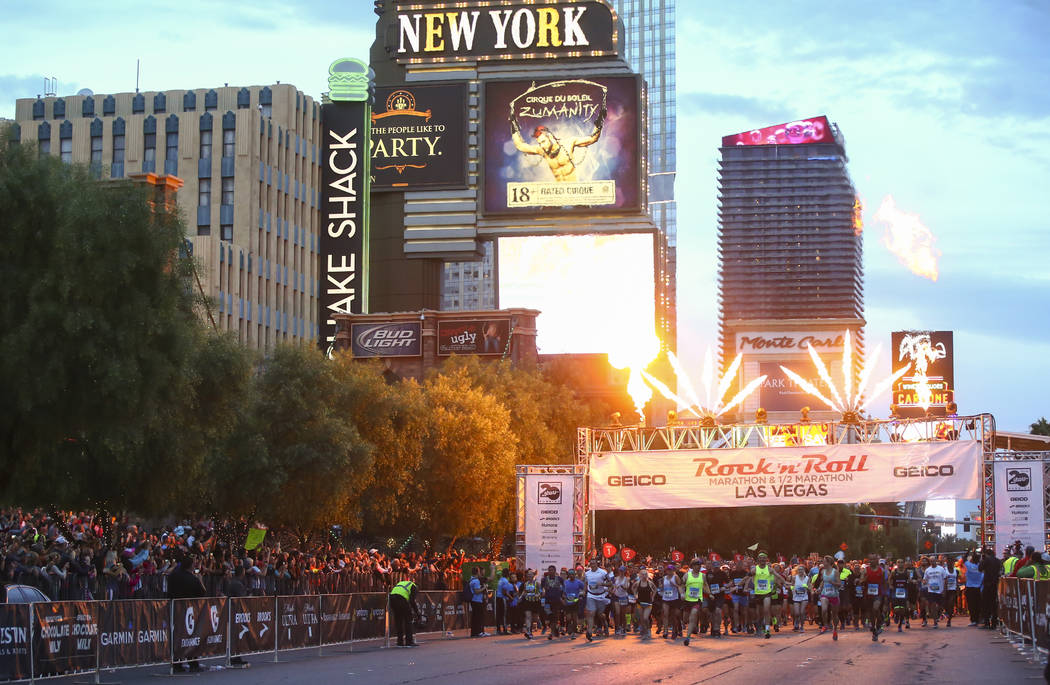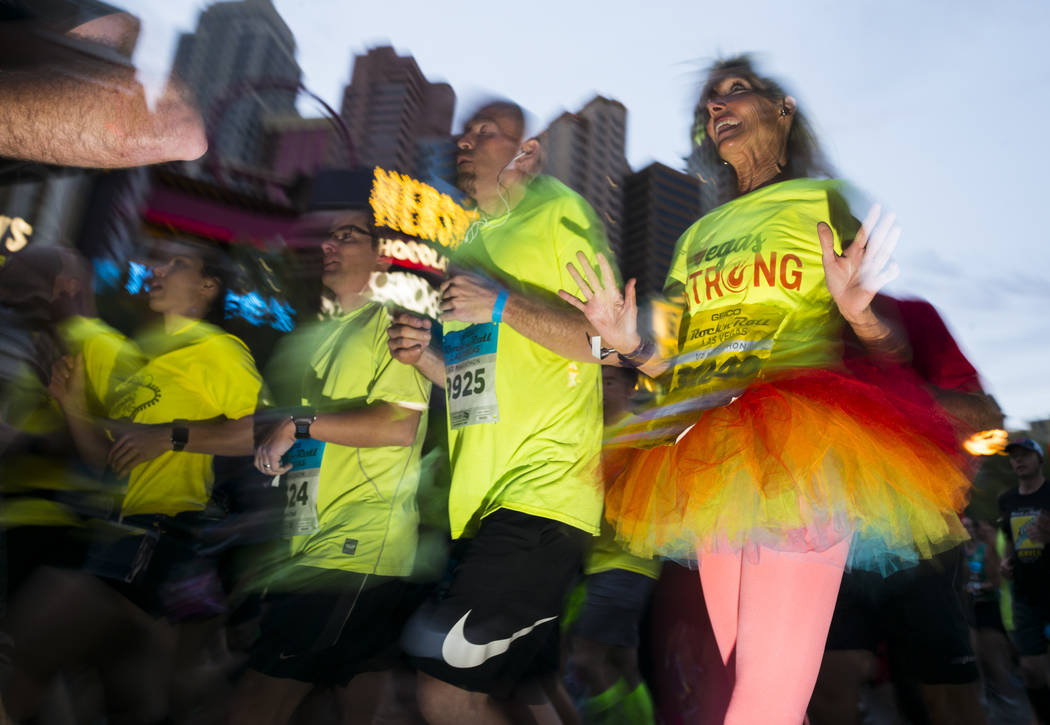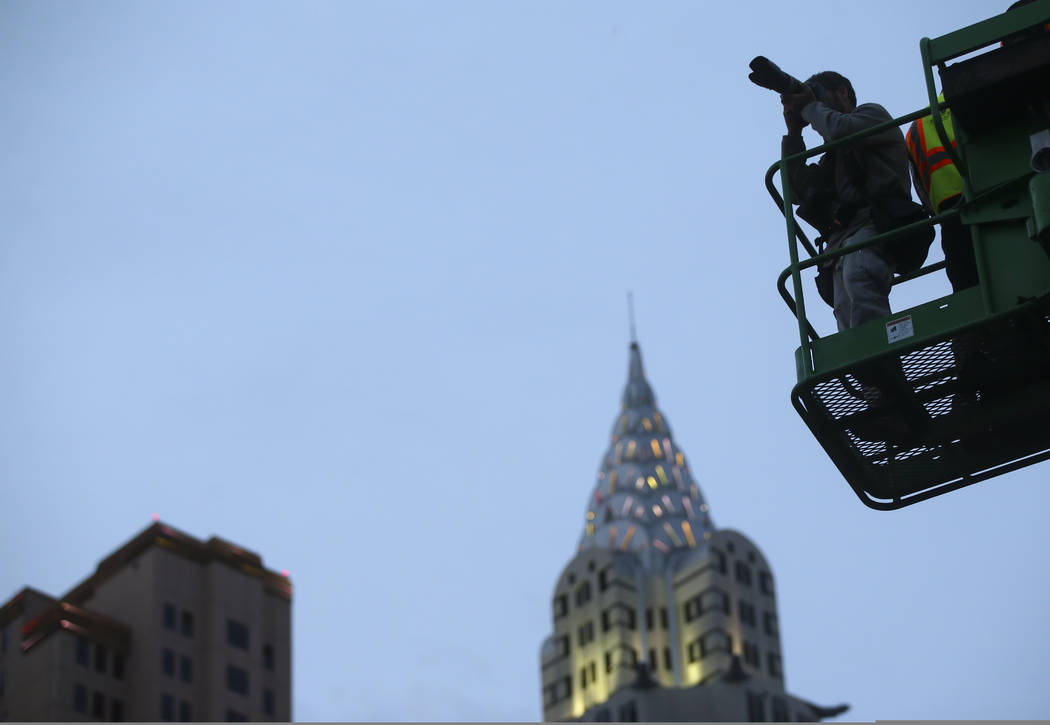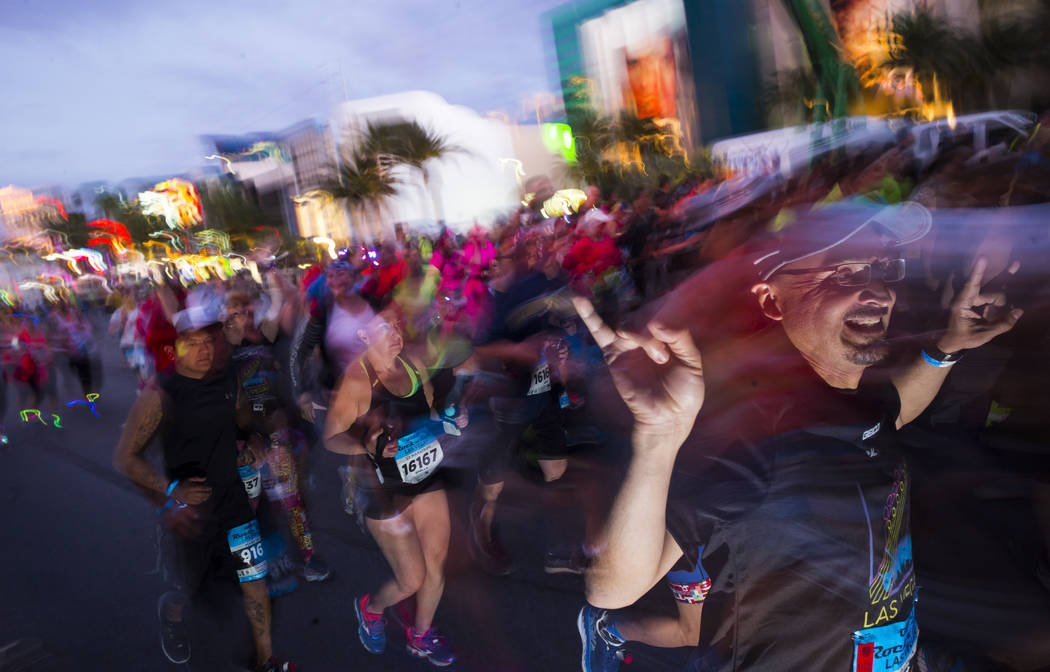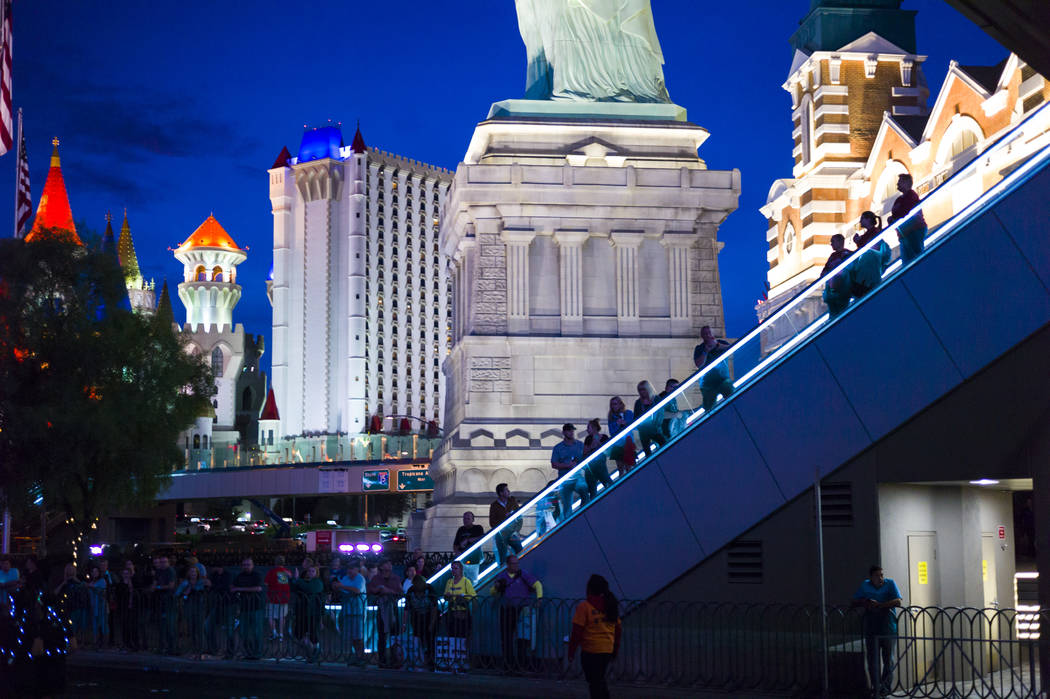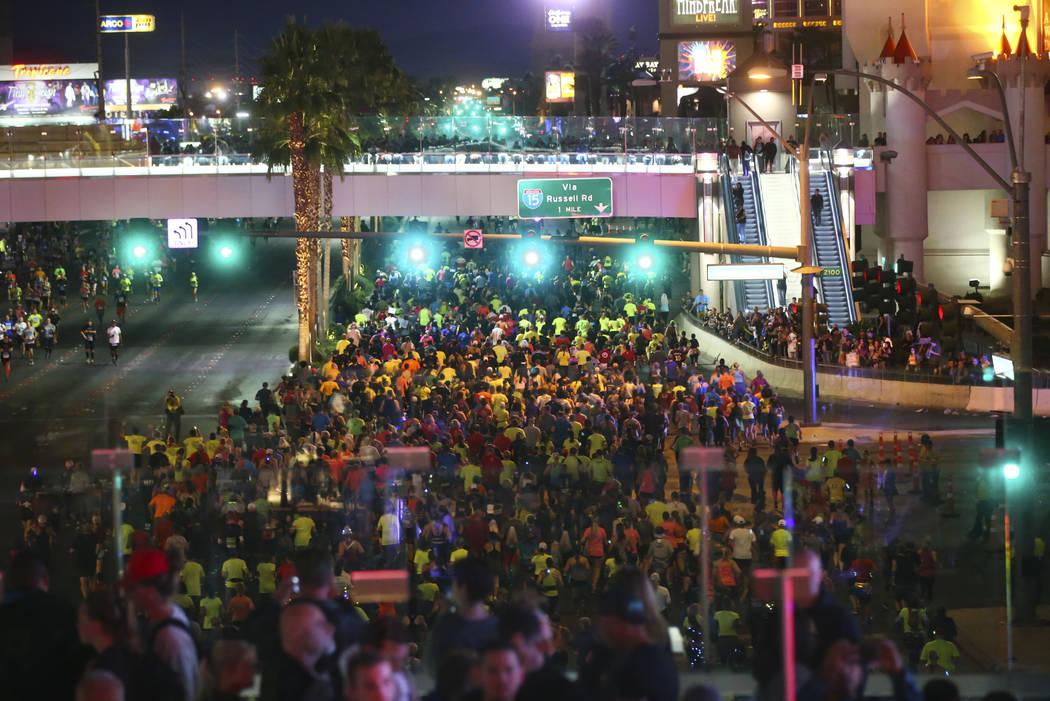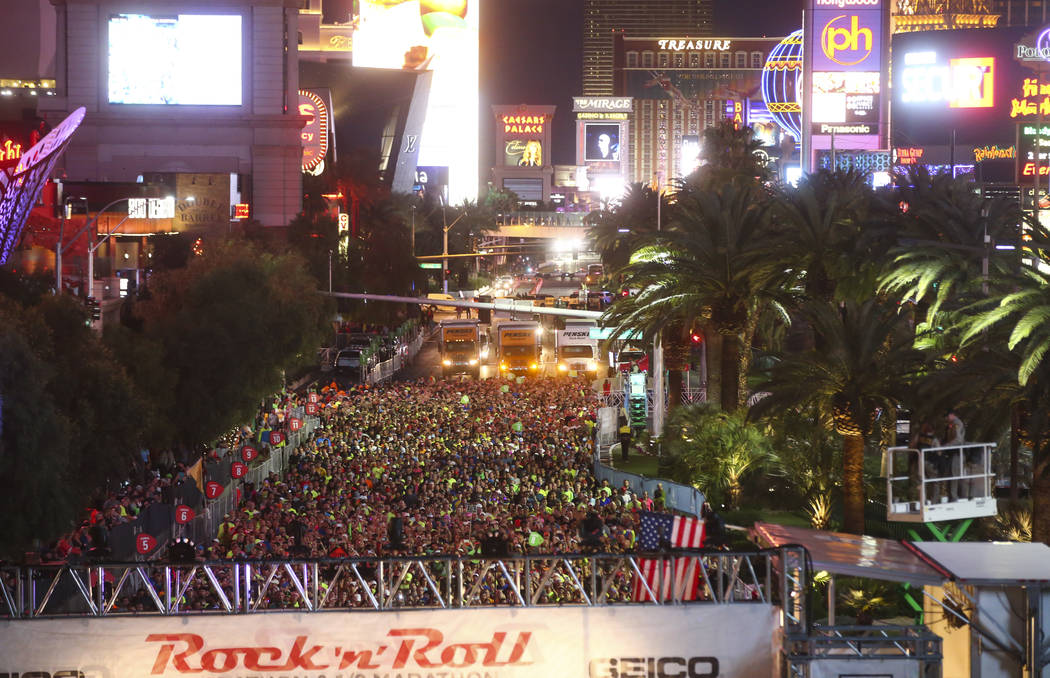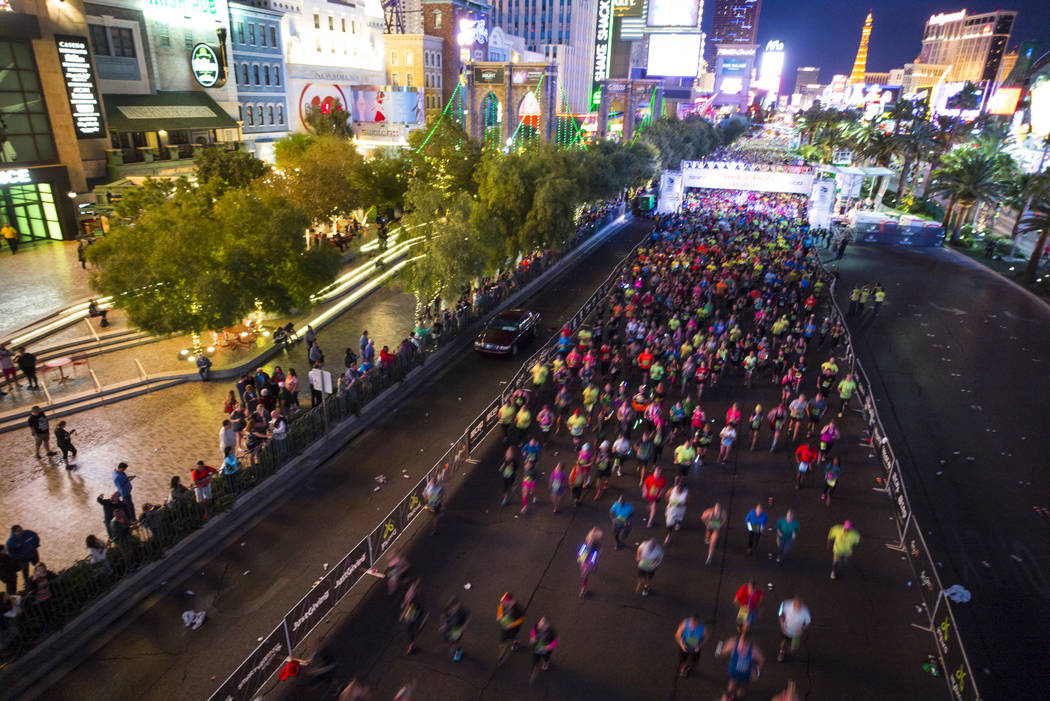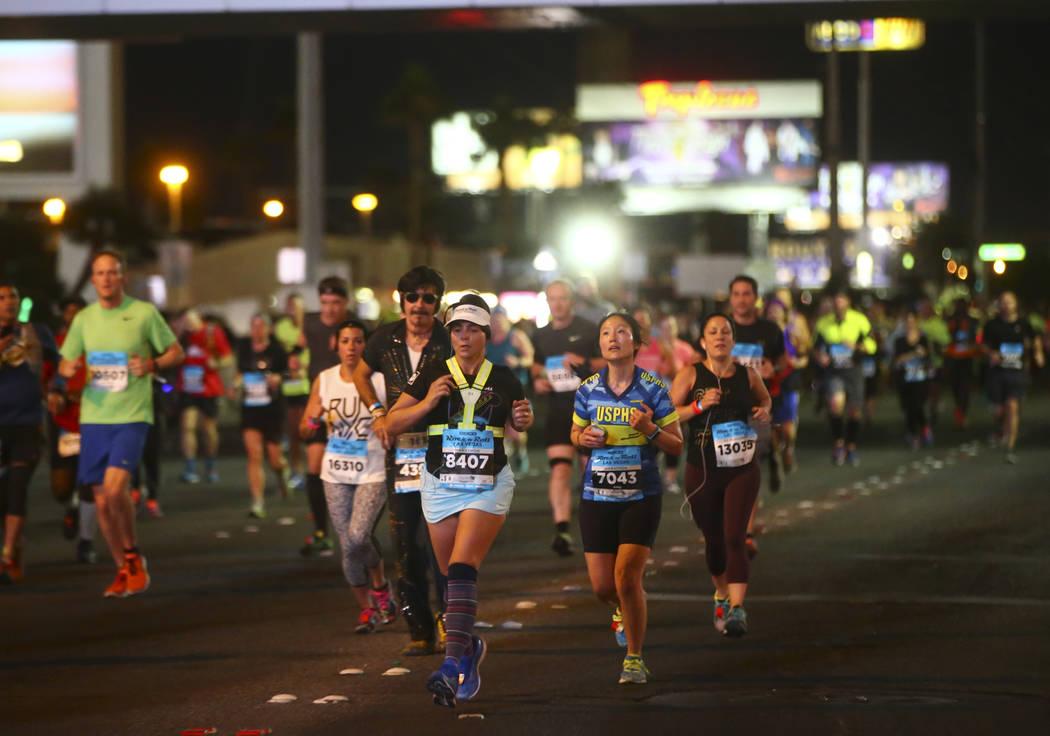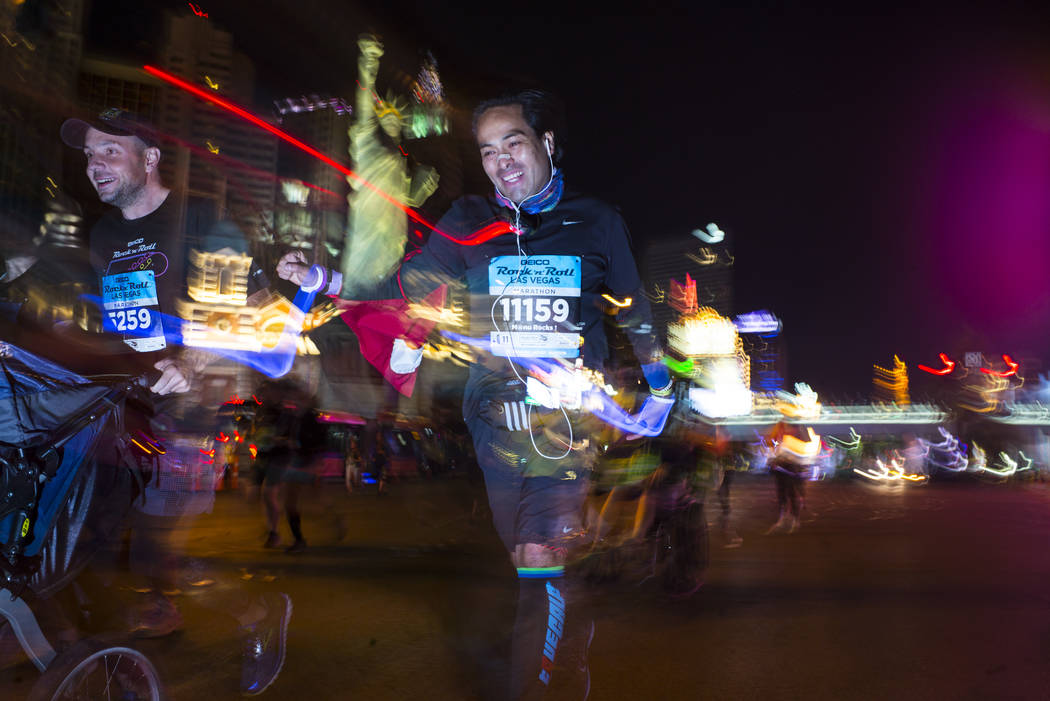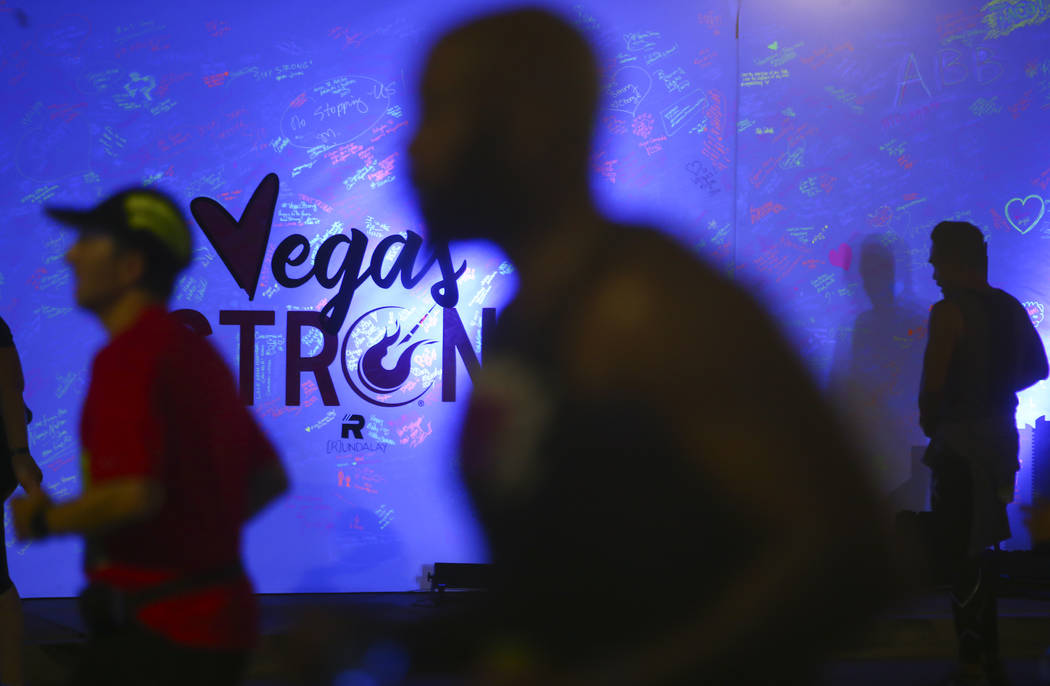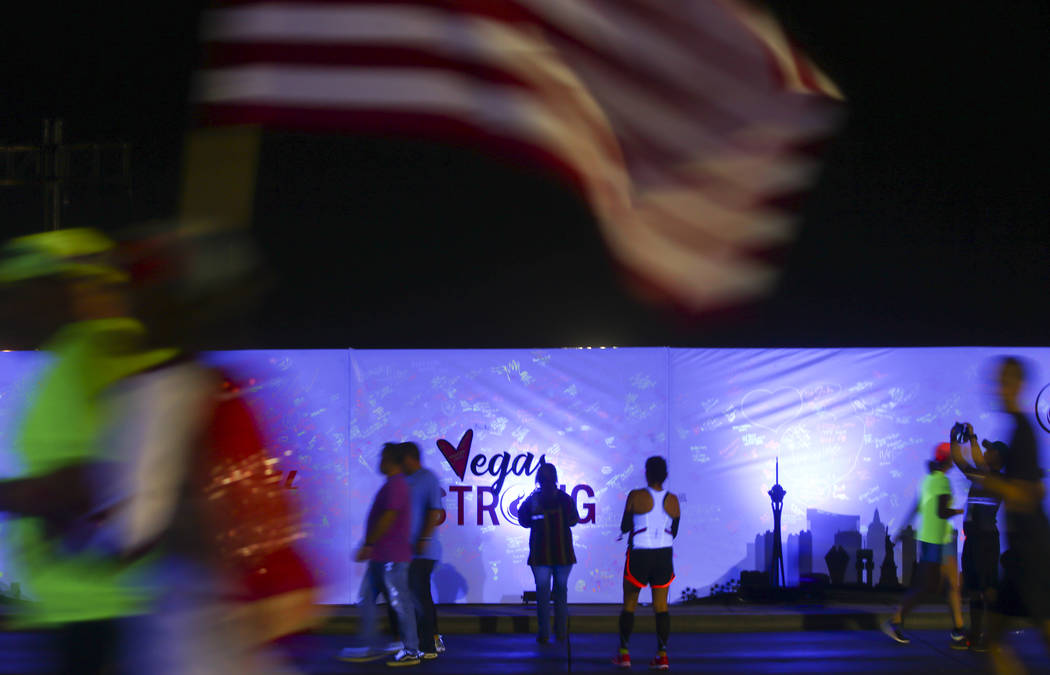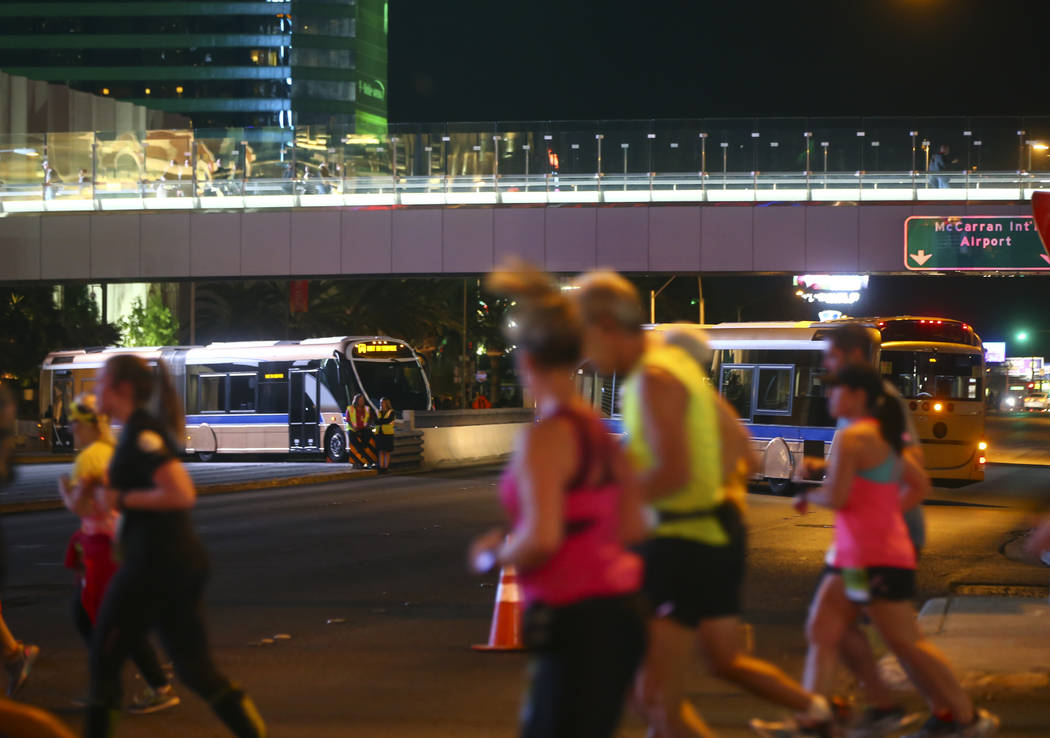 City buses and semitrailers blocked major intersections along Las Vegas Boulevard South.
Uniformed officers walked up and down the Strip.
A police helicopter patrolled the skyline.
Las Vegas had prepared for the worst at the Rock 'n' Roll Marathon, just six weeks after a shooting at a country music festival outside Mandalay Bay killed 58 and wounded hundreds of others. But it was excitement, not fear, that filled the chilly November air as nearly 25,000 runners took to the street Sunday evening.
Only a handful said they felt the influx of police presence. Most said they felt safe and Vegas Strong.
"We're locals, and if we're saying Vegas Strong, we got to show Vegas Strong," said Becki Goebel, 48, of Las Vegas. Goebel and her husband, Kurt, 54, signed up last week in support of those affected by the Oct. 1 shooting.
Ryan Harper, also of Las Vegas, signed up months ago. Only for "a split second" did he consider dropping from the race for security reasons. "Just to be a little more aware, that's it," he said.
The Metropolitan Police Department said last week that it would deploy about 350 officers at the event, arm some with long-range rifles and place others overhead for surveillance.
"The security presence was noticeable. Just having the start line in the new location felt like a completely different vibe," said marathon organizer Dan Cruz. "Our team did about nine months of planning in 19 days."
The race kicked off with a 15-minute wedding ceremony on the New York-New York's Brooklyn Bridge. Though runners usually speed through the makeshift chapel on their way down the course, the last-minute starting point change away from Mandalay Bay threw a wrench in those plans, too.
The ceremony change almost made Jesse Dansereau and his bride, Steffanie Werner, reconsider their participation in the half marathon.
"We were super bummed," Werner said. "We weren't sure if we were going to do it or not still, because it was just like, 'Meh.'"
Family and friends cheered on the sidelines as flames burst into the sky above the Rock 'n' Roll Marathon start line banner. Runners laughed and joked; spectators took selfies. Though the recent tragedy served as the big elephant in the room, no one seemed tense.
Silent stretch
Just a block down the road, however, an almost eerie silence briefly swallowed the Strip. For 2½ miles, the runners went silent in memory of those who died in the shooting.
"No one made a peep," said Ashley Peterson, of Fargo, North Dakota. Runners stopped in the middle of the race to take photos in front of two white walls signed with messages of support in front of the Route 91 Harvest festival concert grounds. Along the route, runners sported Vegas Strong neon yellow T-shirts and donned baseball caps with the city's newest slogan.
Police presence, though strong, wasn't overwhelming.
A few considered safety risks before attending the marathon.
Chad and Connie Winker, of Minnesota, worried about their children back home when deciding whether to race in light of the recent shooting.
Police presence didn't cross Peterson's mind until she read about rooftop surveillance in the news on the morning of the race.
Colleen Zoffka and Sandy Dehn, of St. Cloud, Minnesota, worried about their husbands, who ran the marathon together.
"I think with the recent activity here, it's a little nerve-racking. You have to trust a lot of people here," Zoffka said.
Overall, activity on the Strip seemed normal. Pedestrians walked tall, cocktails in hand. Promoters handed cards to visitors and neon lights decorated the street.
"Being on the Strip at night is hands-down the best experience. Just the Las Vegas energy is unmatchable," said Lori Lee Mendieta, 42, of Myrtle Beach, South Carolina. She ran the 10K on Saturday. "I feel like there was this underlying, like, an undertone, to the event, and I feel like everybody was so supportive."
Vegas Strong and more
As runners crossed the finish line outside the Mirage, announcers cheered and runners drenched in sweat again took selfies — tiredly, this time.
Marisa Hird, 31, of Naperville, Illinois, finished first among female marathoners at 2 hours, 55 minutes and 19 seconds.
Never for a second did she consider dropping from the race in light of the Oct. 1 incident.
"It was more, 'Hell yeah, I'm going to do it now.' Vegas Strong couldn't be truer words," Hird said. She continued: "And maybe not even Vegas Strong. Maybe 'marathon strong,' 'running strong,' 'walking strong' and 'wheelchair strong.' Whatever everybody's doing out here. It never crossed my mind not to be here."
Contact Jessie Bekker at jbekker@reviewjournal.com or 702-380-4563. Follow @jessiebekks on Twitter. Contact Madelyn Reese at mreese@viewnews.com. Follow @MadelynGReese on Twitter. Contact Blake Apgar at bapgar@reviewjournal.com or 702-387-5298. Follow @blakeapgar on Twitter.
Related
Gilles, Hird crowned Las Vegas Marathon winners
Las Vegas Marathon embraces 'Vegas Strong' spirit — PHOTOS
Arizona man finishes race on crutches after losing leg at age 7