Some Oct. 1 survivors expected more from Mandalay Bay on anniversary
October 2, 2018 - 7:11 pm
Updated October 2, 2018 - 8:04 pm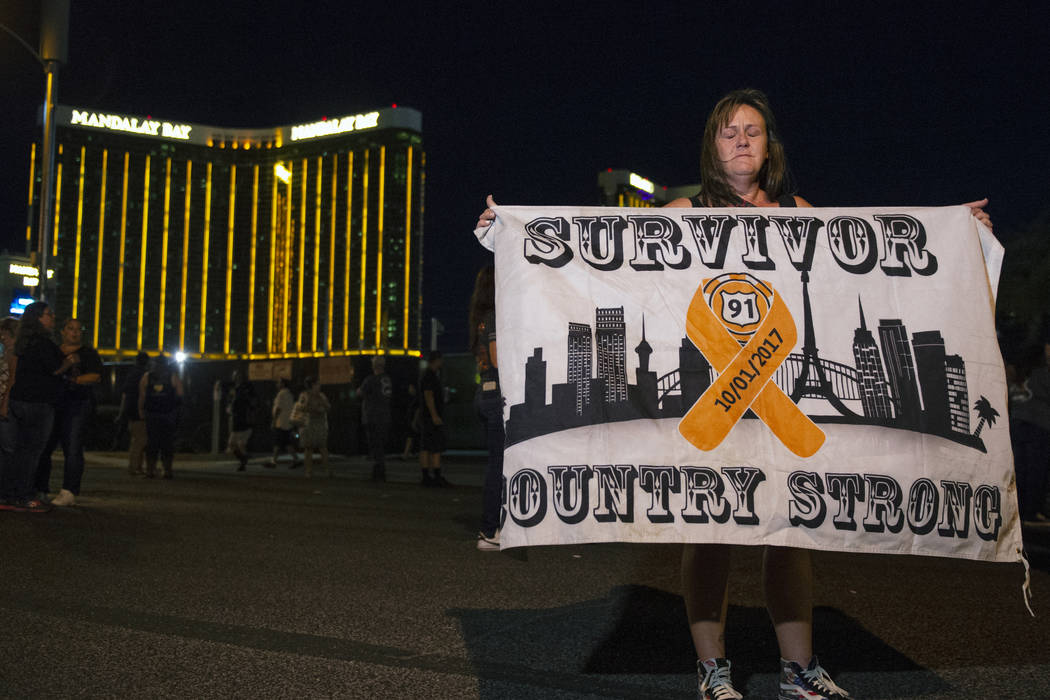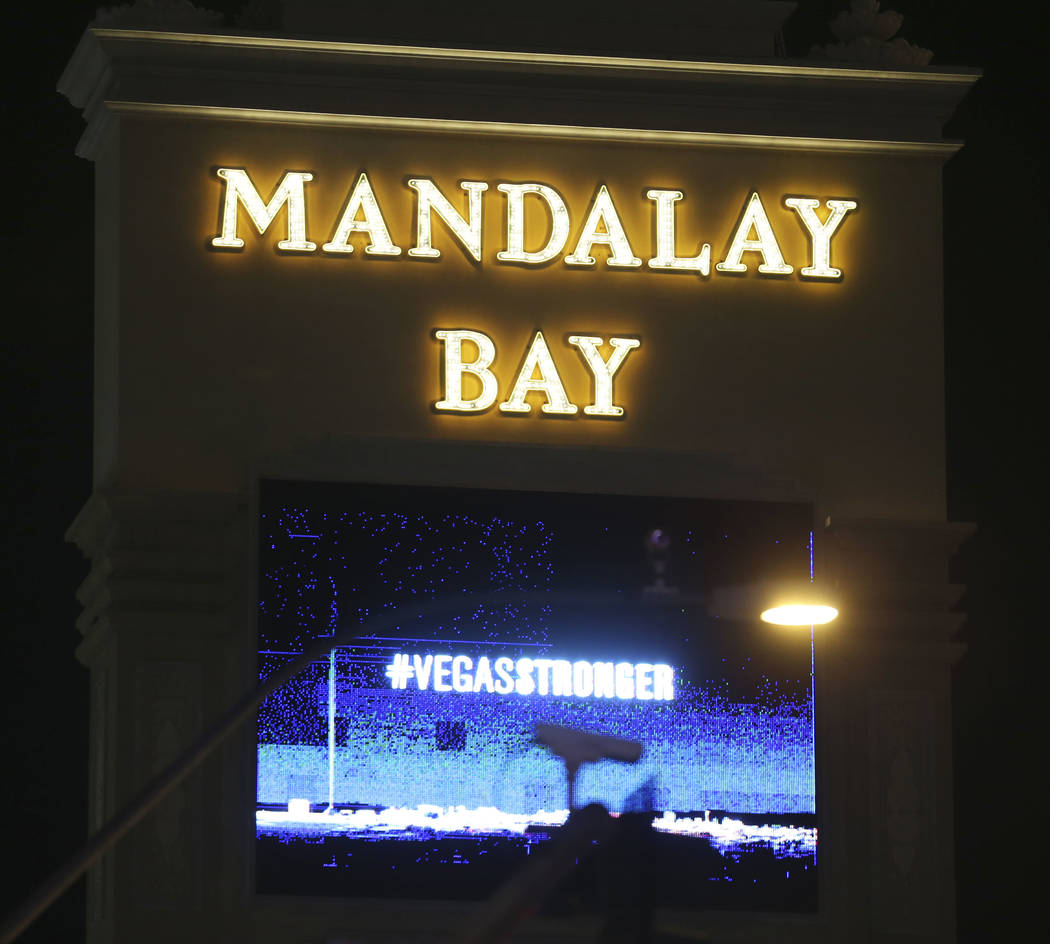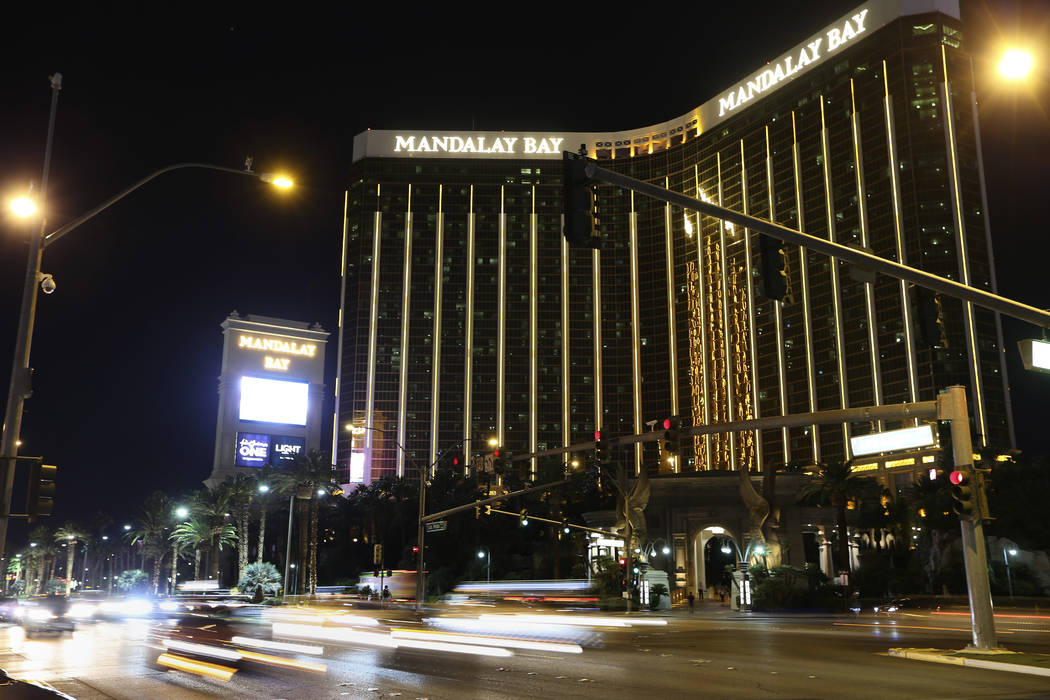 Monday put Leah Wells-Tuckman through a range of emotions.
She felt happiness hearing about the birth of her new granddaughter.
She felt sadness at the Las Vegas Village concert grounds, where she joined fellow survivors of the Strip shooting to mark the first anniversary of the tragedy.
Finally, she felt anger when she looked up at Mandalay Bay expecting a more visible tribute to the 58 people a lone gunman killed Oct. 1, 2017.
Mandalay Bay and the other Las Vegas Strip properties were expected to change the messages on digital marquees and black them out for three minutes starting at 10:01 p.m. in memory of the shooting's victims, according to a statement Friday from the Las Vegas Convention and Visitors Authority.
Review-Journal video of the Strip shows multiple properties turning off their letters and digital signs at different times, with some signs coming back on to display "#VegasStronger."
The Mandalay Bay digital sign went dark for about four minutes around 10 p.m. and came back to display "#VegasStronger" for at least 30 minutes. However, some survivors expected more.
LVCVA spokesman Jeremy Handel said the agency and the hotel-casinos followed the same procedure for darkening marquees as occurred last year one week after the shooting.
"It is difficult to fully coordinate this, so some marquees may have been timed different than others," he said.
Wells-Tuckman and other survivors walked from the concert grounds into the Mandalay Bay lobby Monday evening to protest what they considered a minor visual tribute.
The survivors chanted "Remember the 58" and "Honor 58." A dozen security guards stood in the lobby as well, according to video from the scene.
"I said to myself, 'I'm walking in there and I don't care what happens,'" Wells-Tuckman said.
Las Vegas Metropolitan Police Department spokesman Jay Rivera said at least five officers and two sergeants responded to a call at the hotel-casino around 10:24 p.m. The last of the protesters left before midnight with no one detained or arrested, he said.
MGM Resorts owns both Mandalay Bay, where the Oct. 1 gunman stayed, and the Las Vegas Village concert venue he targeted.
An MGM spokesman said executives Chuck Bowling, Jim Murren and Bill Hornbuckle attended a sunrise service for the victims Monday morning. The spokesman referred questions about dimming the Strip lights to the LVCVA.
Wells-Tuckman said she wishes Mandalay Bay had done something more noticeable for the thousands of survivors gathered at the concert grounds. She also said she wishes the LVCVA had better communicated that the marquees would change displays.
"It was a peaceful protest," she said. "We made a point to thank every security guard and police officer there."
Contact Wade Tyler Millward at 702-383-4602 or wmillward@reviewjournal.com. Follow @wademillward on Twitter.
The Las Vegas Strip has dimmed its lights on various occasions in the past:
— November 1963 — death of President John F. Kennedy
— May 1990 — death of entertainer Sammy Davis Jr.
— December 1995 — death of entertainer Dean Martin
— March 1996 — death of entertainer George Burns
— May 1998 — death of entertainer Frank Sinatra
— September 2001 — Sept. 11 terrorist attacks tribute
— January 2004 — death of former President Ronald Reagan
— March 2009 — 60 minutes as part of a global event intended to raise awareness of climate change. Various properties and government agencies have participated in the event annually.
— February 2015 — death of former UNLV basketball coach Jerry Tarkanian
Other tributes to Las Vegas figures include:
— Marquee displays to honor the death of reporter and TV personality Robin Leach in August and the deaths of entertainers Don Rickles and Jerry Lewis in 2017
— Marquee displays for the 90th birthday of entertainer Tony Bennett in August 2016
— Fremont Street Experience canopy tribute to entertainer Robert Goulet in October 2007