Strangers gather outside Las Vegas massacre site to honor victims
October 4, 2017 - 5:52 am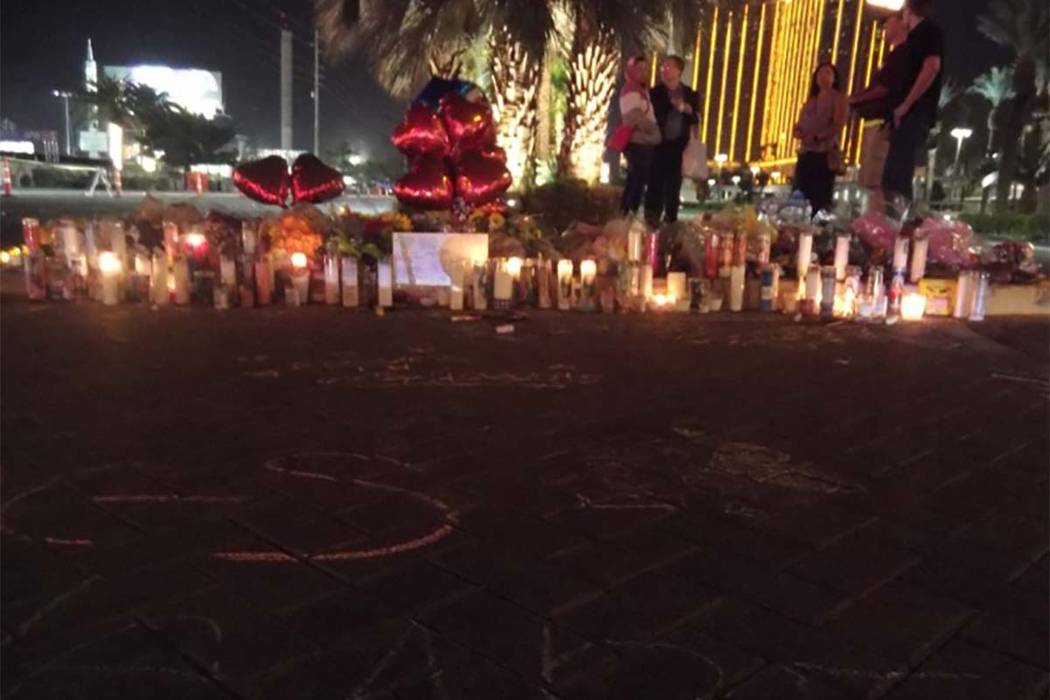 For the first time since Sunday's mass shooting, mourners were able to gather and grieve together as close to the scene of the massacre as police would allow.
Tourists and many locals turned a median on the south end of Las Vegas Boulevard into an island of candlelight as strangers joined together to mourn the 58 people shot and killed Sunday in the country's largest mass shooting in modern history.
People shared stories and photos from a night that many said was the worst of their lives.
"It feels like a nightmare you can't wake up from," said Kelly Kaan, a 27-year-old tourist from Ann Arbor, Michigan. "A nightmare in paradise."
Kaan said she was standing outside Mandalay Bay, waiting to meet up with a friend, when the shooting started. She saw a light flashing in a window high above before she was swept away by other bystanders.
"I didn't know what was happening," she said. "They said there was shooting and I had to run, so I ran."
Outside the shooting scene
Early Wednesday morning, the Route 91 Harvest Festival stage sat dark, blocked off by yellow crime scene tape and police officers in patrol vehicles.
Locals stopped and knelt in the crosswalk next to tourists from around the world, lighting and relighting candles as the wind blew them out. A poster covered in handwritten messages of hope and prayer sat nestled between votive candles.
"My heart is with you. My tears are yours and for your families. We may be strangers but We are One," one message read.
"Love Eats Hate." read another, signed in block black letters.
Employees from Blüm, a local marijuana dispensary, parked a van loaded with snacks and bottles of water next to the memorial.
One Blüm employee, Jimmy White, was working his second job as a security guard on the Strip the night of the shooting.
"I had my own experience and my own demons that I'm dealing with," White said. "This is my way to release, to help out other people."
Two Metropolitan police officers parked motorcycles behind the Blüm van to reroute traffic around, and several others walked over from the blockade to pay their respects. They shook hands and posed for photos with mourners.
"This is bringing together people who would never talk to each other or try to understand each other," said Jonathan Ibarra, another Blüm employee. "We're here to take care of this community that took care of us."
'Drinking and doing Vegas things'
On the opposite end of the Strip, the smoky smell of hundreds of candles wafted through the air at a makeshift memorial that was set up across from the World's Largest Gift Shop.
People trickled past, a few at a time, near the memorial at the intersection of the Strip and Sahara Avenue, leaving handwritten messages, relighting candles and kneeling in prayer.
The digital marquees of most of the Strip's major casinos bore the same message: "We've been there for you during the good times. Thank you for being there for us now. #VegasStrong"
But below the marquees, on the sidewalks, in the streets and in the casinos, people were ready to party. Men in suits and women in dresses clutched frozen alcoholic drinks. Slot machines rang inside casinos and The Chainsmokers & Coldplay's "Something Just Like This" blared from speakers at the Fashion Show Mall.
At another makeshift memorial for victims of Sunday's shootings in front of the Bellagio fountains, Brandon Graham and Sam Reale paid their respects. The two Ontario, Canada, residents arrived in Las Vegas Tuesday for a trip they'd planned months ago.
"It was kind of shocking news in the morning but we weren't going to let it ruin our trip," Graham said. Since they arrived, they'd just been "drinking and doing Vegas things."
For a moment the two looked at a Canadian flag draped over the memorial inscribed with prayers and well wishes.
"From your Canadian family, stay strong," one message read.
Shocked, mad, sad, hurt
Back up at the memorial at the Strip's north end, mourners continued to visit well past 3 a.m.
Locals Yvonne Sigarroba and Joseph Muro came to leave their own message at the site.
"It's unexplainable," Sigarroba said. "I feel shocked, mad, sad … hurt. Confused."
Muro, a manager at Omnia Nightclub, went back to work for the first time on Tuesday and said it felt "eerie." He compared the feeling to the days and weeks following 9/11.
Sigarroba, a hairdresser, said that her clients had been talking about the shooting with her all day. They needed someone to talk to, she said.
"It's kind of a good thing because it keeps it fresh. It keeps me remembering, because I don't want to forget this," Sigarroba said. "This isn't something you should forget. It makes me grateful. It makes me grateful to be here."
Contact Madelyn Reese at mreese@viewnews.com. Follow @MadelynGReese on Twitter. Contact Max Michor at mmichor@reviewjournal.com. Follow @MaxMichor on Twitter.
Makeshift memorials on the Strip give people a chance to grieve