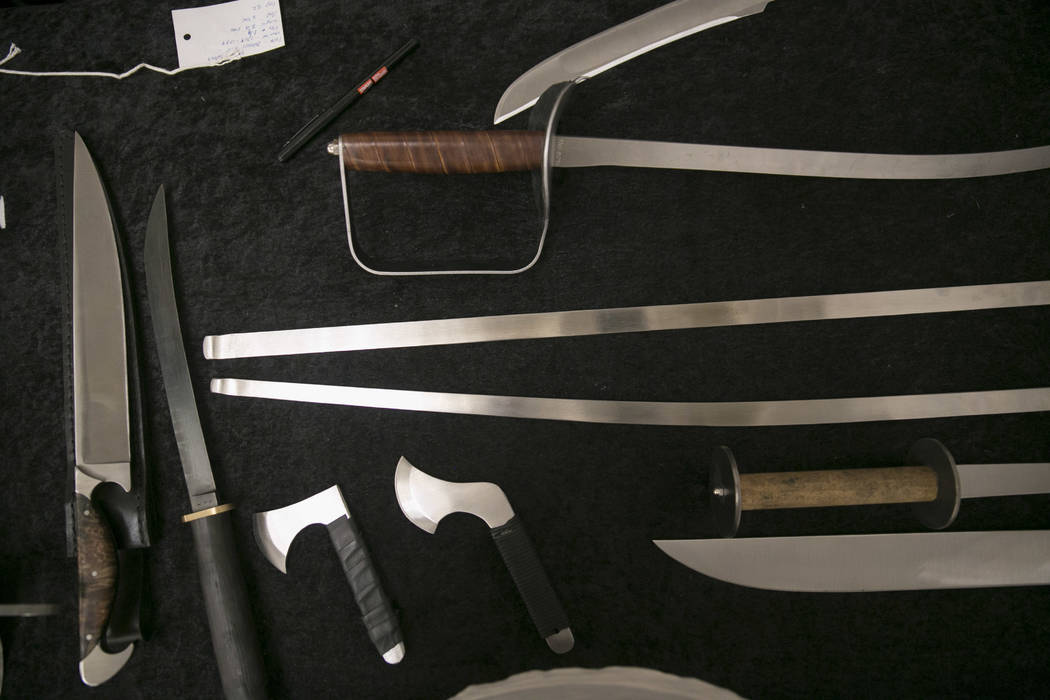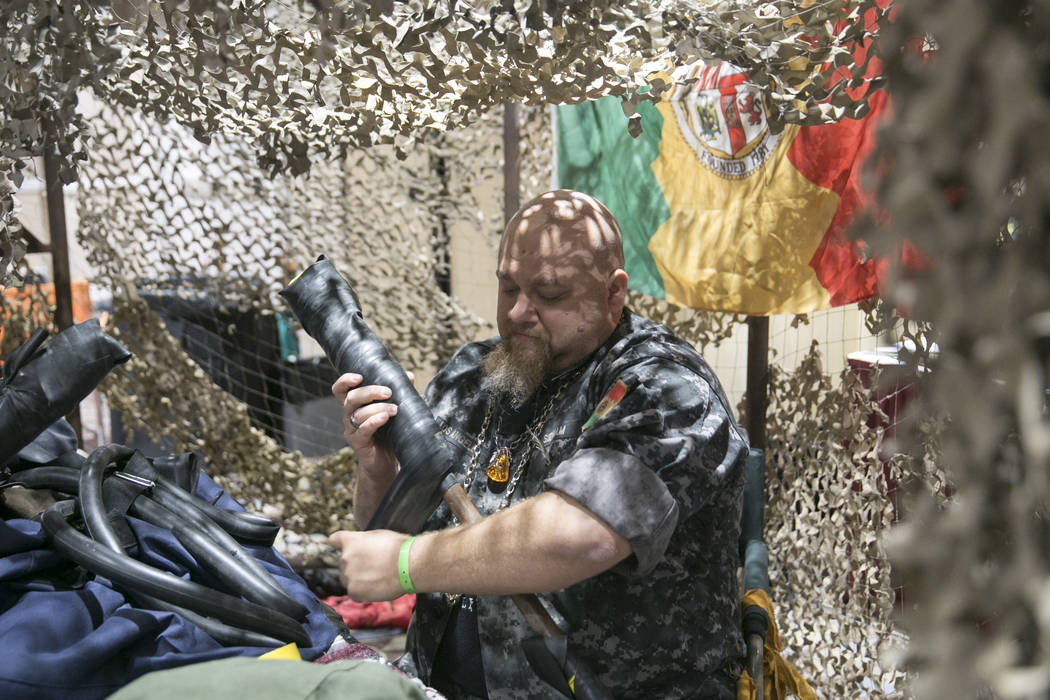 The man with the striped socks and leg protection steadied himself. His opponent slipped on his fencing mask.
"Fighters, are you ready?" the judge asked Saturday afternoon. "Fence!"
The men charged. They circled, warily anticipating the other's next move. Then the man with striped socks stabbed at his rival.
"Thrust to the chest," the judge said. "Point."
The men were fighting in a sword and buckler tournament, a technique practiced by competitors at this weekend's CombatCon at the Flamingo. They were in a fighter pool competing to reach levels enabling them to win prizes, including swords, gift cards, gloves or free passes to next year's event.
The convention, which continues through Monday, also features special guests Anthony De Longis, a stuntman and fight choreographer who trained actress Michelle Pfeiffer, and David Baker, who stars in the History Channel's "Forged in Fire," a reality show on which contestants turn raw metal into working versions of classic bladed weapons.
Covering the Combat Convention today at The Flamingo pic.twitter.com/w7Z0XzO5fi

— Briana Erickson (@brianarerick) August 12, 2017
About 1,000 sword-fighting enthusiasts from around the world, including Scotland and Australia, are gathering this weekend to take classes, attend panels and presentations, watch demonstrations and compete in historical European martial arts practices.
At the tournament, Kevin Campbell, his hair matted with sweat from an earlier tournament, sat and watched some of his friends fight. He and about 20 friends from the Blood and Iron club in Vancouver, British Columbia, try to come every year.
Campbell, who has been fighting for two years, said he started because he is a huge history buff and pairing that interest with martial arts and fitness creates "a perfect combination."
"Usually when you say you sword-fight, people think you're crazy," he said. "But here, they love it; they feed off of it."
His friend, Justinder Singh, chimed in: "We're brothers in arms." Each wore protective gear that included thick jackets, leg guards, skirts and elbow pads.
Nicole Smith, also from Canada, said their club is one of the biggest in the world — and is 35 percent women.
"Normally, I'd be out there," but she added she's fighting off an injury. Still, Smith said, the sport is relatively safe. "With sword fighting, you can still get the full intensity without seriously injuring yourself."
Julian Schuetze, an instructor for five years, said the sport offered a side benefit for him. Now about 240 pounds, Schuetze said he's dropped a little more than 100 pounds since he picked up the sport five years ago.
"It's almost like a puzzle," he said of the game. "Everybody knows the same playbook. It's a matter of who makes the least mistakes."
Convention President Jared Kirby said the event was started six years ago to promote European martial arts.
"If you're choosing this as your martial art, you probably come from some foundation of 'geekdom,'" said Kirby, who noted it took him 17 years to become a martial arts master.
Whether it's taking classes, playing Dungeons and Dragons or whaling on someone with a sword, "here, they all share the same kernel of passion," he said.
Downstairs, in a room of combat vendors open to the public, people stumbled in to get a taste of the convention and try out weapons. A group stood in handmade armor, swinging balls and chains under a colorful sign bearing a skull and the words "The JUGGERS of the WASTELAND."
The Southern California group came to recruit Saturday, one day before its members would be fighting with their weapons at 1 p.m. Sunday during the convention. Their gear was crafted from scraps, ranging from bamboo floor mats to foot pedals from motorcycles and lawn edgers.
Lisa Fillmore, 29, said she's been fighting with the group for three years. Members practice their interpretation of the game "jugger" from the movie "The Blood of Heroes."
Fillmore, with her hair braided down her back, is known as "Hellcat" on the field. Her combat approach is to crawl on the ground and tackle people, she said.
"We have to find some way to get our aggression out," she said.
Contact Briana Erickson at berickson@reviewjournal.com or 702-387-5244. Follow @brianarerick on Twitter.
More about CombatCon
CombatCon, which continues Sunday at the Flamingo, bills itself as one of the largest historical European martial arts tournament events in the world. The convention also offers more than 200 classes in martial arts, stage and stunt combat, personal protection and tactical combat as well as an experience hall with demonstrations, activities and vendors. For more information, visit www.combatcon.com.