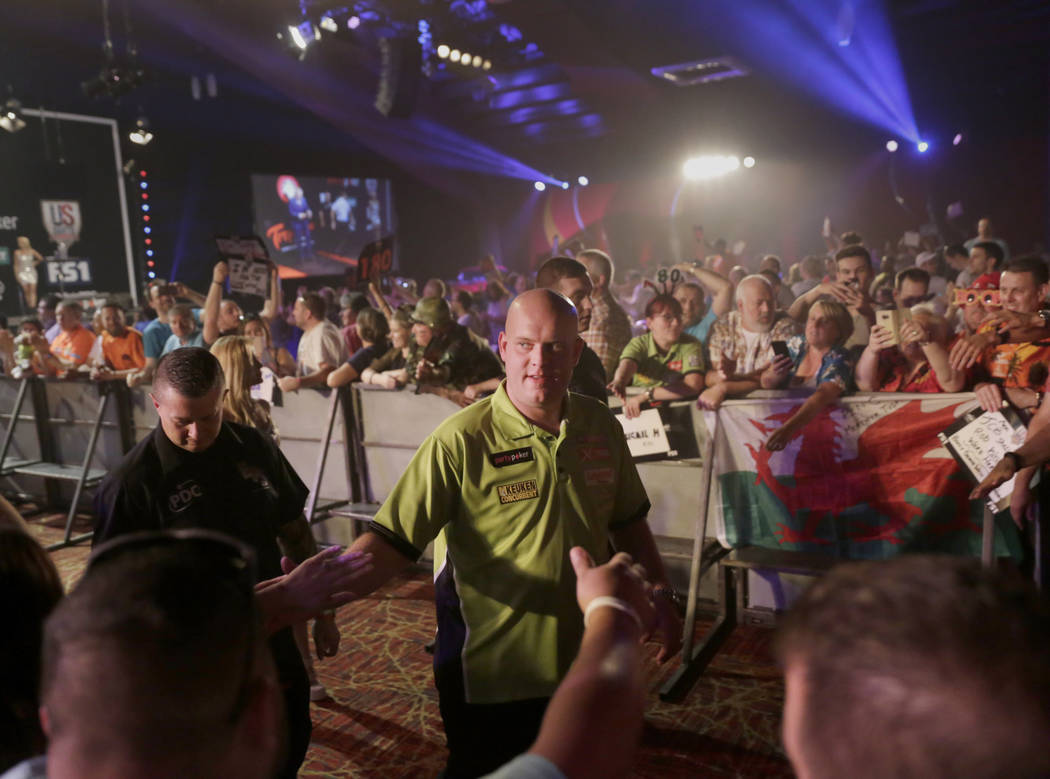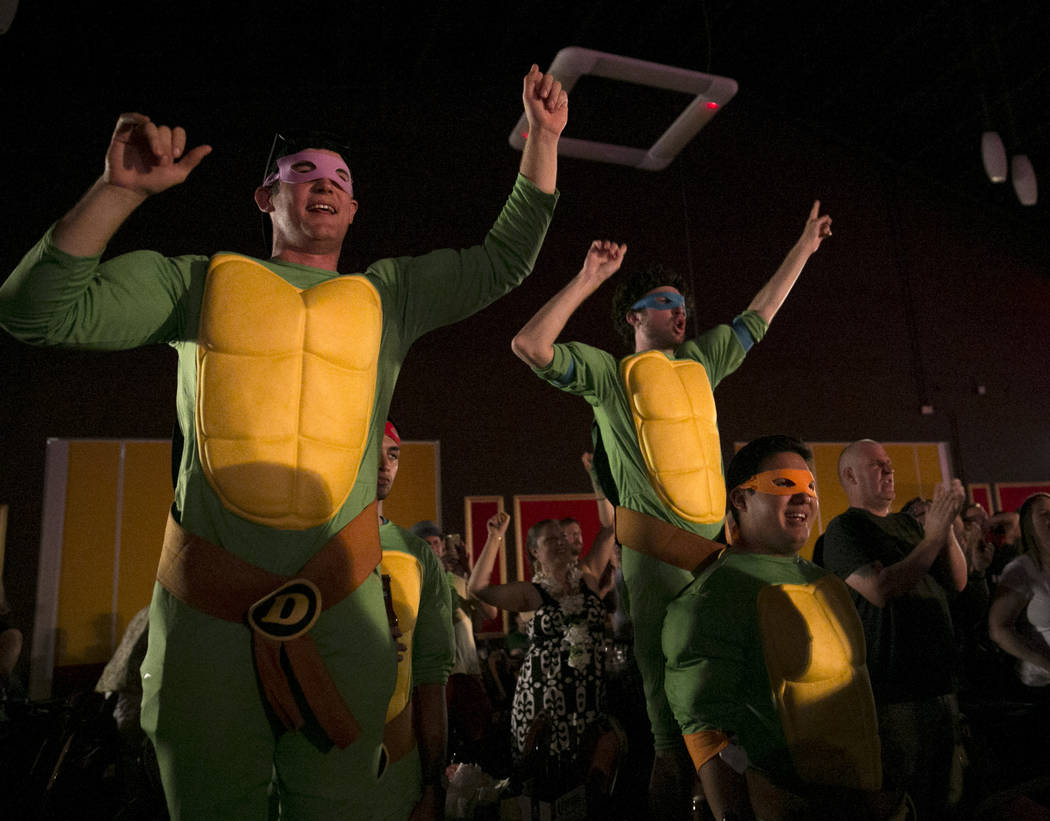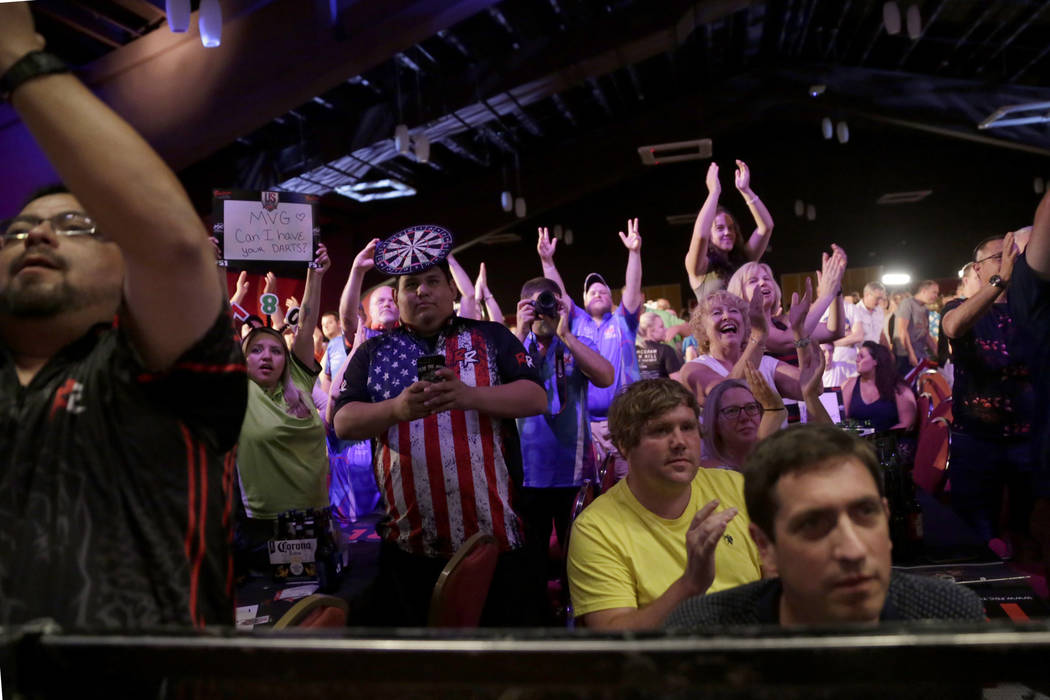 About 1,000 people gathered in a darkened arena at the Tropicana Las Vegas on Saturday afternoon, their eyes, cameras, and decorated signs trained toward a well-lit dart board at one end of the room.
Darts fans, many from England and countries near it, gathered at the arena entrance, eagerly awaiting the eight players who would compete in the finals of the 2017 U.S. Darts Masters.
They chanted loudly and waved signs that read "180" on one side (the highest number of points possible in a turn of three throws) and messages such as "I thought this was speed dating," "I need a vacation from my vacation," and "Happy Birthday, Dad!" on the other, seeking the attention of the cameras that broadcast the event live to the U.K.
At random times throughout the matches, the room would erupt with cheers of a player's name or, more commonly, a sing-songy "Stand up, if you love the darts."
Jeff and Dana Wair met playing darts in their hometown 14 years ago, married shortly after and have been traveling to watch darts tournaments ever since.
"We play, but we're not like this," Dana Wair said, gesturing to the stage.
The couple traveled to Las Vegas from Nashville to watch the tournament, and rooted for Raymond van Barneveld, who lost in the first round Saturday to Gary Anderson.
Dana Wair, 43, said she was also excited that two North American players made it into the quarterfinals.
"North Americans don't usually fare very well against the Europeans and I don't know why," Wair said.
"Well because these guys are professionals, they do it for a living," her husband chimed in about the European competitors. "We have jobs."
One of the two North Americans to land in the top eight Saturday was 21-year-old Dawson "Awesome Dawson" Murschell, the youngest person in Saturday's tournament. He beat the sixth-best player in the world, James "The Machine" Wade, in an upset Friday.
"I've been dreaming about playing on that stage since I was 13 years old," Murschell said. "I'd love to be a professional dart player and do it full time."
Murschell, who graduated in 2016 and has his own clothing line, Finlay Bridge Outfitters, said he thinks darts is a growing sport in North America and will become as popular as football and basketball in the U.S.
"The reason Europeans fall in love with it is because it's a working man's sport — it doesn't matter if you're 15 or 50 years old, anyone can go do it," Murschell said. "You don't have to be this top, physical athlete."
Despite being the clear crowd favorite in the first match Saturday, Murschell lost 4-8 to Gerwyn Price, who lost in the quarterfinals to tournament champion Michael van Gerwen.
Marc Marchesani, a 43-year-old bar owner from New Jersey, was rooting for Gary "The Flying Scotsman" Anderson when Saturday's tournament began.
"He's a class act, a nice guy," said Marchesani, who played in the disqualifying rounds Tuesday and Wednesday. "Gary Anderson's got a shot, but Michael van Gerwen is gonna win it."
In the first few matches of the day, the half-full room fell silent when a player would approach the dart board. By about 1:30 p.m., however, the crowd was much rowdier and nearly filled the room.
Graham Curry, a spokesman for the event, estimated about 1,000 people turned out for Saturday's tournament.
By the last match, the silence was gone and replaced by fans' cheering, "Super Chin."
"They're rooting for the underdog," said 34-year-old Mark Onsdorff. "The crowd is easily swayed by the darts, though. They'll be singing Michael's name here pretty soon."
In a match that had nearly all audience members shouting and on their feet, and some standing on their chairs, Holland's Michael "Mighty Mike" van Gerwen beat Daryl "Superchin" Gurney, of Northern Ireland, 8-6.
"Of course I think it's nice to win," van Gerwen said Saturday, "but the biggest prize this year is I'm gonna be a daddy in a couple of weeks' time."
Van Gerwen won $45,000 and a new Ford Mustang for taking first place. Before hauling his trophy off the stage, the champion thanked the sponsors of the event and the fans, some of whom had stripped their T-shirts and were waving them overhead, and gave a shout-out to his competition.
"(Gurney) made it really difficult," a heavily-accented van Gerwen said after the tournament. "Having to prove yourself makes you better. I'm really glad I did."
Contact Kimber Laux at klaux@reviewjournal.com. Follow @lauxkimber on Twitter.