Tract of land near Las Vegas Strip now on market for $40M
December 19, 2017 - 3:41 pm
Updated December 19, 2017 - 8:39 pm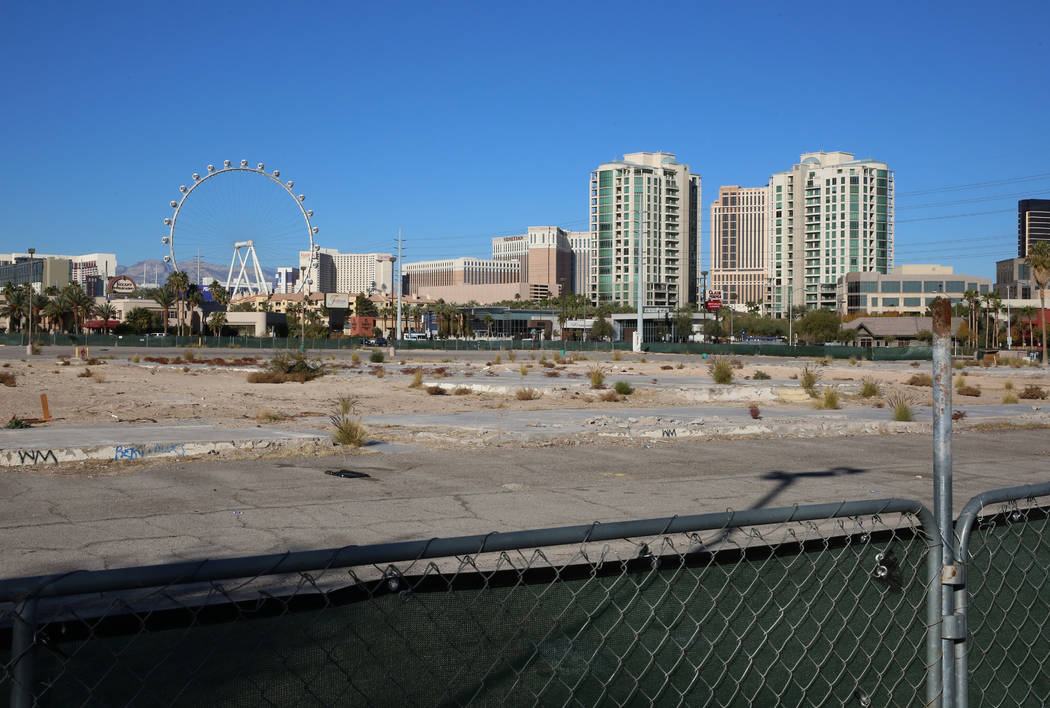 A tract of land near the Strip, once held by owners of the Hard Rock Hotel, is on the market for more than $40 million.
Chinese developer Weike Zhang is trying to unload about 12.1 acres between the Hard Rock and Flamingo Road, about a mile east of the Strip, for a sum that even his representative says is overpriced.
Vacant parcels on Las Vegas Boulevard and just east of the casino corridor have sold in recent years, but overall the market for such land has been slow. Still, prospective buyers have looked at Zhang's property for apartment development, said listing broker Mark Anthony Rua of ERA Brokers Consolidated.
He said last week that the site, listed for almost $42.3 million, went on the market in mid-September and that he's received "several inquiries." One offer was lower than what the seller wanted, Rua said.
Owners' representative Eddy Chao, of Los Angeles-based Asia Pacific Capital Co., said on Monday that he doesn't think the sellers can fetch what they're asking. It's not just a little overpriced, he said, but "substantially" overpriced.
The land is listed for $3.5 million an acre, but Chao figures the market price is $2.5 million to $3 million per acre.
The property, like many vacant parcels around the valley, has changed hands multiple times and carries a volatile history: In this case, a blockbuster sale followed by a flirt with foreclosure and then bankruptcy.
Morgans Hotel Group Co. acquired the land — or at least part of it — in 2007 as part of its $770 million purchase of the Hard Rock Hotel, records show. In 2011, Massachusetts-based Eastern Real Estate acquired at least part of it through a "deed in lieu of foreclosure," a process in which real estate trades hands while letting the prior owner avoid the repossession process.
Eastern sold the land to Zhang's group in spring 2014 for $20 million. But the buyers, under the name Aqua Blue Estate, filed bankruptcy protection for its property a year later.
According to a court filing by Eastern, the buyers paid $10 million cash for the land and owed $10 million in loans to Eastern. But they defaulted on part of their debt and filed Chapter 11 just days before a scheduled foreclosure sale, Eastern claimed, halting creditors' actions against the property.
The "sole purpose" of the bankruptcy was "to delay and hinder" Eastern's efforts to foreclose and recover debts, and the buyer "attempted to forestall … with excuses about money coming from China," the filing said.
The bankruptcy case was soon dismissed, but the land was not seized through foreclosure, records show.
Chao said the owners paid off their debt to Eastern. He also said the bankruptcy was filed to "just delay the due date" and that it's not a simple process to bring in funding from China.
An attempt to speak with Eastern was unsuccessful.
In fall 2015, Zhang's group traded some of its land to the Hard Rock for a vacant parcel right nearby, said Michael Parks of CBRE Group, who brokered the sale to Zhang in 2014.
Contact Eli Segall at esegall@reviewjournal.com or 702-383-0342. Follow @eli_segall on Twitter.