To shoot or not shoot is quandary for veteran, rookie officers
November 27, 2011 - 12:00 am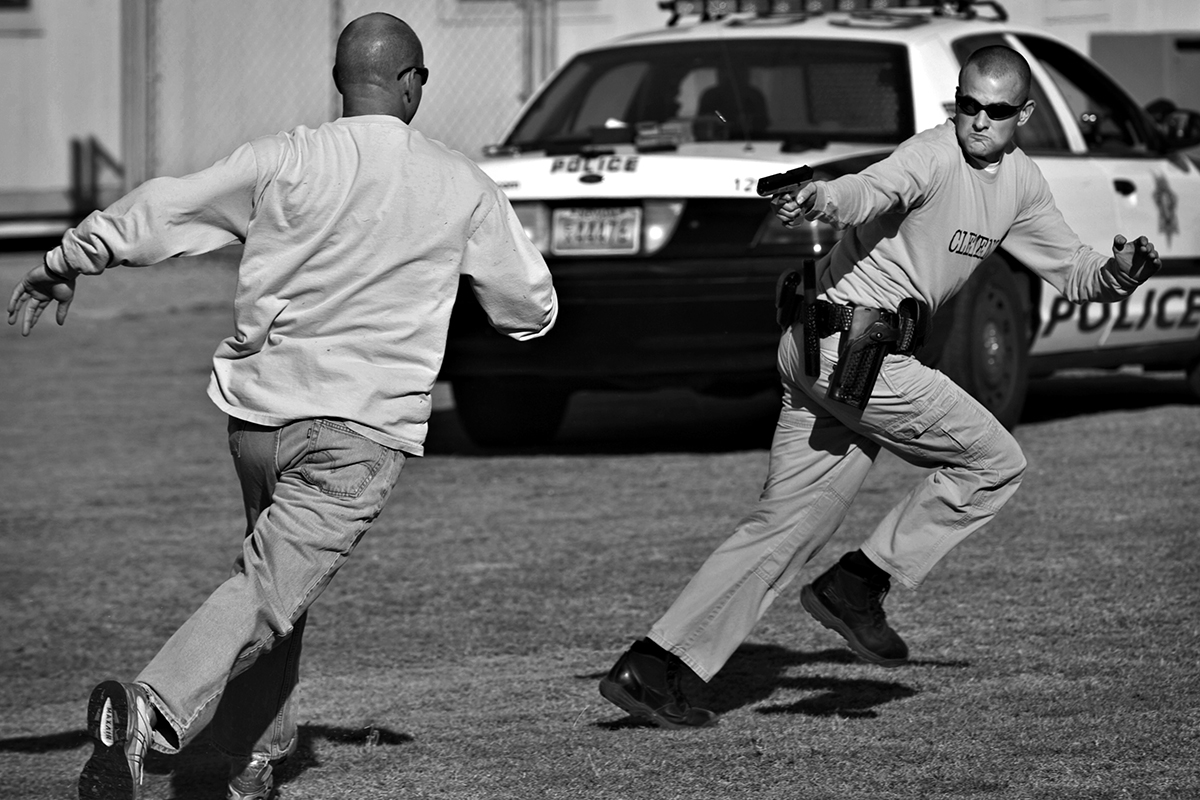 Detective Sgt. Randy Oaks' plan to buy seven pounds of pot from two Cuban drug dealers in 1984 seemed to be going well. As he waited in the parking lot of a motel on Las Vegas Boulevard , he saw one of the suspects go into the room where two of Oaks' under­cover Las Vegas police detectives were waiting to make the buy.
The suspect went in empty-handed, and obviously had no marijuana. Oaks soon saw a second man walk through the parking lot, a duffel bag slung over his shoulder. The man saw Oaks, who was undercover with a beard and long hair.
That's when everything fell apart.
Oaks, believing the man had drugs in the duffel, got out of the car, pulled his badge and gun and yelled at him to stop.
Instead, the man looked Oaks in the eye and kept walking toward him, hands in his pockets.
Thoughts raced through the sergeant's mind: Was the man deaf? Did he not understand me? Was he armed? Was he even involved in the drug deal?
"I can remember … making a conscious decision, and I said, 'I've got to shoot this guy and hope to hell he's the suspect and he's got a gun in his pocket,' " Oaks recalled.
Just as he made that decision, the two detectives from the motel room came down the stairs, distracting the suspect long enough for Oaks to tackle him.
Oaks' intuition was right, but the incident left him rattled.
"I keep saying, 'God, OK, I was right. If I would have shot him, I would have been OK because he had a gun in his pocket and seven pounds of marijuana," Oaks recalled of that day nearly 30 years ago. "But what if he's a deaf mute who was homeless and had the duffel bag full of clothes and he didn't understand what I was trying to say because he couldn't hear me? What if? And how could I live with that if that was the case?
"I could live with it fine if he's the bad guy and he has the gun in his pocket. I think."
Oaks later became a Las Vegas deputy chief, then police chief in Prescott, Ariz. Now retired, he said he's grateful he never fired his gun in 35 years of law enforcement, but he still wonders about those close calls: Should he have fired?
LITTLE RESEARCH ON DECISION TO SHOOT
Police shootings make headlines. Far more common incidents when an officer would be justified in using deadly force, but elects not to, seldom get much attention. Sometimes a cop relies on instinct and experience in a split-second decision. Sometimes, it's just luck.
Research on officers' decisions to shoot is "paltry," and there isn't much to explain why some shoot and others don't, said David Klinger, a University of Missouri, St. Louis professor and author of "Into the Kill Zone," a book about police shootings. A former Los Angeles cop, he is one of the few academics who study the issue.
Experience could play a role, he said. A young officer might not recognize a threat seen by a more seasoned cop. Or, a rookie might panic in a situation where an experienced officer wouldn't.
The goal is to find answers to the question and adjust training to help officers make the right split-second decision.
But police don't make the right call every time. A Review-Journal analysis of all 378 officer-involved shootings in Clark County since 1990 showed that about 10 percent of the time a Las Vegas officer fired at an unarmed person.
"In the moment, expecting human beings to always be correct is simply unrealistic," Klinger said.
Las Vegas officers go through training designed to help them make better decisions. Once a year they're required to attend a daylong advanced skills course that includes live-action and computer simulations. The scenarios involve actors whose actions force officers to decide what level of force to apply. In some video training officers face situations where they must avoid shooting unarmed civilians.
As in other large departments, officers are also required to practice target shooting. Las Vegas requires it four times per year.
Klinger said target shooting is "not valuable at all" in helping officers better decide when to shoot. He compared it to someone learning defensive driving tactics on an empty track, with no other cars to simulate traffic.
It might not do much for a cop's aim, either. The Review-Journal found that about two-thirds of the shots fired by Clark County cops miss.
SOME CASES SPLIT THIN BLUE LINE
Police are often reluctant to second-guess the actions of another officer, at least publicly. But some cases split the thin blue line just as they do the public.
One such case was the 2009 fatal shooting of 15-year-old Tanner Chamberlain.
Wayne Peterson, a former Las Vegas police homicide lieutenant, said he would not have pulled the trigger on the mentally ill teenager, who was holding a knife in front of his mother when Las Vegas officer Derek Colling shot him in the head.
"I couldn't live with myself," Peterson said of the thought. The killing, one of two by Colling, was ruled justified by a Clark County coroner's inquest jury.
Bill Young was Clark County sheriff in 2006 when handcuffed murder suspect Swuave Lopez, 16, escaped from a police car and was shot and killed while running from detectives Shane Womack and Ken Hardy, who said they fired because they were physically incapable of catching up to Lopez. Womack fired the fatal shot.
Though the death was ruled justified, Young now says he wouldn't have taken that shot.
"I think that I could have ran down that kid. Even at my age back then, I was in a lot better shape, I think, than the officer that ended up saying he couldn't run him down," Young said. But, he added, the officer "was within his rights as a police officer and the letter of the law by shooting a fleeing felon."
Is the legal decision the right decision? Peterson said he had several situations where he would have been justified in shooting someone, but didn't.
"Yeah, you're justified, but was there really a threat?" he said. "At the end of the day, you have to live with yourself."
A 'SHOOT-DON'T SHOOT' SITUATION
"Every cop who's in a shooting probably has had 10 other times when they could have shot, but didn't," said former Sgt. Eric Ducharme, who was involved in three shootings in his 27 years with the Las Vegas police . "The bad guy's got a gun or a knife or another weapon, and it's a 'shoot-don't shoot' situation."
Ducharme once found a man who was burglarizing a doctor's office. He drew his pistol and identified himself. The suspect then pulled a gun of his own and pointed it at Ducharme.
"I was about to shoot," he said. "But something about the guy's body language communicated he was going to give up."
The man dropped the weapon.
Yet another incident in the late 1970s still gnaws at Oaks.
It started with a 911 call: A woman was screaming for help in a trailer on Boulder Highway. When Oaks arrived, the screams stopped. He called out repeatedly for someone to come to the door as his partner went behind the trailer.
He went inside, and eventually a woman emerged from a bedroom at the end of a hallway. She was shaking. She had been scratched. Small drops of blood peppered her face. No one else was home, she said.
"Everything's fine officer. You can leave," she told him.
Oaks didn't believe her. While his partner waited with the woman, Oaks drew his gun and made his way to the bedroom. In the bed he found a man with the sheets pulled up to his neck.
As Oaks pointed his gun at him, the man reached across his body with his left hand and pulled away the sheets to show the .44-caliber revolver in his right hand. Oaks told him to drop it.
Instead, the man swung the gun toward him — but stopped short of pointing it directly at him.
"You got it," the man said as he tossed the gun at the officer's feet. Oaks looked down and saw that it was cocked, ready to fire.
He still wonders if he made the right call. Given the circumstances, few would have questioned a shooting that would have been legally justified.
"Was I good or lucky? I don't know," he said. "I still don't know if what I did was the right thing to do, but it had a happy ending, and I went home."
---
Review-Journal special correspondent Alan Maimon contributed to this report.