Business licenses ordered for Uber, Lyft drivers; companies may appeal
November 17, 2015 - 7:20 pm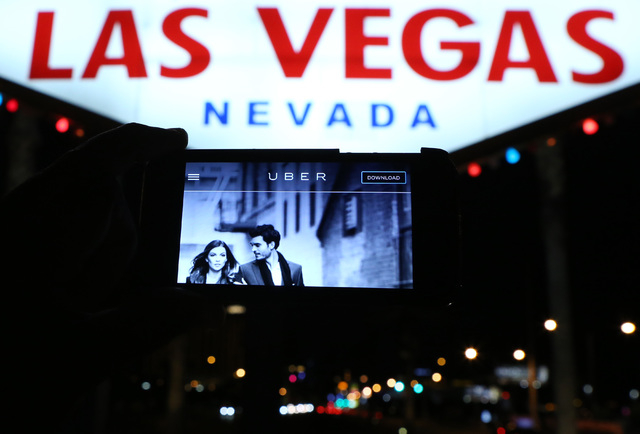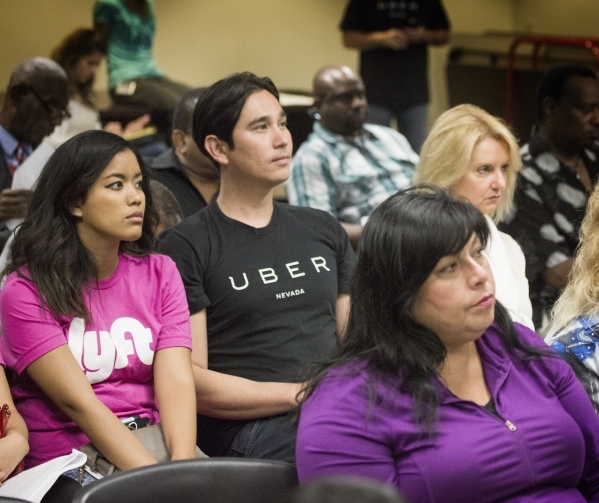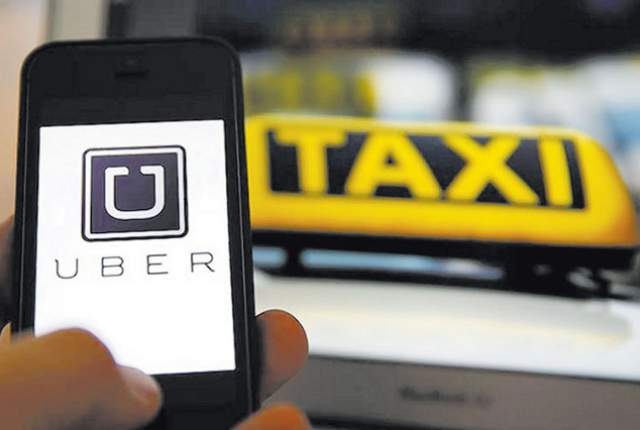 Contracted drivers for ride-hailing companies will be required to have Clark County business licenses to operate and their companies will be required to provide a monthly report listing who they are.
In two unanimous votes, the commission approved ordinances Tuesday that will require drivers to pay an annual $25 business license fee to drive for a transportation network company in the county.
The companies may challenge the ordinance as contrary to state law.
Representatives of Uber opposed a requirement in one of the ordinances that requires companies to provide a monthly report to the Clark County Business Licensing Department listing the name and identification or driver number of each driver that is registered with the company. The company opposed the requirement, saying the identification of drivers is proprietary information that competitors could use.
Before the vote was taken, Uber officials requested the requirement be stricken from the ordinance, but commissioners decided to keep it in after considering different ways to keep drivers anonymous. Under public record laws, the county would be required to provide names of persons holding business licenses.
A spokeswoman for Uber said after the meeting that the company would continue to operate in Southern Nevada despite the setback. She indicated Uber isn't done fighting.
"Today (Tuesday), the county imposed new taxes and requirements that are not permitted under state law," the company said in a statement. "We urge the county to stop protecting the special interests of the taxi industry from competition, listen to the people of Clark County and comply with state law."
Some Uber drivers asked the commission not to require a license because of the cost of doing business — especially for those who only intend to offer rides on an occasional basis. Drivers will be responsible for paying $200 annually for a state business license, $25 annually for the county license and a one-time fee of $45 for the initial business license application.
Late Tuesday, Nevada Senate Majority Leader Michael Roberson, R-Henderson, joined the debate, saying in a statement, "Today, the Clark County Commission decided to ignore state law to protect a powerful special interest.
"The County Commission should know what it has done is illegal. The language of state law is clear, and the Legislative Counsel Bureau has already issued a legal opinion explaining in plain terms that the County Commission could not do what it is now doing. No matter. The good graces of a single special interest and the prospect of a million-dollar money grab were simply too tempting."
Uber rival Lyft also had a proposal rejected.
Kelly Kay, vice president of business operations for Lyft, emailed the commission Nov. 2 with a request to require licensing only after 50 rides were provided by a driver. The proposal was made because Kay said many drivers apply but change their minds about driving after trying it. Kay said requiring licensure before allowing a driver to operate would discourage prospective drivers from signing up because of the economic burden.
Representatives of Southern Nevada's taxi industry also addressed commissioners, encouraging them to approve the ordinances.
Representatives of Bell Transportation, Yellow Checker Star, Desert Cab and A-Cab asked commissioners to approve the ordinances to provide some local oversight to the fast-growing ride-hailing industry.
Uber and Lyft have not publicly disclosed how many contracted drivers work for them.
At a couple of points during the public hearing preceding deliberation on the ordinances, Commission Chairman Steve Sisolak accused the transportation network company representatives of being evasive in their answers to questions. At one point, he said the companies' relationship with local government "has been an embarrassment in Clark County."
Commissioner Larry Brown added that it appears that Uber considers its interactions with the county to be "an annoyance."
Contact reporter Richard N. Velotta at rvelotta@reviewjournal.com or 702-477-3893. Find @RickVelotta on Twitter.