Car-nado cluster avoided as Las Vegas motorists heed closure warnings
October 31, 2016 - 10:47 pm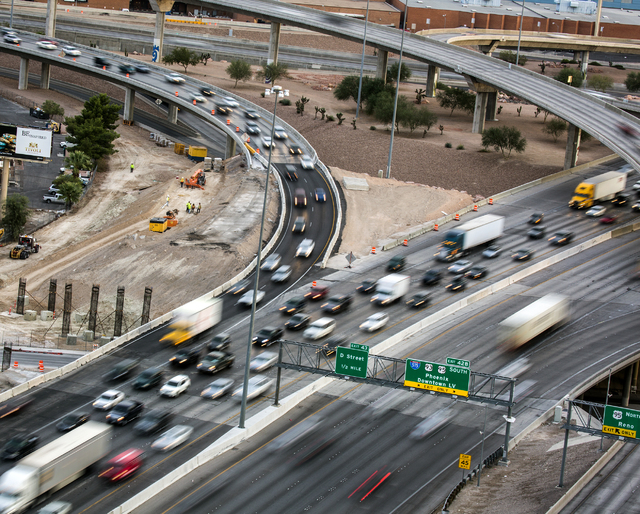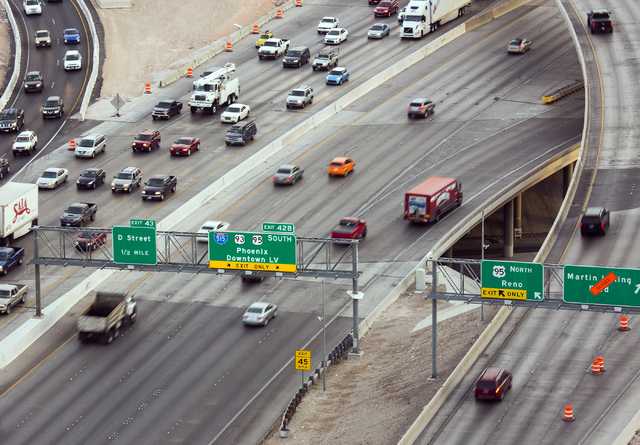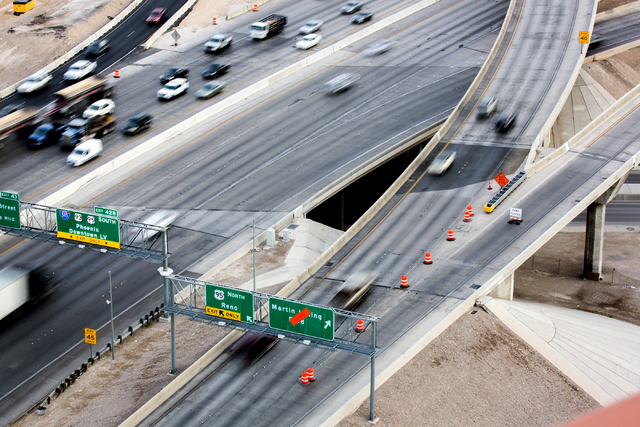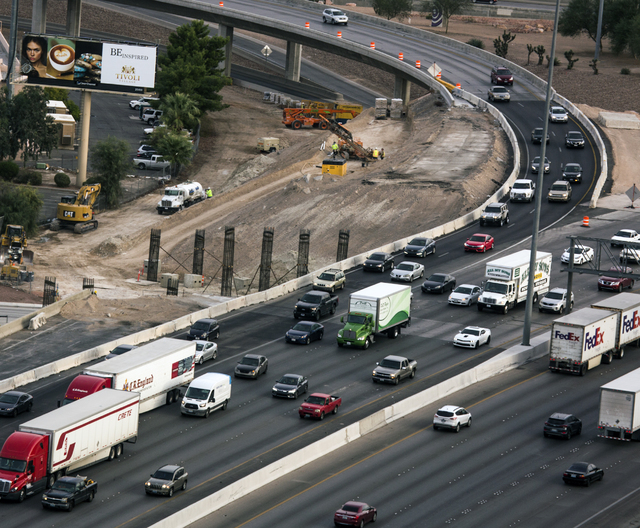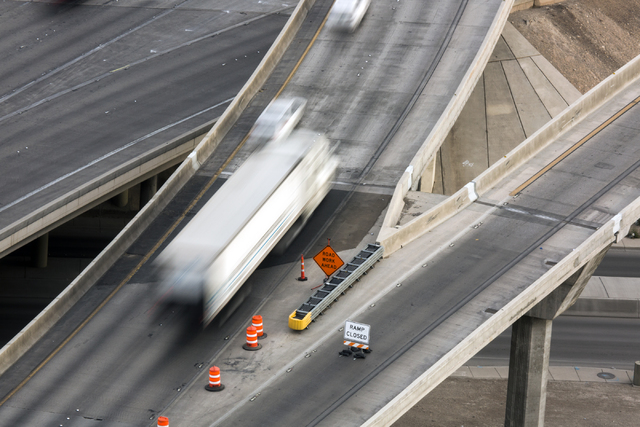 Car-nado was downgraded Monday to a mere tropical depression, just days after state transportation officials predicted a perfect storm of traffic delays, dizzying detours and ramp closures at Nevada's busiest freeway interchange.
The pithy moniker coined by the Nevada Department of Transportation may have been overstated, but an agency spokesman said that getting the word out early — and often — helped motorists plan new routes to avoid closures at Interstate 15's southbound and northbound ramps connecting to northbound U.S. Highway 95, along with the I-15 ramps to Martin Luther King Boulevard.
The closures remain in effect through the end of February, but NDOT officials initially believed the first few days would be the roughest on commuters who had not heard about Car-nado, or failed to find another way to get around the construction zone.
"I realize there's been a lot of buildup, and certainly we're treating it seriously, but it has gotten whipped up into a bit of a frenzy," NDOT spokesman Tony Illia said. "We would far rather have people brace for the worst and have things turn out to be not so bad, rather than the other way around."
During the weekend, crews demolished a two-lane bridge over Martin Luther King Boulevard that connects northbound I-15 to northbound U.S. Highway 95, creating about 1,500 cubic yards of debris — enough to fill 11 average-sized swimming pools, Illia said.
The concrete will be crushed and recycled as fill material for other parts of the $1 billion widening of the Spaghetti Bowl interchange, known as Project Neon. The rebar steel will be recycled for a yet-to-be determined project.
Over the next four months, NDOT will focus on building a new 81-foot-tall flyover bridge for high-occupancy vehicles that will connect the southbound U.S. Highway 95 to southbound Interstate 15, and also the northbound I-15 to the northbound U.S. 95. The new bridge will span 2,600 feet, more the double the length of the lake in front of the Bellagio, Illia said.
About 300,000 vehicles travel daily on the interchange connecting I-15 and U.S. 95, with traffic expected to double by 2035.
Before construction started, the average travel speed was 25 mph through the Spaghetti Bowl during peak rush hours, Illia said. When Project Neon is completed in 2019, rush-hour travel speeds are expected to increase to 50 mph, resulting in less traffic congestion and vehicle exhaust.
Contact Art Marroquin at amarroquin@reviewjournal.com or 702-383-0336. Follow @AMarroquin_LV on Twitter.
Video: Project Neon in Las Vegas NV: I-15N will be rerouted to I-95N
Video: Project Neon in Las Vegas NV: Car Nado Construction
RELATED
Las Vegas 'Car-nado' closures set to snarl Spaghetti Bowl as part of Project Neon
Car-nado set to wreak havoc upon downtown Las Vegas traffic
Las Vegas motorists appear to dodge Car-nado as construction consumes Spaghetti Bowl