Clark County taxi trips down, but revenue reaches record $425.1M
January 13, 2016 - 6:02 pm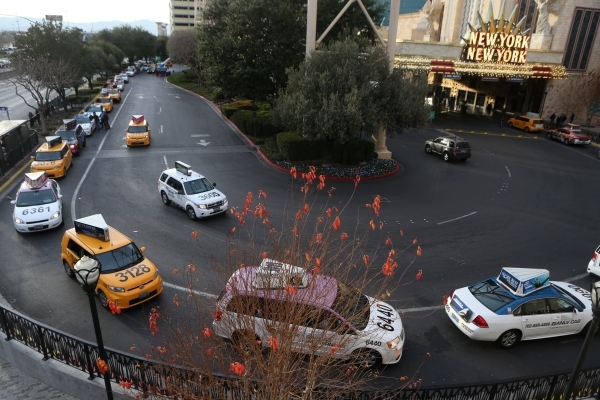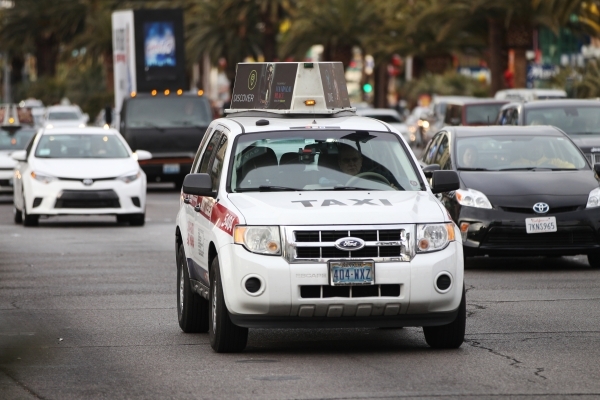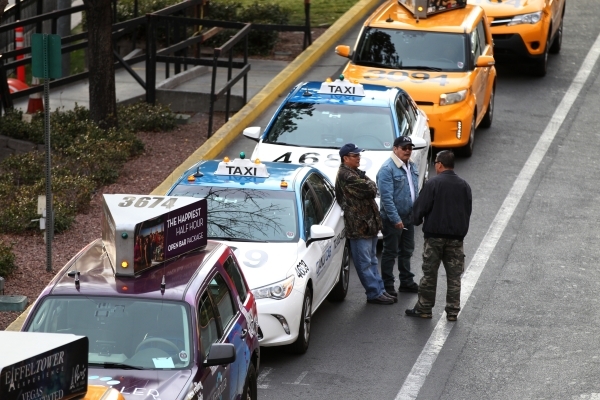 The dire prediction that ride-hailing companies were going to grab market share away from Southern Nevada taxi companies was realized with taxi trips down 0.45 percent in 2015.
But don't cry too hard for the cab companies: Revenue hit a record $425.1 million for Clark County's 16 cab companies and was up 4.1 percent over the previous year, according to statistics posted by the Nevada Taxicab Authority.
The year-over-year decline in trips was the first since 2013 when volume fell 1.8 percent and revenue dropped 0.5 percent to $391 million.
This year's decline in taxi trips came at a time when there was a record of more than 42 million visitors to Southern Nevada and passenger traffic soared at McCarran International Airport.
The obvious reason for the decline: the rise of transportation network companies Uber and Lyft, legalized by the Nevada Legislature in May and in operation by October.
In the fourth quarter of 2015, monthly statistics showed the shift in market share and the only question was whether the dent would be big enough to result in a year-over-year decline.
It was.
But taxi companies also protected their revenue generation when it became apparent that Uber and Lyft were here to stay. They asked for and received a meter rate increase in August, then lobbied the five-member Taxicab Authority board to transfer medallions that were geographically or time restricted to become 24-hour medallions as well as adding additional medallions for each company.
Rates now stand at 69 cents per quarter mile, plus a $3.50 "drop" fee for the initial hail. Rates rank among the top five in the country.
The Taxicab Authority also reported that Clark County's 16 companies now have 3,210 medallions, up about 1 percent from last summer.
How much the ride-hailing companies affected the cab companies isn't clear because the Nevada Transportation Authority, which regulates Uber and Lyft, doesn't require those companies to make their ridership numbers public and the companies, citing competitive reasons, won't release them.
While the cab companies seem to be surviving the rise of ride-hailing financially, the same can't be said of cab drivers who find themselves not only competing with Uber and Lyft's contracted drivers — who offer cheaper rates — but against a larger number of cab drivers as those companies scramble to find drivers to fill all the shifts created with the addition of the new medallions.
Bell Transportation, for example, couldn't fill all the cabs it had available during CES because many of the company's drivers were instead driving their own cars as Uber and Lyft drivers, seeing an opportunity to make a little more money than they could in their taxis.
The CES opportunity was spurred by the drivers' belief that they would be able to take advantage of dynamic pricing Uber and Lyft have when ride demand exceeds driver supply. To encourage more drivers to become active, those companies will temporarily increase prices so that more drivers will become available.
On New Year's Eve, the Uber pricing multiple reached 8.9 times the normal rate. While consumers cry foul about so-called "surge" pricing, Uber counters that customers don't have to accept the ride at that rate and can wait out the temporary price increase.
During CES, some consumers complained that a 1.5-mile ride cost $83.50 during a 6.2-times surge multiple. But surge pricing works out well for the driver — of the $83.50 fare, the driver would keep more than $58 with the rest going to the company.
Clark County cab companies have differing philosophies on whether their employees should be allowed to be contracted ride-hailing drivers. Drivers for Bell companies Henderson and Whittlesea were allowed drive for Uber and Lyft during their time off. But Frias Transportation companies Ace, A-North Las Vegas, Union, Vegas Western and Virgin Valley have policies that ban their employees from driving with the rival and it's a fireable offense.
For taxi companies, December turned out to be worst month for ridership of the past three. Trips were down 10 percent to 1.6 million after declines of 3.4 percent in October and 5.5 percent in November.
But revenue per trip was up 6.2 percent to $16.17.
The glut of medallions resulted in trips per medallion being down 33.9 percent and revenue per medallion down 29.7 percent in December.
December was the worst month of the year for taxi trips in 2015 with 1.8 million reported.
Among individual companies, Vegas-Western and Western Cab were hurt the most with trips down 21.6 percent and 21 percent, respectively. Deluxe, with trips up 35.6 percent, and A-Cab, up 15.4 percent, fared the best because they held the most geographically restricted medallions that were converted to no restrictions in the fall.
A-Cab's revenue per trip soared 25.8 percent to $17.13 for the month.
Contact reporter Richard N. Velotta at rvelotta@reviewjournal.com or 702-477-3893. Find @RickVelotta on Twitter.