It's official: HOV lanes soon will be open to all drivers for more hours
Updated April 10, 2023 - 6:43 pm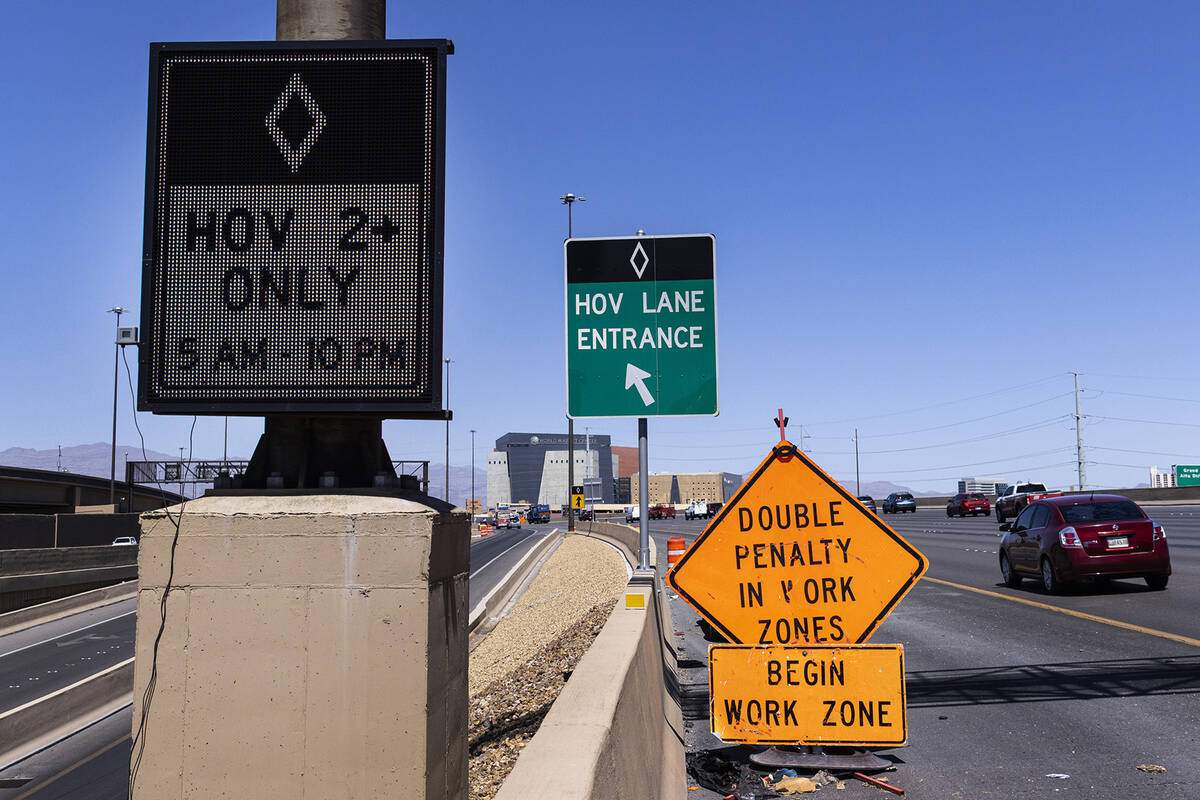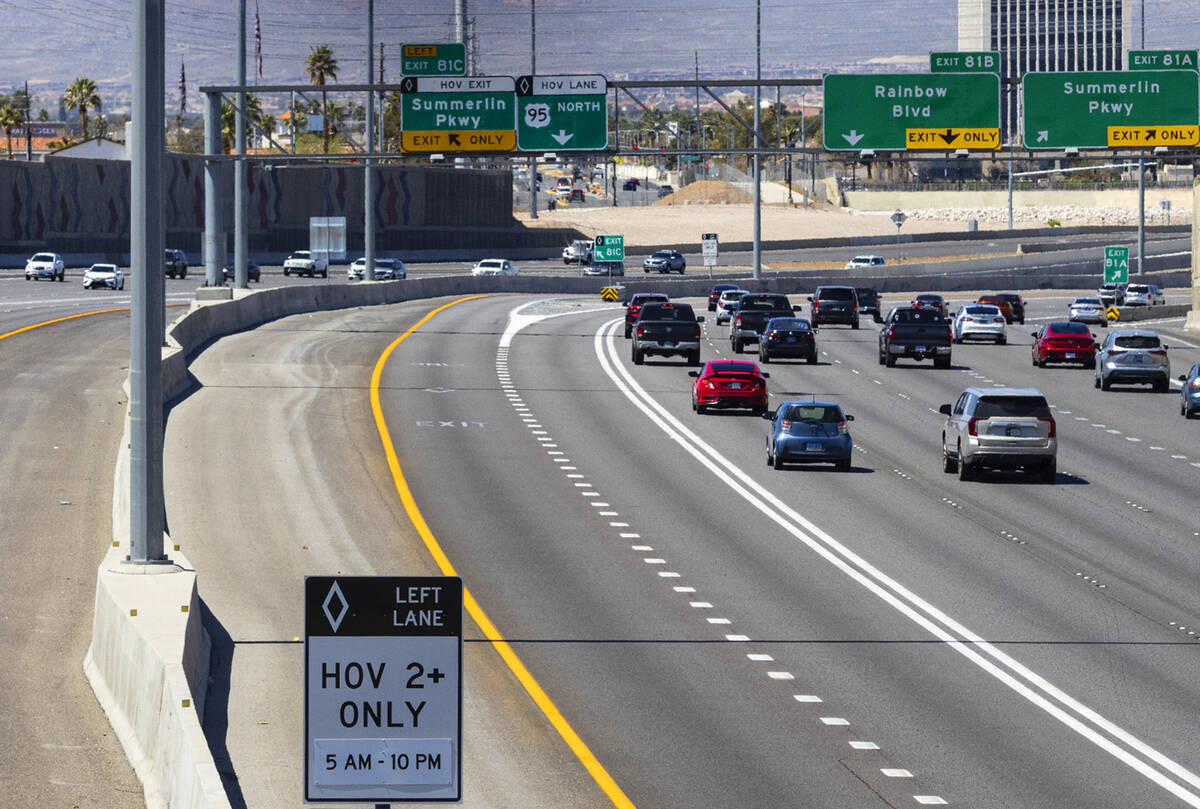 State regulators voted Monday to further reduce the hours carpool lanes in the Las Vegas Valley are regulated.
The Nevada Department of Transportation's Board of Directors voted unanimously to cut back the hours for lanes dedicated as "high occupancy vehicle" lanes to between 6 and 8 a.m. and between 4 and 6 p.m. Monday through Friday, and to open the lanes to all on weekends.
The new hours are set to be implemented within the next 30 days and will be studied to ensure they are working efficiently.
Lt. Gov. Stavros Anthony requested the HOV item be heard at Monday's meeting, with the hope of eliminating the lanes completely.
NDOT studied three options: converting HOV lanes to general purpose, converting them to express lanes with limited access, or further reducing operational hours and improving enforcement.
Converting the lanes to general purpose or express lanes would require a lengthy environmental study that could take between 18 and 24 months to complete before either of those changes could be considered.
The board also voted to go ahead with the environmental study, to consider removing the lanes completely in the future.
If officials moved to eliminate the HOV lanes following the study, NDOT Deputy Director Darin Tedford, who presented the report during Monday's meeting, noted it would likely result in closure of the Neon Gateway, which is accessible via the HOV lanes near Charleston Boulevard in downtown Las Vegas.
The expanded HOV lane system went into effect in 2019 with the $1 billion Project Neon. The hope was that the addition of the lanes would change driver behavior, pushing more residents to carpool and, in turn, removing more vehicles from valley roadways.
"I can safely say that nobody is doing that," Anthony said, "which means that the HOV lanes are not really changing driving behavior in order to reduce the number of vehicles on the road."
Tedford said having further reduced hours also could help the Nevada Highway Patrol enforce carpool lane regulations and keep future expansion of the system on the board.
"Reduced hours may allow for our limited enforcement capacity to be focused during shorter time periods," Tedford said. "It will also allow for the future use of the HOV system as our community continues to grow. It will allow for full use of all interchanges that have been constructed."
Las Vegas Municipal Court processed 814 carpool violations between Jan. 1, 2021, and April 3 of this year. Of those, 450 received guilty pleas, 274 were dismissed and 90 had no disposition, according to the city.
Future HOV lanes are being considered for Summerlin Parkway, on U.S. Highway 95 near downtown, on Interstate 15 near Henderson and farther south on I-15 in the area near Jean where the planned Ivanpah Airport would be constructed.
Last year, NDOT began a pilot program that reduced the 24/7 nature of the lanes and opened the carpool lanes to all motorists between 10 p.m. and 5 a.m. The new morning and evening rush-hour time frames will be reviewed as part of the study tied to the pilot program.
Despite not getting rid of the HOV lanes Monday, Anthony's move to conduct the environmental study required to consider that move shows he's not giving up his efforts to eliminate the carpool system in Southern Nevada.
"My personal option is to just get rid of the HOV lanes, but as you can see, it's a little bit more problematic and it's a little more challenging to really eliminate HOV lanes," Anthony said. "Because there are some steps that we have to go through."
Contact Mick Akers at makers@reviewjournal.com or 702-387-2920. Follow @mickakers on Twitter.