Las Vegas drivers struggle with detours, lanes near Spaghetti Bowl
Updated March 5, 2018 - 5:46 pm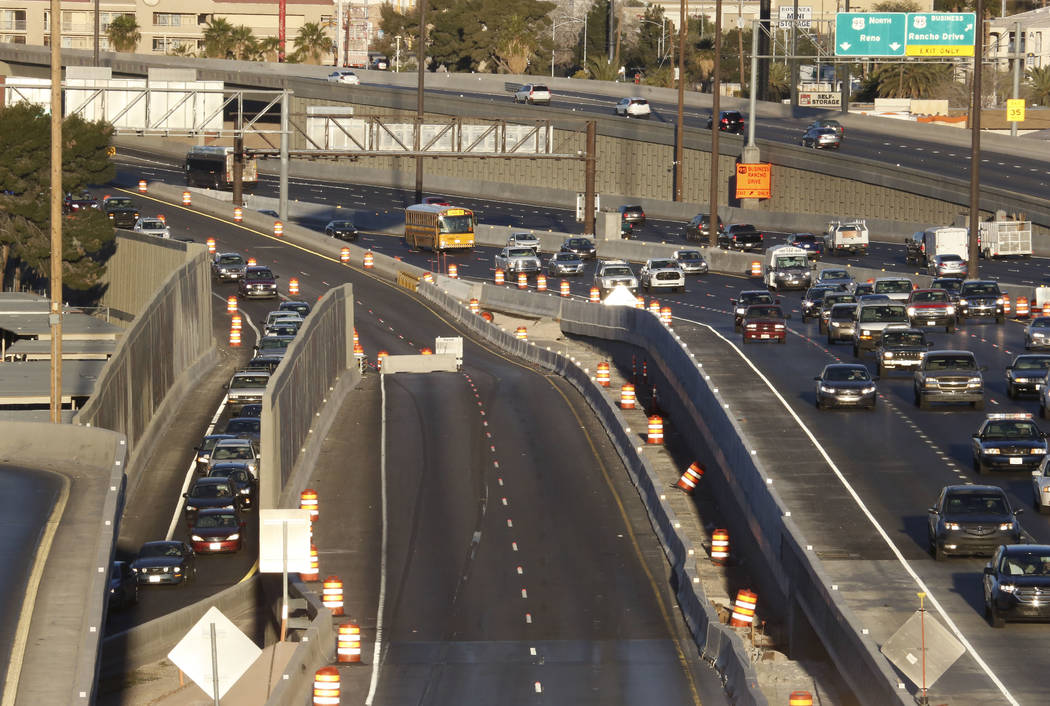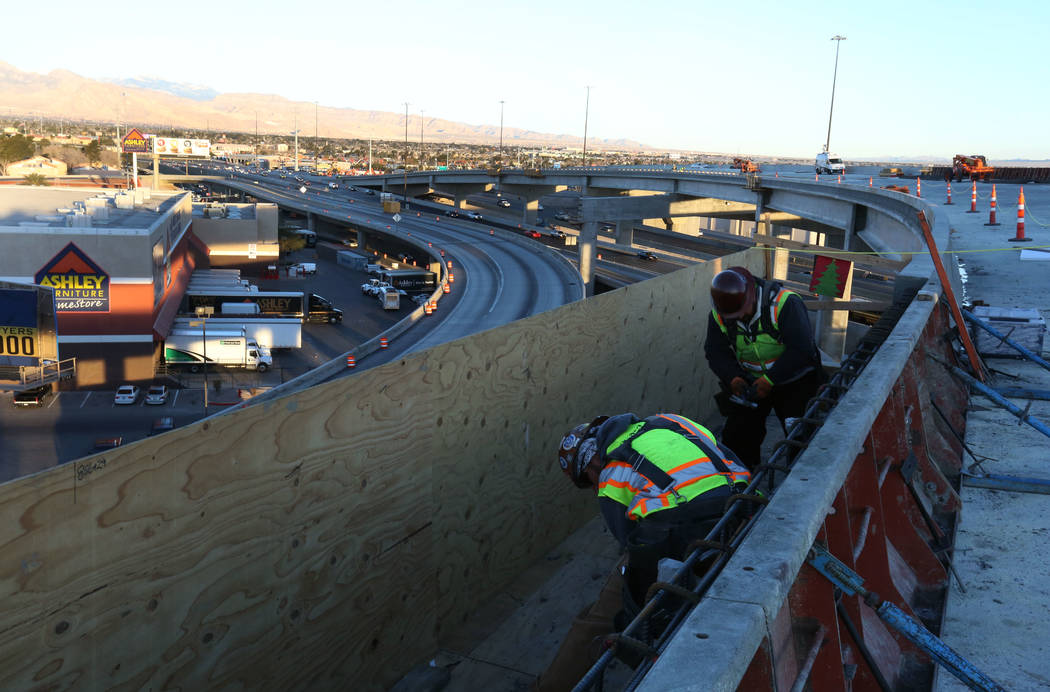 Commuters struggled Monday morning with a freeway ramp detour through downtown Las Vegas as the "Main Event" unleashed the first of several traffic-related punches anticipated this week.
Conditions could get worse Tuesday morning as crews narrow a three-mile stretch of Interstate 15 around the Spaghetti Bowl interchange for a round of construction expected to last almost to Thanksgiving Day.
The ramp linking U.S. Highway 95 to southbound Interstate 15 was temporarily moved during the weekend as part of the third and "most impactful" round of closures for Project Neon, the $1 billion reconfiguration of the Spaghetti Bowl interchange.
Long lines of frustrated drivers took the old ramp and ended up on Martin Luther King Boulevard, leaving them to navigate surface streets for a way to southbound I-15.
Those who followed the signs on southbound U.S. 95 knew they had to keep driving farther toward the Spaghetti Bowl to find a new, single-lane ramp headed to southbound I-15 — a detour scheduled to last through December, according to the Nevada Department of Transportation.
"One thing we didn't anticipate was so much traffic on Martin Luther King," said Jay Proskovec, a spokesman for Kiewit Infrastructure West Co., the contractor hired by NDOT to complete Project Neon.
"I think there's just some confusion with the old ramp and the new ramp," Proskovec said. "Hopefully that will clear up Tuesday as people get used to the change."
Many online and smartphone maps have not yet caught up with the detours and closures, which may have added to the confusion, Proskovec said. NDOT suggests drivers use the Waze app to navigate the construction zone.
There were no immediate plans to post additional signs to warn commuters about the changes, but the department will evaluate signage and adjust as needed, NDOT spokesman Tony Illia said.
"We've shouted it from the rafters, but I'll tell you: It's not a mistake these motorists will make a second time," Illia said. "Once people drive it and realize that this configuration is going to be in place for a while, they will make their appropriate tweaks to their commutes."
Restrictions associated with the Main Event will be rougher Tuesday morning, when both directions of I-15 will be narrowed to three lanes between Sahara Avenue and Alta Drive through Nov. 20.
Conditions will tighten further around the Spaghetti Bowl on Thursday morning, when I-15 narrows to two lanes each way between Alta and D Street.
To alleviate some of the freeway congestion, NDOT will reopen the I-15 offramps to Charleston Boulevard on Tuesday morning, along with a new Martin Luther King/Pinto Lane onramp to southbound I-15.
NDOT is rolling out the Main Event over several phases expected to last through Friday, including a closure of the Martin Luther King onramp to southbound U.S. 95 that will extend through early 2019. The D Street onramp to southbound I-15 will close from 9 p.m. Wednesday to mid-July.
Between now and the end of the year, Illia said, motorists can also expect a handful of overnight and short-term traffic lane and freeway ramp closures.
"Logistically, it's something we couldn't do all at once because there is so much involved," Illia said. "All these pieces are interconnected, and we need to maintain some access during the process."
Contact Art Marroquin at amarroquin@reviewjournal.com or 702-383-0336. Follow @AMarroquin_LV on Twitter.
If you drive from US 95 SB to I-15 SB, stay on US 95 SB until you get closer to the Spaghetti Bowl. The old ramp will only take you to MLK Blvd. Follow the signs and drive safely! pic.twitter.com/GaJIvRk7yN

— Project Neon (@NDOTProjectNeon) March 5, 2018
This construction at the spaghetti bowl so trash but I came upon the other detour that everyone don't know About and avoided all that traffic going into the I-15….winning

— Alex Guerra (@Alexdgra8) March 5, 2018
The spaghetti bowl is nasty today… if your taking the 95 to the 15 take the streets instead it's a big mess!!

— Ms__Mann (@Ms__Mann) March 5, 2018