Las Vegas gas prices keep climbing, surge 32% in a month
Updated March 22, 2022 - 5:36 pm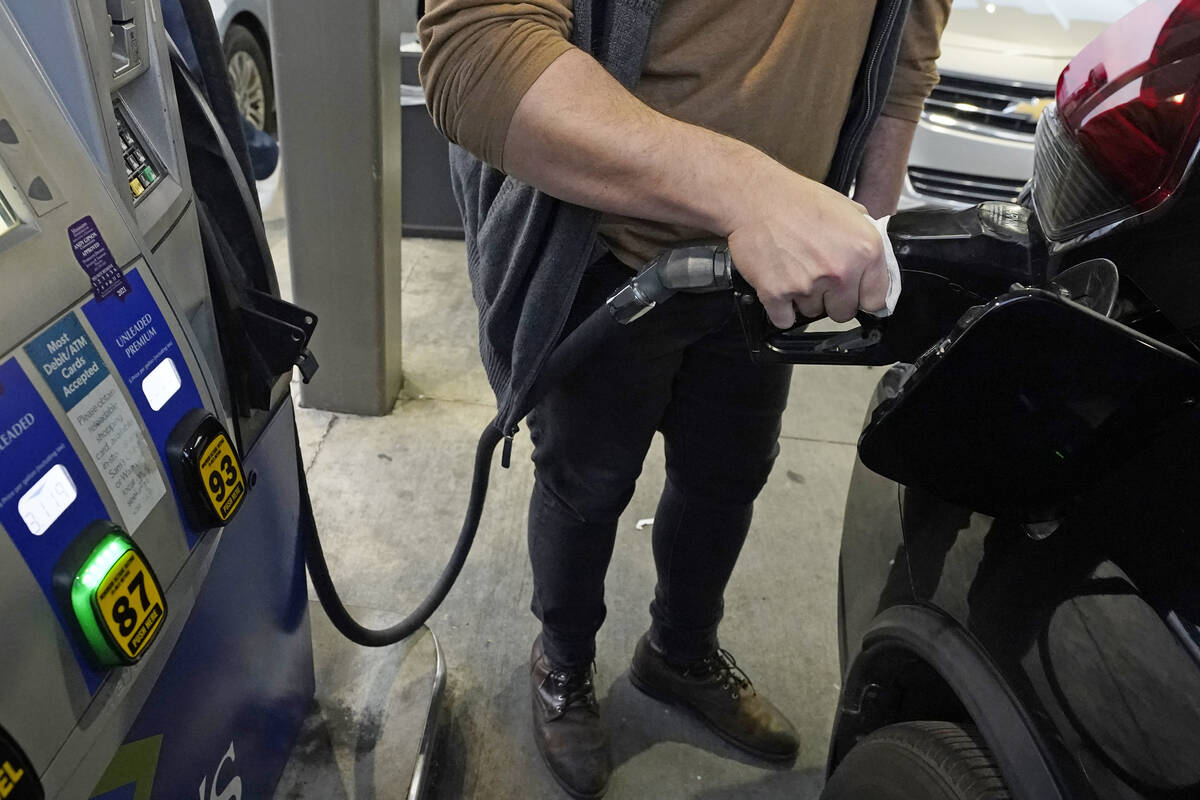 Gas prices in the Las Vegas Valley have spiked 32 percent in the past month, hitting new average highs daily over the past two weeks.
As of Tuesday morning, the average price of unleaded gasoline in the Las Vegas metro area was $5.21 per gallon, according to AAA. The price is up three cents from Monday, 24 cents in the past week and $1.27 in the last month.
Statewide, Nevada had an average of $5.13 per gallon, a record, which was up 2 cents over Monday's price, according to AAA.
Nevada has the second highest average gas price in the nation behind California's $5.86 per gallon mark. Hawaii is third at $5.09 per gallon. The cheapest per gallon average in the U.S. is found in Kansas and Missouri where motorists are paying $3.76 per gallon.
The recent increase in Nevada is largely in part to refinery issues in California, on top of the initial surge tied to sanctions on Russia that occurred when it invaded Ukraine.
"There's been three different flaring events at refineries in the L.A. market," said Patrick De Haan, lead fuel analyst for GasBuddy.
The cheapest price for a gallon of regular unleaded gas in the Las Vegas Valley Tuesday was $4.62 and could be found at the Circle K on West Craig Road in North Las Vegas, according to GasBuddy.
Gas prices in Nevada continue to rise even as much of the rest of the country is seeing prices decrease.
The national average for a gallon of regular unleaded gas Tuesday was $4.24, down 1 cent from Monday and seven cents over the last week. The average is down 9 cents from the $4.33 all-time high national average hit on March 11.
With the oil market being so volatile, especially in the West, De Haan said it's tough to predict what prices will do.
"There have been so many different turns in the road this year that have led us down a completely different path, it's so hard to know what is going to be upcoming," De Haan said. "These refinery kinks are something we see generally every spring, so they're not unexpected, but they're so impossible to predict."
How long the Russia-Ukraine conflict plays out will also play a big part in the overall gas price picture.
"We could go higher, whether that's 10 cents or 20 cents, there's a lot of moving factors," De Haan said. "The impossibility of what will happen in Russia, if there's further escalation, is making it really difficult to accurately predict beyond the next few days. It could get worse."
Refinery issues generally take between two to four weeks to play out, so prices could keep increasing in Nevada during that time, De Haan said.
"In a couple of weeks we will start to see some relief, but unfortunately it does take time," he said. "As long as the Russia-Ukraine situation is ongoing, we're going to be at a point where prices are remaining relatively high. I don't foresee Las Vegas reaching $6 (per gallon) at this point, but that can change."
Contact Mick Akers at makers@reviewjournal.com or 702-387-2920. Follow @mickakers on Twitter.