Las Vegas taxi numbers plummet as riders opt for Uber and Lyft
December 14, 2016 - 3:02 pm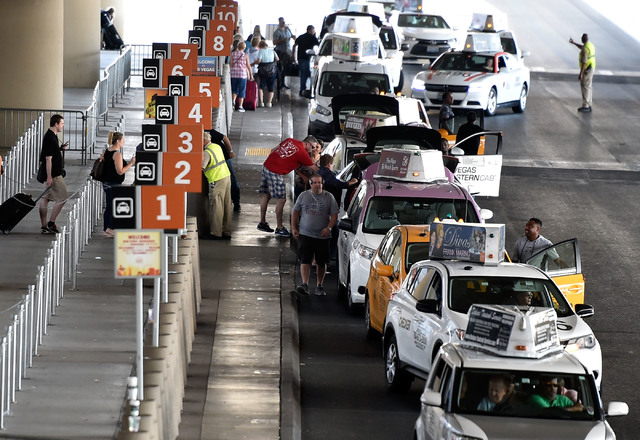 Taxi ridership continued a steep decline across Clark County, largely because of ride-sharing companies Uber and Lyft cutting into a large share of the business, figures released this month show.
More than 1.6 million taxi trips were logged last month, a 19.2 percent decline compared with November 2015, Nevada Taxicab Authority officials said.
Year-to-date, about 21.6 million taxi trips were reported during the first 11 months of 2016, an overall loss of more than 4.2 million riders amounting to a 16.2 percent loss compared with the same period last year.
Through October, the region's 16 certified taxicab companies reported a combined $347.2 million in revenue so far this year, down 13 percent from the same period last year.
Declines in local taxicab ridership were attributed to the surging popularity of Uber and Lyft, said Stan Olsen, chairman of the agency regulating Southern Nevada's taxicab industry.
"Fees and operating licenses are not being regulated in a fair and equitable manner between taxi and transportation network companies, and I am a big believer in playing fair," Olsen said.
Olden said he hopes the state Legislature will discuss potential oversight changes that will put Uber and Lyft on the same level as taxicabs.
However, the issue comes down to the taxi industry "learning how to be more competitive" with the ride-sharing companies, said Brent Bell, president of Whittlesea-Bell Transportation and head of the Livery Operators Association, which represents some of the local taxi companies.
The Nevada Taxicab Authority continues to study how to curb declining ridership and revenue by potentially eliminating or reducing fuel surcharges and a $3 credit card fee, while also dealing with drivers who take a longer route than necessary in a practice known as long-hauling.
The issues were outlined in an audit released in January by the Executive Branch Audit Committee, which determined that Southern Nevada taxi riders were overcharged $47 million annually in various fees.
Bell said he opposes changing the current fee structure because the money is paying for new dispatch systems, smart meters and smartphone apps that will help taxicab companies remain competitive with Uber and Lyft.
"All of that costs a lot of money," Bell said. "If we reduced the rates or fees, that would be a hit to us."
The matter is expected to be discussed during the authority's next meeting at 9 a.m. Jan. 26 at the agency's hearing room, 2080 E. Flamingo Road.
"We don't know what we're going to do yet, but the industry is suffering," Olsen said. "We will move forward with some decision in January, but we have a responsibility to maintain the safety of the riding public, Nevada citizens and the industry."
Contact Art Marroquin at amarroquin@reviewjournal.com or 702-383-0336. Find @AMarroquin_LV on Twitter.
RELATED
Las Vegas taxi fares could drop by $3 with cut of surcharge in early 2017