Las Vegas traffic doesn't exactly stack up with rest of world
February 20, 2017 - 6:03 pm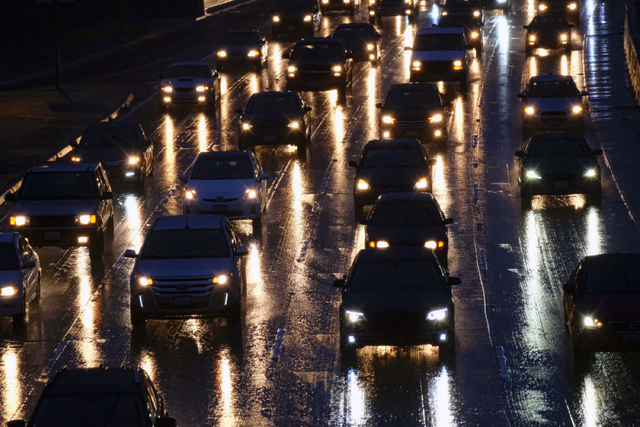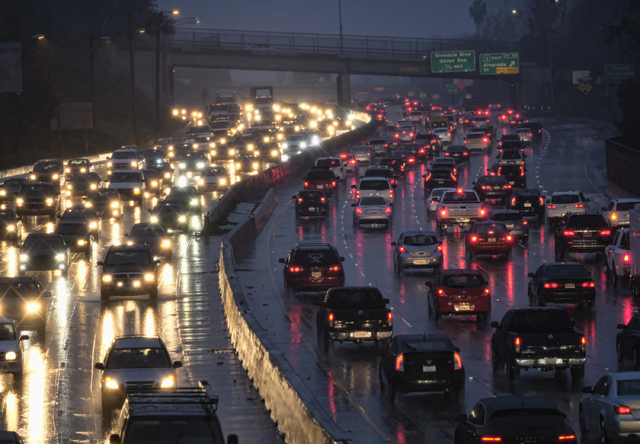 The odds of sitting in traffic are pretty low in Las Vegas compared to many of the world's largest cities.
The average driver spent 21.6 hours sitting in traffic during peak commuting times all of last year in Las Vegas, ranking 333rd out of 1,064 cities around the globe, according to a report released Monday by Inrix, a transportation analysis company in Kirkland, Washington.
Perhaps not surprisingly, the world's most congested roads are in Los Angeles, where commuters spent about 104 hours during peak traffic times in 2016. Moscow drivers came in second with 91 hours spent in traffic, followed by New York commuters with 89 hours, according to the traffic scorecard compiled by Inrix.
Bogota, Colombia, ranked fifth, followed by Sao Paulo, Brazil. Other cities in the world's top 10: London, Atlanta, Paris and Miami.
Las Vegas ranked as the 52nd most congested city in the U.S. Being stuck in traffic cost the average Las Vegas driver $1,022 last year and roughly $715 million combined for the region, Inrix found.
The national average for sitting in traffic cost the average commuter $1,400 and nearly $300 billion combined for all drivers in the United States, the study said.
The least congested place in the country was Parkersburg, West Virginia, where drivers spent three hours in traffic last year. The second-least traffic-jammed city was High Point, North Carolina, followed by Wichita Falls, Texas.
"A stable U.S. economy, continued urbanization of major cities, and factors such as employment growth and low gas prices have all contributed to increased traffic in 2016," said Bob Pishue, senior economist at Inrix, said in a prepared statement.
"Congestion also costs our country hundreds of billions of dollars, threatens future economic growth and lowers our quality of life," Pishue said. "The demand for driving is expected to continue to rise, while the supply of roadway will remain flat."
Contact Art Marroquin at amarroquin@reviewjournal.com or 702-383-0336. Follow @AMarroquin_LV on Twitter.
The World's Most Congested Cities
1. Los Angeles
2. Moscow, Russia
3. New York
4. San Francisco
5. Bogota, Colombia
6. Sao Paulo, Brazil
7. London, United Kingdom
8. Atlanta
9. Paris, France
10. Miami
11. Bangkok, Thailand
12. Mexico City, Mexico
13. Washington, D.C.
14. Dallas
15. Istanbul, Turkey
16. Boston
17. Chicago
18. Krasnodar, Russia
19. Jakarta, Indonesia
20. Seattle
21. Zurich, Switzerland
22. St. Petersburg, Russia
23. Montreal, Canada
24. Houston
25. Rio de Janeiro, Brazil
333. Las Vegas
Source: Inrix, a transportation analysis company in Kirkland, Washington.