Live traffic signs to be spread all over Project Neon by end of year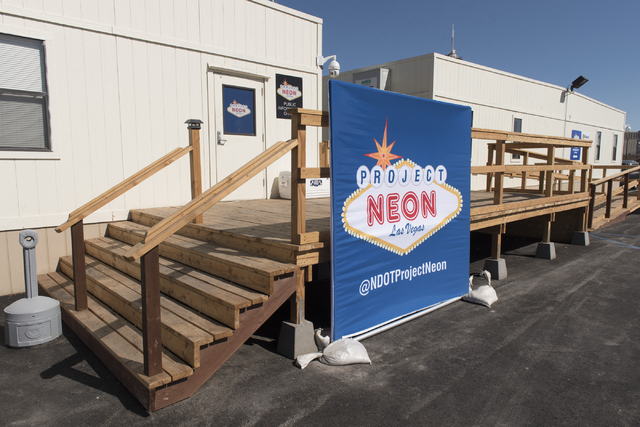 Digital messages will flash from a dozen electronic signs by the end of the year, warning commuters to slow down as they approach the massive construction zone that will soon envelope the Spaghetti Bowl.
By September, crews will start erecting the full-color signs that will soon provide real-time information about accidents, lane restrictions and detours along Interstate 15 and U.S. Highway 95.
The new Active Traffic Management signs are included in the $1 billion budget for Project Neon, the largest public works highway project in Nevada's history.
The largest marquees will measure 12.5 feet tall and 77 feet wide, making them much larger and "far more sophisticated" than existing signs that display travel times to freeway exits, Nevada Department of Transportation officials said Monday.
The "smarter highway" system boasts a system of sensors lining the freeway that will detect heavy congestion, car crashes, bad weather and other conditions that could impact traffic, Denise Inda, the agency's chief traffic operations engineer, told the state transit agency's board.
That real-time information is immediately relayed to digital signs that will lower the speed limit, in an attempt to reduce accidents and stop-and-go conditions for the 300,000 vehicles that travel daily through the Spaghetti Bowl, the state's busiest highway interchange.
The information could be displayed on navigation tools and phone apps regularly used by commuters, but Gov. Brian Sandoval warned that "everyone should trust what's up on the signs first."
Another 40 electronic signs will be erected as far south as Silverado Ranch Boulevard at the I-15 by the time construction wraps up in July 2019 on Project Neon, which will redesign and add traffic lanes to the Spaghetti Bowl.
A groundbreaking event was held in April, followed by some pre-construction work. Transportation department officials have said that traffic will be especially snarled for eight months beginning in March 2018, when construction crews are expected to build an 81-foot-tall flyover carpool lane spanning 2,606 feet that will connect I-15 and U.S. 95.
State officials said they hope to see similar success that was reported on Interstate 5 in Seattle, where similar traffic-monitoring equipment led to a 14 percent drop in crashes during the weekends.
Other cities across the country reported similar results with the technology, resulting in fewer deaths, injuries and commuter delays, agency spokesman Tony Illia said. The Spaghetti Bowl averages three accidents daily.
"The greatest benefit is crash reductions, especially on weekends," Illia said. "This is attributable to non-commuter drivers who may not be familiar with the area, which is especially relevant in Las Vegas where large numbers of tourists drive the I-15 corridor daily."
Contact Art Marroquin at amarroquin@reviewjournal.com or 702-383-0336. Find @AMarroquin_LV on Twitter.