Nevada Highway Patrol kept watchful eye out for bad driving during 'Badge on Board' campaign
Updated March 2, 2017 - 8:11 pm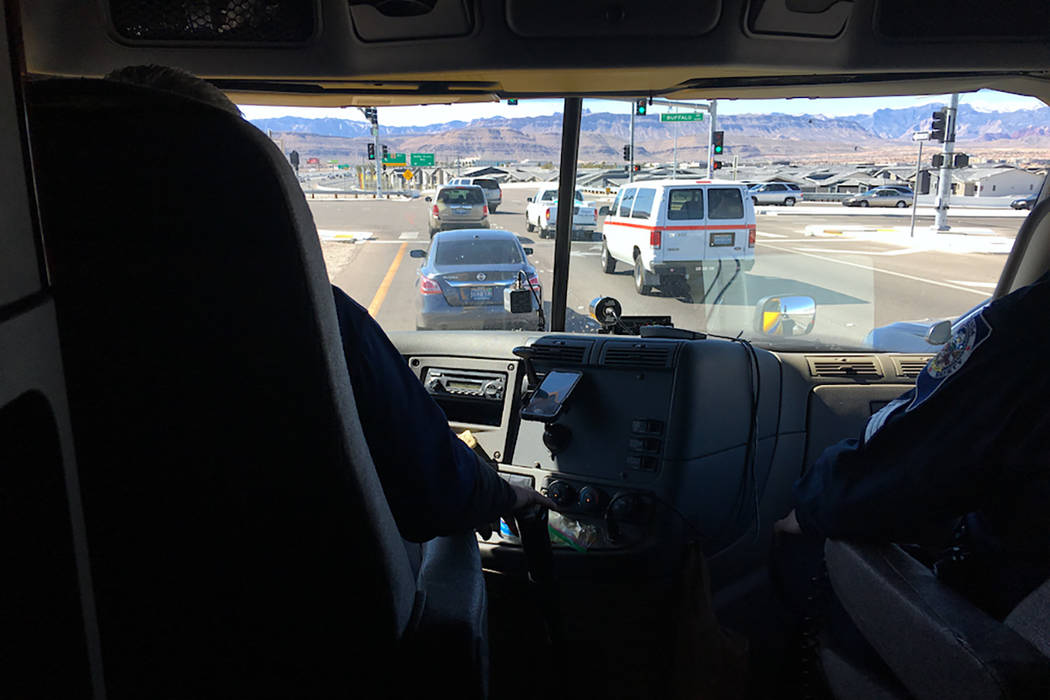 To bring awareness to drivers' sometimes dangerous habits, the Nevada Highway Patrol's southern command conducted a "Badge on Board" campaign Wednesday in which troopers drove around in a semitruck and tweeted pictures and videos of drivers committing traffic violations.
Looping around the construction zone on the eastern part of the 215 Beltway, stretching from Las Vegas Boulevard to Windmill Parkway, state troopers kept a watchful eye out for people on their cellphones, speeding or not wearing their seat belts.
#Buckleup Las Vegas! We observed this & many drivers unbelted from BOB. Save your own life. #itonlytakesasecond pic.twitter.com/jWhYwxGxm8

— NHP Southern Command (@NHPSouthernComm) March 1, 2017
As the semitruck and patrol cars circled the construction near McCarran International Airport, one trooper, Jeremy George, commented how well the drivers were behaving.
"It's like they know," he said with a laugh.
The afternoon was not without its excitement, as a driver was approaching incoming traffic near South Buffalo Drive and the Beltway after turning the wrong way on a one-way street.
Dash Cam from the NHP Semi, keep in mind this is a one way road. #waitforit #omg #drivemuch #payattention #nhpsocomm pic.twitter.com/1M0R0cxMF0

— NHP Southern Command (@NHPSouthernComm) March 1, 2017
"I think it was extremely successful," trooper Chelsea Stuenkel said, when asked to assess Badge on Board's success. "We were able to reach so many people through social media, and I think this helped educate people on how not to operate on the road. We're always watching."
Contact Gabriella Benavidez at gbenavidez@reviewjournal.com or at 702-387-5278. Follow @gabbydeebee on Twitter.