Nevada improves national standing for traffic safety laws
January 22, 2018 - 5:29 pm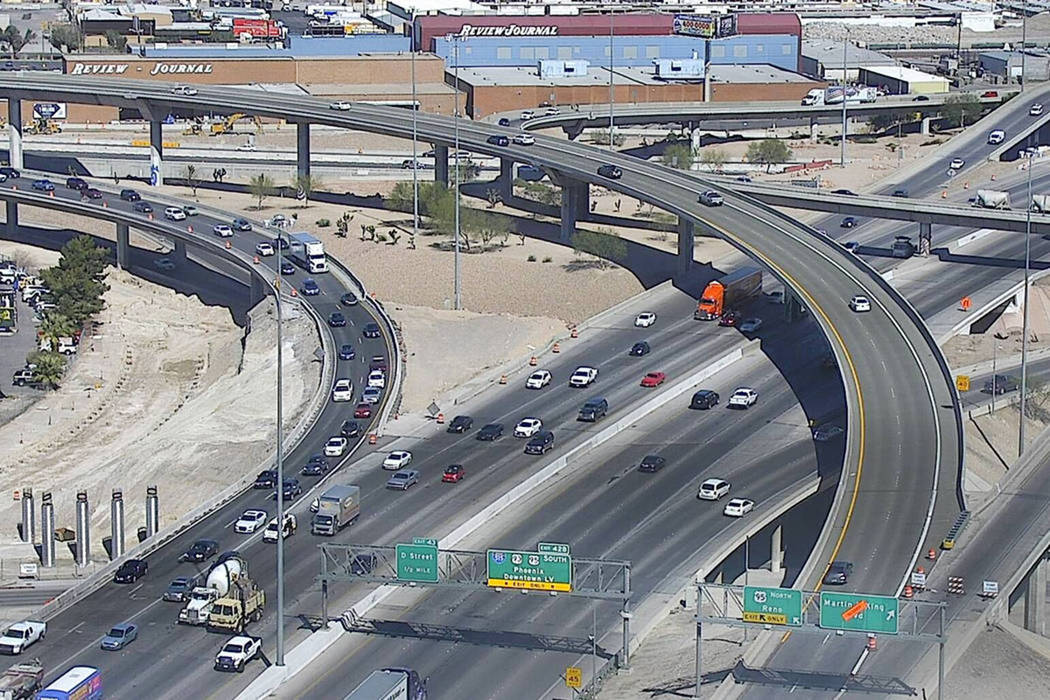 Nevada is no longer considered among the worst in the country when it comes to traffic safety laws, a study released Monday shows.
The Silver State was bumped into "yellow light" status, up from last year's "red light" ranking in the annual "Roadmap of State Highway Safety Laws" issued by the Advocates for Highway and Auto Safety, a coalition of consumer, health, public safety and insurance groups.
Nevada generally earned a yellow-light in the group's previous reports, but the state dipped into the low-graded red-light category last year because of changes in several study parameters, said Erin Breen, head of the Vulnerable Road Users Project at UNLV.
"I was very happy to see that we're not in that bottom category anymore, but we can do better," said Breen, who uses the annual report to encourage lawmakers to enact stricter road rules.
The passage of a law last year requiring ignition interlocks after a drunken driving offense helped improve Nevada's standing in an assessment of regulations aimed at protecting motorists and passengers spanning five categories.
As a result, Nevada was among 20 states enforcing "optimal laws" aimed at cracking down on impaired motorists.
The ignition interlock law, set to take effect Oct. 1, will require anyone arrested with a 0.08 blood alcohol concentration and above to use the device for 90 days after an arrest. Upon conviction, an offender could be ordered to use the ignition interlock for at least six months.
"The state upgraded the language to include requirements for all offenders," said Andrew Bennett, a spokesman for the state Office of Traffic Safety. "We're still looking over the entirety of the report, but we are encouraged that we are heading in the right direction."
Nevada also scored well for enacting laws for teenage motorists, who become eligible for licenses after holding a learner's permit for at least six months and completing 50 hours of supervised driving practice.
When it comes to distracted driving, Nevada was recognized for laws that ban motorists from texting while behind the wheel. However, the study's authors recommended that Nevada should also bar teens from using Bluetooth and other hands-free devices while driving — a proposed law that died during last year's state legislative session.
Nevada received low marks for its lack of a primary seat belt law that would allow law enforcement officers to cite motorists solely for not wearing a seat belt. The proposed law also died during last year's Nevada legislative session.
For now, Nevada is among a handful of states that have a secondary seat belt law, where officers can issue a ticket for not wearing a seat belt only when there is another citable traffic offense, such as speeding.
Nevada was also knocked for child safety seat laws. For now, children younger than 6 or weighing less than 60 pounds are required to use a safety seat in vehicles driving on Nevada roads.
The Advocates for Highway and Auto Safety recommends laws that require children younger than 2 to be placed in rear-facing safety seats, while older children should use safety booster seats if they are shorter than 4 foot 9 and younger than 8 years. A law proposing similar changes also died during Nevada's last legislative session.
Nevada was among 31 states earning a "yellow light" rating. Only six states received a "green light" for optimal laws, while an unlucky 13 states got the "red light" for falling behind on the adopting the agency's recommended laws.
"There's still a potential to save lives, so I hope to see some of these law come up for debate during the 2019 legislative session," Breen said.
Contact Art Marroquin at amarroquin@reviewjournal.com or 702-383-0336. Follow @AMarroquin_LV on Twitter.