Nevada licenses two companies, enters ride-hailing era
September 14, 2015 - 6:09 pm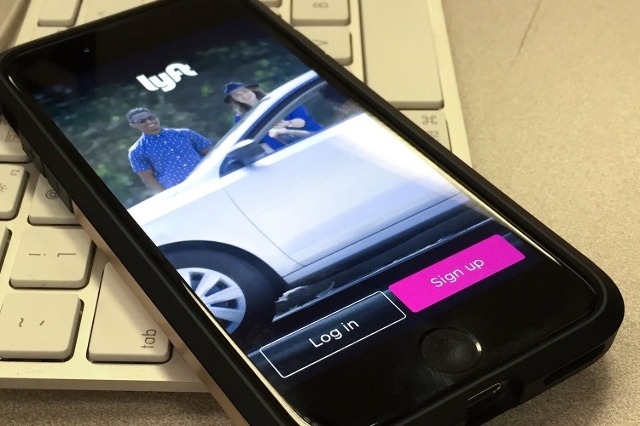 It took nearly a year to do it, but Nevada has entered the ride-hailing era.
In separate actions Monday, the Nevada Transportation Authority unanimously approved licenses for Lyft and Uber as transportation network companies.
It's unclear when the two companies would begin operations but both were conferring with Clark County business license authorities Monday afternoon to try to get a local license that would allow drivers to start up as soon as they can.
San Francisco-based Lyft, the smaller of the two companies applying for state licensure, won final approval from the three-member board just before noon following a 1½-hour hearing on the application.
Lyft, which plans to have 2,500 cars on the road statewide in its first two years of operation, will charge customers a $2.40 base charge, $1.85 per mile, 30 cents per minute and a $5 cancellation fee if a customer cancels more than five minutes after first hailing a ride. There's also a $5 minimum fare. Lyft also will have a "safe rides" fee of $1.55.
The company also will have "Prime Time" dynamic pricing during the city's busiest periods. That's a supply-and-demand system that encourages eligible drivers to operate when a major event is occurring and rides are needed in certain parts of town. Company executives said the higher price would be capped at three times the base rate.
Lyft became the first company to be licensed, but it was Uber that paved the way for ride-hailing companies to operate legally in the state. Uber, also based in San Francisco, operated illegally in Nevada for about a month in late October and November last year, shutting down after being taken to court.
After Lyft's approval, board members spent another 1½ hours reviewing the Uber application.
Uber has the same pricing structure as Lyft, except the "safe rides" fee is only $1. Uber also has uncapped levels for dynamic pricing. Both companies also will collect a 3 percent state tax and a separate fee on runs to and from McCarran International Airport.
Questions on requirements
Commissioners queried executives from both companies about insurance requirements, driver background checks, dynamic-pricing rates, vehicle inspections and drug testing of drivers.
The Transportation Authority received objections to the approval of licenses for Uber and Lyft from the Livery Operators Association, which had 10 concerns about their operations.
The board reviewed the objections and took testimony, but approved the licenses anyway.
In the end, board members placed no additional requirements for licensing on the companies. Commissioner Keith Sakelhide tried in vain to get representatives of both companies to voluntarily adopt fingerprint background checks verified by law-enforcement agencies as a good business practice and to conduct pre-employment or post-accident drug testing on drivers.
Steve Thompson, general manager of Uber in Nevada, said the company's concern about fingerprint checks is that they often identify arrest records, but not final dispositions so that a prospective driver could be exonerated from an arrest and it wouldn't show up in the review.
Thompson said if a customer reports to the company that a driver appears to be impaired, the company can deactivate the driver from the system while company officials review the matter.
At one point, Thompson told the board, "Safety is our top priority," to which Sakelhide replied, "I'd like to see a little more to back up that statement."
Uncapped dynamic pricing
Sakelhide also said he was concerned with uncapped Uber dynamic pricing, but Thompson noted that prospective customers have two opportunities to reject a ride because of the price before committing to it.
Dynamic pricing can occur in a small area — a property where a big special event is letting out, a convention center or the airport — and last just long enough for available drivers to arrive and service the area. Prospective customers are alerted by email when dynamic pricing ends.
Uber officials said it already has about 1,000 drivers available to begin driving right away. The company is licensed for an unlimited number of drivers over two years.
Uber officials emailed drivers over the weekend and recommended they obtain a state business license for contracted drivers. Uber supplied a link to SilverFlume, an online portal to state business registration to speed the business license approval process. Drivers would have to pay $200 to be licensed initially.
Uber and Lyft are working with Clark County, which is on track to introduce an ordinance defining a business license for a transportation network company Tuesday. However, the state's Legislative Counsel Bureau issued an interpretation late last week that counties and municipalities can't develop special licensing requirements for transportation network companies that aren't applicable to other businesses.
If the county insists on the ordinance, it could be problematic for Uber and Lyft which, by regulation, must begin operations by Oct. 15 or forfeit the license. The county isn't scheduled to consider adoption of the ordinance until Oct. 20, with final approval calendared for early November.
There are other ride-hailing companies operating across the country, but Uber and Lyft so far are the only ones that have expressed interest in working in Nevada.
Contact reporter Richard N. Velotta at rvelotta@reviewjournal.com or 702-477-3893. Find @RickVelotta on Twitter.