North Las Vegas to use donated paratransit buses for senior trips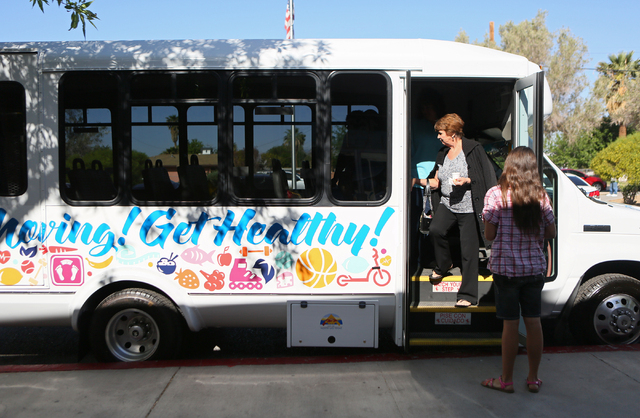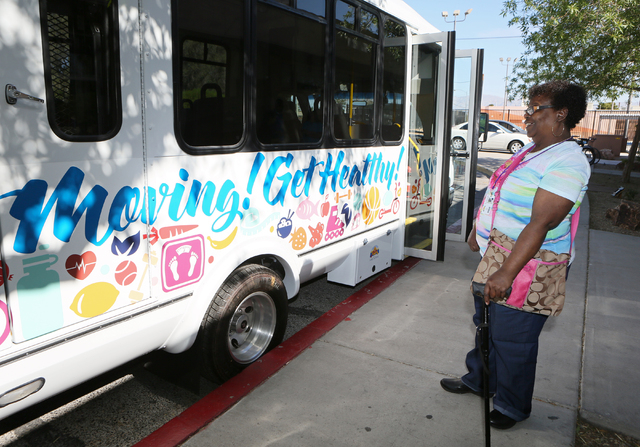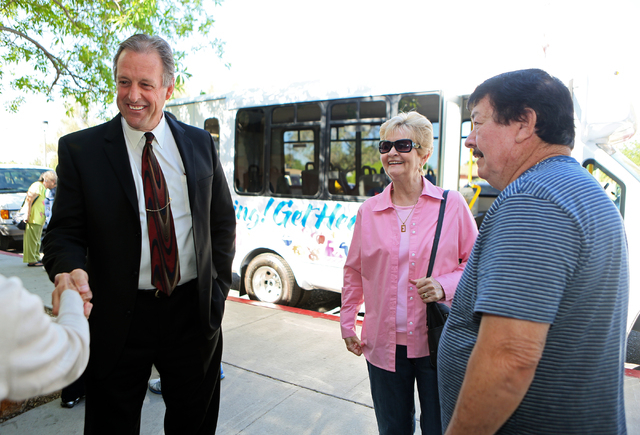 Senior citizens who like to go on bus outings from North Las Vegas Neighborhood Recreation Center won't have to worry anymore about squeezing into a van that makes their posture resemble a question mark.
The city on Wednesday took delivery of the first of four paratransit buses from the Regional Transportation Commission that the city will use to provide rides for senior outings.
And one of the best parts for the financially teetering city is that it isn't costing it anything and an easy shift of resources will pay for upkeep.
North Las Vegas Councilman Isaac Barron, who was first elected less than a year ago, said one of his priorities upon election was to find needs within his district.
After visiting Ellen O'Reilly, director of the Neighborhood Recreation Center, he learned that 15-passenger vans designated for transporting seniors weren't compliant with Americans With Disabilities Act provisions.
And, they were uncomfortable.
"When some of our people got into them, if you were in some of the seats, it would just turn you into a question mark," O'Reilly said.
Barron, who grew up in the neighborhood and has relatives living nearby, tried to find a solution as the city was in financial crisis and government leaders were counting every penny.
North Las Vegas, once one of the nation's fastest-growing cities, has shed more than 1,000 employee positions and shaved $211 million off its bottom line since 2008.
Tax revenue in the cash-strapped city has fallen by half since the start of the Great Recession. North Las Vegas was recently named the riskiest nonbankrupt municipal bond investment in the country.
Enter the Regional Transportation Commission.
General Manager Tina Quigley met with Barron and offered him four out-of-service vehicles that are in good condition and safe to operate. The commission is removing the vehicles from its fleet as it converts from vehicles running on diesel fuel to those that use natural gas.
The commission is empowered to donate surplus buses to nonprofit agencies, and the municipality qualifies.
Since 2011, when the vehicle donation process was established, the commission has given 61 buses, including 46 paratransit vehicles, to nonprofit organizations. Commissioners have to sign off on any donations after receiving a letter from an organization.
The commission now has 308 paratransit vehicles with 80 more to be delivered to the fleet in the next couple of months.
City officials determined that they could pay for maintenance and upkeep by selling off the vans that were used and that van drivers could be retrained to pilot the buses.
The city's vehicle maintenance crew did a quick rehabilitation of the bus and painted it with a "Get Moving! Get Healthy!" motif. Tuesday morning, after a breakfast hosted by Barron, about 30 seniors got their first look at the vehicle.
Individuals in the group thanked Barron, Quigley and Mayor John Lee, who all appeared for the unveiling.
The 12-passenger bus has a wheelchair lift to accommodate disabled riders and there's enough room onboard to transport motorized scooters and wheelchairs. There's also enough headroom clearance that boarding passengers don't have to stoop over to get to a seat.
Barron, a teacher at nearby Rancho High School, is familiar with the recreation center because he swam there when growing up and now takes his own children there.
The city is getting three more similar vehicles and will dedicate one to North Las Vegas' Silver Mesa Recreation Center, another to Craig Ranch Regional Park and the third as a backup.
The first seniors trip planned for the bus is Thursday to a museum in Pahrump and to the Pahrump Valley Winery.