Rain snarls Las Vegas Valley traffic, forces water rescues
Updated January 9, 2018 - 1:12 pm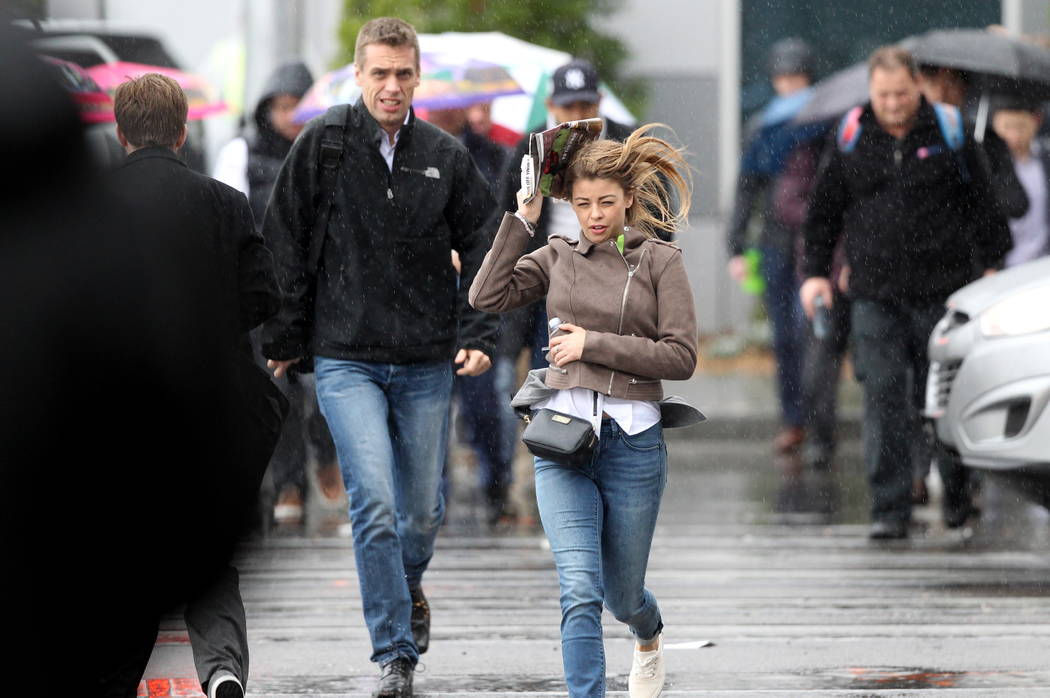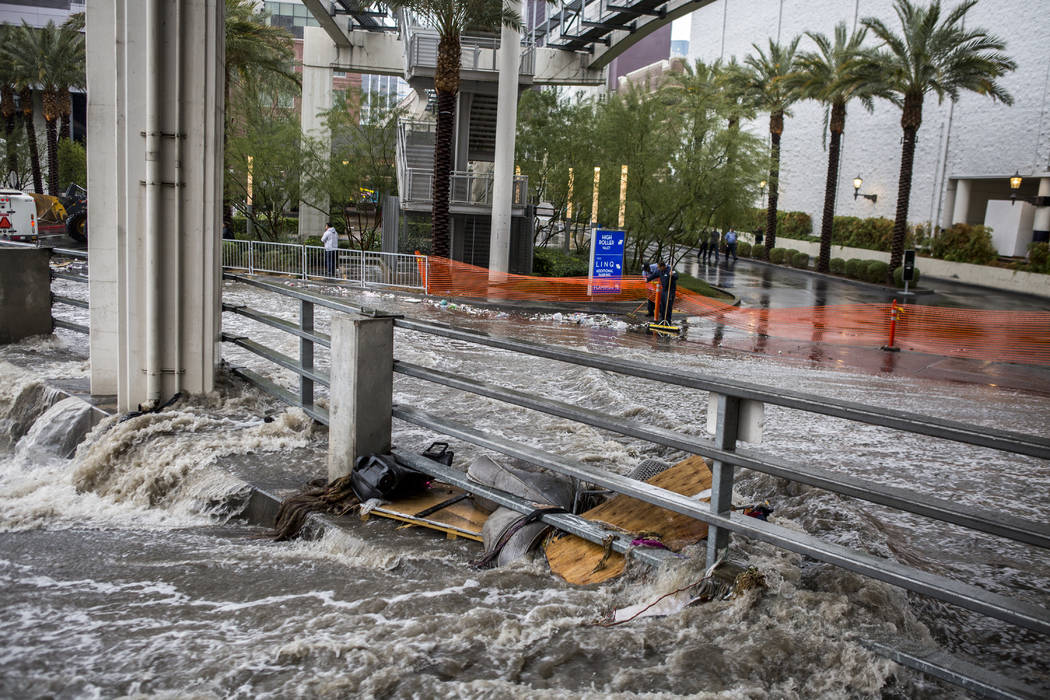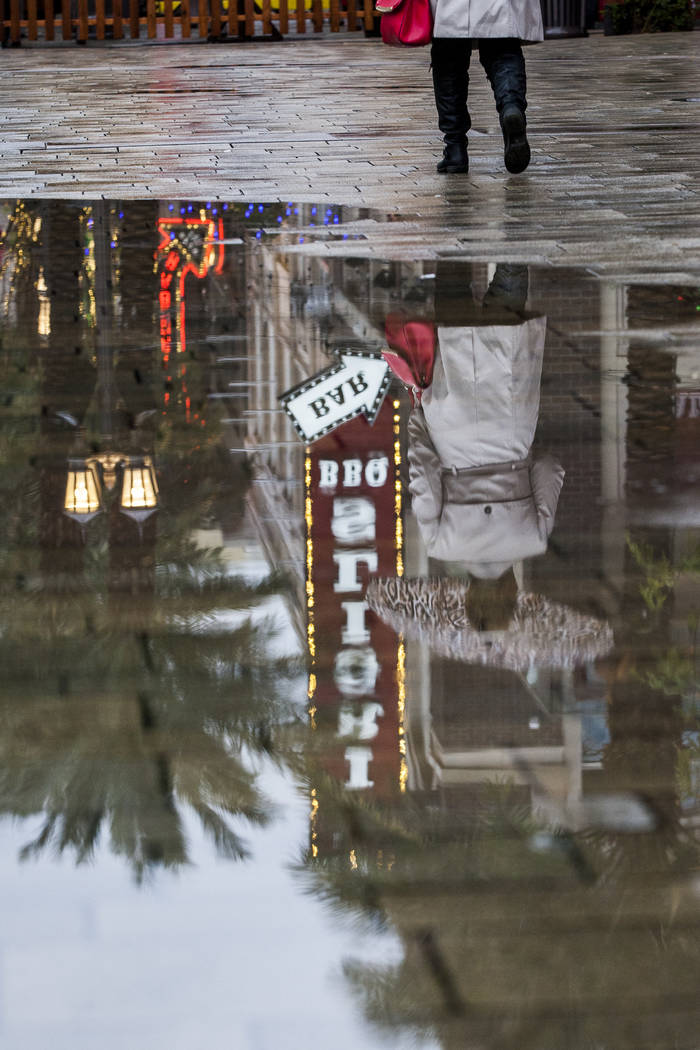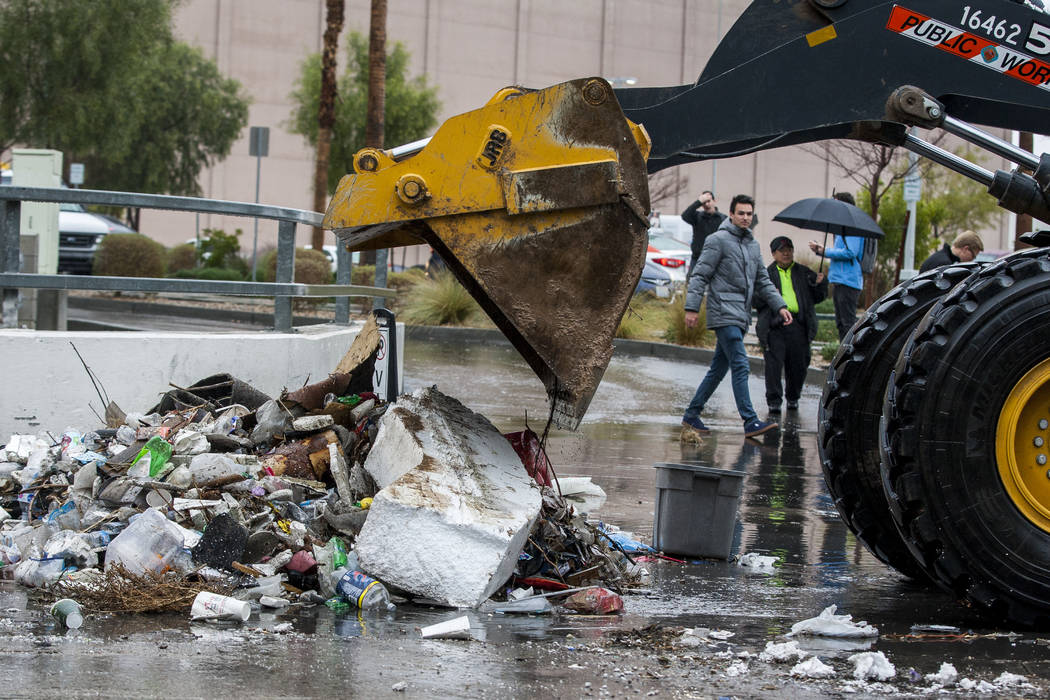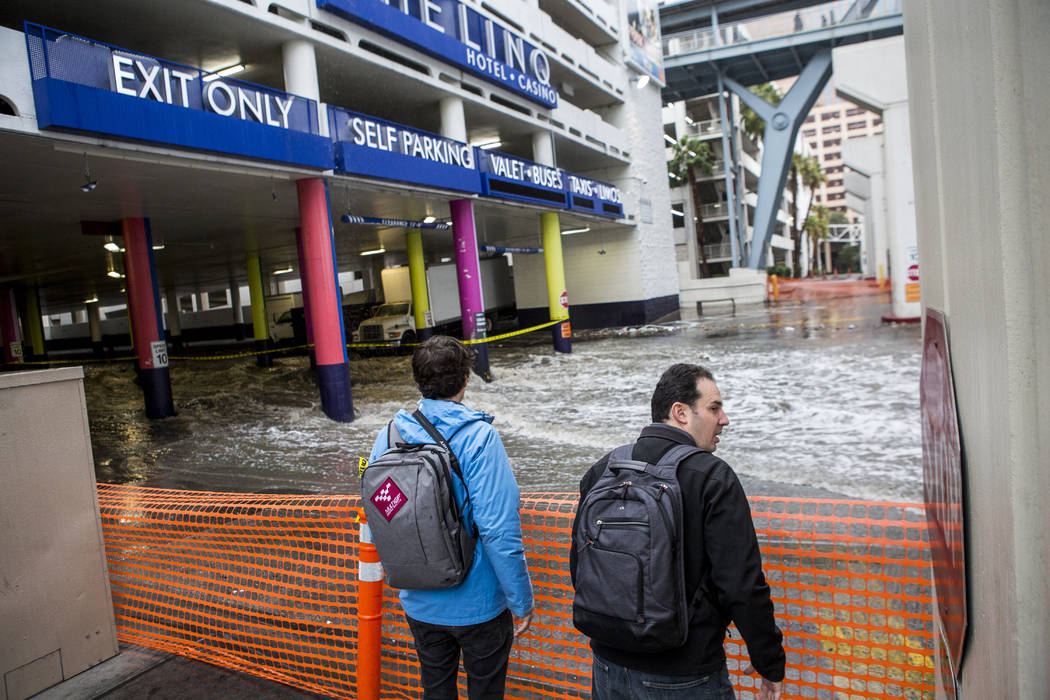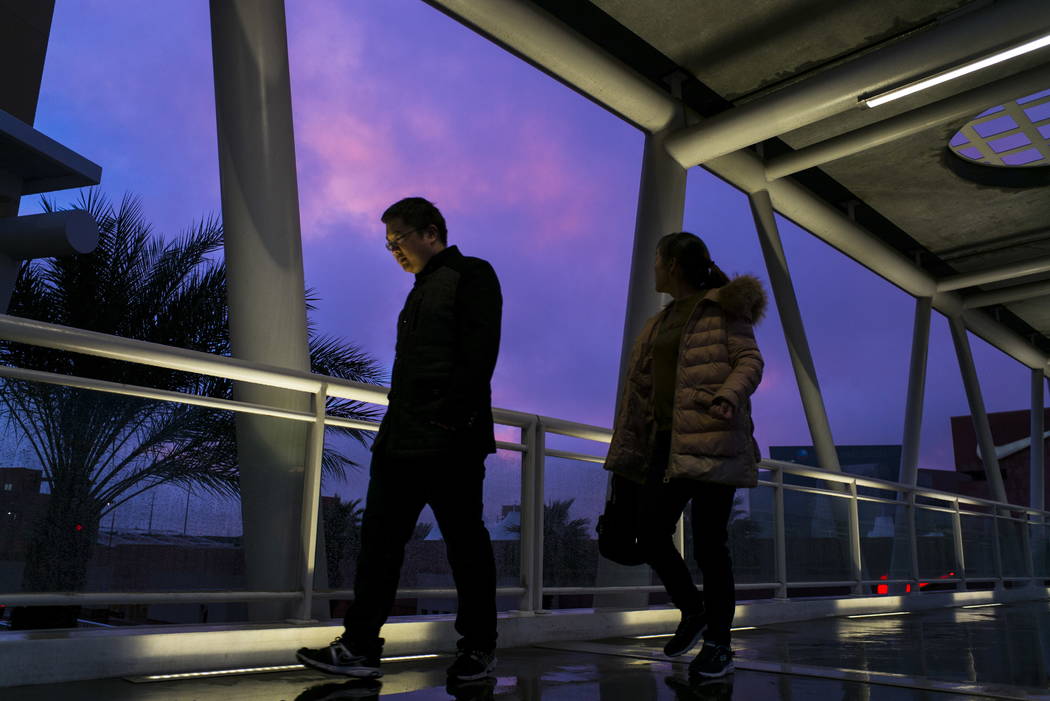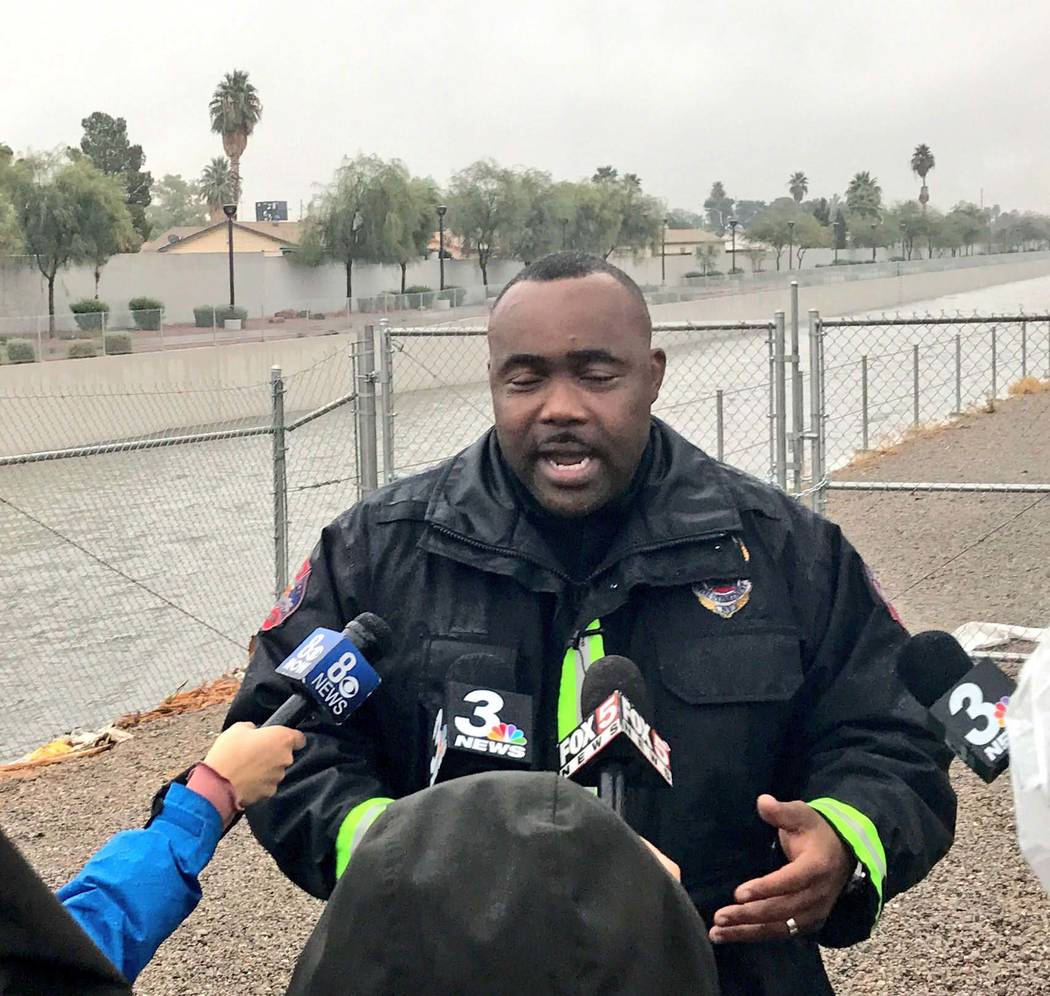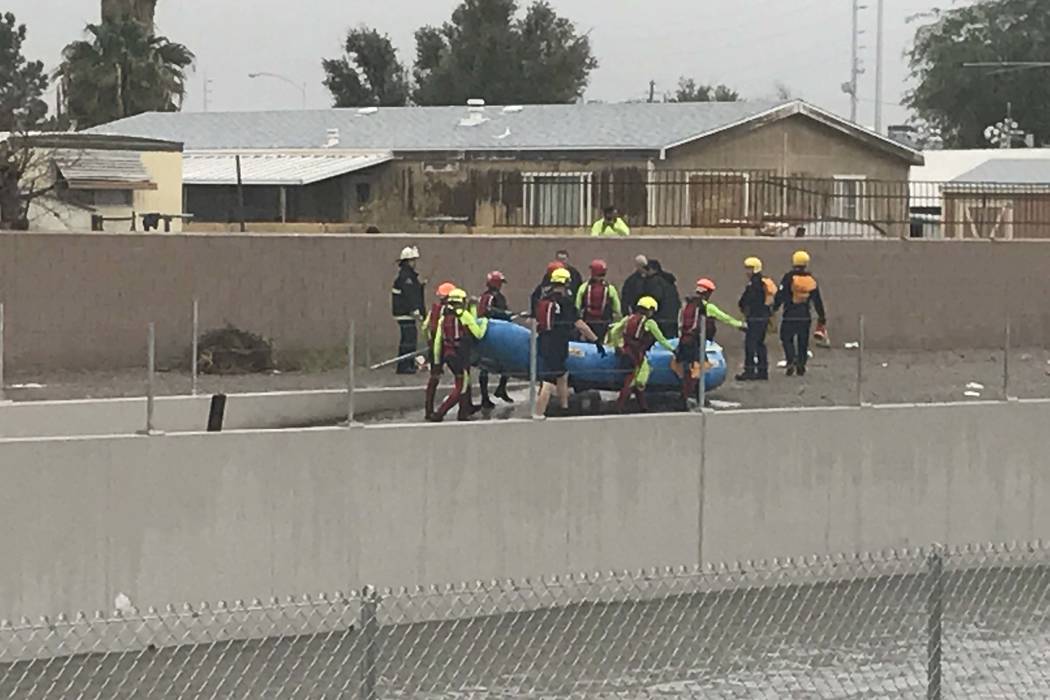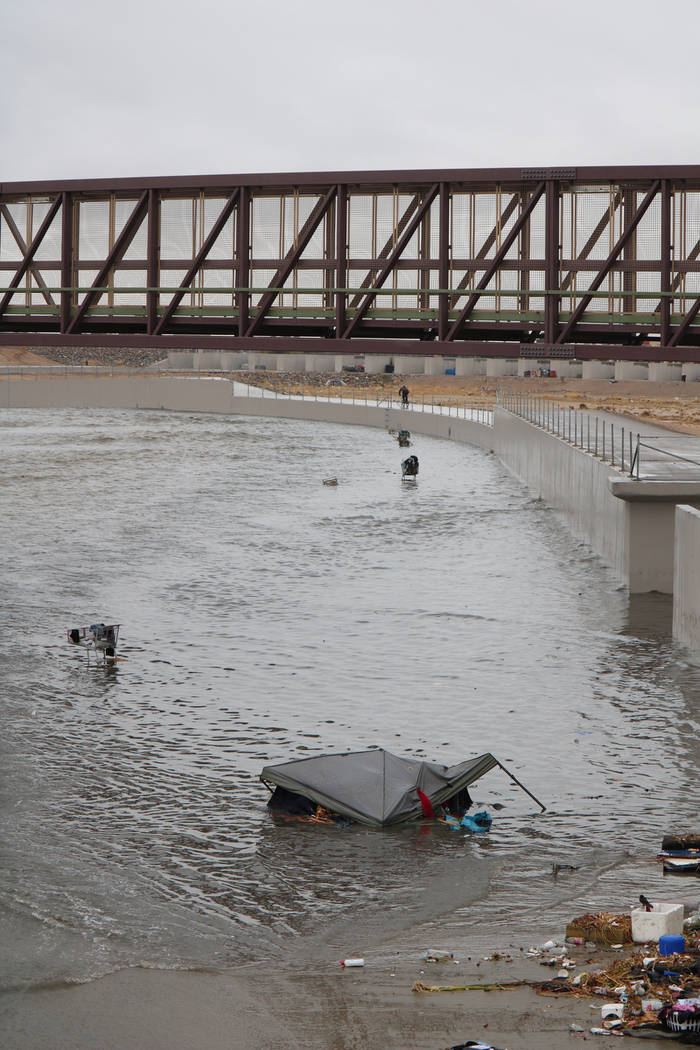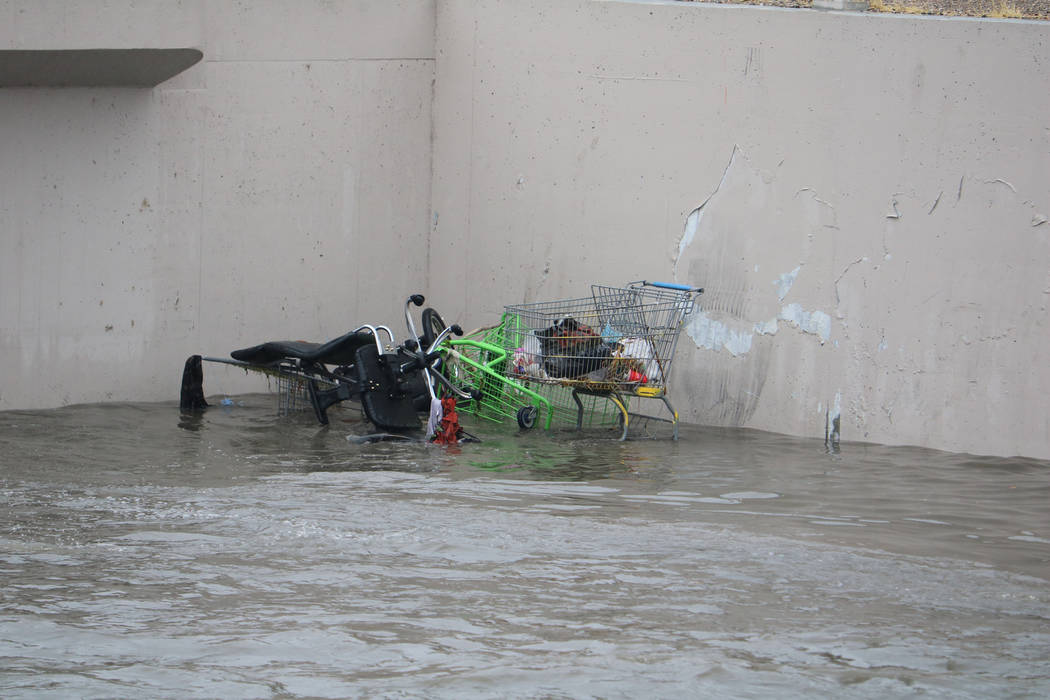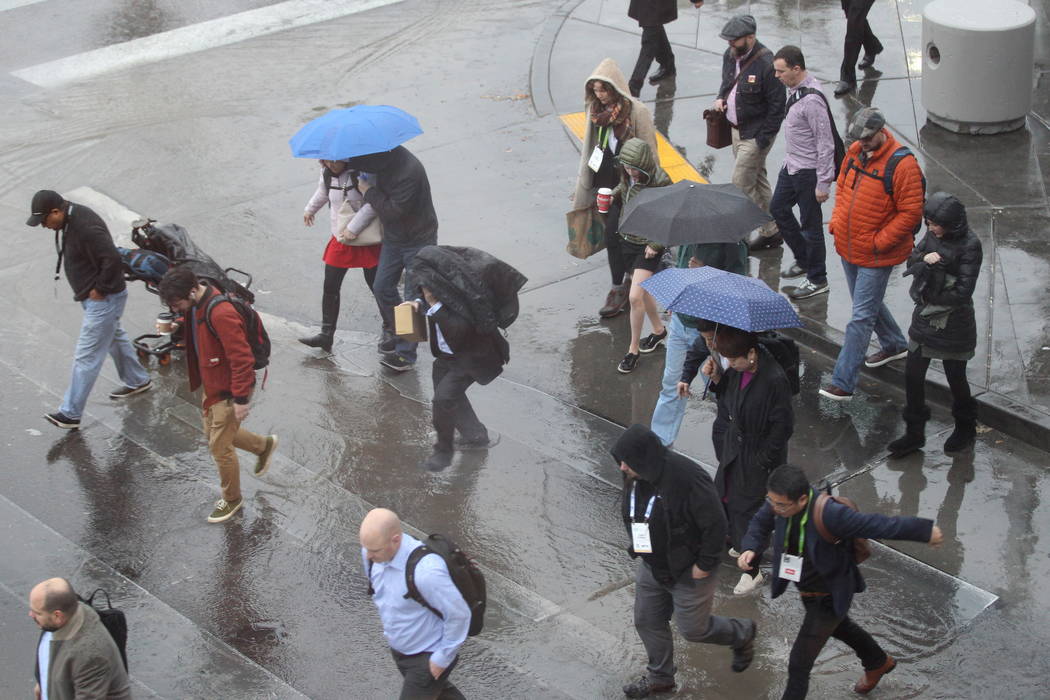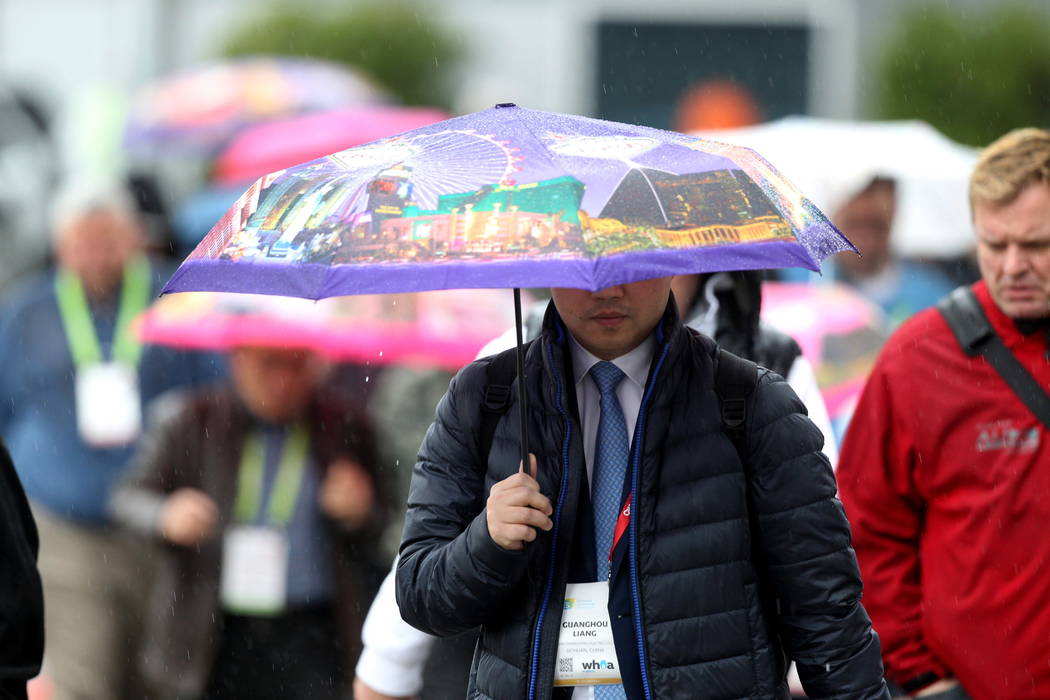 A flurry of crashes and several water rescues kept first responders busy Tuesday as heavy rainfall persisted throughout the Las Vegas Valley.
Tuesday marked the wettest January day since the National Weather Service began keeping daily records in 1937. Between midnight and 6:30 p.m., 1.33 inches of rain fell in the valley, topping the previous record of 0.89 inches set in 2010. The heavy rainfall accounted for more than half of the 2.38 inches of rain recorded in the valley in 2017.
One critical-injury wreck Tuesday, which the Nevada Highway Patrol initially reported as fatal, occurred shortly after 7:20 a.m. and slowed traffic near northbound Interstate 15 at Washington Avenue.
Later in the day, two people were injured in a single-vehicle rollover crash at mile marker 13 along state Route 163, near Laughlin, the Highway Patrol said. One person who was ejected from the vehicle faced serious but survivable injuries; another was hospitalized in extremely critical condition. The Highway Patrol initially reported that one person died in the crash.
Between 10 a.m. Monday and 4:30 p.m. Tuesday, the Highway Patrol responded to 213 crashes. During the same times last week, the highway patrol investigated 61 crashes. North Las Vegas police said weather may have contributed to a Monday night crash that killed a 21-year-old man.
The first drops of rain recorded Monday morning snapped a record 116-day dry streak. The last time the valley had seen precipitation was Sept. 13. But rainfall from the storm system, which exceeded the weather service's expectations, affected more than roadways.
Several people became trapped in the valley's extensive network of flood channels, forcing fire crews to rescue them.
One of the two swift water rescues performed today in the wash near Carey/Pecos. Homeless man was trapped. Joint effort by @NLVFirePIO @ClarkCountyFD & @LasVegasFD #RJNow pic.twitter.com/BSRdLVdCId

— Rachel Crosby (@rachelacrosby) January 9, 2018
Beginning about 7:40 a.m., Clark County firefighters saved a man trapped in a wash just east of the Hard Rock Hotel. Deputy Chief Jon Klassen said hotel security initially found the man struggling to avoid getting swept away.
"At one point he did get caught in the water," Klassen said.
Crews pulled the man from the rushing waters about a half-mile from where he was first spotted. He was taken to a hospital with injuries that did not appear to be life-threatening, Klassen said.
Shortly afterward, Henderson firefighters responded to multiple 911 calls reporting a homeless man yelling for help from a tunnel under St. Rose Parkway near Eastern Avenue.
"He was swept downstream, but luckily he ended up in an open part of water," Henderson fire spokeswoman Kathleen Richards said.
The man, who Richards said lives in the tunnel, was uninjured.
By 10 a.m., the North Las Vegas Fire Department joined in on the swift-water rescues, assisted by Clark County and Las Vegas firefighters. Crews were called to a wash near East Carey Avenue and North Pecos Road, where North Las Vegas police officers had found a woman and a man trapped in what had quickly become a river of deep, fast-moving water.
Despite the risk of hypothermia or drowning, neither of the two people rescued was injured.
"They are very, very fortunate," North Las Vegas Fire Capt. Cedric Williams said.
Showers lingered until about 7 p.m., the National Weather Service said. The rest of the week is expected to be dry and mostly sunny, with highs in the 60s and lows in the 40s.
Contact Rio Lacanlale at rlacanlale@reviewjournal.com or 702-383-0381. Follow @riolacanlale on Twitter. Review-Journal staff writers Max Michor, Rachel Crosby and Blake Apgar contributed to this story.