Sandoval electrifies highway to Reno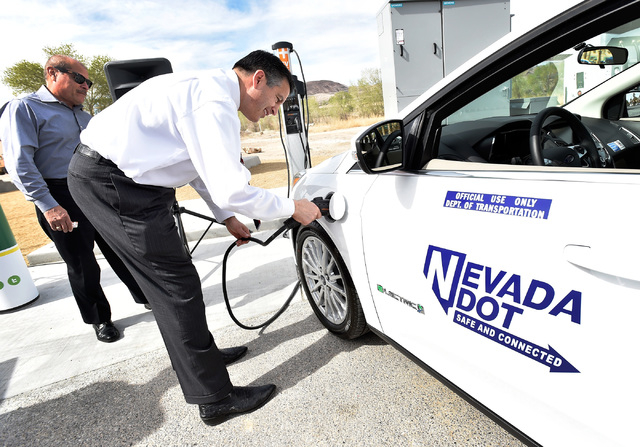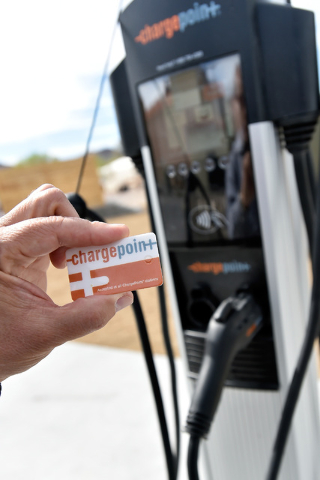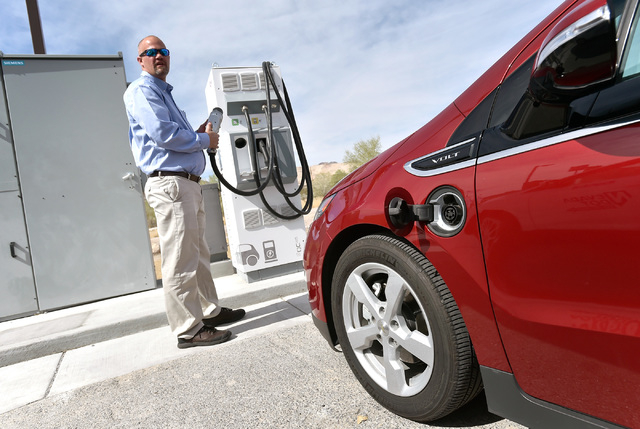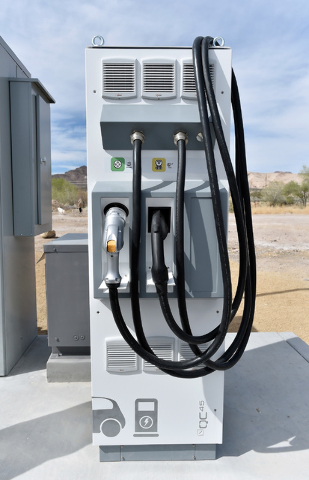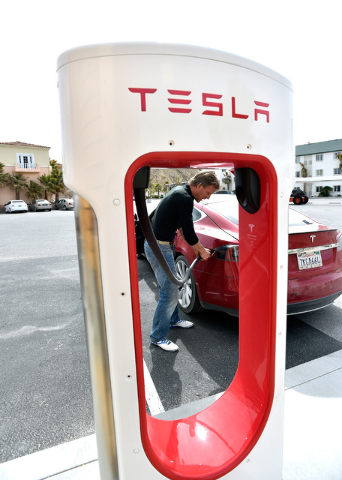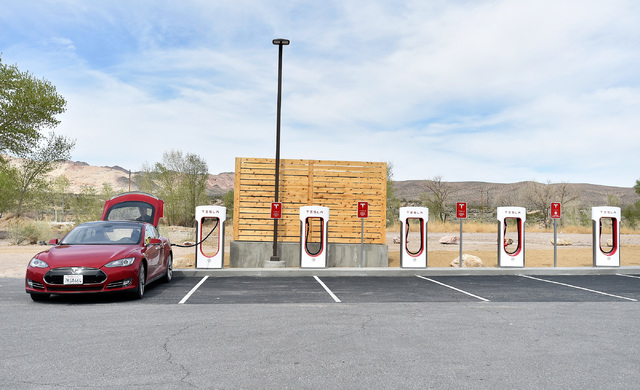 BEATTY – Gov. Brian Sandoval rolled up to a new electric car charging station here in an electric Ford Focus emblazoned with a Nevada Department of Transportation logo and plugged into a charging port like he had done it a thousand times.
"See," he said to an approving crowd. "It's so easy even I can do it."
And with that, Sandoval kicked off a new chapter in his "New Nevada" tech program, dedicating the first state-sponsored electric car charging station in rural Nevada.
About 40 people — a mix of Valley Electric Association board members and executives, residents of the small town that is the gateway to Death Valley National Park, employees of Eddie World, an iconic stopover on the seven-hour trip between Las Vegas and Reno, and curious travelers on U.S. Highway 95 — gathered to watch Sandoval and others cut a ribbon marking the official opening of the charging stations.
There are two charging stations at the site with three ports each. Two of the ports have connections that will fully charge a vehicle in four hours, but one of them has a fast charge that can take a vehicle to 80 percent charged within 30 minutes.
"It was just great looking out in the crowd and seeing all the happy faces of the people of Beatty because they know that they will always know they were the first to have this," Sandoval said after the 20 minutes of remarks by several dignitaries.
The opening of the Beatty charging station is the first of four planned along U.S. 95, the 448-mile primary route between the state's two most populous cities, Las Vegas and Reno.
Other stations are planned in Tonopah, Hawthorne and Fallon. Sandoval said he plans to celebrate them all.
"This really is significant for us," he said. "Just think about it. This is the first electric highway in the United States. And when I talk about the New Nevada, it's significant steps like this that show the rest of the country that we are tech savvy, especially when it comes to electric cars and autonomous vehicles."
Sandoval announced plans for the electric highway concept in the summer. Phase 1 is getting charging stations on Nevada's most important intrastate route. Once that is complete, there are plans to electrify U.S. Highway 93 from Las Vegas to Wells; state Route 318 from north of Alamo to Ely; U.S. Highway 50 from Fernley to Ely, and Interstate 80 from Fernley to the Utah state line at Wendover.
Sandoval hopes to eliminate "range anxiety," the fear electric car owners have that they won't have enough charge to reach their destination or their next charging station.
Sandoval was helped with his own range anxiety – the Ford Focus he borrowed from the Nevada Department of Transportation was shuttled to a location just outside Beatty for the drive in. Normally, the vehicle, which has a range of 76 miles, is based in Las Vegas and is used around town by the transportation agency.
The electric highway program is being overseen by the state's Office of Energy, which has coordinated with electricity providers and property owners along the route. In Beatty, the electricity provider is Pahrump-based Valley Electric and the property owner is Ed Ringle, owner of Eddie World, an iconic outpost known for its candy and nut sales.
Ringle said he expects the charging station will help boost Beatty's tourism industry as visitors stop to charge before heading on to Death Valley and the nearby Rhyolite ghost town.
"I've lived in Beatty for 34 years and I never thought we'd have a first of anything," Ringle said.
But for Valley Electric and its CEO, Tom Husted, this has been a year of firsts. Not only did the association commit to the first charging station, but it was the first rural utility provider to connect all of its customers in Pahrump and Beatty on a fiber-optic network for communications.
Valley Electric will now be responsible for providing free electric charges to motorists at the new station for five years.
Valley also installed eight charging stations designed for Tesla vehicles at the same time the state stations went in. An adapter enables Teslas to connect to the state chargers, but other electric vehicles can't connect to the Tesla system.
Contact Richard N. Velotta at rvelotta@reviewjournal.com or 702-477-3893. Find him on Twitter: @RickVelotta