Sisolak, Newsom promise 'immediate relief' for I-15 traffic at Nevada-California border
Updated December 6, 2021 - 7:53 am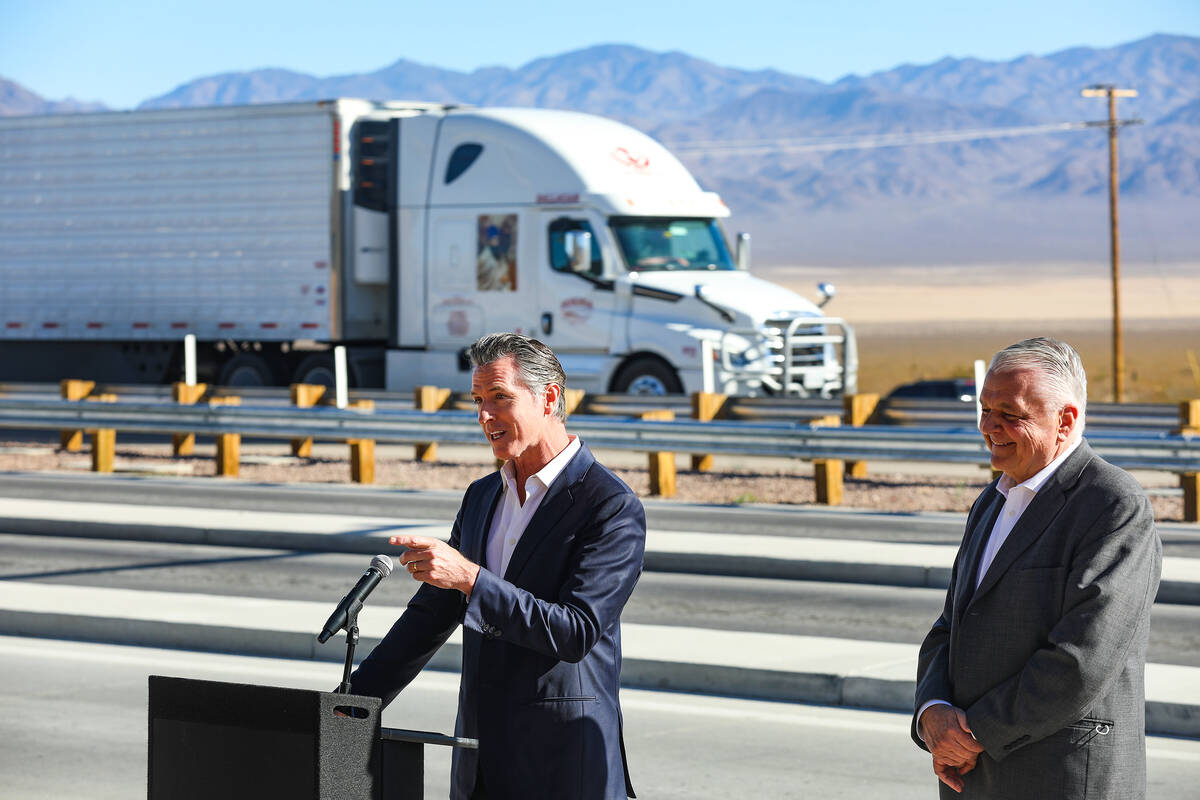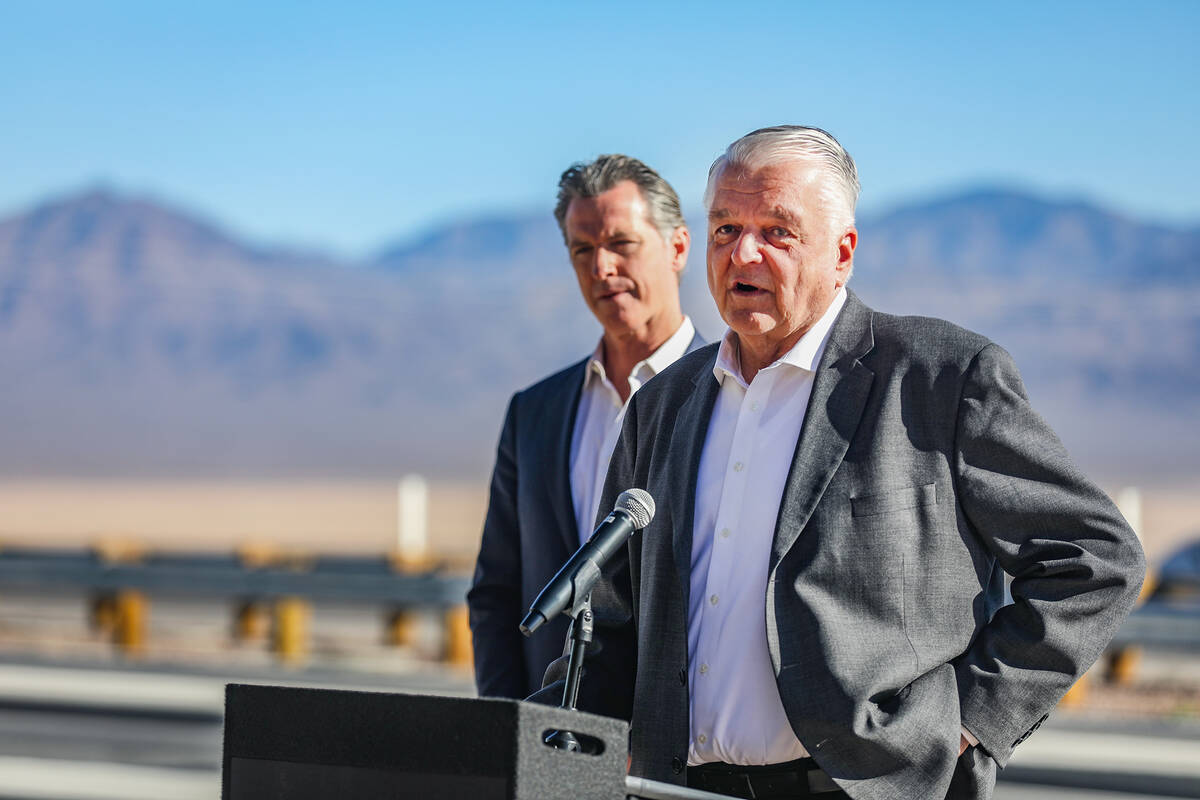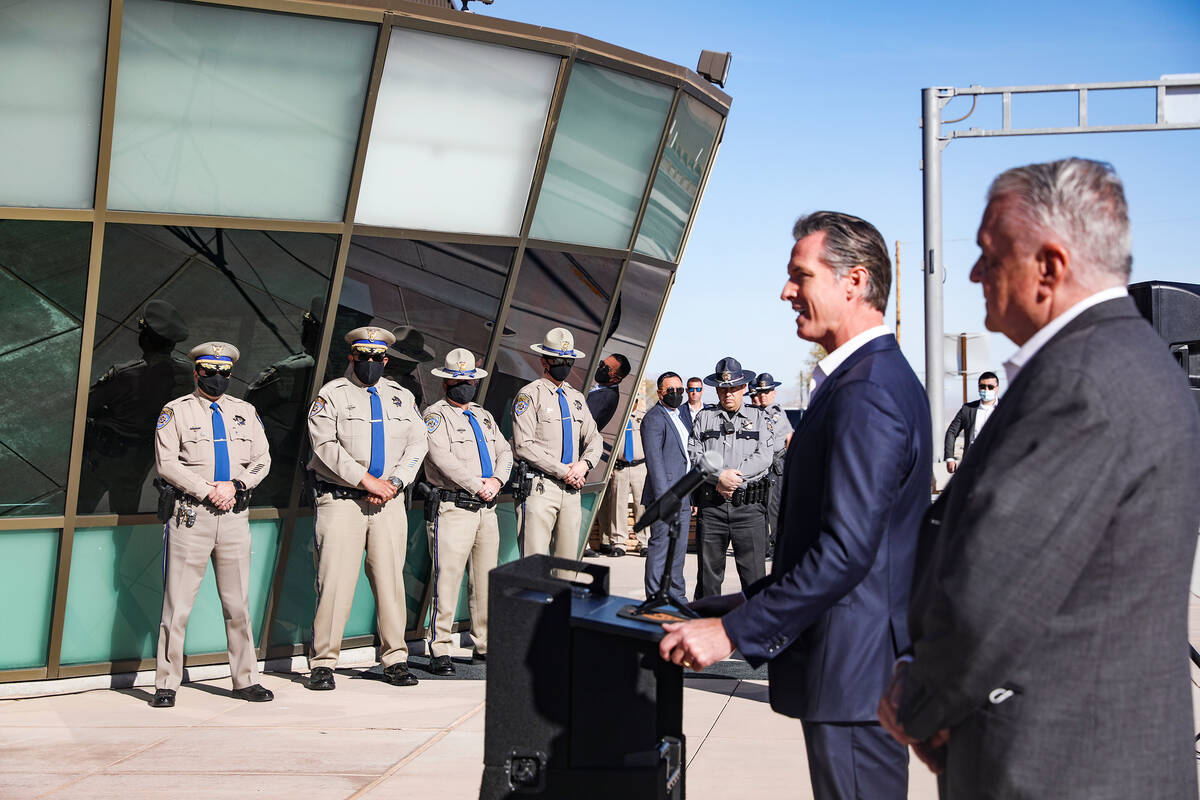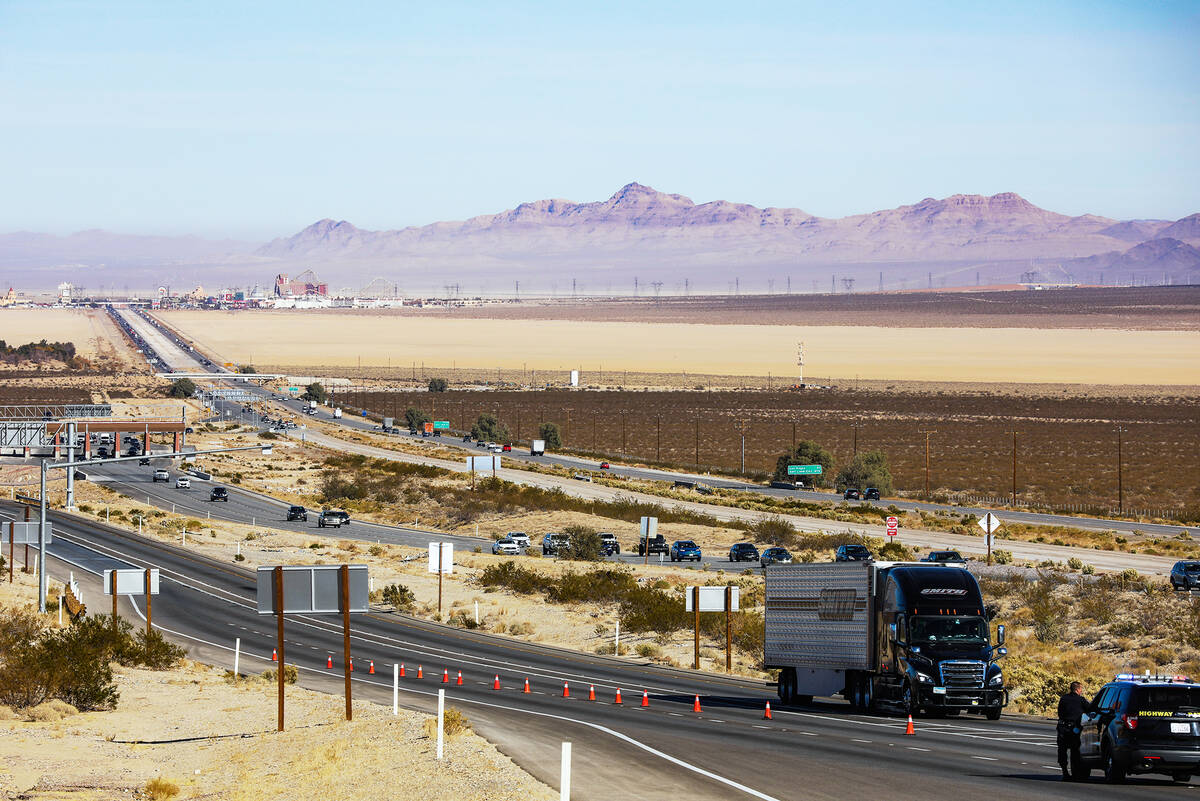 Five miles of "immediate relief" is coming for drivers who make the congested trek along Interstate 15 from Las Vegas to Southern California.
In a joint Sunday morning announcement with Nevada Gov. Steve Sisolak, California Gov. Gavin Newsom said his state is putting roughly $12 million into a project to temporarily expand the southbound highway from the California-Nevada stateline to the California Department of Food and Agriculture Station in hopes of reducing the bottleneck that occurs as the highway goes from three lanes to two starting at Primm.
The project calls for the California Department of Transportation to repave and restripe the shoulder of the roadway in the corridor so that it can be used as a part-time third lane during peak congestion times, primarily Sundays and Mondays.
The expansion will add temporary relief for one of the most congested stretches of the highway that sees holiday weekend traffic back up more than 20 miles from Primm to the Las Vegas Valley.
"It's going to go a long, long ways toward, one, cutting down on the time to travel, and two, making it safer for people," Sisolak said. "It's long overdue."
More than 40 million people visit Las Vegas annually, with roughly a quarter of those coming from — and later going back to — California via I-15. Travel times on Sundays and Mondays for the 113-mile stretch from stateline to Barstow average between three to five hours, and there are no shortage of stories about the normally 4½-hour trip from Las Vegas to Los Angeles taking 10 hours or longer.
Las Vegas Convention and Visitors Authority Steve Hill applauded the plan in a statement Sunday.
"This initiative is an important first step that will begin to improve the experience of the 10 million visitors to Las Vegas who use this corridor. We know this will be exciting news celebrated by all who drive I-15 during peak travel times," Hill said.
The project is expected to start in spring 2022 and be completed by the summer, Newsom said. More long-term solutions, such as a permanent third lane, will be discussed over the coming months, he added.
"There's a deep urgency for us to meet this moment. We're not passively interested in trying to episodically solve this. We're here for the long haul. We want to get this fixed. And I made that crystal clear to my team," Newsom said.
A lot of long-term hope is pinned on Brightline West, the planned electric, high-speed rail project that will eventually run between Las Vegas and Southern California. But that project is several years away, and the company has said it's not clear when it will even break ground.
Other solutions will take time to hash out as well, with various jurisdictional and environmental concerns that need to be addressed along the way, Newsom said.
But the temporary plan will address "a long-standing issue that, candidly, has not been addressed for years and years and years," Newsom said.
Las Vegas Mayor Carolyn Goodman has been vocal on social media over the past few months, calling on California and federal officials to step in to develop a fix to the traffic nightmare.
Newsom said that he got a call a few weeks ago from Sisolak, who told him that "we can't take it anymore. California needs to step up," and address the congestion issue on the California side of the highway, which has only exacerbated the worsening freight and supply chain issues.
"When asked on our side of the border 'What is Caltrans going to do?' the answer is we have nothing prepared. That all changed when the Governor (Sisolak) made the call a few weeks ago, rather than complaining about it, rather than putting press releases out about it," Newsom said. "You actually picked up the phone and asked if there was something we could do. That's rather novel in today's political climate."
Asked by a reporter if he had heard from any elected officials like Goodman about the issue, Sisolak said "people put out a lot of press releases and there's a lot of complaining about the issue. I believe in trying to get something done as opposed to complaining. That's why I picked up the phone and called Gov. Newsom."
Meghin Delaney, Sisolak's spokeswoman, said after the event that the governor hasn't talked to Goodman about the issue, but added that agencies like the Nevada Department of Transportation, the Department of Public Safety, the Governor's Office of Economic Development and the LVCVA have been part of the discussions.
Newsom said funding for the project will come from existing California state transportation dollars.
Logistics of how the temporary third lane would operate, such as what would be considered peak hours and how first responders would get to emergencies if the shoulder is being used as a travel lane, will be ironed out over the next several months, he added.
Contact Colton Lochhead at clochhead@reviewjournal.com. Follow @ColtonLochhead on Twitter.