Temporary F1 bridge could become a permanent fixture near the Strip
Updated November 14, 2023 - 8:40 pm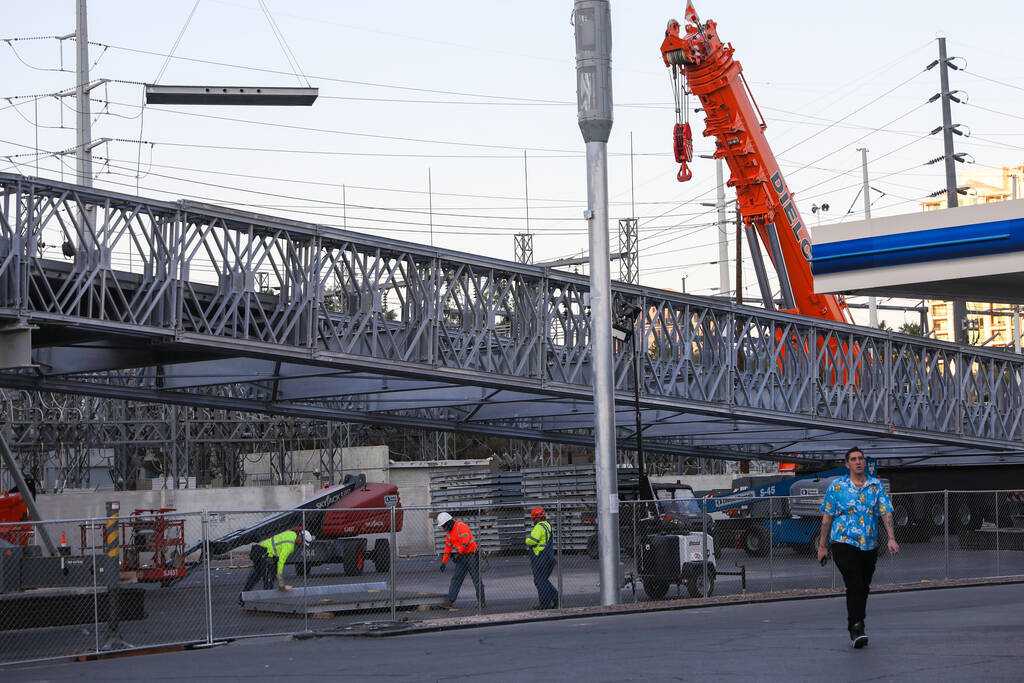 A temporary Formula One traffic relief measure on Flamingo Road may become a permanent transportation fixture.
Talks are underway between race leaders, Clark County and the Las Vegas Convention and Visitors Authority to build a permanent overpass over Koval Lane in the future.
LVCVA President and CEO Steve Hill, in a briefing on Formula One after Tuesday's LVCVA board meeting, said the temporary bridge structure built in October to provide access to resorts and businesses encircled by the 3.8-mile race circuit has been so successful in moving resort corridor traffic that leaders are considering building a permanent bridge at the site.
Hill's remarks came as he discussed how long it would take for temporary structures like grandstands to be removed once the inaugural Las Vegas Grand Prix is completed Saturday night.
"It makes a bunch of sense," Hill said. "It's one of the things we've learned. If you go out there now, traffic is better than it was before we built all this and that bridge is a big part of that and it's going to make sense to make that permanent."
He acknowledged that during the approximately 10 days it took to build the temporary bridge was the worst time for traffic disruption because many of the other east-west corridors in the area also had projects involving Formula One improvements going on.
Hill said the permanent bridge proposal was first suggested by Gov. Joe Lombardo, and while there's been no decision to make the bridge permanent, key leaders are discussing it.
Hill said properties along the Strip will be eager to remove their temporary features as they prepare for the next big citywide event, the National Finals Rodeo, which begins Dec. 7 at the Thomas &Mack Center on the UNLV campus, and generally attracts a large following of western culture to most resorts on and off the Strip.
Grandstands, hospitality areas, traffic barriers and the screens placed on the glass on pedestrian overpasses throughout the corridor would be removed first, and Hill expects everything would be back to normal within six to eight weeks.
He said he expects preparations for future Formula One races would be a lot smoother.
"It's an event unlike any event we've ever had in Las Vegas so we're trying to predict how all of that will work, but until you've experienced it, you don't know if your predictions are going to be right," he said. "We will all learn from that, and it'll just get better after that."
One set of grandstands that probably won't come down are those nearest to Formula One's $500 million paddock building, which serves as the start and finish line for the race.
Hill said Formula One's initial plan was to keep the building and its features in place and possibly used as a future location for meetings and events.
Contact Richard N. Velotta at rvelotta@reviewjournal.com or 702-477-3893. Follow @RickVelotta on X.