Thanksgiving weekend traffic, crash clog I-15 near Las Vegas
November 24, 2018 - 3:21 pm
Updated November 24, 2018 - 11:30 pm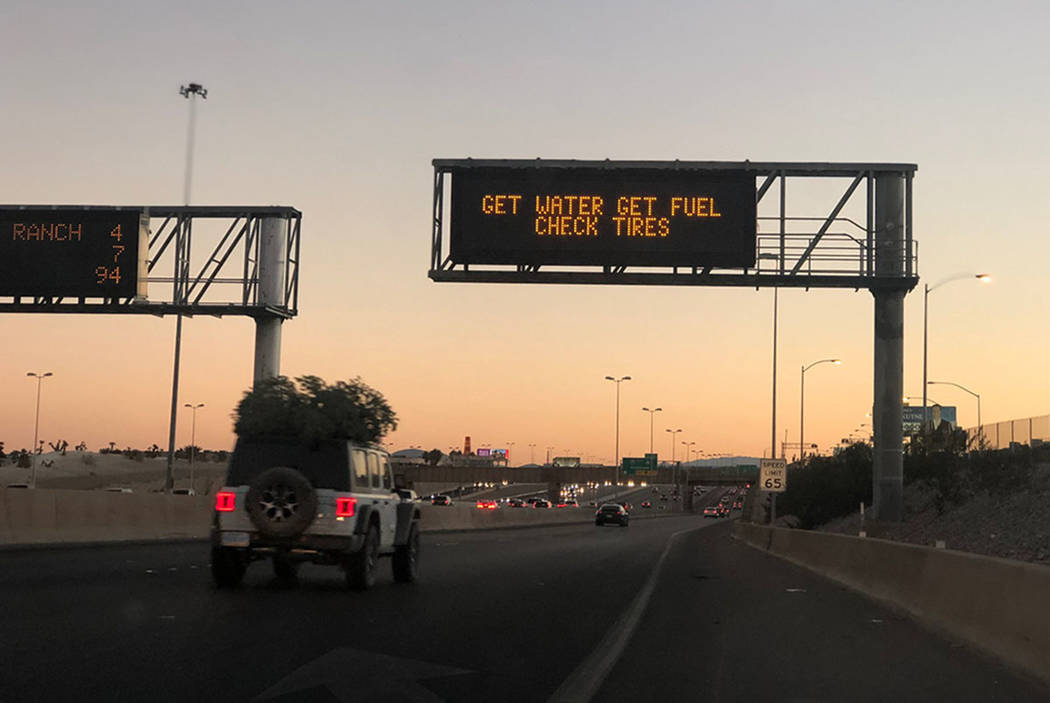 The Regional Transportation Commission reported a crash in the northbound lanes of Interstate 15 about 8 miles north of Primm on Saturday afternoon.
A medevac helicopter responded to the scene, RTC officials tweeted. No additional information was immediately available Saturday night.
Earlier Saturday afternoon, southbound traffic was backed up for 17 miles near the Nevada-California state line, giving drivers a preview of snarled conditions expected Sunday as Thanksgiving weekend comes to an end.
The RTC reported the backup at 1:40 p.m. on southbound I-15, warning drivers to "prepare for long delays."
#FASTALERT 24-Nov-18 4:12 pm,=UPDATE=
Crash on I-15 at 8 miles North of Primm,
Highway Closed both directions for medevac. Expect major delays

— RTC Southern Nevada (@RTCSNV) November 25, 2018
On Saturday night, live traffic cameras showed bumper-to-bumper traffic near Jean and Primm.
Images of the miles-long backup of I-15 southbound at Primm have become a holiday mainstay, and with more drivers expected to be on the road this Thanksgiving than last year, motorists should expect more of the same.
With the majority of the 300,000 visitors expected to converge on Las Vegas by road, delays of up to an hour and 40 minutes are likely during peak traffic hours. For those headed back to Southern California via I-15, that means from 8 a.m. to 8 p.m. Sunday, according to the RTC.
Also affecting holiday traffic on I-15 was a major crash Saturday at Cajon Pass in Southern California.