Third major freeway closure for Project Neon starts in March
January 8, 2018 - 6:20 pm
Updated January 9, 2018 - 12:24 am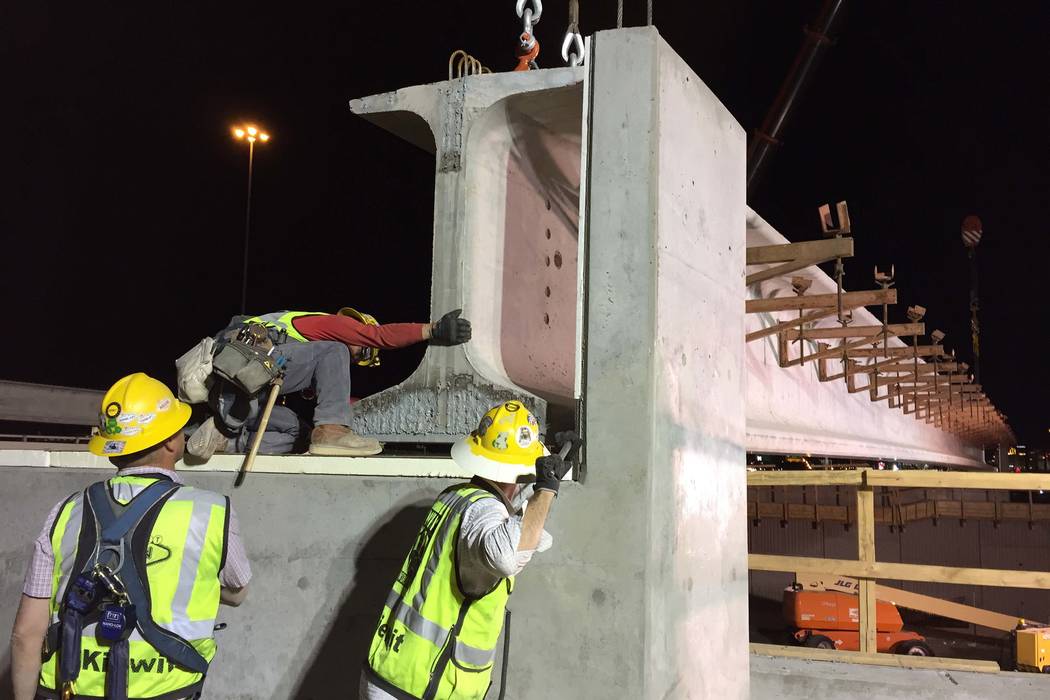 Are you ready to grumble?
The "Main Event" debuts in March, promising to land a final blow on commuters with a series of freeway ramp closures and lane restrictions in downtown Las Vegas, the Nevada Department of Transportation said Monday.
"We're calling it the Main Event because this will be the biggest and most impactful phase of Project Neon," NDOT spokesman Tony Illia said, referring to the $1 billion effort to redesign and widen Interstate 15 from the U.S. Highway 95 interchange to Sahara Avenue by July 2019.
The "Main Event" picks up where the "Big Squeeze" and its predecessor, "Car-nado," left off, serving as the third installment in a trilogy of major freeway closures falling under the umbrella of Project Neon.
While it might sound like a three-ring circus, NDOT officials promised the Main Event will set aside enough space for crews building an 81-foot-tall flyover ramp for high-occupancy vehicles.
When completed, the new carpool ramp will have one lane for drivers headed from southbound U.S. 95 to southbound I-15 and another connecting northbound I-15 to northbound U.S. 95. The two-way concrete ramp will be accessible from the center lane of both freeways.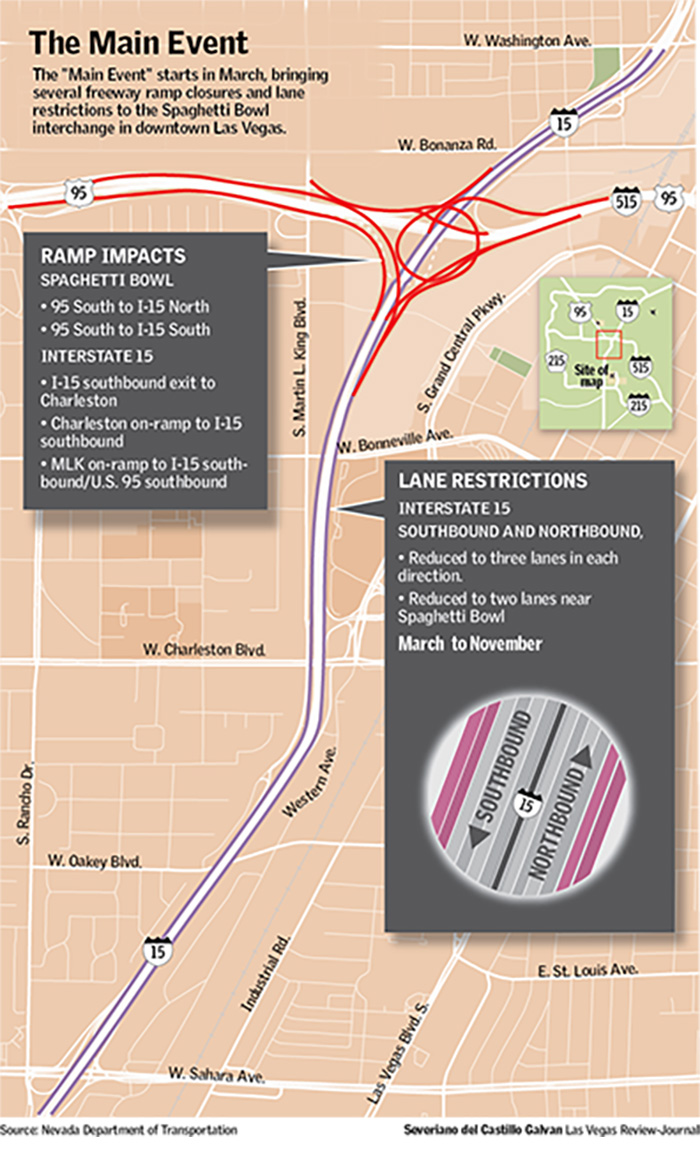 When completed, Las Vegas will have 22 consecutive miles of carpool lanes between I-15 and U.S. 95, requiring at least two people per vehicle.
NDOT Director Rudy Malfabon on Monday referred to the Main Event as the "home stretch" of Project Neon.
Motorists will get a preview of what's to come on Jan. 16, when the southbound I-15 exit to Charleston Boulevard closes. A new Charleston offramp is scheduled to open March 6.
Then, the Charleston onramp to southbound I-15 will close in mid-February, with a new onramp scheduled to open in October. The offramp linking northbound I-15 to eastbound Charleston is also scheduled to close for 30 days in March.
Additionally, both directions of U.S. 95 will be closed at the Spaghetti Bowl interchange for weekend and night closures for several days in March, and again in mid-July.
NDOT anticipates three restrictions will have the largest effects from March to November:
— The ramp connecting southbound U.S. 95 to southbound I-15 will be reduced to one lane;
— The ramp linking southbound U.S. 95 to northbound I-15 will remain closed;
— Both directions of I-15 will be narrowed to three lanes between Sahara Avenue and Washington Boulevard, then further reduced to two lanes each way in the area immediately surrounding the Spaghetti Bowl interchange.
The lengthiest closure is reserved for Martin Luther King Boulevard, where onramps to southbound I-15 and southbound U.S. 95 will close to traffic from March to December.
Contact Art Marroquin at amarroquin@reviewjournal.com or 702-383-0336. Follow @AMarroquin_LV on Twitter.