Three dead, four injured in morning accident on I-15 near Speedway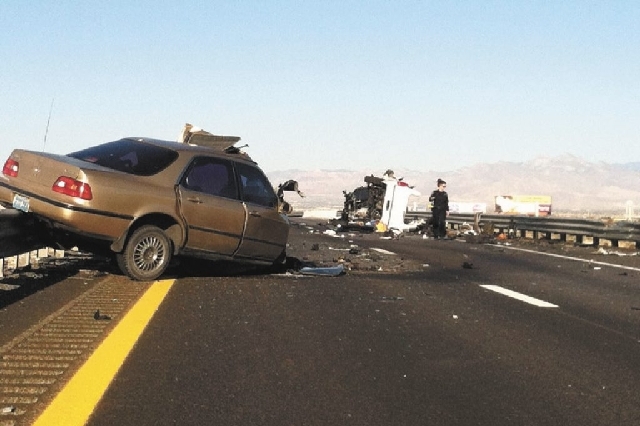 The Nevada Highway Patrol late Sunday night was still investigating a crash that left three people dead on Interstate 15 near the Las Vegas Speedway exit, the result of a head-on collision caused by a wrong-way driver, a Highway Patrol trooper said.
The fatal crash sent four other people to University Medical Center in critical condition.
The Highway Patrol said a 20-year-old man was driving alone in an Acura Legend northbound in the southbound lane when his car collided with a southbound GMC Yukon, driven by a 29-year-old man, at 4:30 a.m., trooper Jeremie Elliott said.
Both drivers died at the scene, along with a third victim, a woman passenger in the GMC, Elliott said.
"We're still trying to figure out whether it was a DUI or not," Elliott said.
Elliott said head-on collisions are among the worst of accidents. If unavoidable, a driver should turn the steering wheel "as hard as you can at the last second to the left or the right," he said.
"That's what they used to teach us in school," he said. "The best thing to do, obviously, is to try and avoid it, but if you can't, steer hard in one direction, and the energy is supposed to rotate the car enough where if the planets align, you could escape and suffer less damage than if you hit head on."