Transit agency gets $13.3M grant for new buses in Las Vegas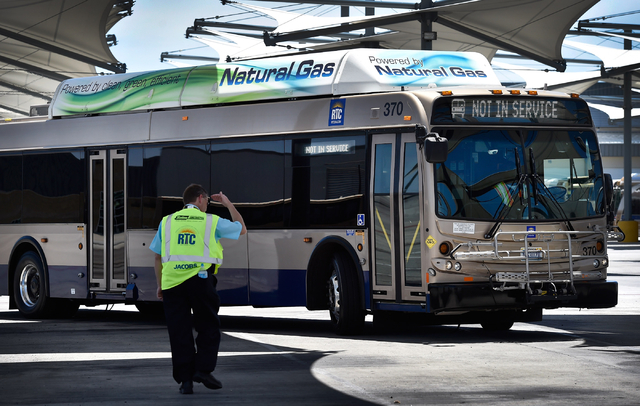 The White House on Friday awarded a $13.3 million grant that will largely pay for a fleet of cleaner-fuel buses operated by the Regional Transportation Commission of Southern Nevada.
The transportation commission was the only agency in Nevada to receive a grant this year from the competitive Transportation Investment Generating Economic Recovery program, known as TIGER. Nearly $500 million in of the grants were awarded to 40 projects nationwide, White House officials said.
The Department of Transportation received 585 applications for the grants, requesting more than $9.3 billion, officials said.
"For the eighth year running, the TIGER program will infuse critical infrastructure dollars into communities across the country," Anthony Foxx, secretary of the Department of Transportation, said Friday in a conference call to reporters. "TIGER is the unique program that rewards innovative thinking and collaborative solutions to difficult and sometimes dangerous transportation problems."
The funds awarded to the transportation commission will go toward the Green Fleet Procurement, a $20.3 million plan that calls for replacing about 25 older buses that have reached the end of their designated service life with a new set of vehicles that operate on clean-running compressed natural gas.
"This is great news for Southern Nevada, especially for the 66 million transit riders that we carry annually," agency General Manager Tina Quigley said in a written statement.
"This grant will help us continue to pursue our goal of having a nearly 100 percent green bus fleet," Quigley said. "We look forward to purchasing these new CNG vehicles that are highly reliable, will help reduce fuel and maintenance cost, and improve air quality in Southern Nevada."
The program has provided $5.1 billion to 421 transit projects since it started in 2009 as part of the American Recovery and Reinvestment Act signed in 2009 by President Barack Obama.
The U.S. still has about $1 trillion in outdated infrastructure that needs to be replaced, leading to a "hidden tax" of $150 billion placed on motorists coming from time spent in traffic, wasted fuel, high shipping costs and lost wages at work, said Jeff Zients, director of the National Economic Council.
"From his first day in office, the president has been very clear that in order to maintain and strengthen our competitiveness, we have to reverse the persistent underinvestment in our nation's infrastructure," Zients said during the conference call.
Contact Art Marroquin at amarroquin@reviewjournal.com or 702-383-0336. Find @AMarroquin_LV on Twitter.