Big storm helps Las Vegas Valley break Feb. 18 rainfall record — PHOTOS
February 18, 2017 - 8:32 pm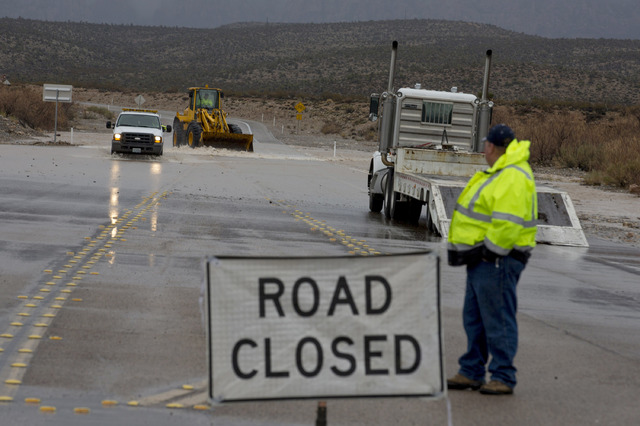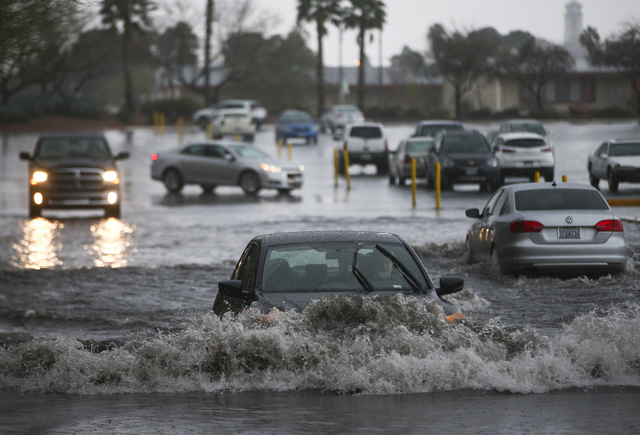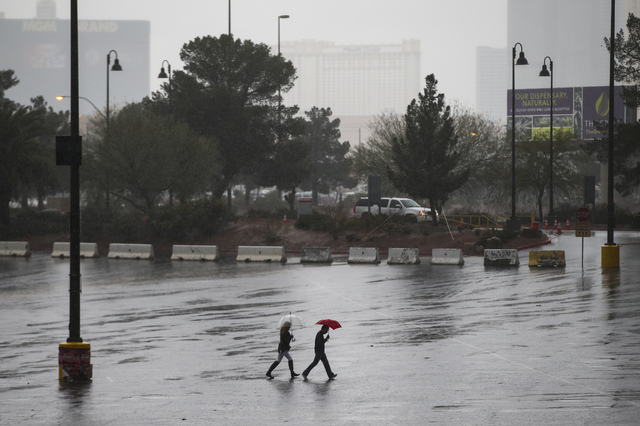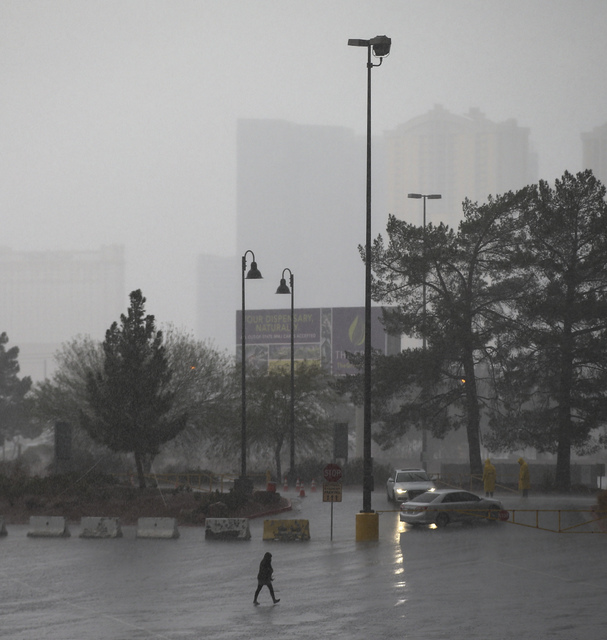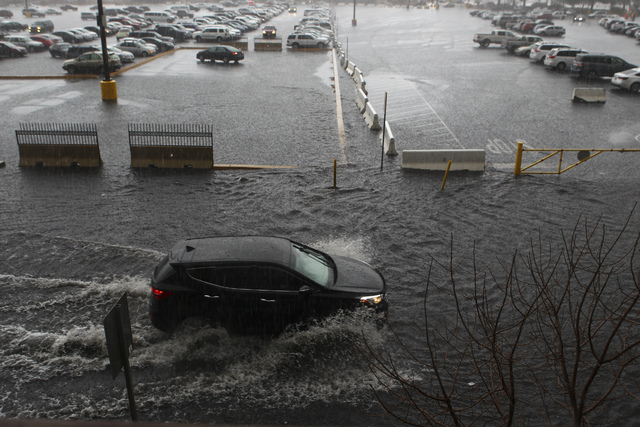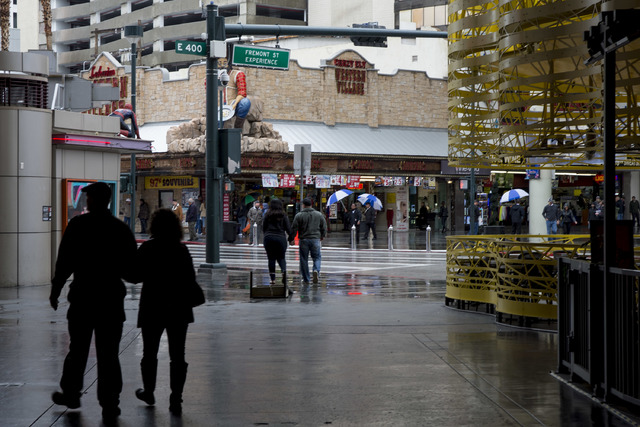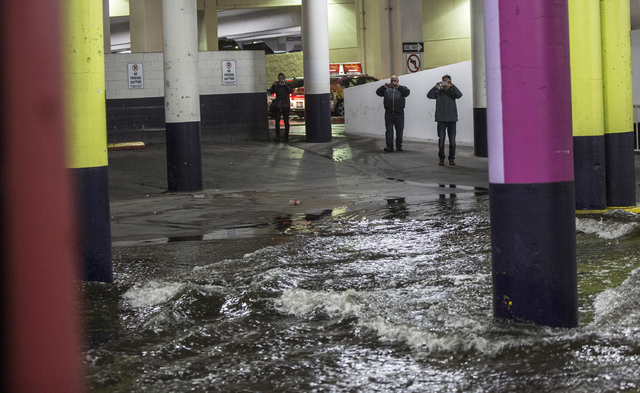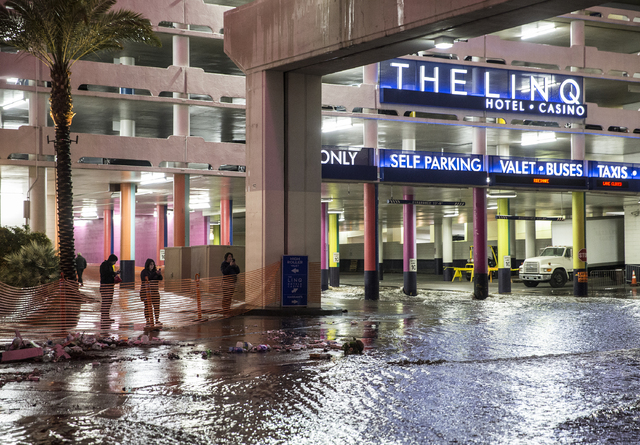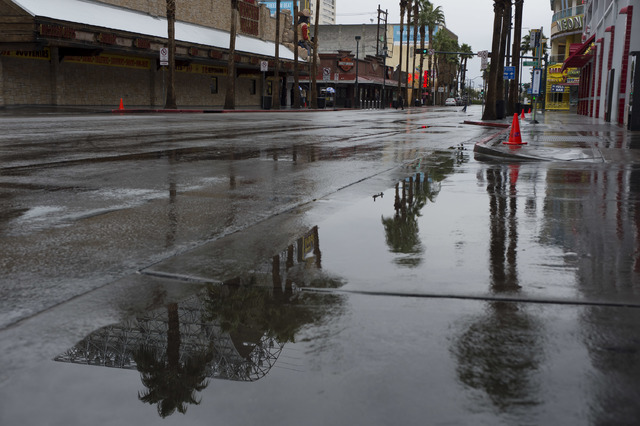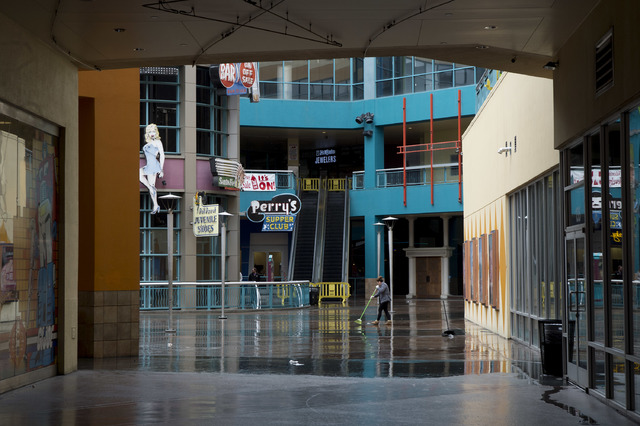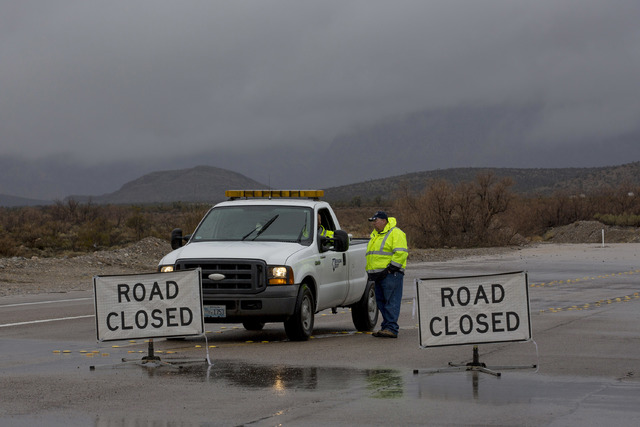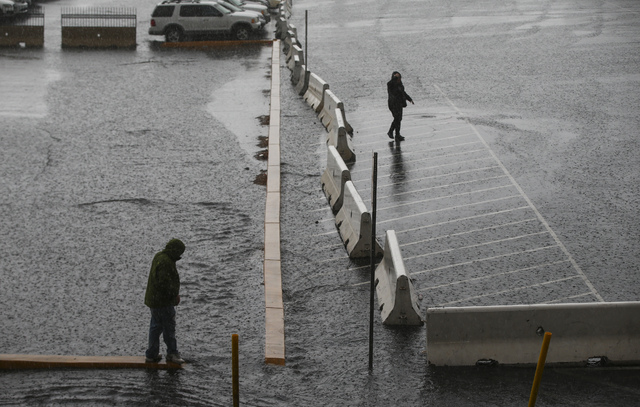 Saturday's steady rain brought more than slick roads and flooding to the Las Vegas Valley. It also narrowly delivered a new rainfall record for the date, the National Weather Service said.
Meteorologist Stan Czyzyk said the valley recorded 0.43 inches of rain by 8 p.m. Saturday. On Feb. 18, 2005, the valley recorded 0.41 inches of rain.
The weather service initially issued a flood warning for the valley lasting through noon, but later issued a second for the west side of the valley, including Summerlin, Centennial Hills, Lone Mountain, Red Rock and the Spring Mountains, which expired at 6 p.m. Rainfall amounts in the western valley have averaged 0.75 to 1.25 inches, the weather service tweeted at noon. At 5 p.m., the weather service tweeted that radar showed light to moderate rain moving into Southern Nevada.
"Expect a wet evening with slick roads and potential minor flooding," the weather service tweeted.
The Las Vegas Fire Department reported just before 11 a.m. Saturday that a car was trapped in deep water in a flooded intersection at Grand Teton Drive and North Decatur Boulevard in North Las Vegas. The department said the car's occupant was out and no rescue truck was dispatched, although a tow truck was sent.
The department tweeted that the flooding could make streets hazardous. "Watch for flooding in low-lying areas. Stay out of washes. Ponding on streets possible," it tweeted Saturday morning, later adding, "Stay out of washes, NEVER drive through flood waters-it could cost you a fine$$."
Red Rock Canyon tweeted at 12:45 p.m. that its scenic loop was temporarily closed because of flooding. At 2 p.m., the Regional Transportation Commission tweeted that the loop was closed from Charleston Boulevard to Blue Diamond Road.
Flooding has wreaked havoc in Southern California. The storm feeding on an atmospheric river of moisture stretching into the ocean was at its fiercest late Friday afternoon, dropping more than 8 inches of rain in one area, and was expected to last until Saturday afternoon.
In California's Cajon Pass, a five-lane, 3-mile stretch of southbound Interstate 15 was reduced to two lanes after a roadway section washed away; a fire engine tumbled off the highway. The lane reduction continued Saturday. No firefighters were injured when the engine slipped off the roadway, San Bernardino County Fire spokesman Eric Sherwin said.
District 8 of the California Transportation Department tweeted Saturday that emergency repair costs for the Cajon Pass are so far estimated at $3 million.
Just before 2 p.m., the east valley had already picked up a quarter to half of an inch of rain and the west valley picked up between and inch to an inch and a half of rain, the weather service said.
The weather service measured about 0.28 inches of rainfall at McCarran for the last 24 hours. The record for Saturday is 0.41 inches, set in 2005.
"This has been a slightly more wet season," Czyzyk said, although no daily or monthly records have been broken thus far. This year, the valley has seen double the rainfall in comparison with this time last year.
Heavy rainfall is common during January and February. The storms are expected to clear out within the next month, Czyzyk said.
State Route 159 is closed from Charleston Boulevard to Blue Diamond Road because of flooding, the Regional Transportation Commission of Southern Nevada tweeted.
Lee Canyon reported 9 inches of overnight snowfall on Saturday, and the weather service said it expects 1 to 2 feet of snow at elevations above 8,000 feet and more than 2 feet of snow at elevations above 9,000 feet.
At noon, the weather service reported snow totals for the Spring Mountains — 12 inches in Lee Canyon, 11 inches on the Bristlecone Trail, and 17 inches in Rainbow Canyon. Snowfall continues, the weather service said.
The weather service also tweeted that 24-hour snowfall at Mount Charleston Fire Station totaled 16 inches as of 8 a.m. and 3½ inches more had fallen since. Because of the snow, Mount Charleston advised drivers to check road conditions at http://nvroads.com before heading up to visit. Chains are now required for vehicles traveling on State Route 156/Lee Canyon and State Route 158/Deer Creek, Mount Charleston officials tweeted.
Clark County sent an alert asking residents in Kyle Canyon, specifically in Rainbow and Echo subdivisions, to use caution and be aware of dangers of an avalanche.
Sunday's forecast high is 63degrees; the chance of rain drops to 20 percent.
The Associated Press and Review-Journal staff writer Jessica Terrones contributed to this story. Contact Jessica Terrones at jterrones@reviewjournal.com or 702-383-0381. Follow @JessATerrones on Twitter. Contact Max Michor at mmichor@reviewjournal.com or 702-383-0381. Follow @MaxMichor on Twitter.