Drowning death suspected after massive rainfall, water rescues in Las Vegas
Updated September 2, 2023 - 5:38 pm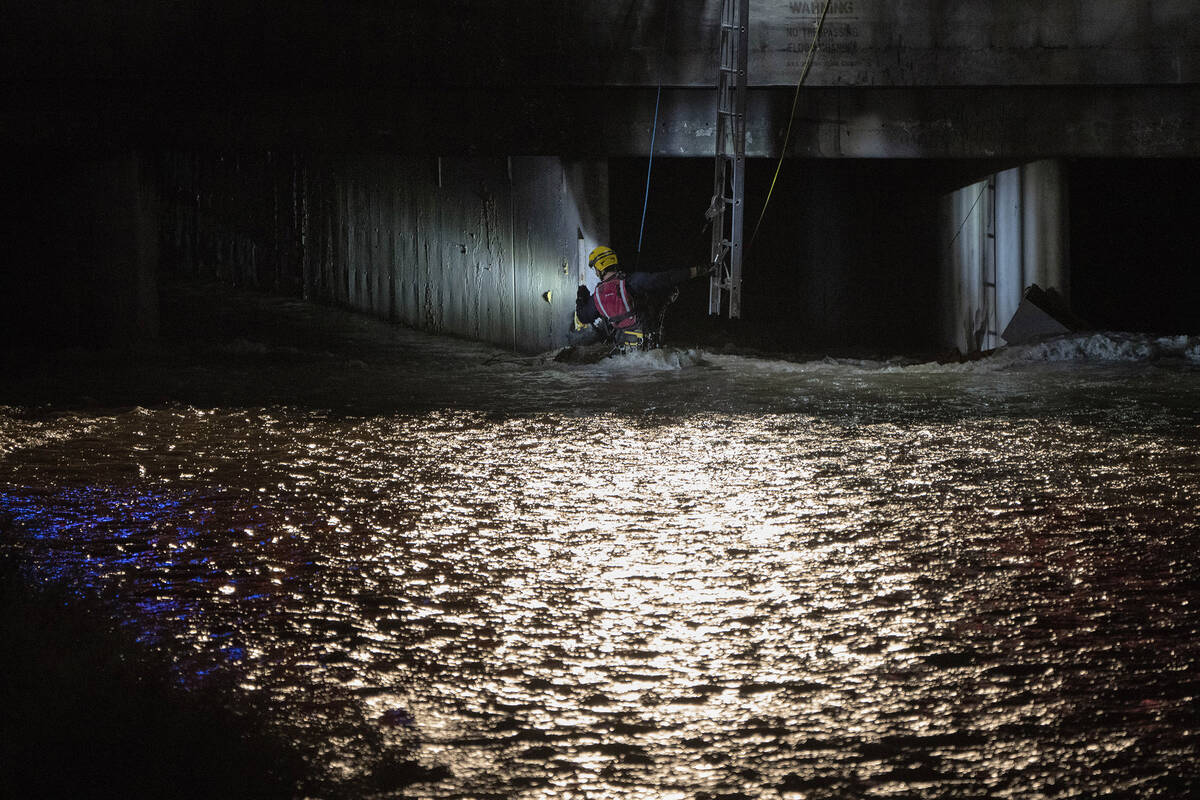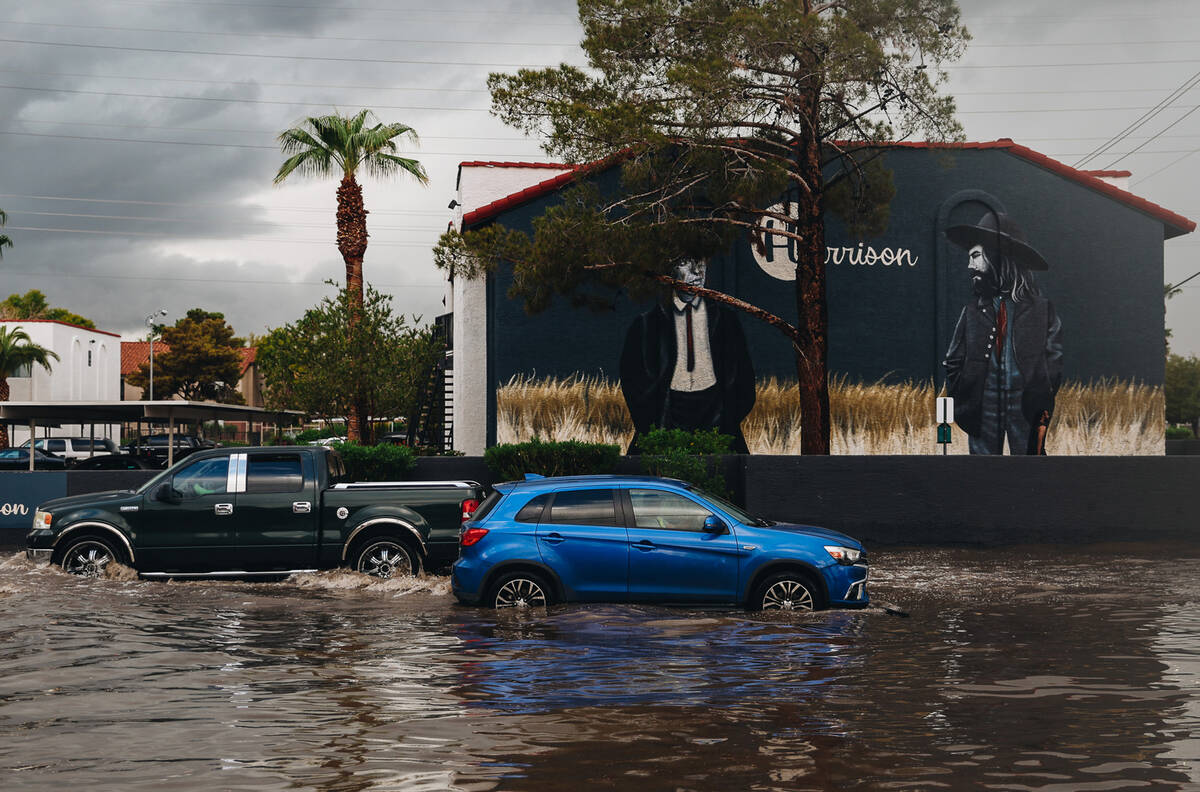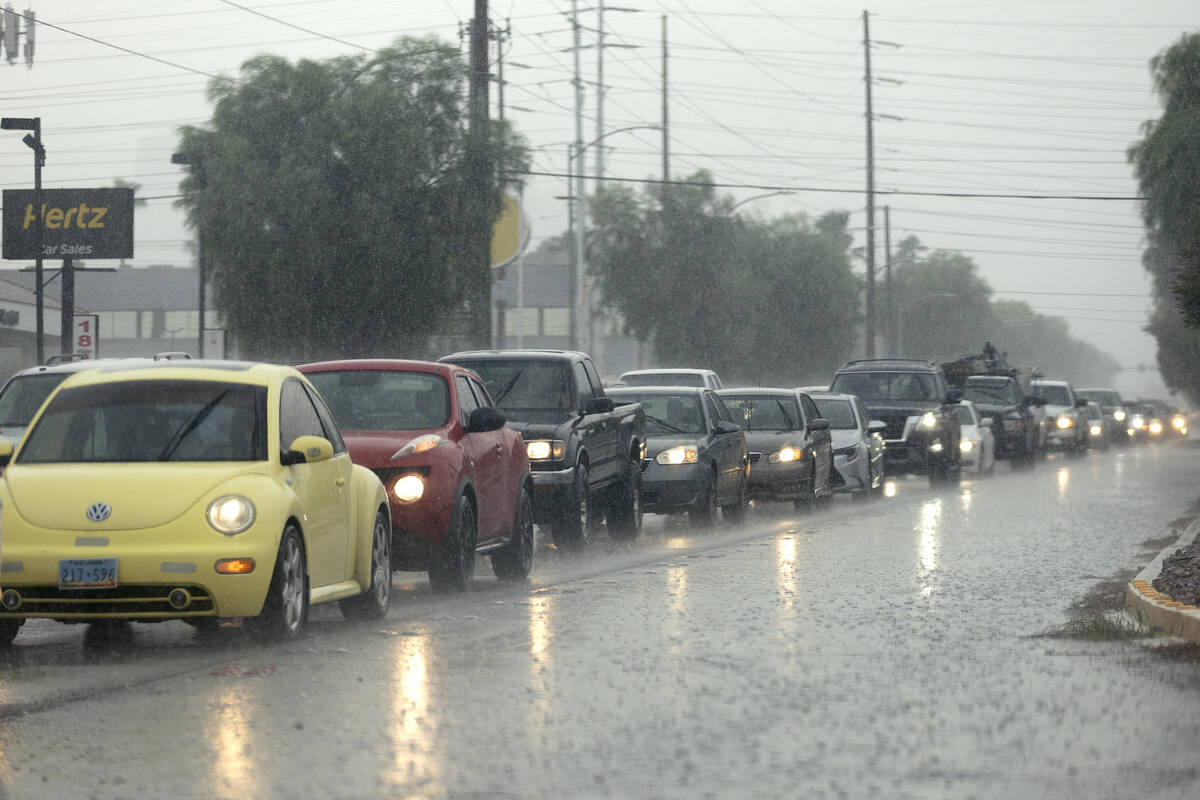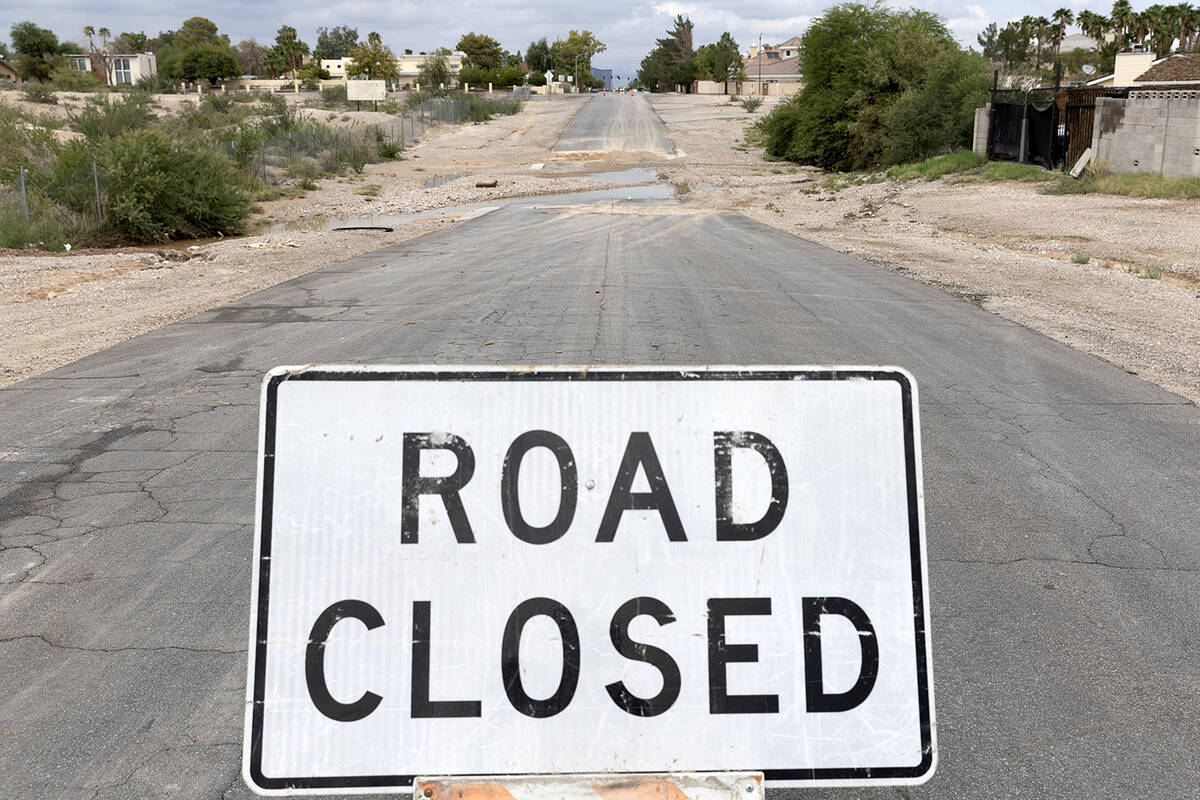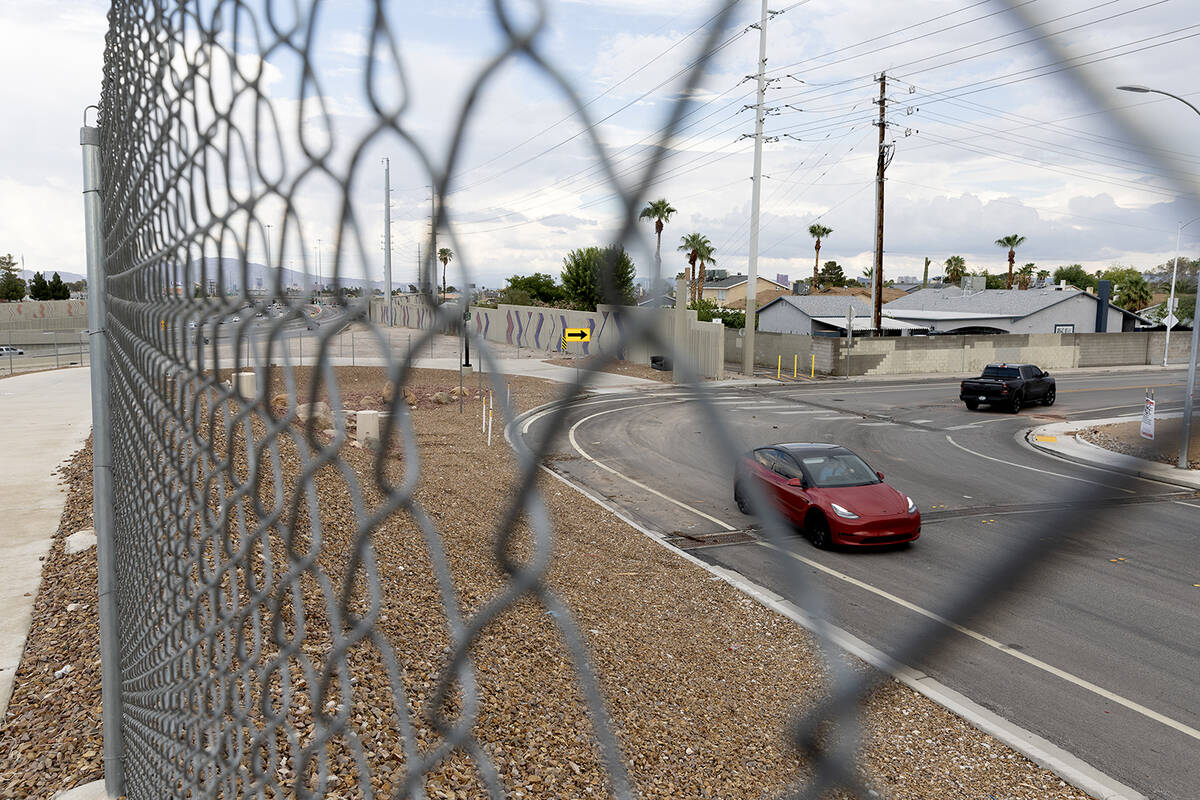 One person reportedly swept away by flood waters was feared drowned Saturday after they were found unresponsive in west central Las Vegas near U.S. 95, and as many as a dozen people were rescued from floods due to heavy rainfall, according to the Las Vegas Fire Department.
Las Vegas Fire and Rescue units responded to a report of an unconscious person entangled in debris at Lorenzi Street and Westcliff Drive early Saturday who was believed to have drowned, the department reported.
The person was pronounced dead at the scene, and the Las Vegas Metropolitan Police Department notified the Clark County coroner's office.
The deceased person matched the description provided by bystanders of someone washed away Friday night by moving water in the general area where the body was found, fire department officials said.
Police will handle the notifications of relatives and continue to investigate the death, they said.
Meanwhile, the National Weather Service had issued a flash flood warning early Saturday afternoon for sections of western Clark County.
As many as a dozen people were rescued and up to 35 vehicles were left stranded in flood waters after heavy storm rain pounded the Las Vegas Valley on Friday, according to the Las Vegas Fire Department.
Last night, we responded to 24 swift water rescue events including:
· 30-35 vehicles stranded in water
· 10 – 12 people rescued from standing or moving water

Learn how we train for these situations:https://t.co/rcQZ5E7yaQ

— Las Vegas FireRescue (@LasVegasFD) September 2, 2023
The department responded to 24 "swift water" rescue events Friday evening, with 10 to 12 people freed from standing or moving water and from 30 to 35 vehicles left behind due to heavy flooding, but no reports of any deaths, the department reported on the social media website X.
Clark County officials announced several street closures due to high water levels, including Gilespie Street and Maulding Avenue near Warm Springs Road; east of Las Vegas Boulevard; Jones Boulevard and Pyle Avenue south of Blue Diamond Road; and Ranch Road by the Warm Springs loop in Moapa.
A flash flood watch is in effect through midnight in our area. Flash flooding of area streets and trails is possible. The public is reminded to never drive through flooded roadways or around barricades. It can be difficult to determine how deep floodwaters are and floodwaters can… https://t.co/krJzk9IyeP

— Clark County Nevada (@ClarkCountyNV) September 2, 2023
The weather service issued a flash flood warning for the Sandy Valley area in the early afternoon after an inch of rainall was recorded in a period of only 15 minutes.
The city of Las Vegas reported that it had closed Mayfair Park at 417 S. 15th St., Field 7 at the Kellogg Zaher Soccer Complex at 7901 Washington Ave. and Barkin' Basin Park at 7351 W. Alexander Road for the weekend for flood-related repairs.
Many people posted videos on social media of fast-running flood waters moving on streets through or near their neighborhoods, including Terry Lively, who posted a night view of a flood channel next to Washington Avenue, and others who tweeted about huge amounts of downpour-fed waters flowing from beneath the The Linq on the Strip.
Las Vegas Washington Ave flood channel right now, just beyond my bank yard. pic.twitter.com/cyucTsU7u6

— Terrie Lively (@LivelyLaughs) September 2, 2023
OMG! The Linq! This one's the largest wash in Las Vegas Strip ⛈️#LasVegas #vegasweather #VegasVibes #USA #Flood #Flooding pic.twitter.com/03rvYomdrB

— Ratnesh Mishra 🇮🇳 (@Ratnesh_speaks) September 2, 2023
This was my neighborhood pic.twitter.com/nogua1FDRS

— Ryan Tobler (@rmtobler) September 1, 2023
The British television news network SkyNews posted this tweet:
Heavy rain leads to major flooding on the iconic Strip in Las Vegas🌧️

The National Weather Service has issued flash flood warnings amid reports that multiple vehicles have been stranded.

More weather stories👉 https://t.co/yx5RlNGbbq pic.twitter.com/eOBKl9ghBF

— Sky News (@SkyNews) September 2, 2023
The Instagram account Las Vegas Experience put up this video by the High Roller on the Strip:
A flash flood watch is still in effect through midnight Saturday, the National Weather Service reported.
The thunderstorms are expected to last from noon to 4 p.m., with a 40 to 70 percent chance of heavy rain, dropping to a 20 percent chance of heavy precipitation tonight and a "slight chance" of storms on Sunday, according to the weather service.
Temperatures are predicted to reach 87 degrees Fahrenheit, with partly sunny skies late in the afternoon Saturday, then 74 overnight, a high of 92 and low of 68 on a cloudy and windy Sunday, and returning to sunny skies on Labor Day with a high of 88 degrees and a low of 70.
The weather service's flash flood watch is less serious than a flash flood warning, but still means residents should be ready for road flooding, heavy thunderstorms and debris and rocks on the roadways.
The valley received a break in the rain for most of Saturday morning as no precipitation was detected in virtually all rainfall gauges aside from an almost imperceptible 0.04 inch recorded from 4:00 a.m. to 10 a.m. in a handful of places including Summerlin South, the Flamingo Wash at Eastern Avenue and Boulder City, the Regional Flood Control District reported.
Contact Jeff Burbank at jburbank@reviewjournal.com or 702-383-0382. Follow @JeffBurbank2 on X.