Heat remains through the weekend in Las Vegas Valley
August 28, 2015 - 9:16 am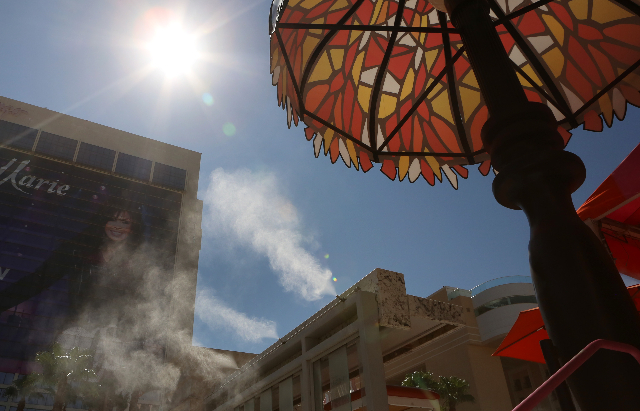 Weekend temperatures in the Las Vegas valley will be hotter than normal, but it's nothing we haven't seen before.
Normal high temperatures for this weekend sits right at 100 degrees, but the valley will be a couple notches above that number, according to the National Weather Service.
Friday should be similar to Thursday's weather, just a little drier at 105 degrees, NWS meteorologist Caleb Steele said. The day's low should drop right down to 83 degrees, meeting a record for a high low-temperature.
Any moisture hanging around is likely to drop in the mountains around the valley or off in Mohave County, Steele said.
Otherwise, the ever drier weather on Saturday should cease anymore possibility for rain, according to Steele. Saturday's high is forecasted to be 106 with a low of 82. A bit of relief should come for that hot day with southwest winds blowing 10 to 15 mph and gusts that could reach up to 25 mph.
There will be a bit of a slow cool-down starting Sunday, Steele said. Sunday's high is expected to be just about 101 degrees.
Steele said temperatures are looking to be more in the mid to upper 90s by the end of next week.
Contact Cassandra Taloma at ctaloma@reviewjournal.com or 702-383-0381. Find her on Twitter: @CassandraTaloma.