Las Vegas residents, public works clean up after storm
Updated September 4, 2023 - 1:23 pm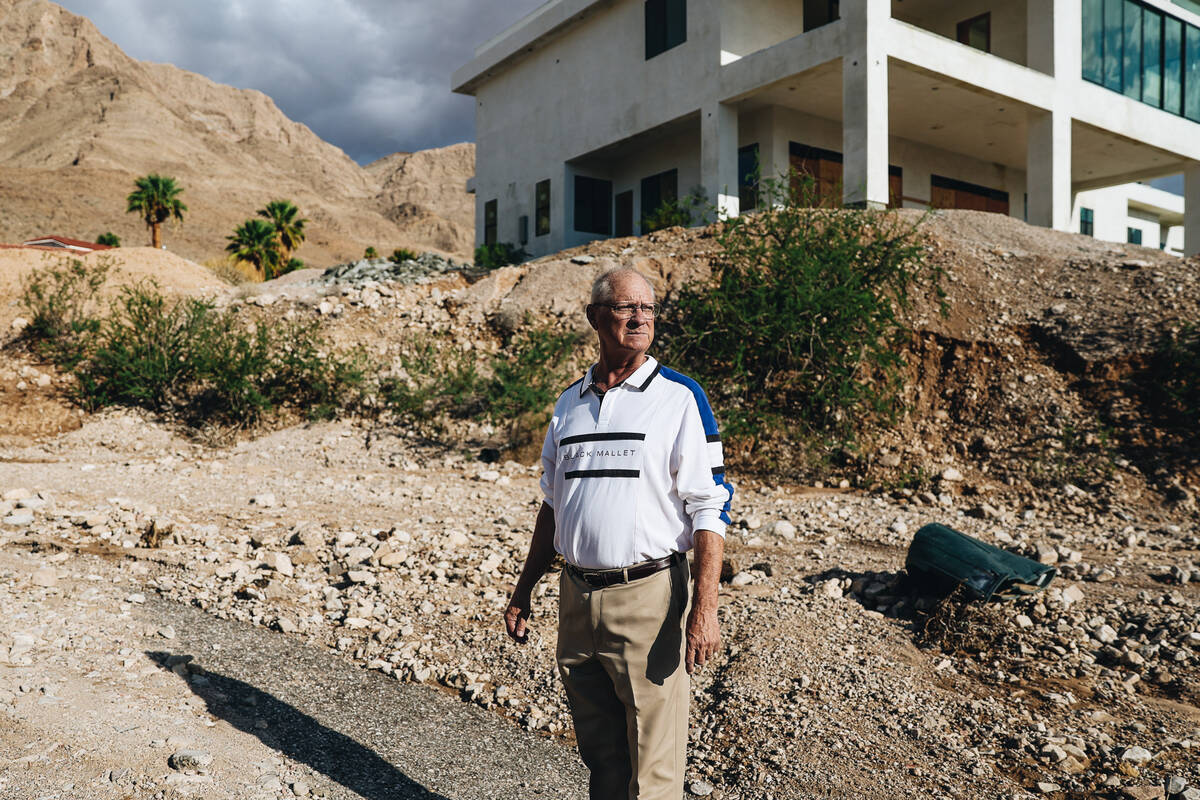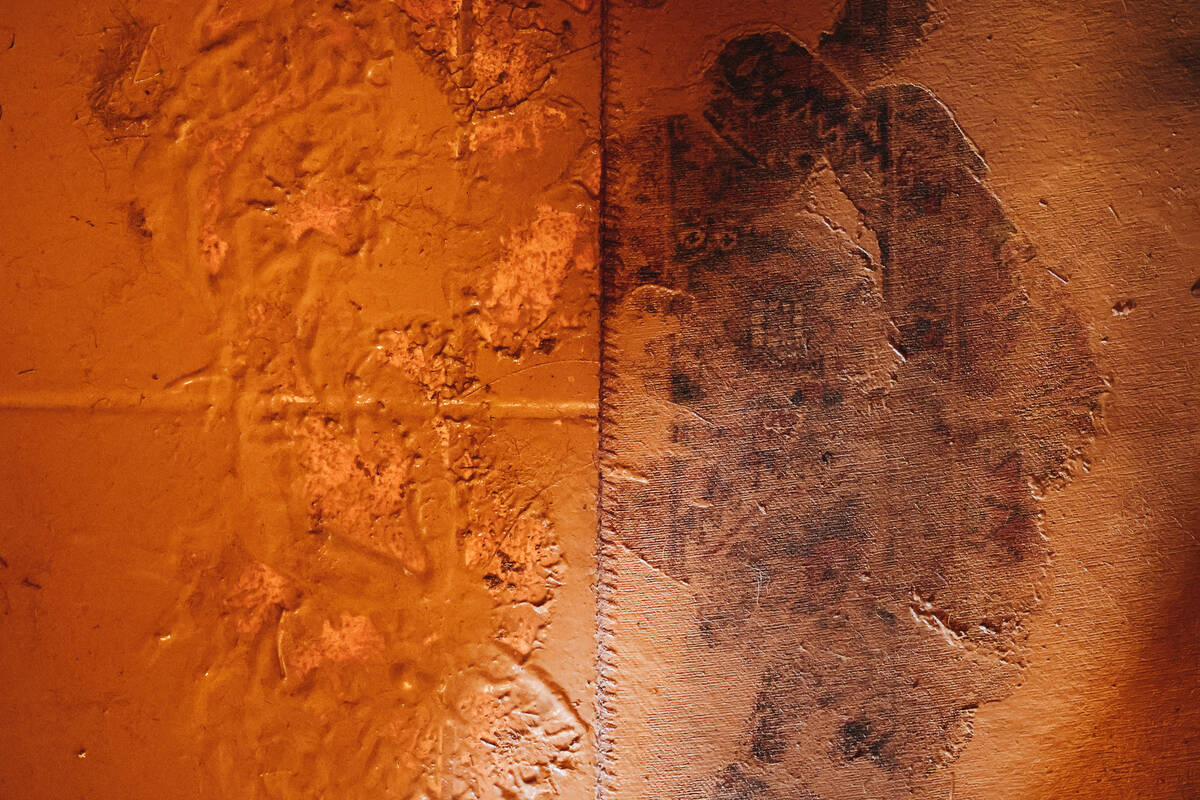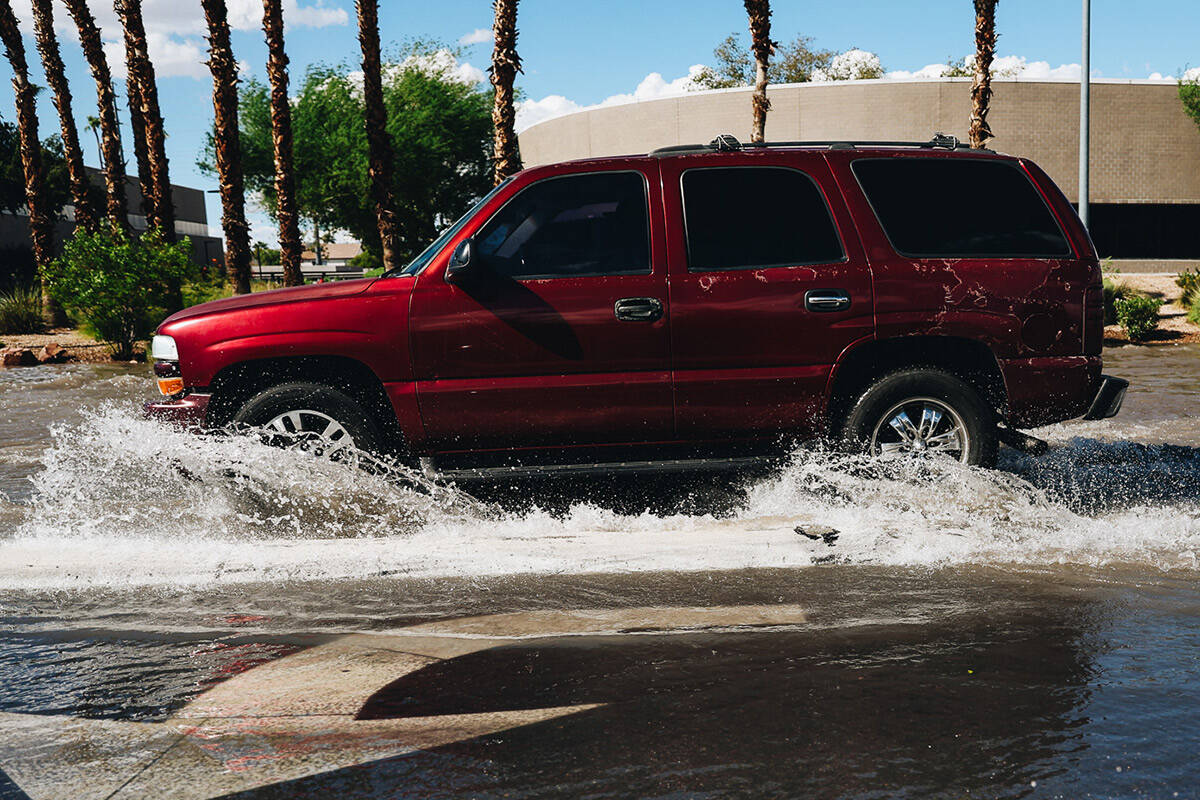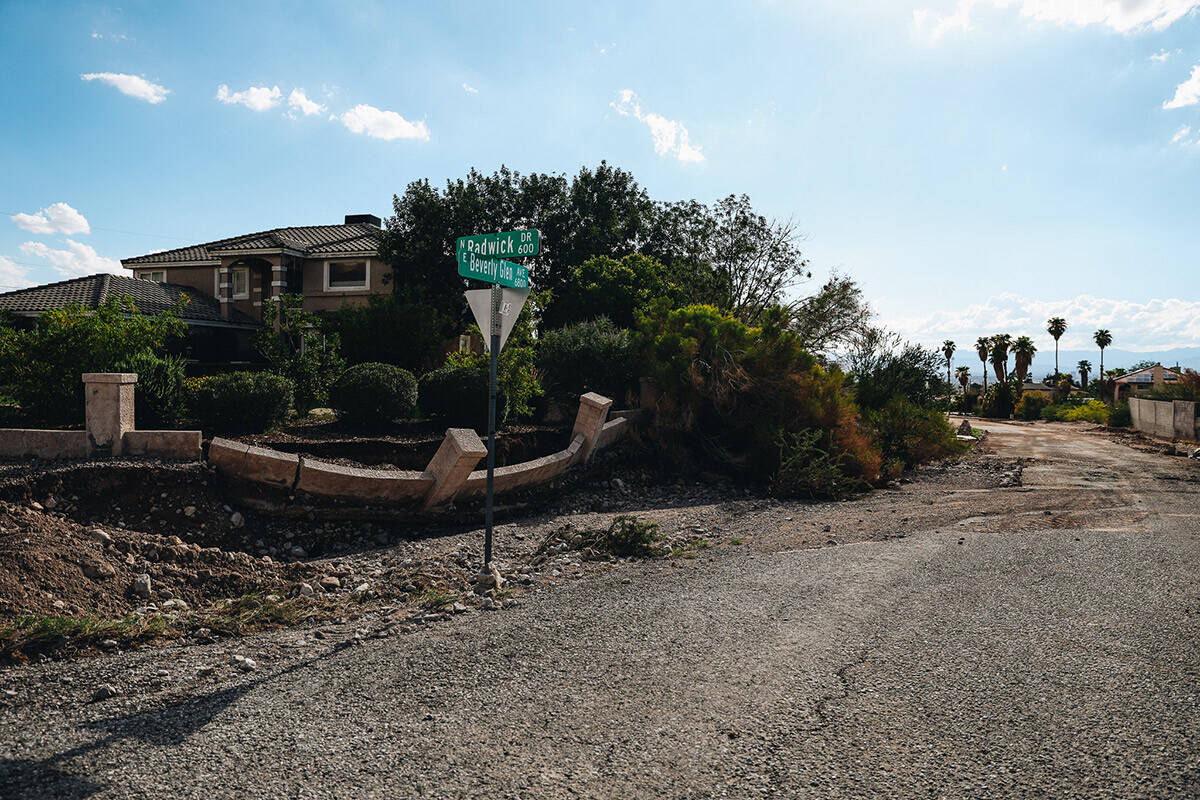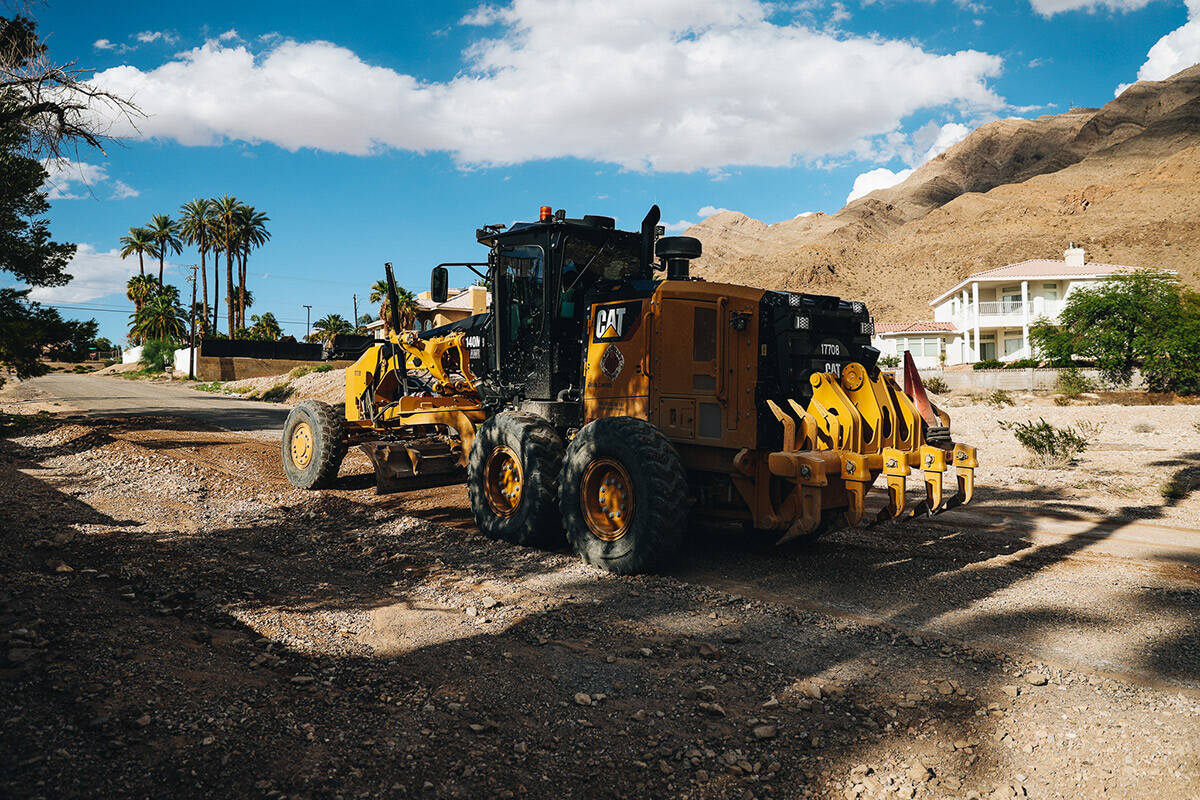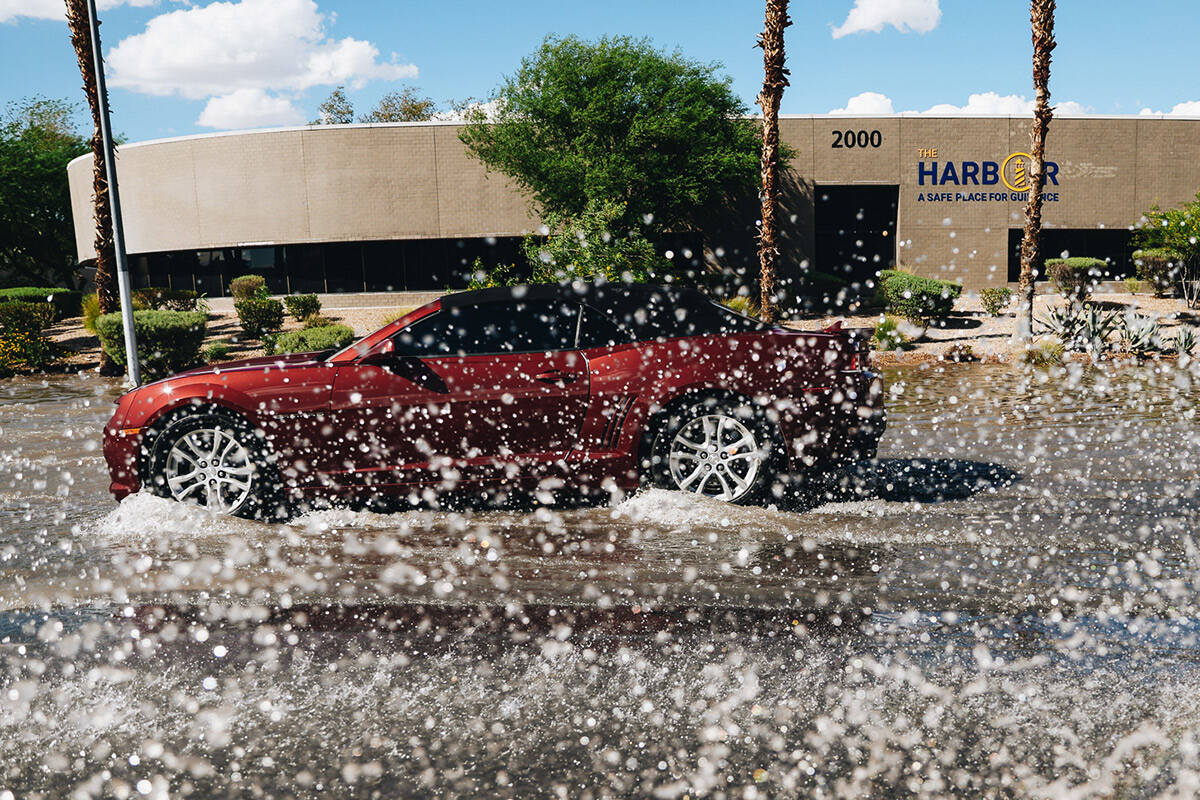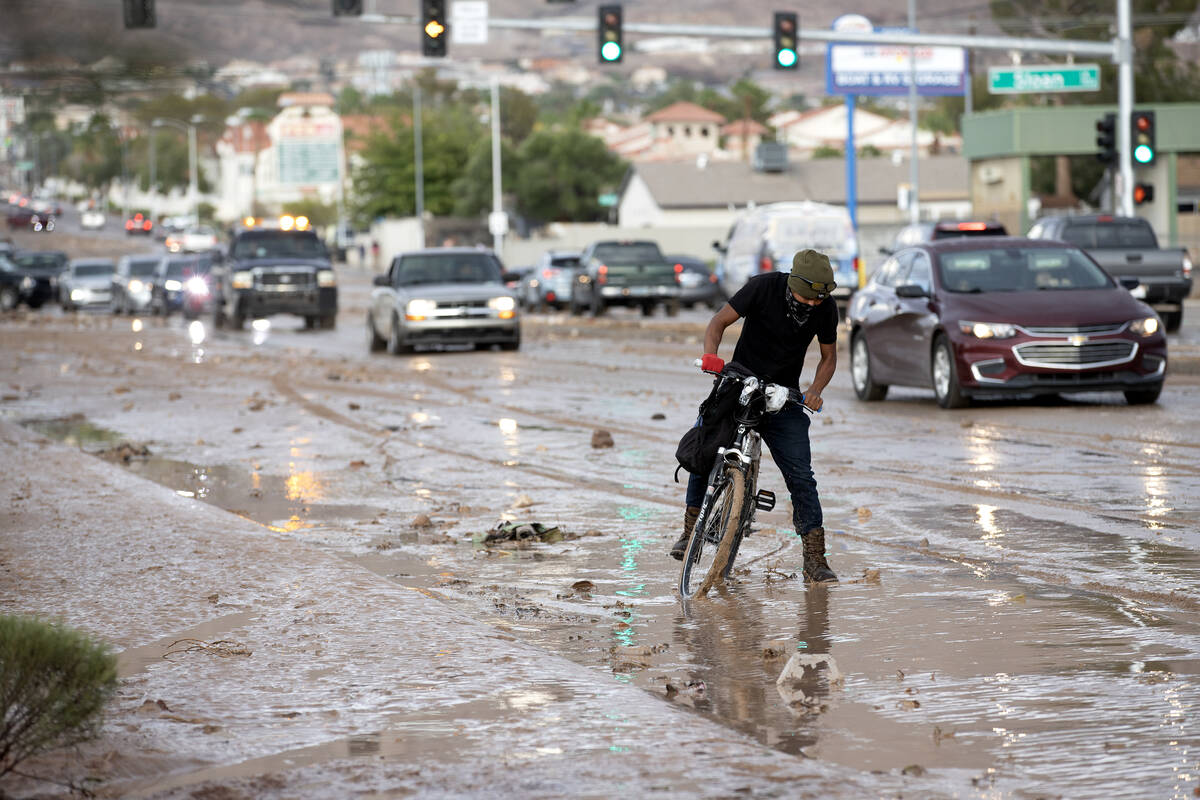 Las Vegas Valley residents continued to deal with the aftermath of the weekend's storms Sunday even as conditions were drier.
The east Las Vegas neighborhood at the base of Frenchman Mountain saw a lot of damage after Saturday's rain caused flash floods that sent raging torrents of water through the streets.
On Sunday, the streets in the neighborhood were covered with rocks and debris as residents cleaned up and workers in heavy equipment cleared the debris-covered roads.
Chuck Muth, 64, who has lived in the neighborhood since 2009, was in his home office with his dog, Koda, when the torrential rainfall started flooding the room. He had put sandbags in front of the door, but the water started coming over them.
"Here in the office, it raised up to 2 feet before it finally stopped," Muth said. "It started rising and coming in and we knew we couldn't control it, so my dog and I decided it was best to get out."
Muth also said there was so much that it created a waterfall on Frenchman Mountain.
"Seeing a waterfall on the east side of town, up on the mountain, that's unusual," Muth said.
Work in progress
Clark County said Sunday afternoon that the public works department was working to clean up damage and debris that will take several days.
The county listed the following road closures:
■ Jones Boulevard and Pyle Avenue south of Blue Diamond Road
■ Jones Boulevard and Gunderson Avenue (two lanes)
■ Gilespie Street and East Maulding Avenue, near Warm Springs Road, east of Las Vegas Boulevard
■ Alexander Road and Puebla Street
■ Stephanie Street from Jimmy Durante Boulevard to Flamingo Road
■ Lewis Avenue at spur in Overton
■ Ranch Road by the Warm Springs loop in Moapa.
Interstate 15 reopened after a seven-hour closure early Sunday morning after heavy flooding made travel on the southbound lanes impossible.
Water damage
Las Vegas hardware stores had a run on large rental fans this weekend as people tried to dry out water-damaged residences.
"Last time I was able to get seven fans at Home Depot, but today they only had three left, so I got them all," Sun City Summerlin resident Sylvia Johnson told the Las Vegas Review-Journal.
It was Johnson's third time wading and worrying through a flooding episode this summer, she said.
Her fingers are crossed for a contractor's efforts to dig deeper and get more water protection around the house foundation to hopefully prevent future flooding issues.
Monsoon season outlook
The Las Vegas Valley does not have comprehensive valleywide rain gauge data, just a single official measuring station at Harry Reid International Airport. It is backed up by the National Weather Service office a few miles away on South Decatur Boulevard.
"It's not even close (to being a weekend rain record) for the airport," said weather service meteorologist Clay Morgan. "But for the valley as a whole, it was very wet."
The weather service said Sunday that Las Vegas is on track to have a wetter monsoon season this year than Phoenix. Las Vegas has received 2.42 inches more monsoon rainfall than Phoenix.
Las Vegas has only beaten Phoenix in monsoon rainfall 14 times since 1937, when weather service records began, the weather service said in a post.
Golf courses open
A survey of area golf courses showed all appeared to be open for business, although flooding had washed out plenty of sand from bunkers and washed rocks and debris into fairways that needed cleanup, delayed openings on Sunday and gave groundskeepers plenty of extra work.
The most significant damage appeared to be at TPC Summerlin, which had expected to close its front nine for a few days due to damage on the fifth and sixth holes but completed the cleanup late Sunday. In a memo to members, superintendent Dale Hahn said a culvert near the fifth tee backed up and caused a washout, and overflow from Summerlin Parkway in the same vicinity scattered sand, rocks and debris on cart paths and across both holes, making the area too dangerous for players.
Contact Brett Clarkson at bclarkson@reviewjournal.com. Contact Marvin Clemons at mclemons@reviewjournal.com. Follow @Marv_in_Vegas on X. Contact Taylor Lane at tlane@reviewjournal.com. Review-Journal staff reporters Greg Robertson and David Wilson contributed to this report.