Las Vegas starts September with strong storms, floods — PHOTOS
Updated September 1, 2023 - 10:39 pm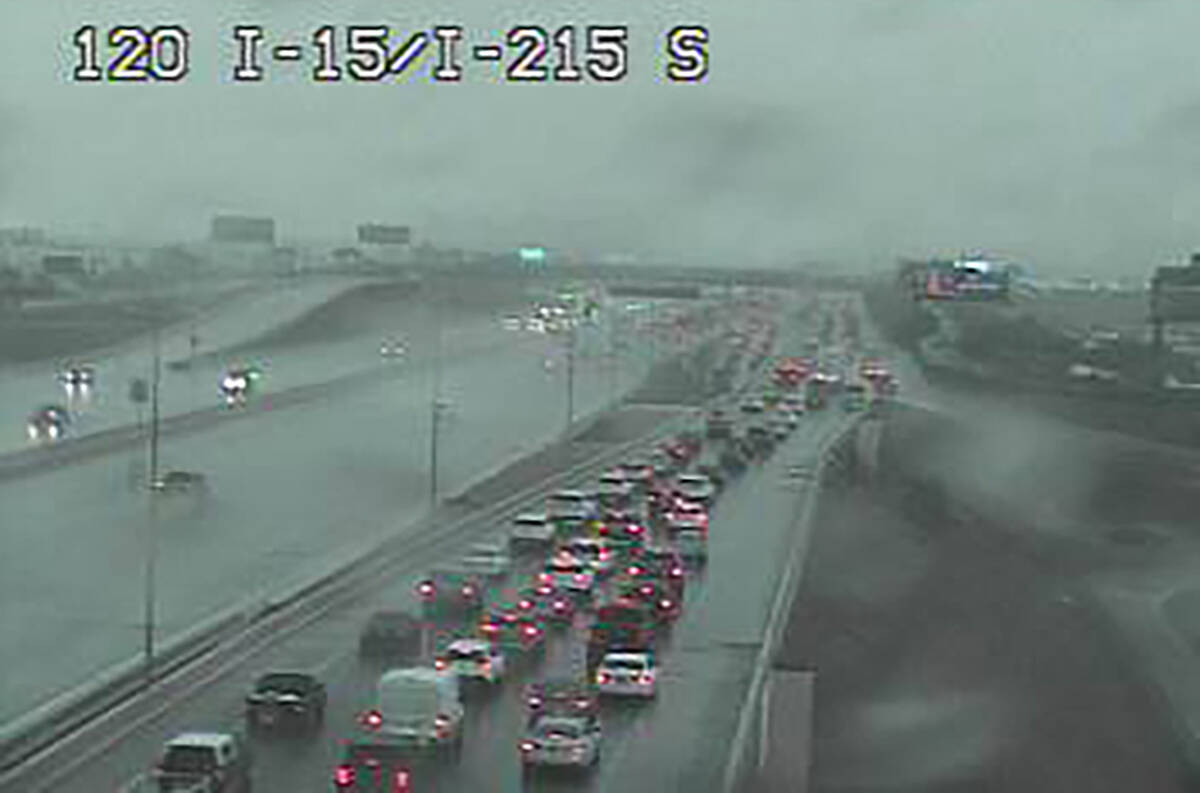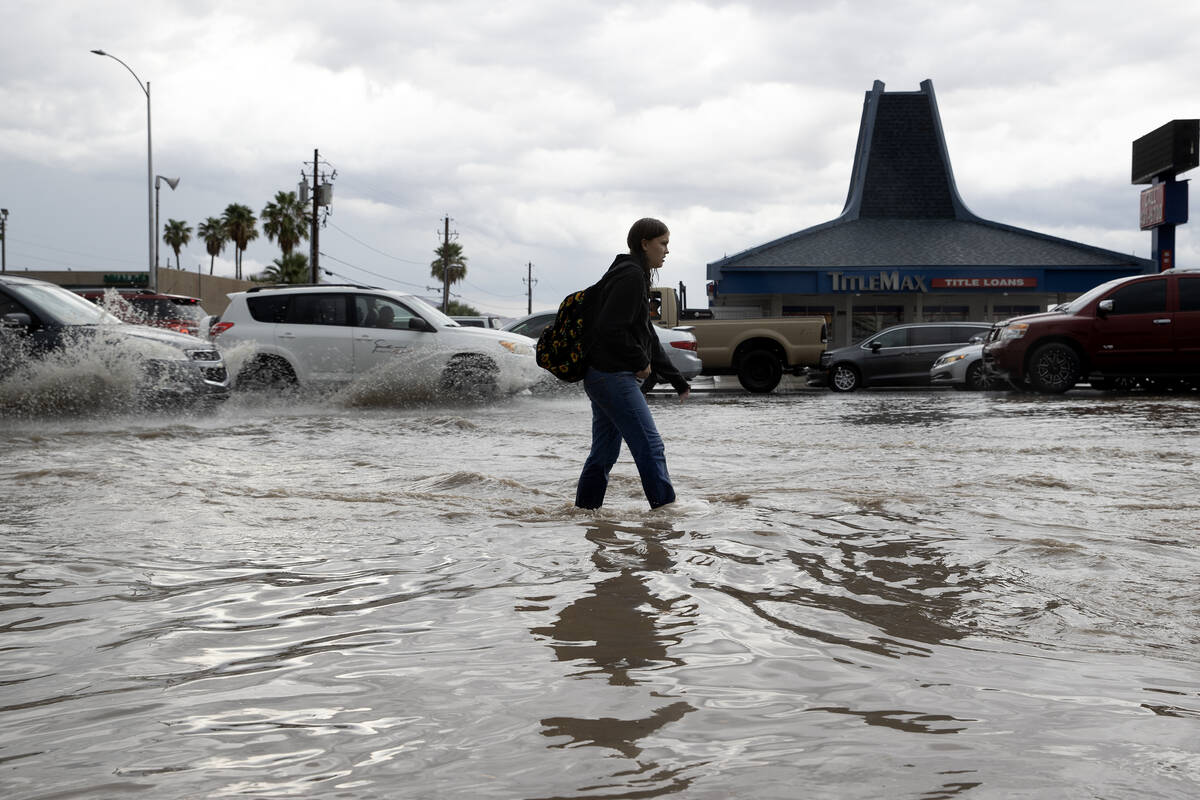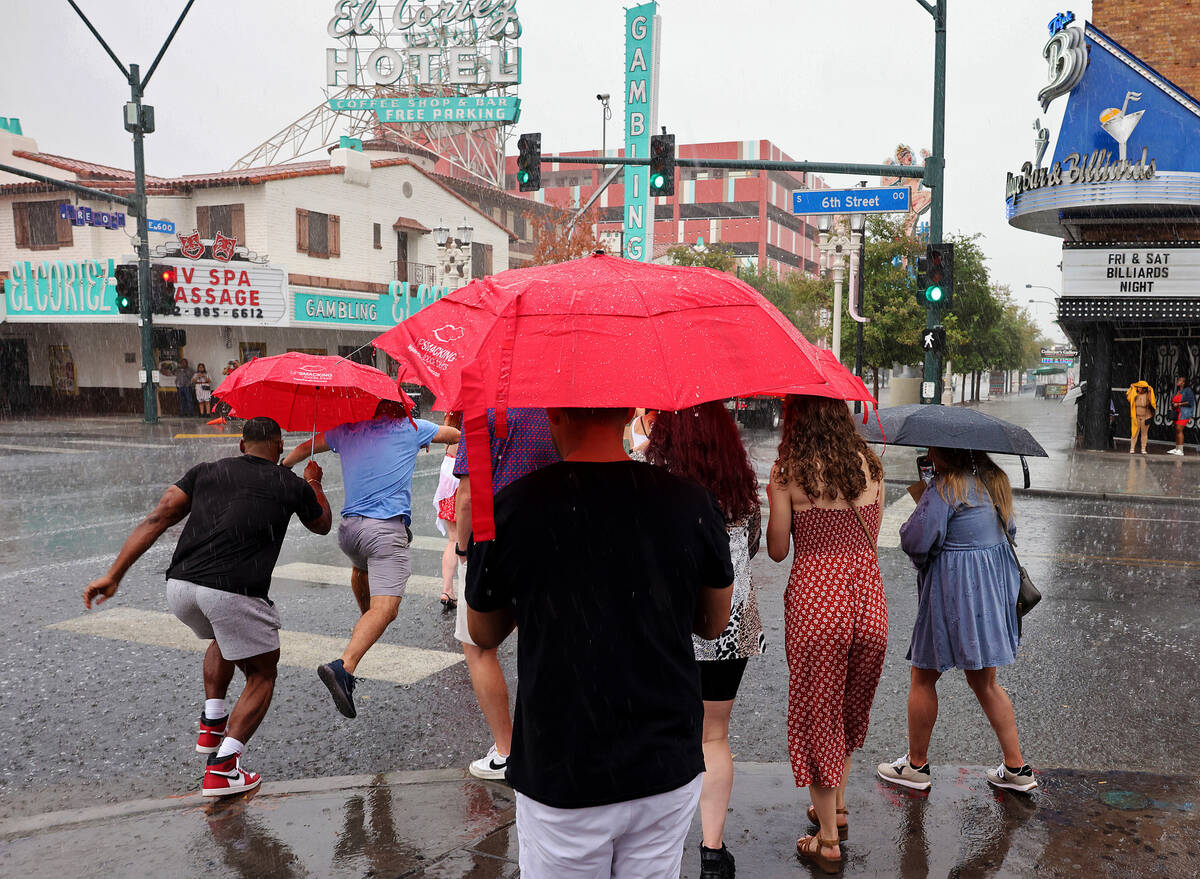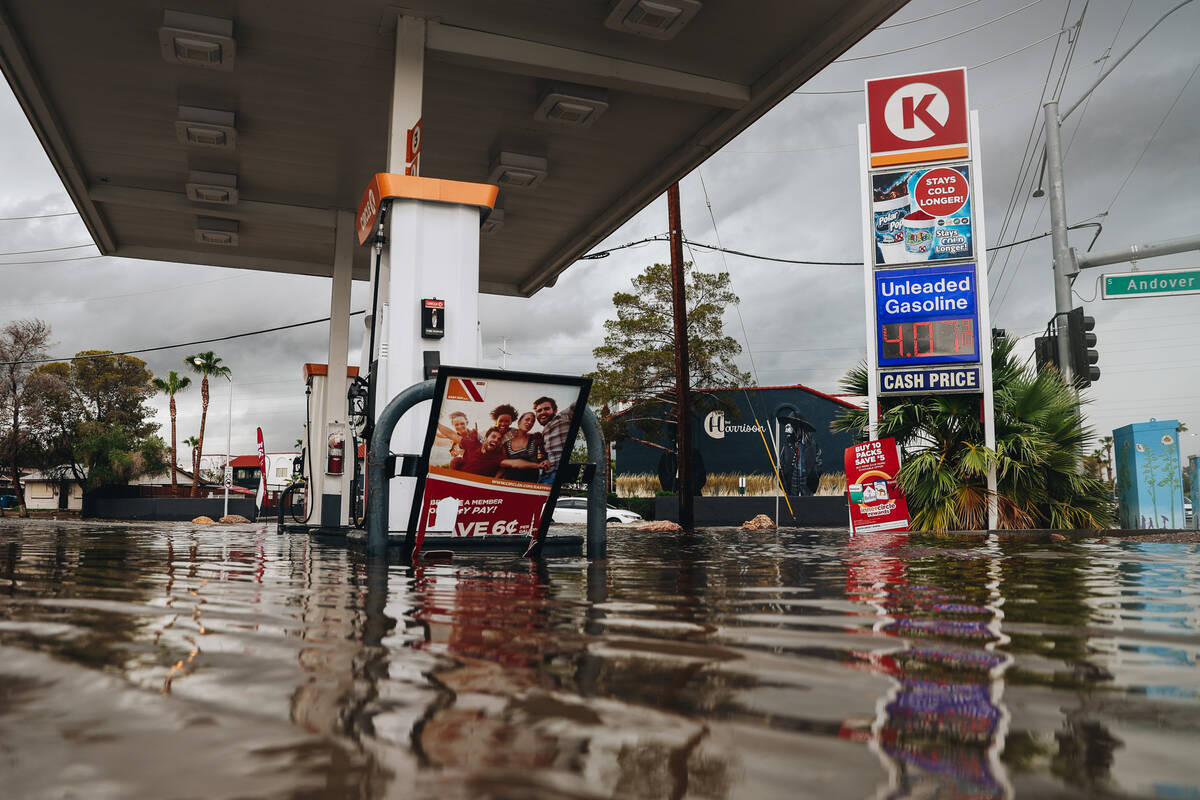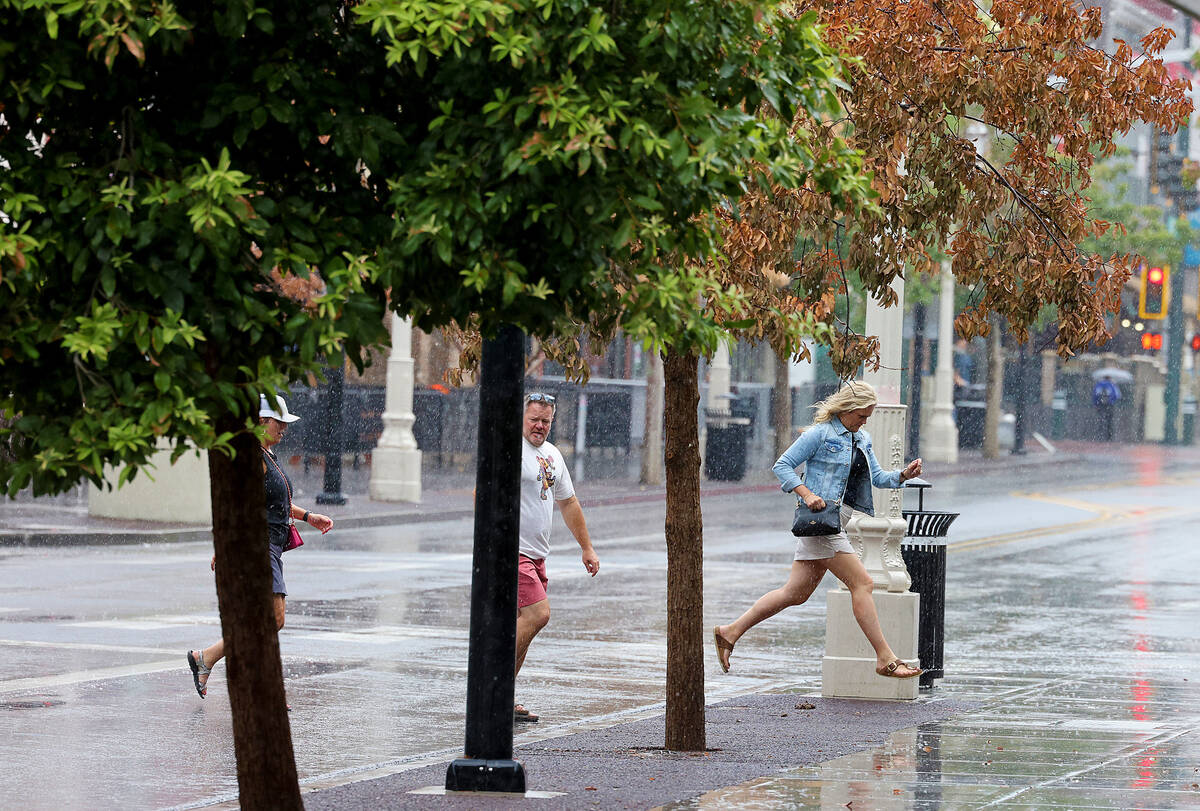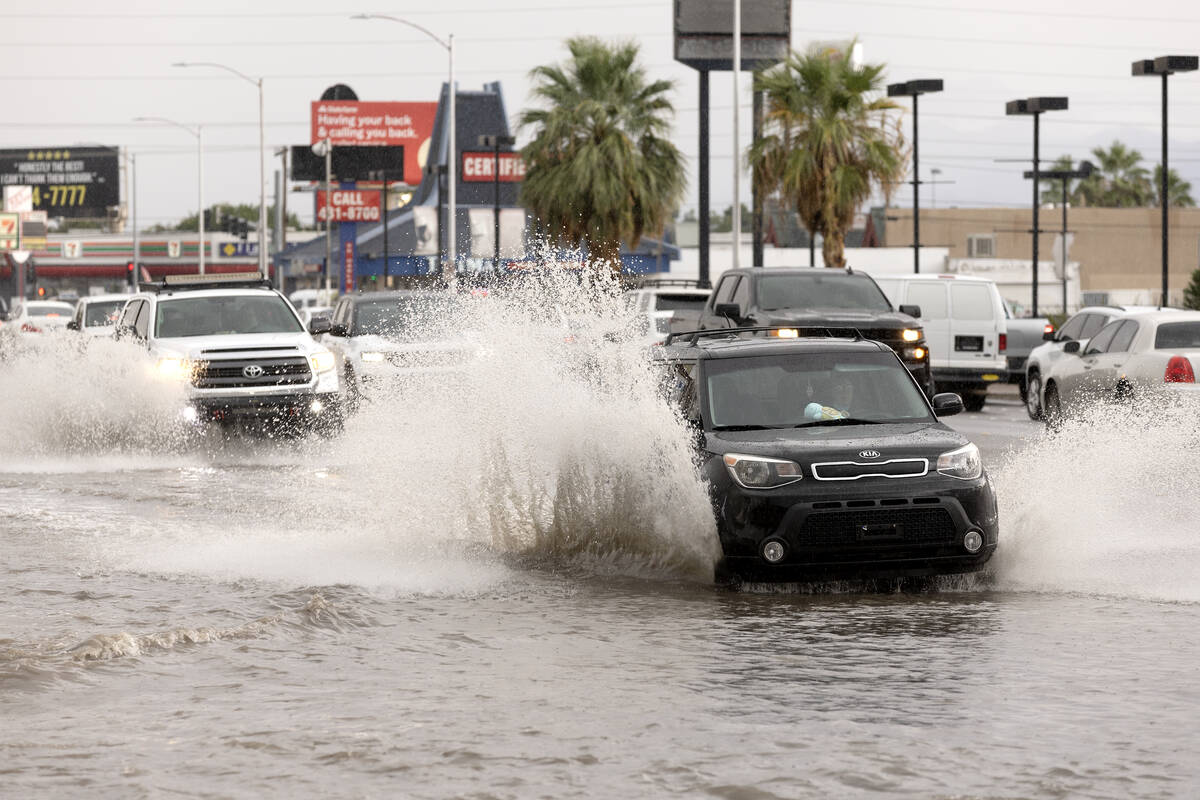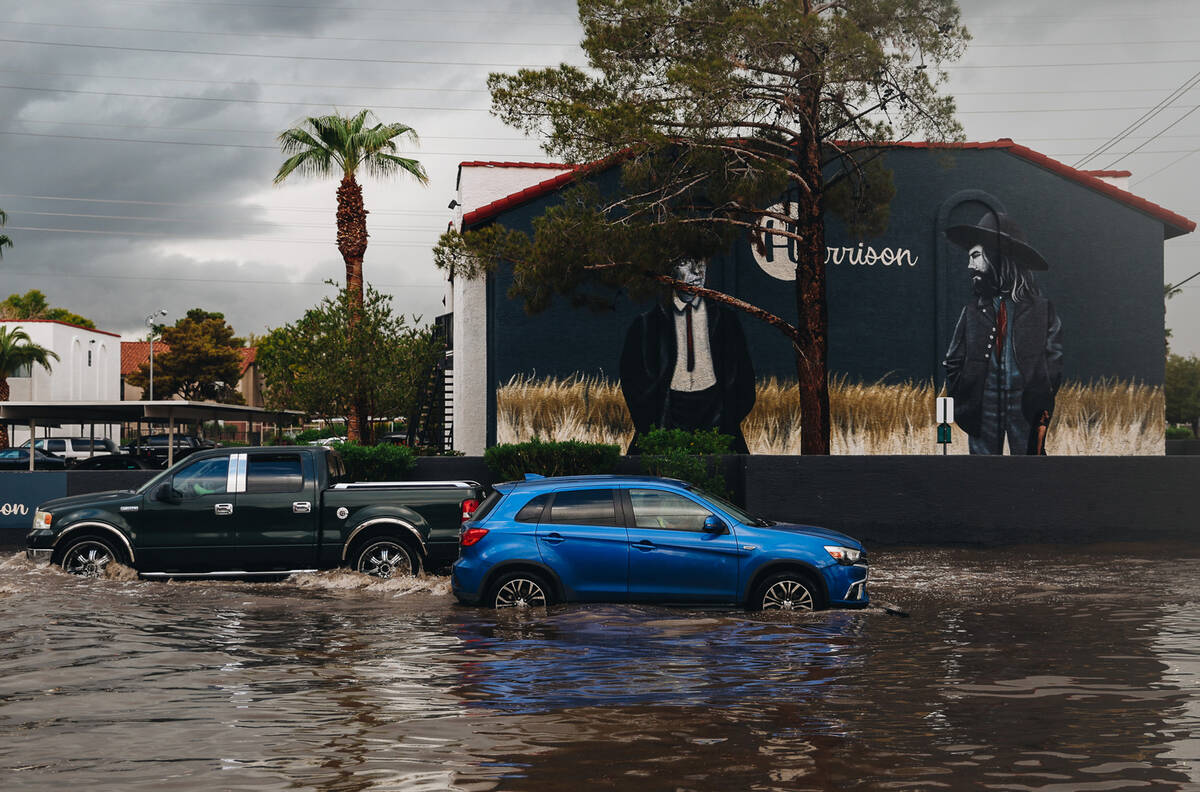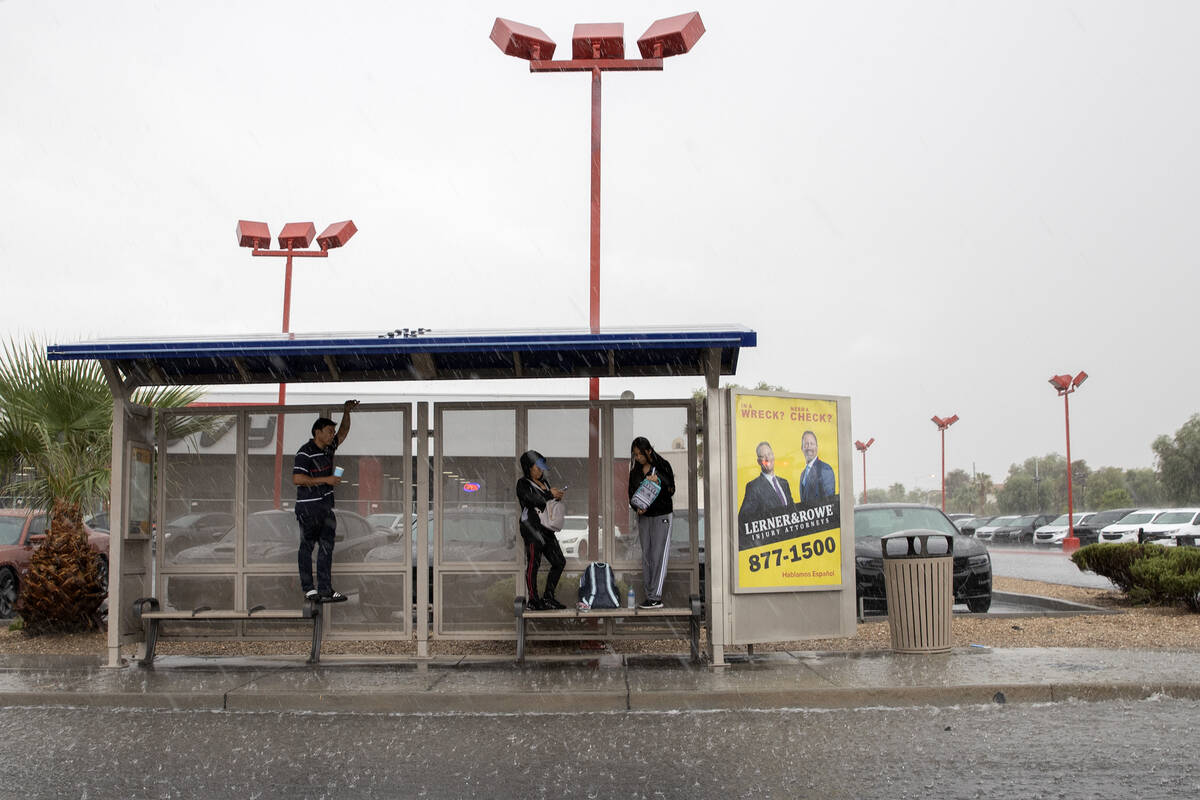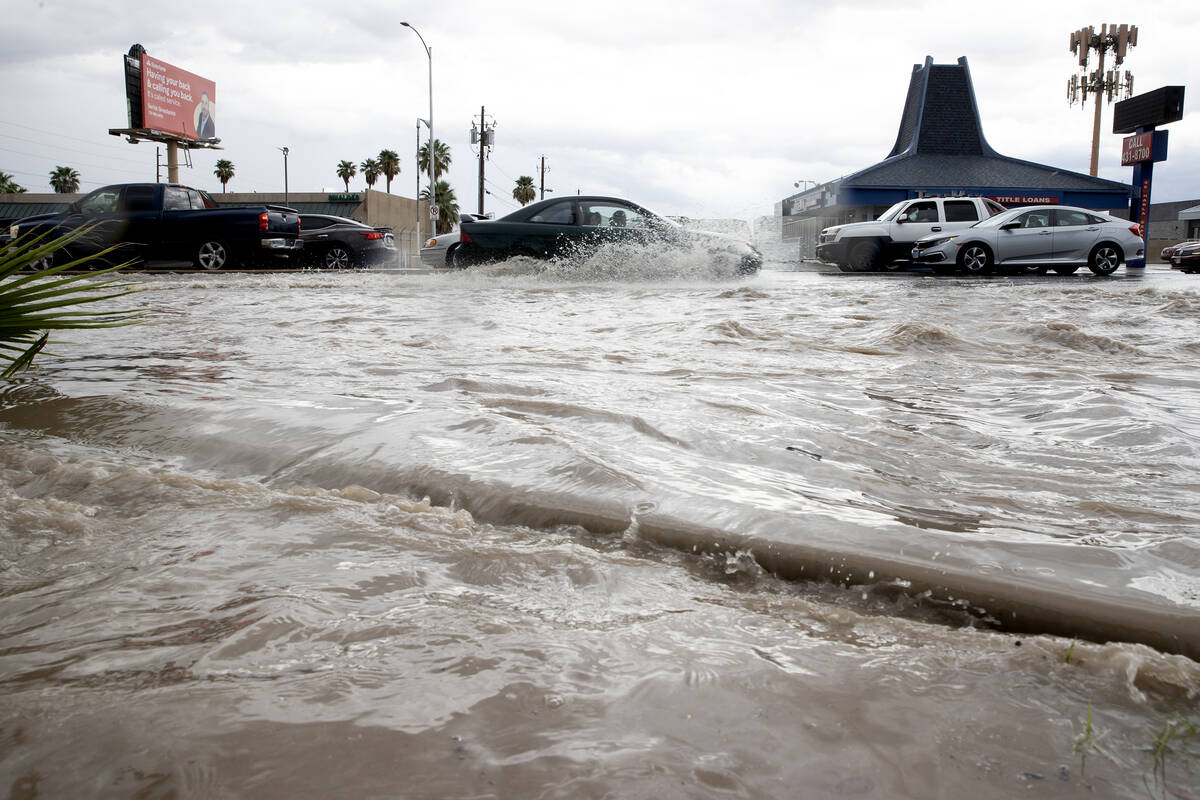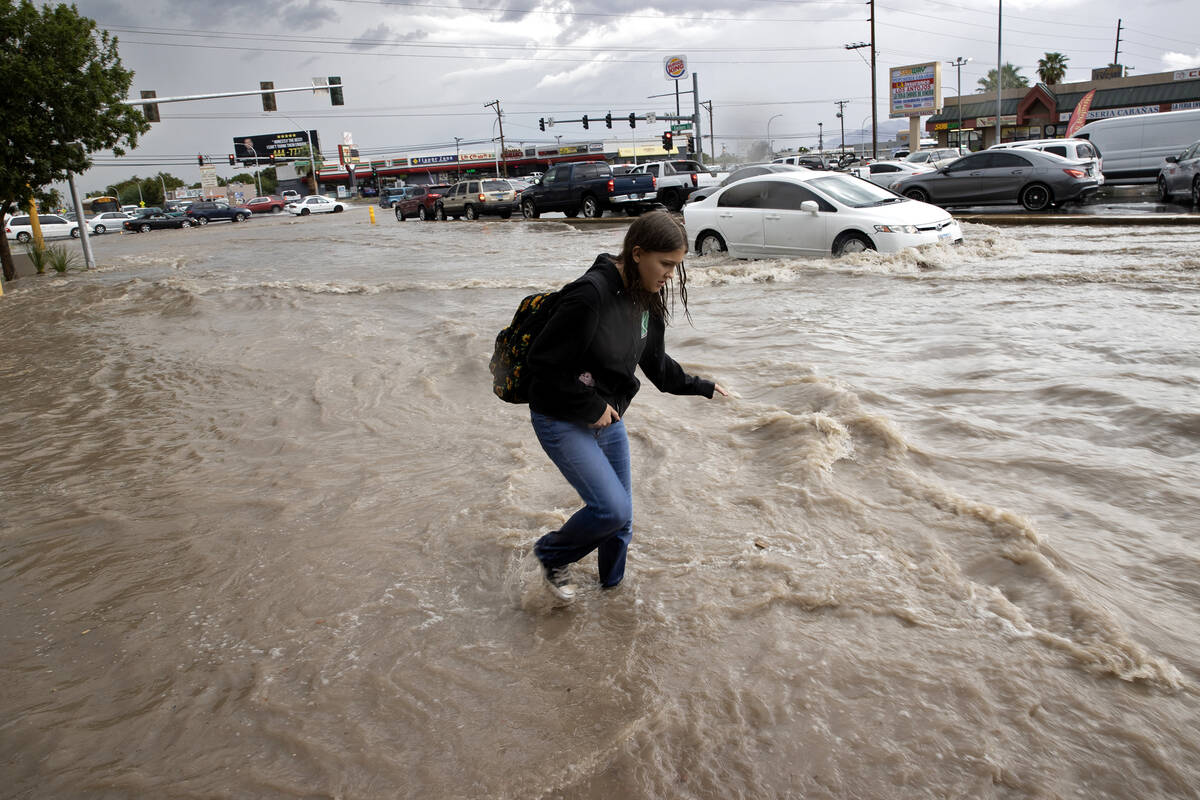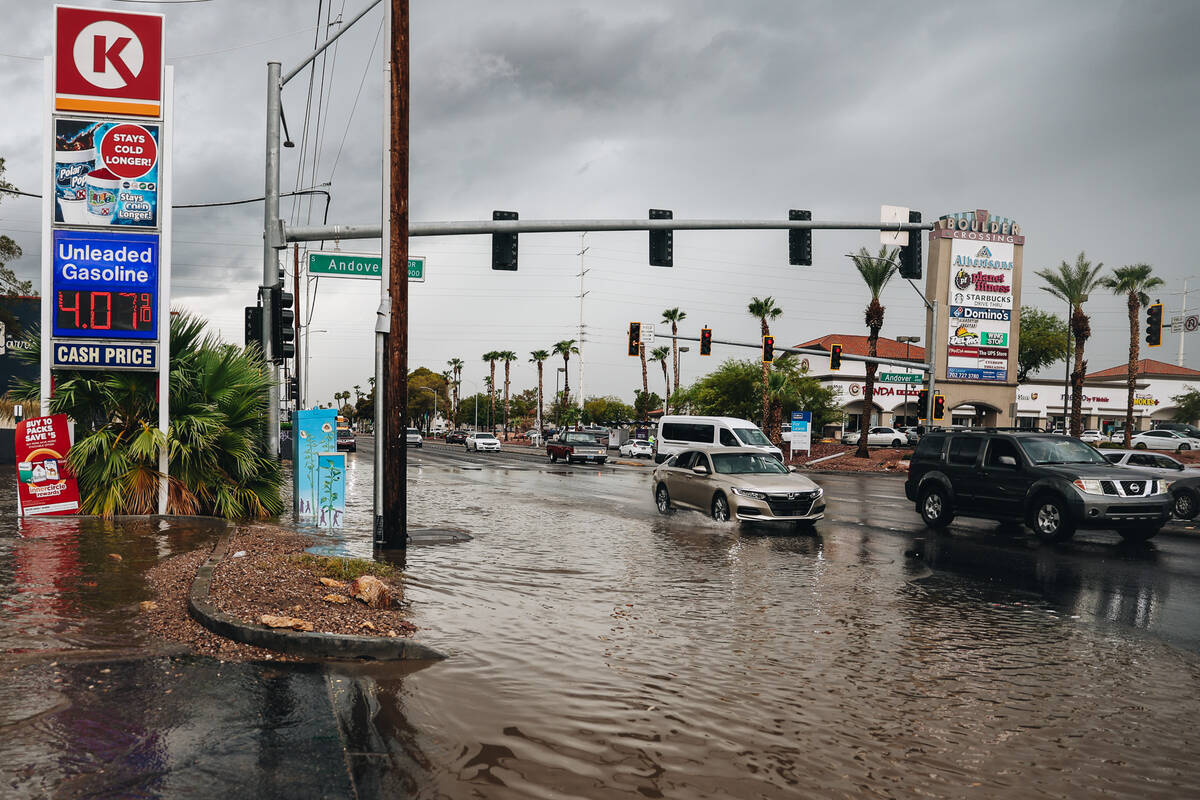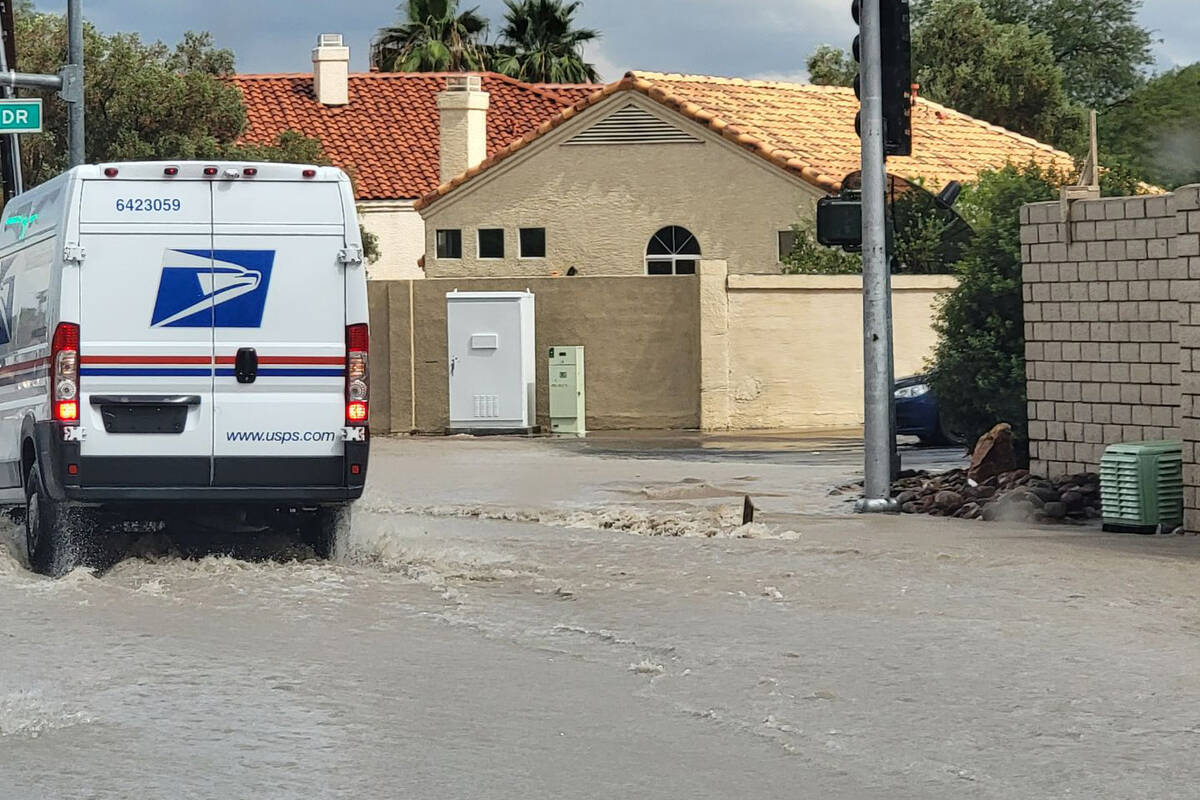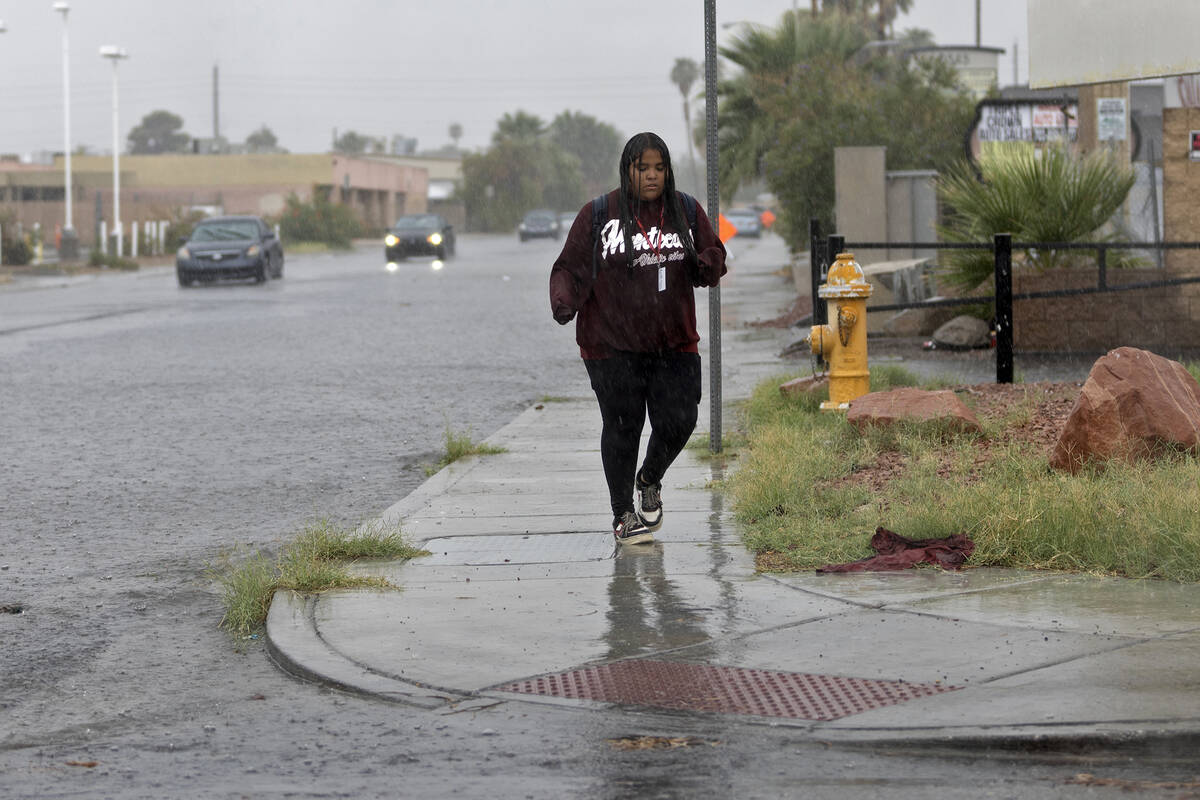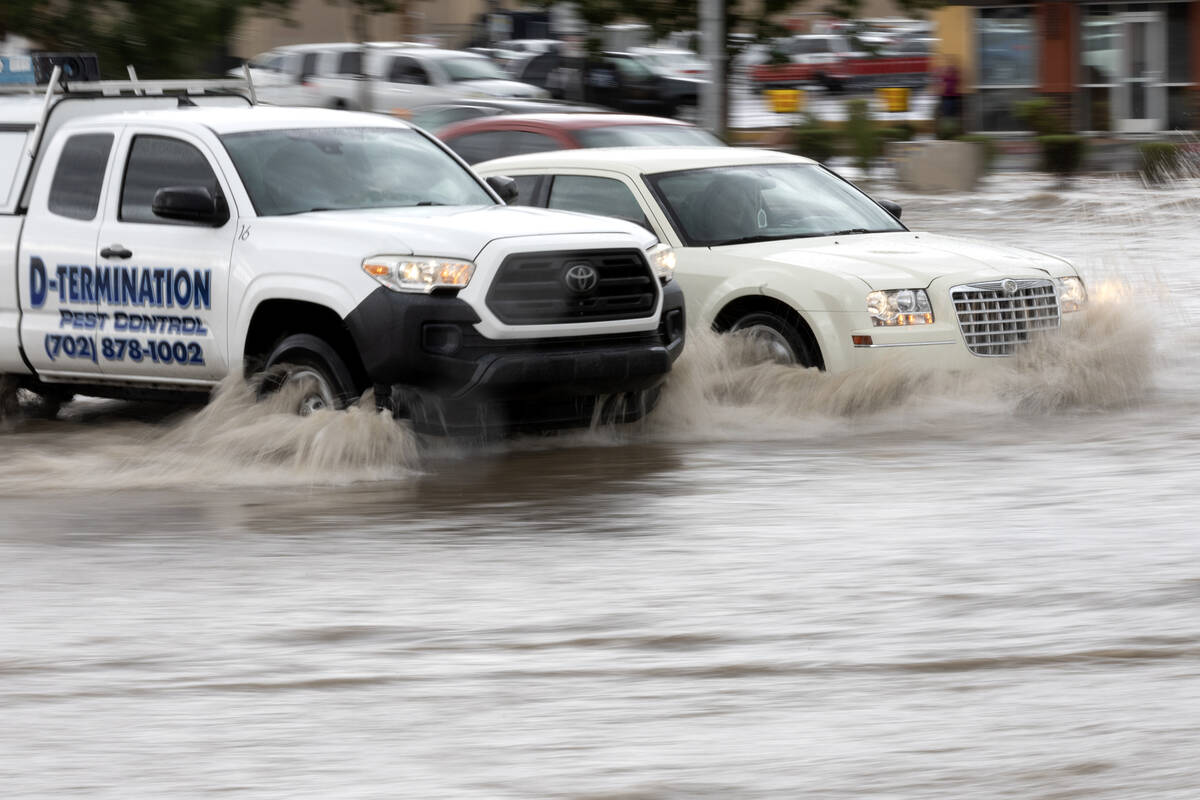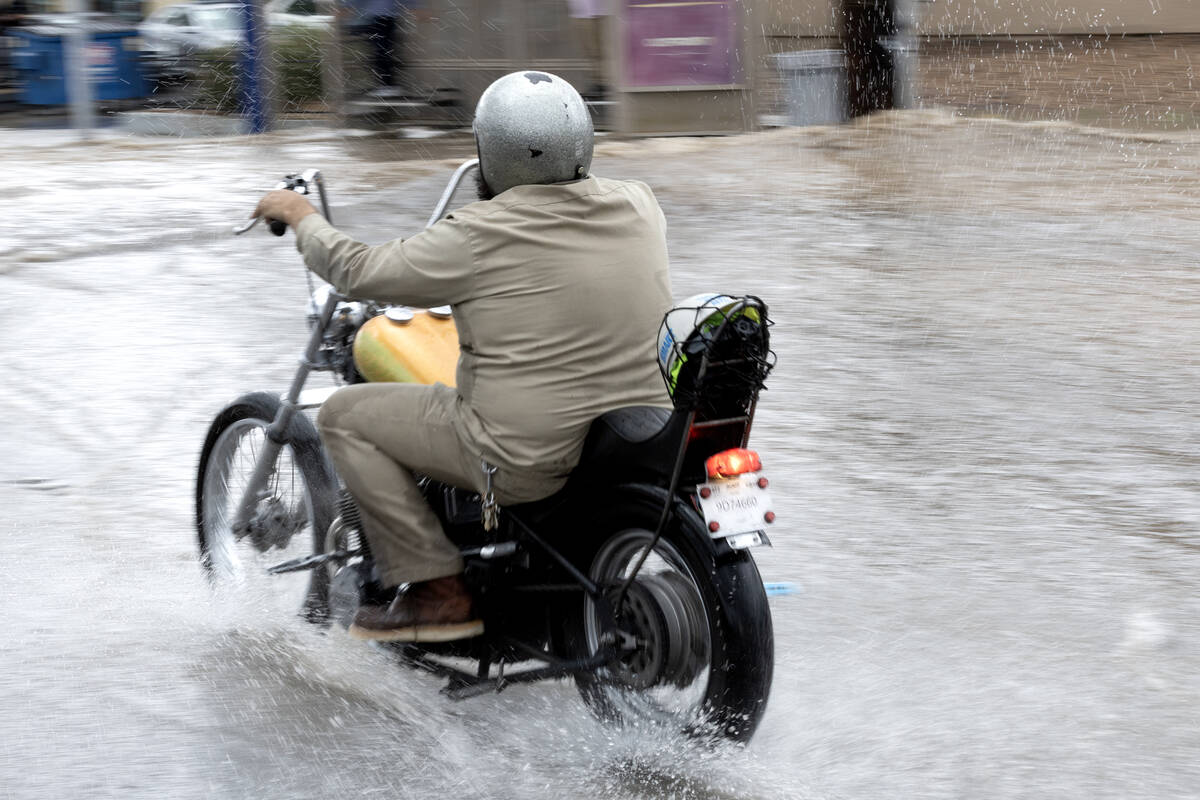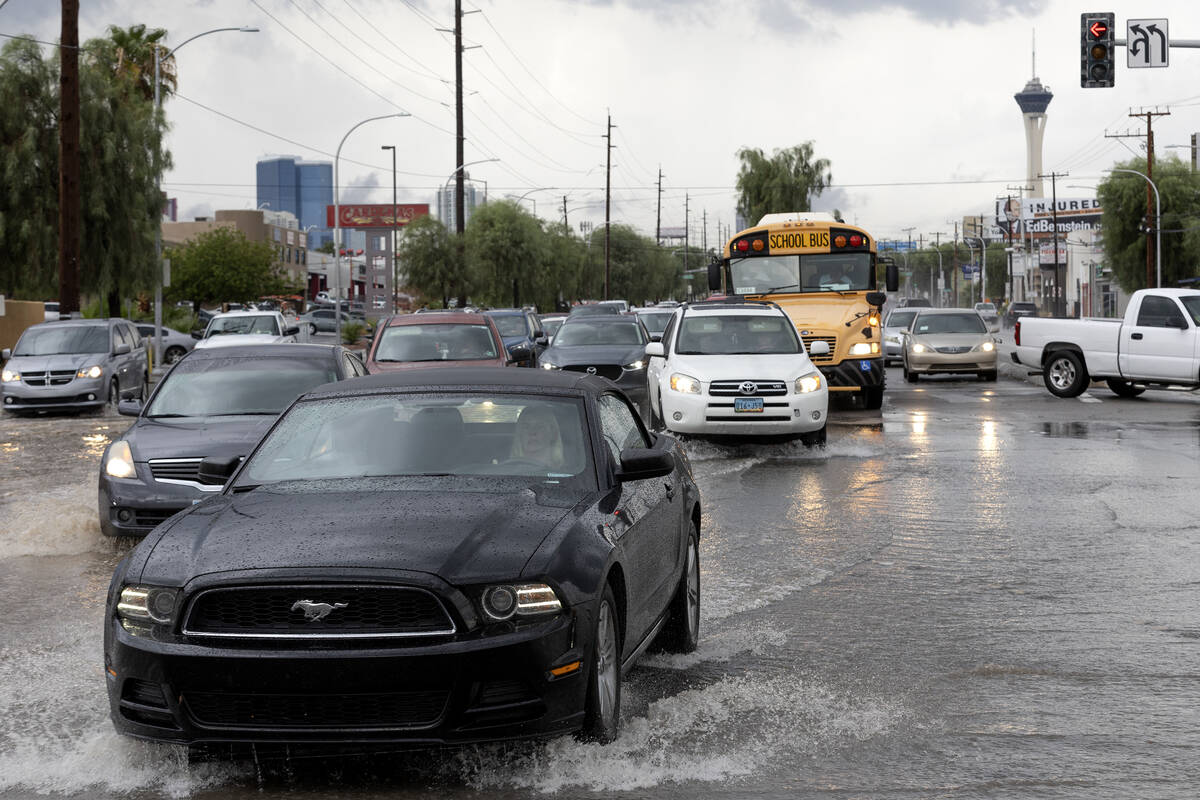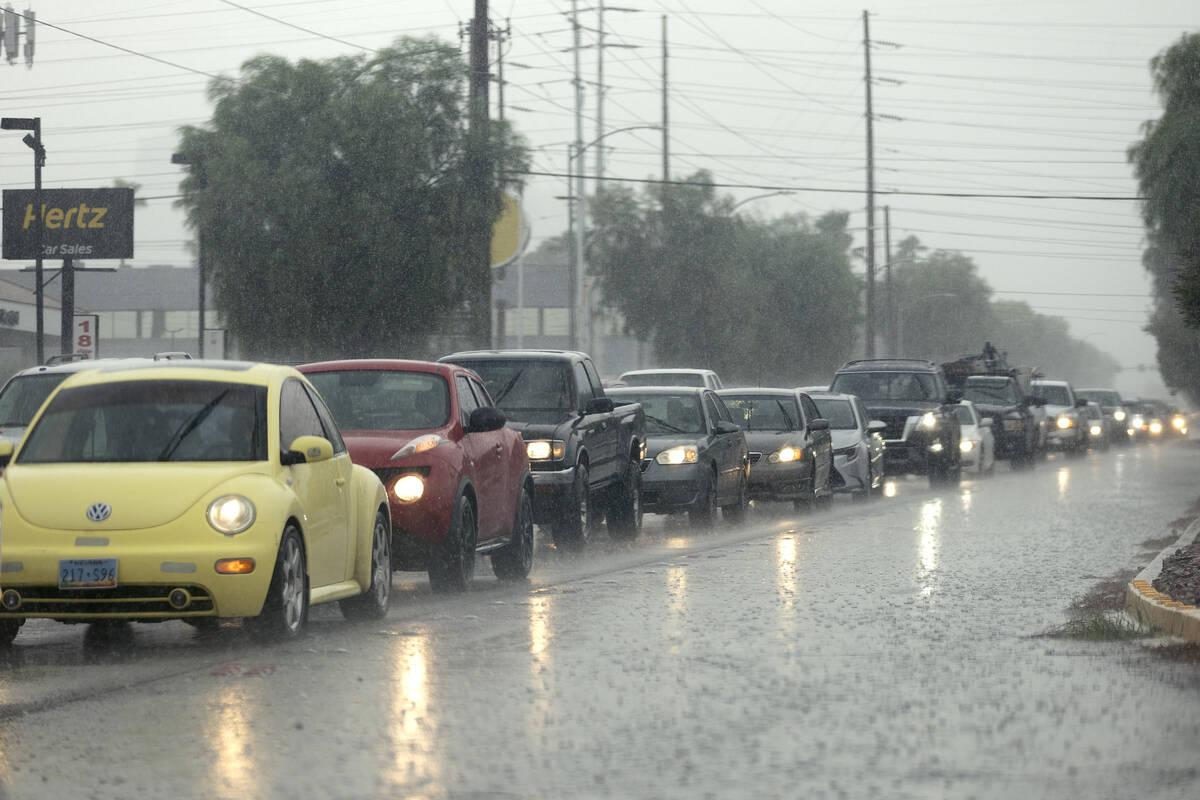 A new month has arrived, but the monsoonal moisture isn't going away anytime soon.
Another round of storms pounded the Las Vegas Valley on Friday, two weeks after Tropical Storm Hilary soaked the area and created a disaster on Mount Charleston.
Here's a roundup of what happened Sept. 1:
Basins getting full
Southwest valley water basins were nearly full because of the excessive rainfall.
Motorists were urged to find alternative routes because of the high water, Clark County said in a news release late Friday.
"Water levels in the Tropicana Detention Basin have continued to rise with the storms today, motorists and people are strongly urged to use caution and find alternate routes if possible in the areas surrounding Allegiant Stadium, Tropicana and I-15 to the west to Tropicana and Decatur to the south to Russell and Decatur and Russell and I-15."
County personnel are monitoring the basin water levels and are proactively urging caution as rain continues to fall.
The Tropicana basin is about five blocks southwest of the stadium.
Friday's storm situation could be repeated Saturday as a 70 percent chance of rain is forecast, with some heavy storms possible.
Mount Charleston worries
The Spring Mountains received heavy rain Friday evening, with anywhere from 1.3 to 3.27 inches falling on the mountain, according to flood control gauges.
Mount Charleston may have been spared with .59 on an inch recorded while other area son the mountains received from 1.3 to 3.27 inches.
A gauge closest to the peak recorded 1.3 of an inch of rain in the four hours ending at 9:30 p.m. Gauges at Harris Springs showed 2.09 inches in one and 1.85 inches in another. A gauge halfway between the village and Route 157 logged 3.27 inches for the same time period.
By evening, several areas had topped 2 inches with rain still falling into the night. There were reports of several water rescues, but no details were available.
Flash flood warnings across valley
A flash flood warning for most of the Las Vegas Valley began in mid-afternoon was extended to end at 1:30 a.m. Saturday, largely because of floodwater, not more rain.
More than 1.5 inches of rain had fallen in a few locations and flash flooding was occurring in several areas.
Much of the heavy rain ended during rush hour, but flooding was causing issues, according to the weather service. Additional rain fell during the evening.
The southwest valley was hit hard with Rhodes Ranch recording 2.36 inches and other gauges exceeding 1.5 inches.
Other developments
— A ground stop was ordered for flights at Harry Reid International Airport until 6:15 p.m. Flight delays were averaging nearly four hours. Departures were averaging 90 minutes. The airport had 691 flight delays and 154 cancelled flights Friday through 10 p.m.
— About 6,200 NV Energy customers were without power as of 4 p.m. The biggest outage appeared to be near Rainbow and Quail, affecting 2,638. The total was reduced to 3,030 by 10 p.m.
— The monthly First Friday event in the Arts District was cancelled.
— The Aviators had their first rainout in their brief history at Las Vegas Ballpark.
Afternoon rain
Thunderstorms that developed south of Las Vegas delivered heavy rain along the 215 Beltway and into Henderson early in the afternoon.
A gauge near South Point showed .40 of an inch falling within 15 minutes and .59 of an inch within 30 minutes. In the span of two hours the gauge record 1.57 inches.
A handful of gauges in the northeast valley showed up to .79 of an inch within an hour. At 3:45 p.m., a gauge near Windmill and Paradise roads logged 1.18 inches in the preceding four hours.
⚠️Flash Flood Warning ⚠️for central Clark County including Las Vegas, Henderson, Sam Boyd stadium and East Las Vegas. Heavy rain and flash flooding is expected. #nvwx pic.twitter.com/oyyiAs0mjN

— NWS Las Vegas (@NWSVegas) September 1, 2023
The southeast side of the valley was also under a flash flood warning until 4:30 p.m. Flash flooding was reported about 1:30 p.m. at Valley of Fire, according to the weather service. Social media photos showed flooding on Overton city streets as well.
Death Valley, closed indefinitely because of heavy flooding from Hilary, was getting more rain Friday afternoon.
Early Friday storm
Earlier Friday, nearly all of the valley received considerable rain. The central valley received the most precipitation. The north didn't receive quite as much and the southern end was close to being dry.
Just over an inch of rain fell at Interstate 15 and Charleston Boulevard during the morning hours with .75 of an inch recorded at the Las Vegas wash and Craig Road and the same amount at the Upper Flamingo wash in Summerlin. A gauge near the Rio on Twain Avenue recorded .71 of an inch.
Heavy rain caused flooding in streets across the valley during the morning commute.
Many northeast valley streets had a foot or more of water in intersections. Green Valley appeared to be the only area left dry by the storm cells as they moved from the southwest to the northeast.
By 9:30 a.m., most of the rain had moved northeast of the valley with light rain over the Sheep Range and heavier cells in the Mesquite area.
Rain chances go into Sunday
"Pretty much the whole valley has a chance," meteorologist Brian Planz said. "These are monsoon showers, so it just depends where the storm hits. An area could get a quick half-inch to inch of rain."
While temperatures are a bit lower than typical monsoon temperatures, Planz said a trough off the West Coast is drawing moisture into Southern Nevada from northern Mexico and southern Arizona.
The Saturday low should be near 73 before a 70 percent chance for showers or storms. The high should be near 89 with wind gusts to 22 mph. The risk for precipitation drops to 20 percent overnight Saturday, but some heavy rain is possible.
Isolated storms or showers are a 20 percent chance on Sunday. The high should be around 91.
Contact Marvin Clemons at mclemons@reviewjournal.com. Follow @Marv_in_Vegas on X.