Rain showers to stick around through the weekend and into next week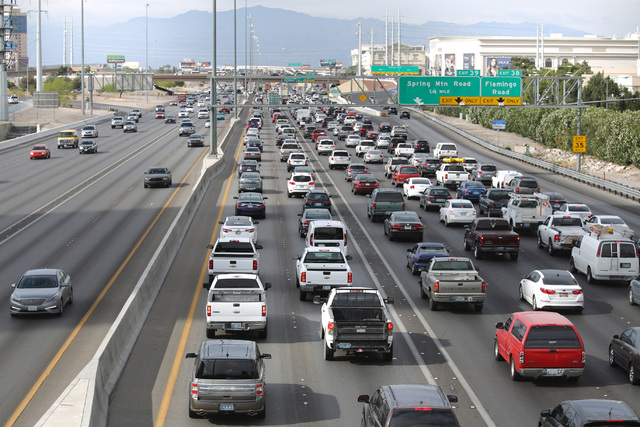 Rain showers in the Las Vegas Valley will likely continue through the weekend and stick around into next week in the Las Vegas Valley, according to the National Weather Service.
Several lightning strikes were observed south of the valley, and thunderstorms were possible Friday night, meteorologist John Salmen said. Some "nuisance" flooding could accompany any significal precipitation, he said.
Friday's high temperature reached 74 degrees, and the valley saw light, "trace" showers, Salmen said. There is a 50 percent chance of rain through Sunday, he said.
Saturday will see a high near 71 degrees and a low in the upper 50s, according to the weather service.
An 80 percent chance of rain is predicted for the Spring Mountains.
Sunday is expected to have a high near 67 degrees, according to the weather service. Monday is expected to have a high of 70, with temperatures warming throughout the week, Salmen said.
Rain also will be a factor over next week, with chances of showers on and off during the week, meteorologist Reid Wolcott said. The only dry day the valley might see is Wednesday, he added.
Review-Journal writer Christian Bertolaccini contributed to this report. Contact Lawren Linehan at llinehan@reviewjournal.com or at 702-383-0381. Find her on Twitter: @lawrenlinehan. Contact Christian Bertolaccini at cbertolaccini@reviewjournal.com and 702-383-0381. Find him on Twitter: @bertolaccinic.